Two schoolboys in Binh Duong have created an automatic body temperature measurement machine that can also be used to disinfect hands and take the roll-call. The machine is being used at their school.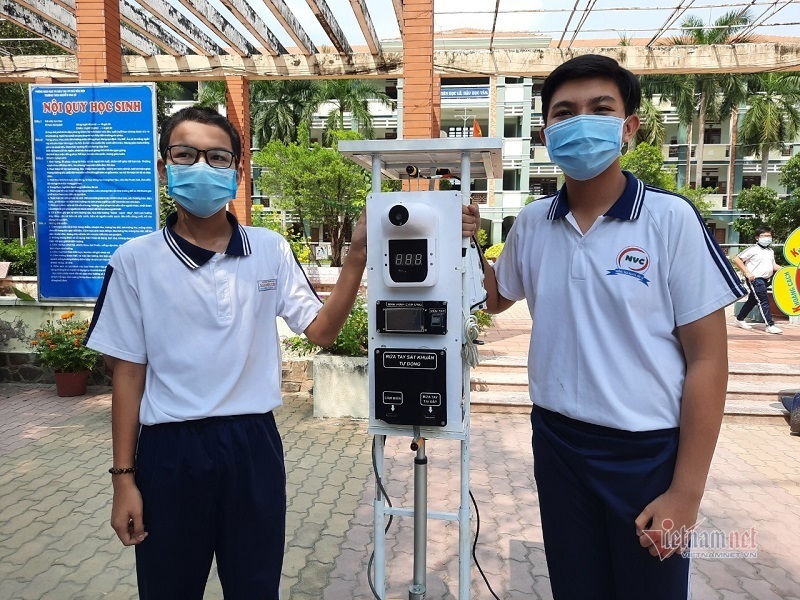 Nguyen Thanh Tai (left), Nguyen Dien Nam and their machine
The first class after Tet holiday at the Nguyen Van Cu Secondary School in Thu Dau Mot City of Binh Duong province on February 22 went smoothly. Students had medical examinations but the process took little time and did not require many workers thanks to the body temperature machine invented by two of the school's students, Nguyen Thanh Tai and Nguyen Dien Nam.
After seeing teachers and students at schools queuing up to have their temperature taken and hands disinfected, they decided to create an automatic equipment to measure body temperature, spray disinfectant and control students' daily attendance as well.
During a lesson in late 2020, Tai told his teachers about the idea. The teachers had also heard of a similar idea from Nguyen Dien Nam, another student. Tai and Nam did not know each other at that moment.
The idea from the two students was applauded by the school's board of management which then assigned teacher Le Thi Thuong to help them.
After four months, it was completed and put into use at the school.
The device measures students' body temperature, sprays disinfectant when students raise their hands and manages students' attendance via fingerprint scanning.
Tai said the inventors felt a bit worried on the first day of use. But they later
"There was just a minor error, which has been fixed," Tai said.
The equipment operates based on the heat sensor system inside. The machine uses power from electricity sources or a solar cell put above in case the electricity is cut.
The machine is fitted with a temperature sensor which is taller than the students' average height. Users just need to stand 20-30 cm away from the machine. The sensor measures their temperature and shows it on the LED screen mounted to the dashboard.
Since students' height varies, the students equipped it with a camera which recognizes images and automatically raises or lowers the temperature sensor eye. Meanwhile, disinfectant from the tank inside is sprayed through a pipe.
The machine is also equipped with a fingerprint sensor. Students have to have their fingerprints scanned for the attendance register.
The entire process lasts only five seconds.
Xuan An