Viet Nam's largest diary producer Vinamilk has been the market leader in the domestic liquid milk segment for many consecutive years, according to Nielsen Vietnam. In a large industry with high growth rates and high competition like liquid milk, what are the factors that create 'strength' for Vinamilk in maintaining its No. 1 position, especially amid the negative impact of the COVID-19 pandemic?
Diversification of products
Viet Nam's dairy market is increasingly diversified in terms of product categories, however, liquid milk and powdered milk are still the two largest categories today, in which Vinamilk is an enterprise with comprehensive development in both categories and has been continuously leading the market for many years.
In its portfolio, Vinamilk has nearly 250 products of all kinds, particularly the liquid milk category has nearly 50 types of products, meeting nearly all nutritional needs of consumers.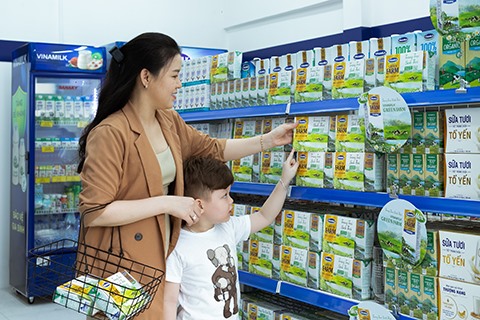 Vinamilk Green Farm fresh milk – the newest product launched by Vinamilk is in stores nationwide.
According to Phan Minh Tien, Marketing Executive Director of Vinamilk, liquid milk is the key product that Vinamilk has focused on. In addition to ensuring the quality and high nutritional value of this product, Vinamilk will diversify liquid milk product lines to suit customers of all ages and segments as well as developing high-end product lines.
"Vinamilk will continue to develop its cow farm system with top standards and the largest scale in the world, providing fresh and nutritious ingredients with outstanding quality. This is a factor helping the company increase its competitiveness in this industry, especially with imported products," Tien said.
Pasteurised fresh milk containing high nutritional content and resistance enhancement has been welcomed by consumers.
Vinamilk has continuously introduced new products with many unique innovations covering all segments from the mid to high-end. Some of the prominent products such as: 100% fresh milk, organic fresh milk, pasteurised fresh milk containing nests or Vinamilk Green Farm Fresh Milk.
The company has also focused on branded product lines such as 100% fresh milk by innovating packaging, diversifying flavours and launching low-sugar and fat-free lines, in line with market trends and tastes.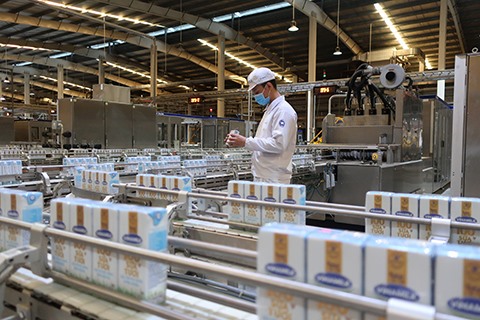 Modern production lines at Vietnam Dairy Factory, which currently produces the largest capacity of Vinamilk, up to 800 million litres per year.
Dairy herd in both quantity and quality
Having been for years leading the liquid milk market, Vinamilk has shown the right direction in being proactive in fresh milk by expanding the scale of dairy cows, while improving output and quality of raw milk.
The dairy cows of Vinamilk can now produce more than one million litres of raw milk per day. The system of 13 farms has been continuously expanded, invested and equipped with 4.0 technologies in breeding and management, meeting international standards such as Global G.A.P and Organics Europe.
With developing projects plus the import of dairy cows, it is expected that by 2022-23, the company's total herd of dairy cows is estimated to be about 170,000 heads.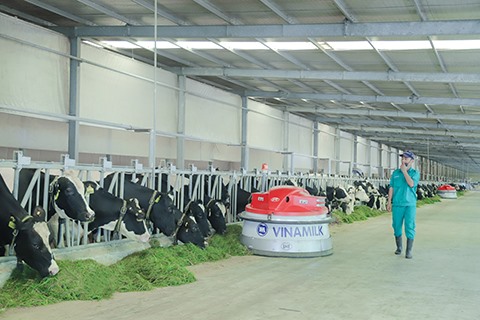 Vinamilk currently has 13 international standard dairy farms across the country.
The large area of raw milk allows Vinamilk to proactively and promote fresh milk product lines. The company has recently developed an ecological farm model named Vinamilk Green Farm located in the central provinces of Thanh Hoa and Quang Ngai and the southern province of Tay Ninh. With this model, the living environment of cows is not only guaranteed with the most ideal conditions, but is also friendly in terms of nature and environmental protection.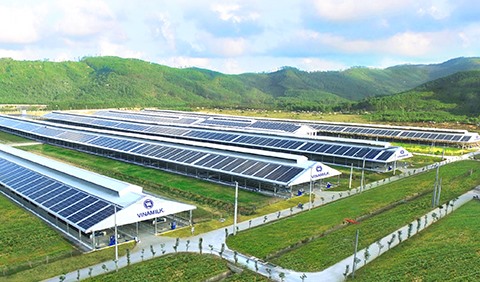 Vinamilk's new Green Farm ecological farm system has a herd of tens of thousands of cows on an area of ​​thousands of hectares.
The Vinamilk Green Farm ecological farm system provides raw fresh milk for Vinamilk high-end Green Farm's product line, which was newly introduced in the market. Thanks to that breakthrough factor, this product is predicted to actively contribute to consolidating the leading position of Vinamilk's liquid milk industry.
Wide distribution system and diverse platforms
Convenience in shopping accounts for a high proportion of consumers' buying decisions, especially in fast moving consumer goods (FMCG) and beverage and nutritional products. In an annual report published at the end of 2020, Vinamilk's distribution system has a total number of retail outlets nationwide reaching more than 240,000 (traditional channels) and 7,800 (modern channels).
The "Vietnamese Milk Dream" system has officially exceeded the milestone of 500 stores across the country, covering all 63 provinces, along with the e-commerce site www.giacmosuaviet.com.vn , which was built by Vinamilk in 2016 and demostrates efficient operation, especially during the period of social distancing due to COVID-19.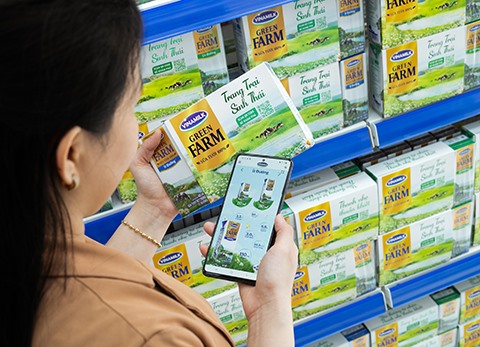 E-commerce website and mobile application have been promoted by Vinamilk in recent years.
According to Nielsen's report, in addition to liquid milk, Vinamilk still maintains its market leadership in other major categories such as baby formula, liquid yogurt and condensed milk. In addition, Vinamilk's yogurt product also ranks No. 1 in the yogurt segment in Vietnam's urban market.
In the context of the negative growth of the whole dairy industry after a year affected by the pandemic, Vinamilk is still asserting its capacity with stable business results. According to a recently published statistics, this company has increased six places in the list of the top 50 dairy companies in the world, reaching 36th position. This shows that the internal strengths are being properly promoted by Vinamilk, making a firm foothold in the domestic market to motivate international expansion.