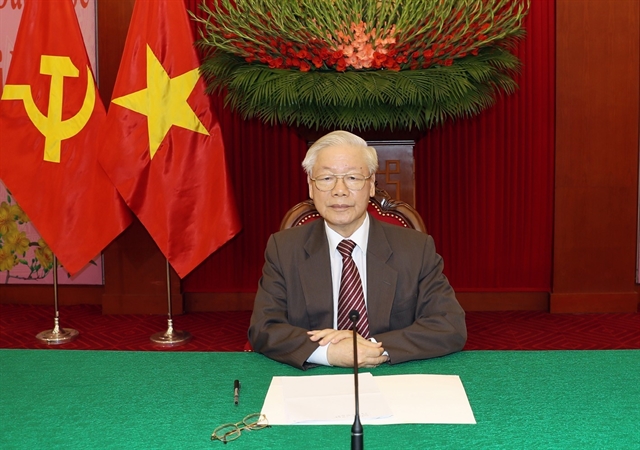 HÀ NỘI — Party General Secretary and President Nguyễn Phú Trọng held phone talks with Dmitry Medvedev, Chairman of the United Russia  party and Deputy Chairman of Russia's Security Council, on Monday.
Medvedev relayed his congratulations for the 13th National Party Congress of the Communist Party of Viet Nam (CPV) and Trọng for being elected as General Secretary of the CPV Central Committee.
He also said that the congress was a very important milestone, setting out tasks to continue developing the national economy, for the happiness and prosperity of the Vietnamese people, contributing to maintaining peace and security in the region and the world.
Medvedev also conveyed the greetings of Russian President Vladimir Putin to General Secretary and President Trọng. He appreciated the relationship between the two parties and the two countries, saying that the Russian Federation attaches great importance to the traditional friendship and comprehensive strategic partnership with Việt Nam.
Trọng sincerely thanked him for the good sentiments from Russian President Vladimir Putin, Dmitry Medvedev, the United Russia Party and the Russian people for Việt Nam. They have proved the strength of the mutual trust, friendship and comprehensive co-operation between the two parties and two countries, he said.
General Secretary Trọng briefed Medvedev on the main results of the 13th Party Congress, affirming the Party and State of Việt Nam first and foremost always attach great importance to strengthening and bolstering the partnership with the Russian Federation.
The relationship between the Communist Party of Việt Nam and the United Russia Party creates an important foundation for deep and effective co-operation between the two countries, bringing practical benefits to both sides, contributing to peace in the region and around the world.
Trọng and Medvedev also discussed some measures for future co-operation. Medvedev said Russia is ready to work with Việt Nam in the fight against the COVID-19 pandemic, as well as in all other fields.— VNS