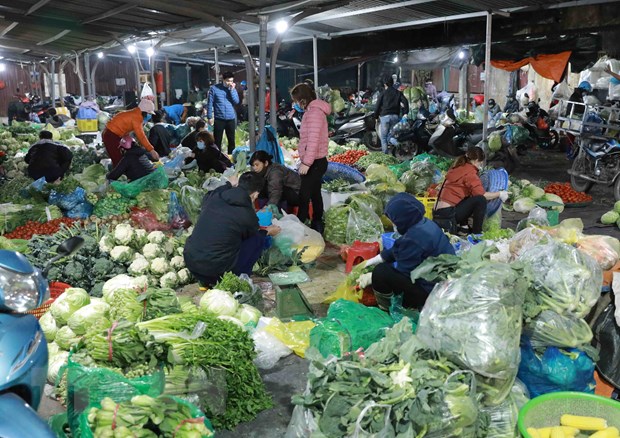 Vegetables are sold at Phùng Khoang Market in Hà Nội's Nam Từ Liêm District. VNA/VNS Photo Vũ Sinh
Vice director of Hà Nội's Agriculture and Rural Development Tạ Văn Tường talks to Hà Nội Mới (New Hà Nội) newspaper about food safety management amid the COVID-19 pandemic
What has been done in Hà Nội to control the quality of food and particularly farming products to ensure food safety for consumers during special contexts like the COVID-19 pandemic?
Ensuring food safety is the responsibility of sectors and localities including the agriculture sector. To control the quality of food and particularly farming products from farms to markets, Hà Nội's agriculture sector has been tightening control food quality with a focus on fresh products.
Last year, the agriculture department examined more than 6,000 samples of farming products for tests and found 335 of them failed to meet food safety regulations. As a result, up to 25 tonnes of unsafe food was ruined.
Besides, agencies under the department implemented programmes to support agricultural production and expand safe food supply chains. Hà Nội has concentrated cultivation areas that meet food safety regulations including more than 5,000ha of safe vegetables, over 1,300ha of fruits and teas, 182ha of aquaculture products and 88 pig farms that apply VietGAP standards.
Organic agriculture production is carried out on nearly 40ha. The city also has 164 high-tech agriculture production models and 141 food safety supply chains with nearly 9,500 products included in origin traceability systems.
What difficulties do you have in managing food safety in the city?
Hà Nội's agriculture production areas have not applied standard productions like VietGAP, ISO or GlobalGAP, resulting in uncertificated quality of the farming products and a modest rate of products' origin traceability. Many agriculture products are not processed, labelled or uncertificated, which results in unstable prices. There are 17,598 farming units in the city but most of them operate on a small scale and are located in residential areas. The delay in slaughterhouse planning also causes difficulties in controlling food quality, particularly in the processing stage.
What will you do to control food quality from farms to table this year?
We are implementing synchronised measures to boost production and consumption as well as developing food safety production areas. By the end of this year, we hope to increase the number of safe food supply chains by 20 per cent.
Agriculture agencies will also tighten inspections and post-inspection over farming producing and trading units and strictly crack down upon violations relating to food safety.
The agencies will work with local authorities to implement measures to reduce small-sized slaughterhouses and those failing to meet hygienic or animal health regulations.
We will also try to better manage the production, trade and use of plant protection products, medicines for animals, fertiliser and animal feeds.
We will continue developing farming products' origin traceability system and publish relevant information at hn.check.net.vn . We will pay more attention to managing and supporting online trade for safe farming products.
The agriculture department plans to boost communication and information campaigns, calling on organisation and individuals to ensure food safety and public health. VNS