Nine days after VietNamNet published an article about the existence of an outdoor furnace dust mountain at Tisco, the waste owner is now hurrying to build a dumping ground.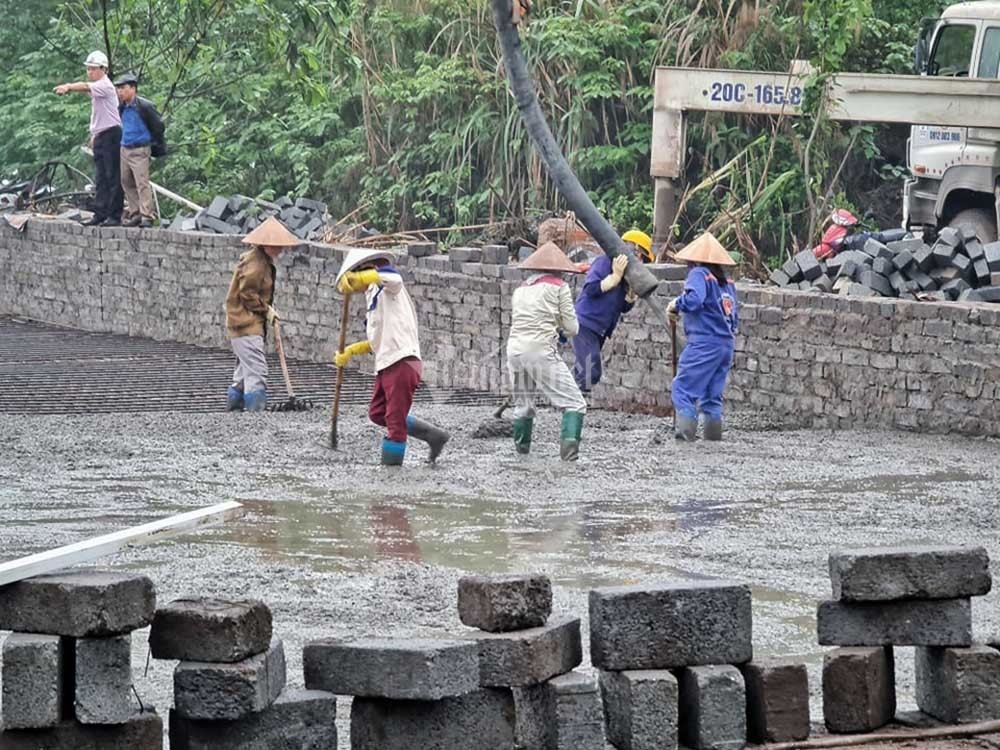 Tran Thu Huong, deputy director of the Thai Nguyen provincial Environment Protection Sub-department, and head of the inspection delegation, on March 26 afternoon told VietNamNet that inspectors are taking samples of furnace dust and monitoring the area in accordance with current regulations.
"The process of examination and sample taking was implemented without a notice in advance. The conclusion is expected to be released next week," she said.
VietNamNet found on March 26 that the waste owner was hurrying to build a furnace dust storing facility as per the approved plan. About 20 workers and machines were working to build a wall surrounding the dumping ground (3 meters tall) and a concrete foundation (0.5 meters thick).
The dumping ground will be able to contain 10,000 tons of furnace dust.
Tisco's Ha Tuan Hung said that following VietNamNet's article the company's leaders sped up the building of the furnace dust storing facility.
In fact, a decision on building the facility was released in December 2020 but for many reasons, implementation was delayed.
According to Hung, the company is determined to complete it in two days, when furnace dust will be carried to the new place.
The company has also signed a contract with Viet Bac Color Metal on dust collection and treatment.
On March 24, the General Directorate of Environment replied to VietNamNet's reporting about the mountain of waste.
Deputy General Director Hoang Van Thuc said soon after the article was published, the directorate on March 19 sent an urgent dispatch to the Thai Nguyen Department of Natural Resources and the Environment requesting to inspect and clarify the case.
The department then set up a team to carry out an extraordinary inspection on the observation of the laws on environmental protection at Tisco under Decision No 300.
The representative of the general directorate affirmed that under the current laws, owners of waste that cannot be recycled must store waste in accordance with regulations and transfer it to licensed units for treatment.
The images provided by VietNamNet showed that the storage of hazardous waste at Tisco did not observe current regulations.
Some days ago, VietNamNet published an article about the outdoor waste dumping ground, which is tens of meters long and 2 meters high.
It was estimated that thousands of tons of furnace dust had been collected in the open air with no cover. This had existed for a long time.
Doan Bong