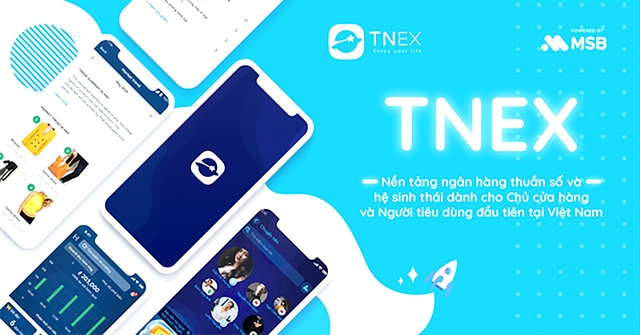 Vietnam Maritime Commercial Joint Stock Bank choses Amazon Web Services, Inc as its cloud provider for TNEX, the first digital-only bank in Việt Nam. — VNS Photo
HCM CITY — Vietnam Maritime Commercial Joint Stock Bank has chosen Amazon Web Services, Inc, a subsidiary of the internet giant, as its cloud provider for TNEX, the first digital-only bank in Việt Nam.
TNEX was developed by MSB in 10 months as a radically new mobile platform that brings all digital banking and lifestyle services under one umbrella through a super app.
It is designed with customer experience and data science at the centre of its products, services and features, and focused on addressing unmet customer needs by offering free, innovative and simple everyday banking products to the approximately 60 million Vietnamese who have no or limited access to banking and financial services.
TNEX offers its customers advanced digital banking services, supports their lifestyle needs such as food, education, travel, entertainment, health, fashion, and messaging and chat, and provides access to a digital eco-system populated by its merchant partners.
Consumers can directly buy products and services from the merchant marketplace with the TNEX app and pay digitally using QR codes.
By tapping the scalability of AWS cloud, MSB can monitor and ensure compliance.
Leveraging AWS's broad and deep portfolio of cloud services including analytics, machine learning, and containers enables TNEX to develop better ways to serve customers by innovating and deploying new products faster and drive operational efficiencies.
Bryan Carroll, chief executive officer of the digital bank, said: "TNEX provides our customers with an entirely new banking experience that supports their daily spending and lifestyle needs. Through the development of our platform on AWS, we gained the speed and agility needed to build a full-service merchant marketplace in six months and an SME and consumer digital bank in only 10 months.
"By using AWS, we accelerated the delivery of the innovative financial services that our customers have been asking for and the tools and services that our merchants require to grow their business."
A key segment for TNEX is Generation Z, the demographic that succeeded millennials. By 2025 Vietnam's Generation Z of digital-first consumers with significant spending power is expected to comprise 25 per cent of the country's labour force. — VNS