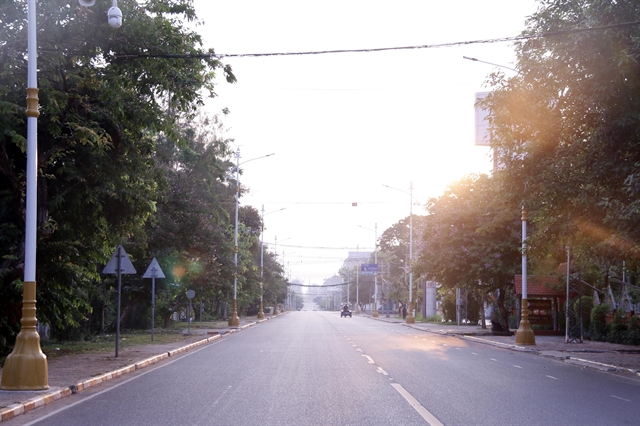 Vientiane is deserted in many places because of social distancing days. —VNA/VNS Photo Phạm Kiên
Khánh Dương
VIENTIANE — Nguyễn Trung Đồng, a Vietnamese engineer working in Vientiane, Laos, received the first shot of Sinopharm's COVID-19 vaccine two weeks ago.
With the help of local authorities, he became one of almost 700,000 people in Laos who have been given at least one inoculation.
Twenty-eight days after the first shot, Đồng will get the second. He said "I went for it because I think protecting myself helps me feel safe."
There are many Vietnamese in Laos being vaccinated. Anyone in the country who wants to be vaccinated can register with authorities.
Although the Lao Government extended the social distancing order until June 19, the number of daily cases has fallen in recent days.
Đồng added: "The situation was not as bad as the period between April 18 and 22 when the country logged nearly 100 cases per day. Now there are just a few cases each day."
When the country applied social distancing measures in mid-April, a lot of Vietnamese expats suffered.
Dương Văn Đủ, another Vietnamese engineer in Vientiane, said most of Vietnamese in Laos had their work interrupted by the pandemic. Those who run shops had to close their businesses. Many workers became unemployed but still had rent to pay.
Many landlords were not sympathetic to unemployed tenants and did not reduce rent prices.
"I am among the lucky ones who did not lose their job but still I face difficulties," he said.
During the social distancing period, only small markets are allowed to open. Supermarkets are closed during the peak time of the pandemic. Now supermarkets are open but only between 8am and 5pm.
"If I want to leave my living area, I have to show documents such as my passport at the COVID-19 checkpoints so that they can control my traveling," he said.
Despite these difficulties, Đủ said the Vietnamese community had responded calmly to the pandemic, even during its peak in April. The Vietnamese Embassy in Laos had offered support and created good conditions for the Vietnamese community.
Đủ added: "Some Vietnamese people I know bought ginger, lemongrass and lemon for self prevention. They don't want to be put in quarantine.
"I hope that the Vietnamese embassy will continue to help unemployed workers go back to Việt Nam."
According to Lê Anh Đức, vice president of Association of Vietnamese people in Vientiane, many Vietnamese who live in Laos do not know the local language so the association has offered support to help them make health declaration forms.
Facebook groups of Vietnamese people in Laos are posting news updates which call on everyone to stay calm, keep distance in public spaces and advise people not to rush back to Việt Nam.
Fear of virus return in Cambodia
Trần Vũ Thu Hằng, a Vietnamese banker in Phnom Penh, said although the lockdown order was lifted on May 6, she feared there could be another lockdown as cases were hitting 800 per day.
"Curfews are still imposed in yellow and orange zones from 8pm to 3am. Areas at high risks are zoned off as 'red areas'," she said.
"Lockdown or not, I and my family members still strictly follow COVID-19 protocols, wear face masks when going out as well as keep a safe distance.
"My husband and I have received two shots of vaccine each so we feel safer," she told Việt Nam News .
Cambodia is ranked the second in Southeast Asia in terms of vaccination coverage. Almost 2.8 million people have had at least one shot in Cambodia, covering 17 per cent of its population, according to Our World in Data.
Among those, more than 2.3 million people have received two shots.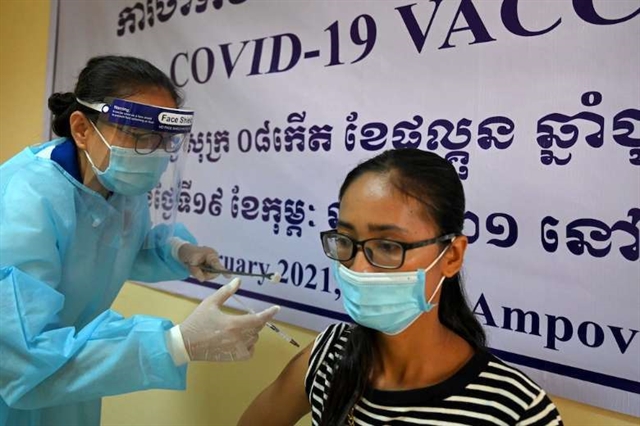 A medical worker gives a COVID-19 vaccine shot to a resident in Phnom Penh capital of Cambodia. — AFP/VNA Photo
Vũ Hào, another banker in Phnom Penh, said he signed up for vaccination through the local bank association. The registration process was quick and he was vaccinated soon after.
Hào said: "In spite of being vaccinated, I still follow local authorities' guidelines to protect myself.
"Although the number of cases is increasing, I feel optimistic Cambodia will soon be able to control the pandemic thanks to the government's plan of giving vaccine shots to as many people as they can to obtain herd immunity by year end."
Vũ Quang Minh, Vietnamese Ambassador to Cambodia, said Vietnamese people in 10 provinces and cities had registered for vaccinations.
He added: "We encourage Vietnamese people to sign up for vaccination. If their turns come, they will receive the shots and do not have to worry about anything.
"Vaccines are safe and very few people reacted adversely. All staff of the embassy, the consulate and their family members have been vaccinated."
Meanwhile, Thailand still grapples with more than 2,000 cases per day but many Vietnamese there have responded to the outbreak in a calm manner.
Nguyễn Ngọc Linh Thảo, a master's student in Phayao, northern Thailand, said although the pandemic in Phayao was not as worse as the situation in Bangkok, she and her friends still strictly follow preventive measures.
Thảo said" "As the pandemic has been controlled in Phayao, local authorities have eased social distancing. But to prevent the pandemic, not so many stores are open like before the pandemic.
"Some food and drink stalls only offer takeaway services. Food stalls and restaurants are not allowed to serve alcohol drinks. People are warned to not gather in large crowds.
"Since the outbreak, I have to be more careful when going out, limit going out as much as possible, as well as having to self-isolate for two weeks if I go back to school from another province.
"I always have to check in and check out when leaving or entering public places, as well as have body temperature taken. Classes and meetings are now online.
"Now I can't take a short trip to Việt Nam to visit home as easily as before."
Thailand launched its COVID-19 immunisation programme on June 7 and aims to vaccinate 70 per cent of its population by the end of this year. Thảo hopes the Vietnamese Embassy in Thailand will create conditions for expats to receive inoculations. — VNS