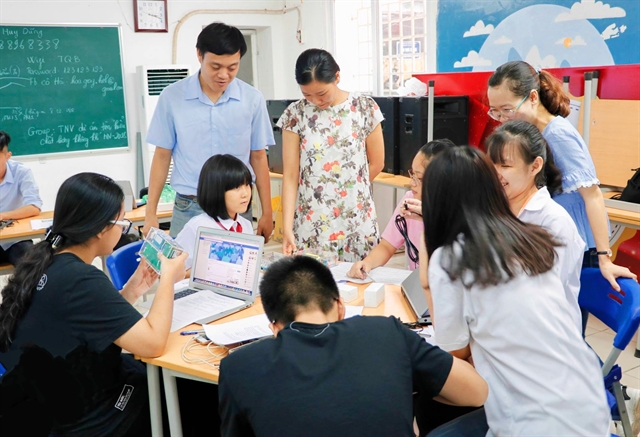 Students from Tạ Quang Bửu Secondary School in Hà Nội at a STEM lesson with AirSENSE project's staff. Photo courtesy of AirSENSE project
Hồng Điệp
HÀ NỘI — With the air pollution in Hà Nội and other parts of Việt Nam very alarming, a group of university students has set up a project allowing pupils to gain experience in science and technology and raise public awareness about the environment.
The Air Quality Monitoring System for Environment and science, technology, engineering, and mathematics (STEM) education (AirSENSE) project combines STEM skills development with environmental thinking.
It is a collaboration between the Signal Processing And Radio Communications laboratory (SPARC lab) under the School of Electronics and Telecommunications (SET) and School of Applied Mathematics and Informatics (SAMI) at the Hanoi University of Science and Technology (HUST), Institute of Environmental Science and Technology, and Centre for Science and Technology Support Development.
AirSENSE provides a STEM curriculum about air quality metering construction and knowledge related to environmental improvement.
In the project, students are taught how to use the AirSENSE device to measure the air quality index and process the data collected. They are also instructed to develop their own equipment.
Hàn Huy Dũng, a manager and the founder of AirSENSE project said more than 200 students at schools in Hà Nội and surrounding provinces have enjoyed lessons from the project, as have more than 1,000 students at STEM festivals since 2018.
The project has taught pupils and first-year students techniques like web and app programming with an environmental-related theme, he said, adding that it has stimulated their passion for science and technology.
Khánh Dương, an 11th grader from Việt Đức High School who has taken part in the project, said in the past she didn't feel confident when speaking in public.
But now, after studying and working in groups, she can make presentations on issues related to technology fluently and her thinking has become clearer.
"I really want to make a device to measure the indoor air quality by myself. Then I'll try to figure out measures to make the environment cleaner," she told the Vietnam News Agency.
Talking about the project, Lê Duy Nhật, a student from School of Electronics and Telecommunications of HUST, who is also head of the technical team, said once joining the project, a student will be given a device that allows them to monitor the air quality at home or in their surrounding environment.
This device is capable of measuring air pollution density PM1, PM2.5, PM10 as well as temperature, humidity in the air and sends periodic data to the server via the Internet.
"The cheerful and attentive faces of students at primary, secondary or high schools where the project has been carried out is the driving force for our group to overcome difficulties and be more enthusiastic in guiding the students to do scientific research," Nhật said.
Through the project, students can apply the knowledge they learned at schools, learn how to analyse data and improve their programming, problem-solving and research skills.
Nhật said he expected the AirSENSE devices would be introduced to more students as time goes on.
Trần Thị Hồng Hiền, a project member, said to attract the participation of many students passionate about environmental science research, the project has organised several contests namely '2019 Technical design contest for air environment' and '2020 Technical design contest on smart solutions for environment'.
"The contests aimed to create a healthy, useful and intellectual competition. They offered an opportunity for students aged 13-15 to exchange and turn their ideas into useful products with creativity," she said. — VNS