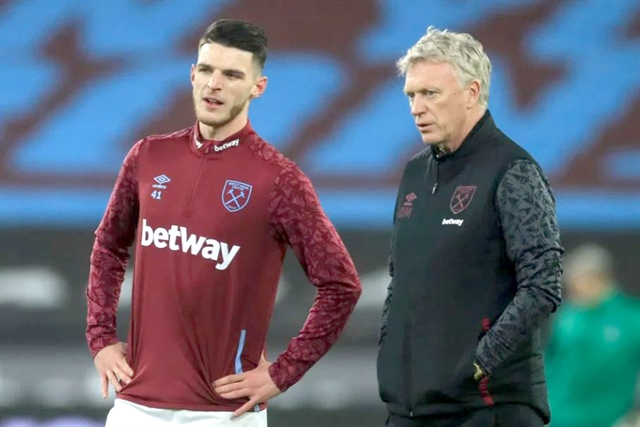 HAMMER TIME: David Moyes may struggle to keep young star Declan Rice at West Ham in the coming seasons. AFP Photo
Paul Kennedy
I've always had a soft spot for West Ham United. They are probably the London team I hate the least.
Aside from a couple of dodgy movies in the 1990s glamourising football hooliganism that I wasn't keen on, (who can forget Frodo from Lord of the Rings portraying a soccer yob) I do actually like watching them play.
Through the years they have always had a good youth system (Frank Lampard, Rio Ferdinand, Joe Cole, and more recently, Declan Rice) but because they have never been considered Premier League big boys, these players did, or will, move on.
I like Liverpudlian Kevin Nolan, who captained West Ham in days gone by and is now assistant manager, and I was impressed after they narrowly lost to Liverpool in the 2006 FA Cup final when the majority of their supporters hung around and applauded Liverpool's lap of honour, a fact noted and praised by Steven Gerrard in his autobiography.
But another reason I am a fan of the Irons is that really they are no threat to my team.
That is until this season.
Although Liverpool have beaten them home and away already in this campaign, they find themselves currently five points behind West Ham who are quite simply flying right now.
I've wracked my brain this week wondering why they have made the sudden turnaround from also-rans to top four contenders and I thought maybe it is because of the lack of supporters in the stadium.
West Ham, against the wishes of the majority of their faithful fans, moved from Upton Park to the Olympic Stadium five years ago.
Results didn't go to plan and many complained about the venue, making their feelings known during matches, particularly when they lost.
I raised my hypothesis with a Hammer buddy who shot my theory down instantly.
He claims, and to be honest, he knows a damn sight more about West Ham than I do, that much more credit must be given to the players and even more to manager David Moyes.
It wasn't that long ago Moyes was personally picked to replace Sir Alex Ferguson at Manchester United, and some would argue he wasn't given enough time at Old Trafford.
But according to the West Ham fan I spoke to, Moyes has instilled a far better training regime and gotten rid of the squad's bad apples who were not pulling their weight.
The talents of Declan Rice are plain to see, and they will do well to keep hold of him over the next few seasons, but right now things are certainly going well for Moyes and West Ham.
Realistically speaking, I don't think they will finish this season in a Champion's League position, and I believe a Europa League spot is far more realistic.
I know I will be laughed at considering Liverpool's prolonged slump, but I do feel the Reds will be above West Ham by the end of the season, although not by much.
What the Hammers' owners need to do is look at the success they have right now, realise that they are lucky to have David Moyes and his managerial team at the helm and invest in the future.
With the right signings in the summer, good, solid players rather than so-called superstars, then this season's success so far will not just be written off as a flash in the pan.
It's a good time to be a West Ham fan, and I've a feeling long will that continue.  VNS