Painter Lieu Nguyen Huong Duong draws inspiration from vibrant peach flowers.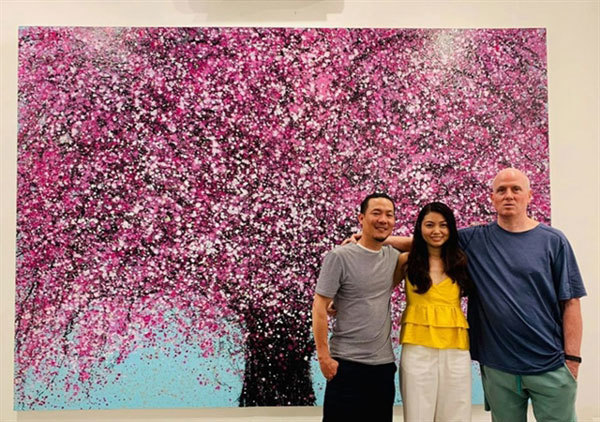 IN THE PINK: Painter Lieu Nguyen Huong Duong (left) is pictured during his recent exhibition Dancing with Peach Blossoms. — Photo thethaovanhoa.vn
He has painted so many versions of the plant he has lost count, and fans are still demanding more.
The 44-year-old artist, a pioneer in the action painting style – a combination of gestural abstraction and pointillism – is among rare Vietnamese artists to be so successful in selling art.
"I cannot remember how many paintings of peach flowers I have completed, but it's so many I even obsess over them in my dreams," he says.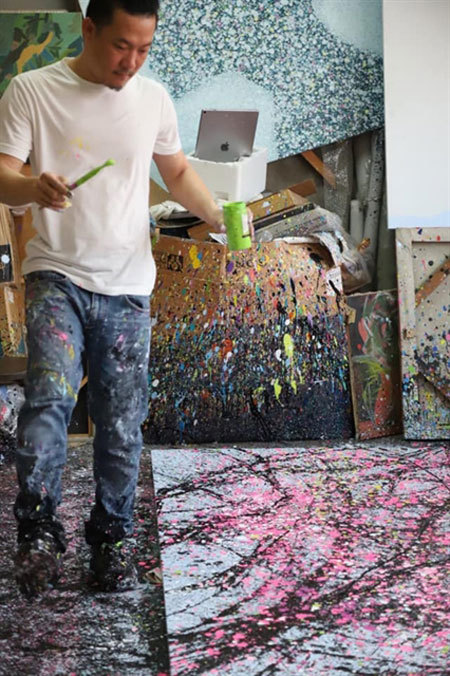 ACTION MAN: Painter Duong creates works in an action painting style. — Photo thethaovanhoa.vn
Khiêu Vũ Với Đào (Dancing with Peach Blossoms) that was held at Craig Thomas Gallery in HCM City is a continuation of the artist's 15-year journey of peach flower paintings.
"I think of the flower as a general symbol for 'beginnings'. It blossoms in spring and is full of vitality. It fills me with emotion and enthusiasm," Duong says.
"Peach flowers are found in many countries, but the Vietnamese kind has its own beauty which is why I chose to pursue it," he adds.
Not every artist can find success in painting peach blossoms, particularly a painter from the south of Vietnam like Dương who might be more familiar with ochna.
"After graduating from the HCM University of Fine Arts, like other fresh graduates, I had not figured out a specific style for myself. But then thanks to the overwhelming desire to express my own emotions and constant studies over two years, I have finally found a satisfactory painting style," Duong recalls.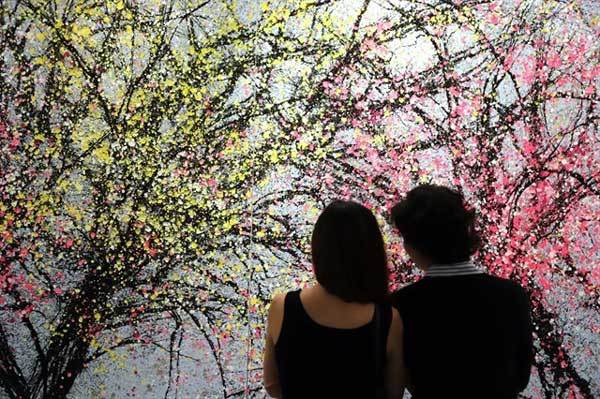 CONTEMPLATION: People look at a painting displayed at the Dancing with Peach Blossoms exhibition. — Photo Lieu Nguyen Huong Duong's Facebook
Despite pursuing the same topic and style for years, Duong has never felt bored.
"In contrast, I am interested in recreating similar pieces. It becomes so addictive," he says.
"Plainly speaking, my painting style is the action of combining colours and materials during the creative process, which can also create inspiration for my next works of art."
'Start Something New'
For a global campaign entitled Start Something New, Apple aimed to promote their new products through art. Apple retail stores worldwide were turned into galleries to display pieces of art.
In the first round, 20 artists worldwide, including photographers, painters and installation artists, were selected. One of them is painter Lieu Nguyen Huong Duong from Vietnam.
After completing works with Apple products like iPhones or iPads over several days, the artists would resubmit their works for the next round with only ten finalists.
Duong chose to finish his work entitled Cherry Blossom with an iPad Air 2 and also used it to promote the Apple product.
Duong's work, together with those by other international artists, were printed and hung in Apple stores worldwide in the first three months of 2016. Cherry Blossom was also used as a poster on Apple's official website to promote the campaign.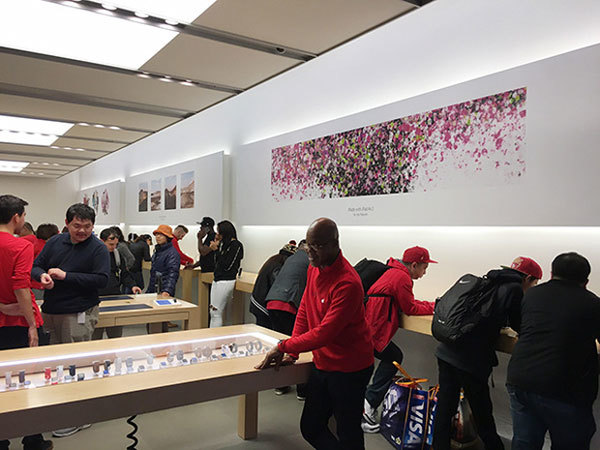 COOL FACTOR: Painting Cherry Blossom by Vietnamese painter Lieu Nguyen Huong Duong was exhibited at an Apple store in San Francisco, USA. — Photo kenh14.vn
"I love colours in nature. My inspiration originates from the changes of the four seasons, spring, summer, autumn and winter, which keep repeating over each year. Therefore, besides paintings of flowers, I could also create paintings of landscapes," Duong says.
"Painting is my passion in life. I could play with colours all day without getting bored. Only a painter could create so much enthusiasm and passion in creativity for himself. Finding a unique style that is appropriate to his own soul is a source of happiness, but being loved and recognised by others is a much bigger joy for the painter." VNS
Van Bay