It is a mistake to think that talented students are only those who score high at standardized tests or have a high GPA, according to Nguyen Chi Hieu, who has been working with students for 15 years.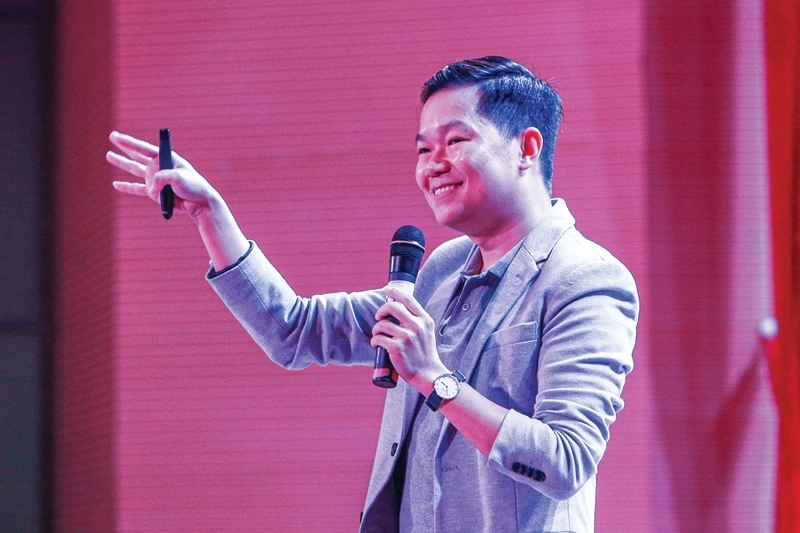 Nguyen Chi Hieu
Hieu, PhD, is known as a former best student in the UK in 2004. He was among the world's 100 best students in 2006 as selected by IIE. He has a doctorate from Stanford University in the US, and was an MBA valedictorian at Oxford University in the UK.
According to Hieu, many people believe that students who get high scores on standardized tests, have a high GPA, pass entrance exams to schools for the gifted, are in classes of selected students, or obtain full scholarship to study abroad are all talented.
This kind of thinking prompts parents to enroll their children in many extra classes and ask them to study abroad or at international schools in Vietnam.
"I know some parents who want their children to study math and sciences in English in the first grade, though the children are still bad at Vietnamese handwriting. In general, they want their children to study as much as possible."
When children finish primary school and enter secondary school, parents send their children to extra classes to prepare for the entrance exams to the Hanoi-Amsterdam High School for the Gifted, High School for the Gifted in Natural Sciences under the Vietnam National University, or High School for the Gifted under the University of Education.
High school students study hard and attend extra classes to prepare for applications for scholarships to prestigious universities around the world.
The high expectations put by parents on their children creates far too much study.
Hieu said he had heard many stories from secondary and high school students about what they have to do every day. An eighth grader said his parents wanted him to get 10/10 score for all learning subjects. As a result, he has to study until 11-12 pm before going to bed.
An 11th grade student majoring in English at a prestigious high school for the gifted in Vietnam admitted that he had many times thought of "ending his life" during the three years at the school.
Meanwhile, many students who get an 8.5 IELTS score or 1600 on the SAT still feel shocked when studying at universities in the US and want to give up study.
Another student decided to have a gap year after a period of studying at school and spent the time trying to find out what he was actually studying for and what he would do after graduating.
All these problems, according to Hieu, come from the misconception about 'talent'.

Talent is not shown in scores or the names of schools where students studied. Talented people have to have four abilities – general ability, specific ability, commitment and creative capacity.
Do high scores reflect just the ability to remember and practice? Hieu said it would be better to face the fact that 80 percent of learning work today is cramming for exams, which means learning by heart to answer exam questions. Ninety percent of knowledge is taught in a way that makes students remember but not understand the nature of the issues.
They can solve a quadratic equation very quickly but don't understand what it is for. Therefore, during 12 school years, students are "stuffed" in the head with a lot of things, but they are just skilled at doing this.
About 30-70 percent of teaching periods in classes are used to prepare for exams. Students are taught to use some 'tricks' to solve exam questions as quickly as possible.
This way of preparing for exams, according to Hieu, will 'kill' the students' curiosity and learning motivation.
Ninety percent of exam questions require true or false answers, but they don't promote students' creativity. Students have to answer 50-60 questions within one hour, which does not leave enough time for creativity.
What is talent?
Regarding the definition of 'talent', Hieu said talent is not shown in scores or the names of schools where students studied. Talented people have to have four abilities – general ability, specific ability, commitment and creative capacity.
General abilities include self-study, self-reading, research and information synthesis, criticism and creativity. Students will apply these abilities to each specific subject.
"The people who prepare for exams with private tutors and get a 10 score are not as good as people who do this themselves and get a 7 score," he commented.
Years later, the people who taught themselves will be more successful because they have real competency that can support them in many fields, from study to work. Meanwhile, half of the scores the other student gets belong to their teacher.
Once students have general and specific abilities, they need to commit to reach their goals. One student may not be at an excellent level at the time, but if he or she is persistent in their path, they will be even more excellent than someone who always gets a high score.
Finally, real talent is seen in creativity. Creative power, for example, is when you give a crayon to a child who can draw many things with the crayon though you haven't taught them.
Thuy Nga