Visitors to a collection of kerosene lamps owned by Tran Thanh Tung in Hanoi's Hao Nam street are amazed by the oil lamps of many types and sizes on display in his living room.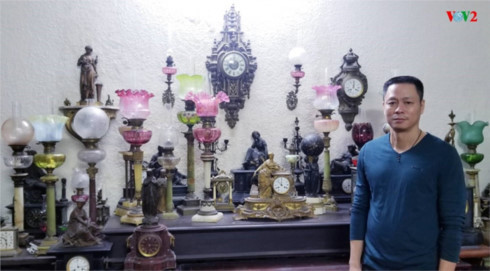 Tran Thanh Tung and his collection (Photo: VOV)
Tran Thanh Tung has travelled to many places to collect the 80 oil lamps in his collection.
He said, "I have collected oil lamps since 2010. In addition to travelling near and far to collect the lamps, collectors should have a good aesthetic sense. I used to ask friends of mine to bring me oil lamps I purchased at auctions abroad."
Tung said oil lamp collectors need to learn about the lamps' history and their artistic styles in order to use them appropriately in decorative displays.
"It's important to identify which class and style a lamp belongs to. Does it have a French or British Posh style? Was it used to decorate a castle of one of the poshest clans of Europe? Many kerosene lamps were meticulously hand-made from a variety of materials such as terracotta, copper, ceramic, wood, iron, and glass. Such materials can't be fake. And those lamps are precious to collectors like me," said Tung.
Collectors also enjoy creating new lamps from spare parts of old kerosene lamps. Tung said old oil lamp remind people of his generation of the good old days in the past when many families used kerosene lamps at night.
"These lamps remind me of the subsidiary period when we did everything by the light of oil lamps. I clearly remember that during wartime, when we had to hide inside a shelter underground, it was the light of the oil lamps that drove our fear away. When I got to university I still studied by the light of kerosene lamps," Tung explained.
Nguyen Dang Huy, another collector of oil lamps, noted, "There are a lot of positive ions in an indoor space like our houses and they tend to connect with the negative ions inside our body. When we light up oil lamps, more negative ions are created to connect with the positive ions in the air. This has a beneficial effect."
Dang Dinh Trung owns an antique shop in Cao Ba Quat street. He said there are important tips to protect and preserve oil lamps.
"It's important to keep oil lamps in a dry place and clean them regularly. It's best to keep them in an air-conditioned room to protect them from moisture," said Trung. VOV5