While Lam Dong Province is best known for Da Lat City, 110km to the south of Da Lat is the town of Bao Loc, a town far quieter but with its own charm and sights to discover.
Those who know Bao Loc City often think of the majestic Dambri Waterfall, immense tea plantations and winding hills filled with the aroma of dried tea. Together with its forests and regional flora and fauna, Lam Dong offers distinctive scenery with many picturesque lakes, waterfalls, hills and pine forests. Tourists also highly appreciate its temperate climate, beautiful sights and the abundance of highland flowers and vegetables.
Bao Loc is an ideal location for a trip to immerse oneself in pristine nature, without being overcrowded by tourists.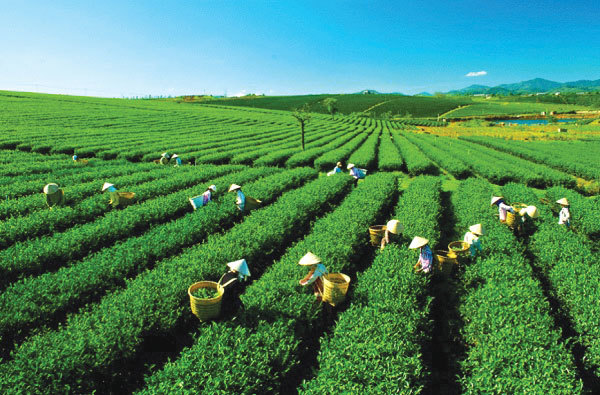 Farmers picking leaves on Tam Chau Tea Hill on a beautiful day. Photo abay.vn
The meandering tea leaf hills are made all the more beautiful by the early morning fog. Bao Loc's beautiful climate makes it ideal for growing tea. There's even an annual Bao Loc tea and mulberry festival just to celebrate the local products.
Linh Quy Phap An Pagoda is a must-visit destination when visiting Bao Loc. Endearingly called 'Heaven's Gate', the beautiful sight will make visitors feel as if they are lost in paradise. The pagoda site is a blend of Vietnamese and Japanese architecture with Japanese torii gates on each side, with the backdrop of forest, tea plantations, misty mountains and clouds at high altitude. During sunrise, it has a magical vibe with a layer of dense fog covering the mountain range.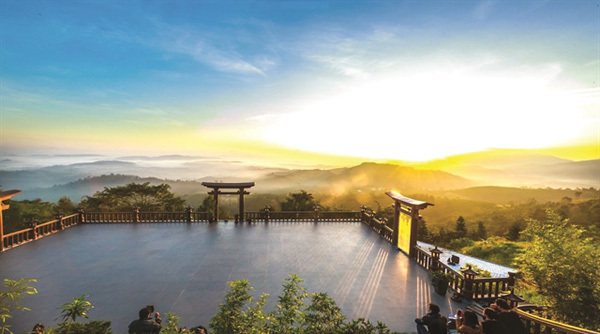 Linh Quy Phap An's incredible view. Photo happydaytravel.com
Dambri Waterfalls are the highest waterfalls in the Central Highlands at 57m in height. The stream amazes tourists at first sight with the pure and cool water squeezing through thousands of rocks in diverse sizes and shapes. The site is totally primitive with dense, wild trees lining its banks.
Less known but equally worth a visit is the seasonal pink algae lake next to Tam Chau tea hill. The pink algae is hard to come across and only grows in specific regions like Bao Loc between October and November.
Visitors and photographers who have been to this pink algae lake have said that viewing it during the early morning or sunset when the sun spreads golden rays of sunlight onto the clear lake surface makes it a stunning moment. The contrasting emerald green color makes the pink algae more vibrant, shimmering under the warm golden sunlight.
All of these spots are quite spread out, meaning tourists are better off having their own means of transport like a car or motorbikes. The journey between each spot is enjoyable in and of itself, allowing you to take in more of the picturesque Bao Loc.
VNS

Bao Loc has a very cool climate so it is one of the lyrical destinations of the Central Highlands, besides the famous Da Lat.