For the first time, Việt Nam has had a representative in the Ironman World Championship. Lâm Túc Ngân, 27, from HCM City, qualified for the biggest event after winning Ironman Philippines 140.6's 25-29 year-old female group and finishing in the top 8 of the women's ranking. She will join powerful athletes from all over the world at the 2022 event in Hawai in early October. Ngân shares her experience and plans for the upcoming race.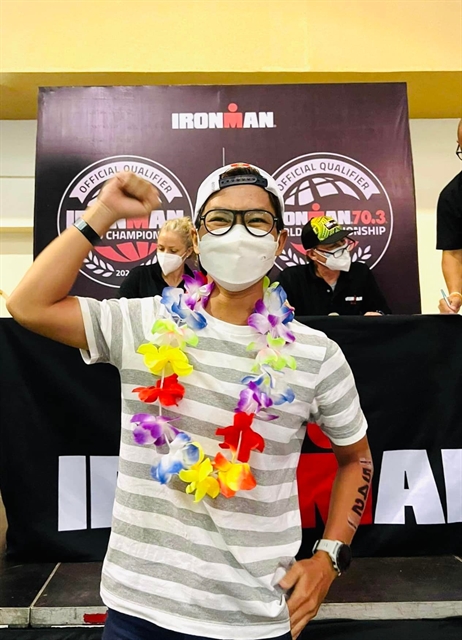 Lâm Túc Ngân will be the first Vietnamese to compete at the World Ironman Championship in October in Hawaii, the US. Photo from Lâm Túc Ngân facebook
Inner Sanctum: Congratulations. You are the first Vietnamese to earn a slot at the Ironman World Championship. How do you feel?
Thank you. It is several months to go to the world championship. There are many things to work on.
In the last 15 years of the world tournament, there was no one from Việt Nam.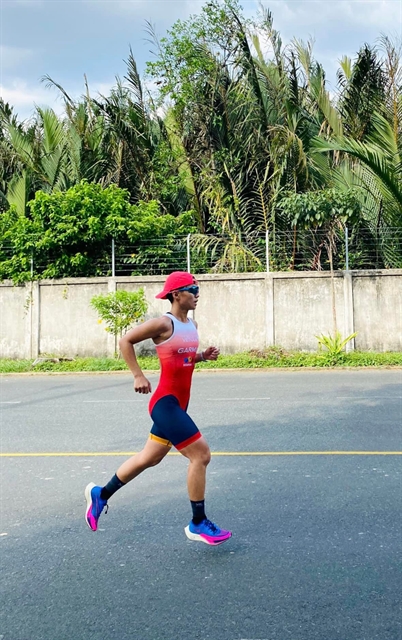 Lâm Túc Ngân trains for her world competition. She plans to complete the race and record a good result. — Photo from Lâm Túc Ngân facebook
I'm happy that finally, Việt Nam has had a world triathlon participant, a start of a big dream. The first step is always the most difficult. But this is the first, after that there will be many followers.
I'm not the best, but I want to inspire people and prove that Vietnamese can be ironmen. And more Vietnamese athletes will gain world tickets.
Inner Sanctum: Can you tell us about your preparation for your first full Ironman tournament?
In 2019 I took part in the Half Ironman 70.3 in the Philippines and won. After that, I thought I would not compete in any race because the tracks were very tough.
But, I'm twice as crazy as others. I wanted to challenge myself and grab a slot in the world championship. So I decided to register for the full Ironman event, also in Subic of the Philippines.
I trained seriously for the tournament. But the competition was delayed because of COVID-19.
It affected my spirit and training, which I set up to ensure my best performance would be on the race day.
Due to the pandemic, I could only practise maintaining my physique to be ready for the rescheduled race.
Inner Sanctum: How did the Subic postponement affect you? Why did you keep waiting despite no return date being confirmed?
Practising made me exhausted, and sometimes I got injuries in addition to high pressure in my work and life.
The delay disappointed me, and nobody knew when it would be reorganised.
But my passion for triathlon and my desire for reaching my target lifted me and gave me the determination not to give up.
I told myself that I had followed this dream for over three years. There was no reason to stop.
Inner Sanctum: You must have felt on top of the moon when the race was coming back?
Yeah! I was thrilled but worried because I had just recovered from COVID-19 and was fighting post-COVID-19 symptoms. It was just three weeks to the race.
Initially, I was not named on the competition list because the organisers did not open for foreigners but only locals and foreigners living in the Philippines.
I kept emailing the organisers and contacting friends to catch up on the situation and changes while preparing for all possible happenings.
Two weeks before the race, I was informed that foreigners were accepted, and I rushed to book flights and hotels and worked harder to improve my physique after COVID.
Inner Sanctum: Did you feel afraid you were going to face many tough rivals in Subic?
No. If I were scared, I would not try to make my dream come true. I think about the opportunity and don't care about the difficulties.
I had practised triathlon for five years and seriously trained even when the city was locked down. And I had waited for the race for so long.
I've overcome all challenges and disadvantages, and with my experience, I'm confident to continue. Otherwise, I would miss the chance, which would be my big regret.
To me, the biggest rival was myself. In Subic, I was the winner at the start line.
Inner Sanctum: How was your race?
I was swimming and enjoying my race. Suddenly, an athlete hit my face and made me dizzy. Seawater got into my goggles and strongly affected my right eye.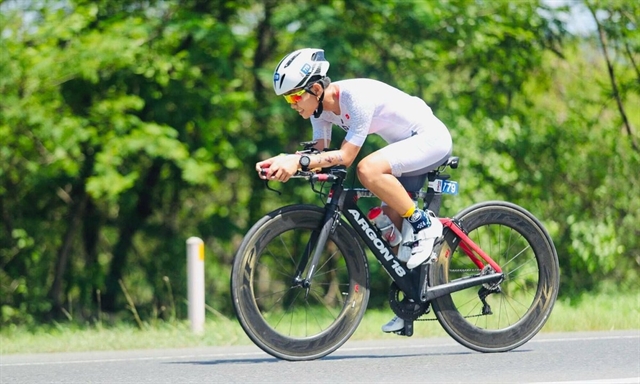 Lâm Túc Ngân will take part in swiming, cycling and running. Photo from Lâm Túc Ngân facebook
I had to cycle with a blurred vision. It hurt and felt like burning. After 90km, I had to ask medical staff to cover my eye and finished the remaining 90km cycling and 42km running with only one eye.
When I stepped over the finish line, I was happy to hear my name called out as the winner.
Inner Sanctum: Did you ever think of quitting?
As I said, being at the start line of the tournament was a success for me. I had no second thoughts about giving up because I spent a lot of time and effort, tears and sweat and suffered injuries.
I tried to enjoy every second of the race, and I knew that many friends in Việt Nam and at the finish were also watching, encouraging and waiting for good news from me.
The ticket to the Hawaii event was not for me individually but an opportunity for Việt Nam's triathlon to step into the world.
Inner Sanctum: What were the conditions to participate in the coming Ironman World Championship 2022 in Hawaii?
The Ironman World Championship has been organised only in Hawaii for more than 40 years.
To earn a slot, athletes must take part in official qualifications. Based on their scale, there are from 20 to 45 berths in these qualifications.
There are different ways to reach the world event. But I believe that the most glorious way is to win the top place in the age group category at standard tournaments. It is not easy for Vietnamese people because we have to vie against many foreigners who have trained for years.
Inner Sanctum: In your opinion, what is the key to winning?
I was tense during a tournament in Đà Nẵng in 2017, and I did not finish.
But when I reset my mind, without pressure, I naturally got a great result in a half Ironman in the Philippines three weeks later and qualified for the 2018 world half Ironman tournament in South Africa.
So the core values are a good spirit, a strong physique and a positive attitude. To me, sport is now a hobby and a lifestyle and brings me positive thinking, and it is fun.
I believe that success does not mean we must beat everyone but try our best to exceed our limits.
Inner Sanctum: How have you prepared for Hawaii? What is your goal?
I set up my practising plan. The racing track in the US is the most challenging. The biggest obstacle is the wind which can reach up to 75km per hour. It is no big problem for running, but it is for cycling.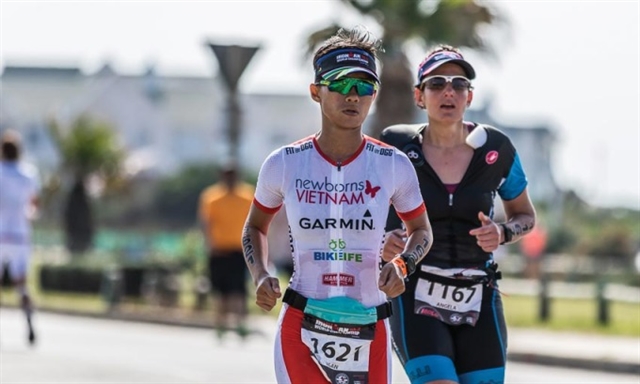 Lâm Túc Ngân's strong point is running. Photo from Lâm Túc Ngân facebook
My first target is that I will complete the race; if possible, I can improve my result compared to the Subic event.
Inner Sanctum: Will you compete in other events after fulfilling your world target?
I have won several ironman events. I don't want to be in a safe zone but step out to receive new challenges. After the world championship, I do not know if I will continue competing or if I may change direction. I will work and contribute to helping people get closer and have easier access to the world championship, a holy land everyone wants to come to.
I will share my experience with Việt Nam's triathlon community and then join my hands in organising a prestigious tournament in Việt Nam.
Anyway, I will confidently and comfortably enjoy my October event without any pressure. It is like a great end of a chapter in my life. VNS
Woman with an iron will have 1612 words, post on vietnamnews.vn at June 26, 2022. This is cached page on Talk Vietnam. If you want remove this page, please contact us.