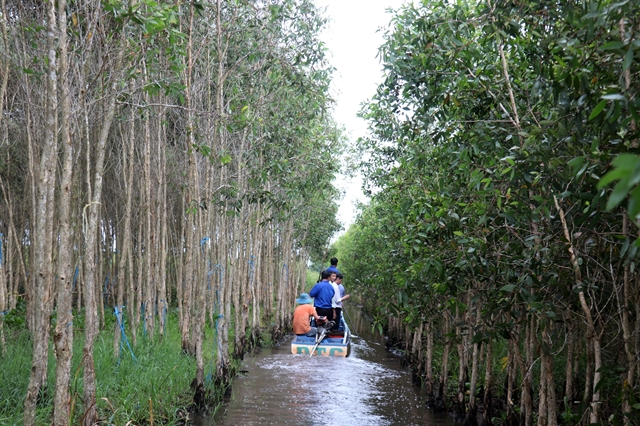 Tourists go through a cajuput forest in Kiên Giang Province's Giồng Riềng District. The forest is owned by farmer Dương Văn Minh. – VNA/VNS Photo Lê Huy Hải
KIÊN GIANG – More farmers in Kiên Giang Province's Giồng Riềng District have switched to growing cajuput trees on unproductive rice fields, fallow areas and lands with acid sulphate soil, optimal places for them to grow.
The model of growing cajuput in combination with breeding bees for honey and fish and snails offers them a good income.
Dương Văn Minh has a 22ha cajuput forest in Thạnh Lộc Commune's Thạnh Lợp Hamlet and breeds bees, freshwater fish and other aquatic species in the forest.
The trees are one to three years old and house 120 bee hives.
He used to grow rice but the acid sulfate soil in his land affected growth.
Now he harvests up to five hectares of cajuput a year, he said.
The wood is used for construction, making paper and furniture.
He is expanding the area under cajuput and making his forest tidy to attract tourists, Minh said.
Local farmers love the model since it not only offers a steady income of VNĐ150 – 200 million (US$6,500 – 8,700) per hectare annually, but also cleans the acid sulphate from the soil and improves fallow lands.
According to Nguyễn Thanh Tùng, chairman of the Thạnh Lộc Commune Farmers Association, the association plans to create more effective models and has asked the Việt Nam Bank for Social Policy to provide loans on easy terms to households who practise cajuput – honey bee – fish farming, he said.
It has petitioned central and provincial farmers associations to help households grow cajuput forests.
Thạnh Lộc has 674ha under cajuput and 204ha with beehives, which produce more than 7,000 litres of honey a year.
The honey fetches around VNĐ800,000 ($35) a litre.
Many farmers with cajuput are also tidying up their forests to make them tourist-friendly.
An agrarian district, Giồng Riềng's popular tourism destinations include fruit orchards, the Thạnh Hoà Temple, establishments that make traditional foods and products like rice paper and fermented fish, and cajuput forests, according to its People's Committee.
However, its tourism infrastructure is still limited.
Huỳnh Văn Thái Quỳnh, its deputy chairman, said the district had zoned potential tourism areas and planned to build roads, bridges and other infrastructure required for tourism. – VNS
Kiên Giang Province farmers switch to cajuput have 598 words, post on vietnamnews.vn at June 23, 2022. This is cached page on Talk Vietnam. If you want remove this page, please contact us.