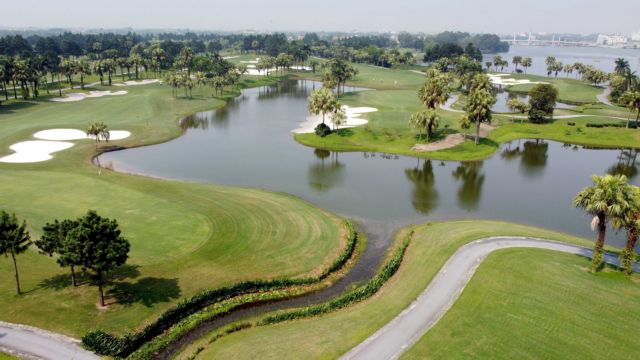 Đầm Vạc Golf Course where the SEA Games 31's golf tournament takes place. — VNA/VNS Photo Hoàng Hùng
VĨNH PHÚC — The northern province of Vĩnh Phúc, which will host competitions for Muay Thai and Golf at the 31st Southeast Asian Games (SEA Games 31), has organised a number of exciting activities to promote the province's culture and tourism.
The provincial Tourism Promotion and Information Centre has worked with local businesses to promote travel services, tours, 'One Commune, One Products' (OCOP) programme, and local specialities at competition venues, making it easier for sports fans and tourists to get information, travel advice, and guidance.
In addition, the centre also collaborated with local travel agencies to build intra-provincial trips and send guides to take tourists to three of Vĩnh Phúc's most popular tourist attractions: Tây Thiên landscape complex, Tam Đảo tourism area, and the eco-tourism area of Đại Lải Lake.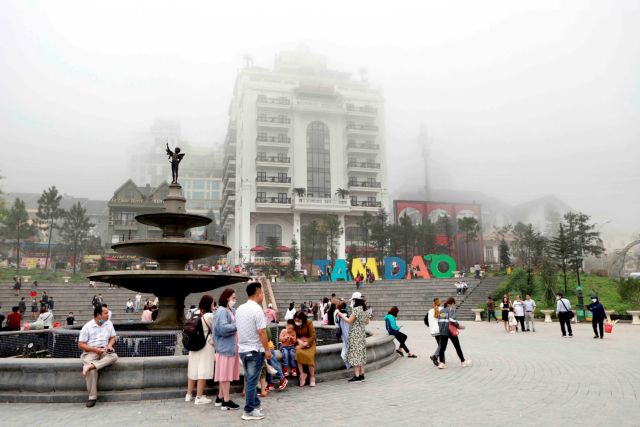 Tam Đảo is a famous tourist destination in Vĩnh Phúc with fresh air and cool weather all year round. — VNA/VNS Photo Hoàng Hùng
Billboards advertising Vĩnh Phúc tourism are displayed at the competition grounds and hotels where athletes participating in the SEA Games 31 are staying.
Visitors to the event can see promotional videos and learn about Vĩnh Phúc's top tourist attractions on a big screen at Hồ Chí Minh Square in Vĩnh Yên City.
These efforts are aimed at promoting Vĩnh Phúc as a safe tourist destination with a rich cultural heritage to visitors from across the world.
To encourage the sport movement as well as tourism potentials, and to promote the image of Vĩnh Phúc to domestic and international friends, the province is offering free admission to all SEA Games 31 matches.
Tourists and sports fans can freely enter and watch all matches without disrupting the matches and security within the competition area.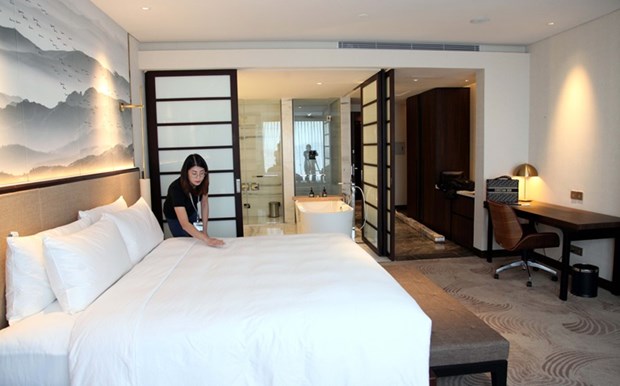 A hotel in Vĩnh Yên City, Vĩnh Phúc Province is preparing to accommodate athletes and visitors. — Photo courtesy of baovinhphuc.com.vn
Additionally, two five-star hotels are available for athletes, visitors, and guests.
Dic Star hotel in Vĩnh Yên City is the chosen place for golf athletes to stay.
To welcome delegates to the 31st Southeast Asian Games, the hotel has trained its personnel to provide service that is culturally appropriate for each country.
Dic Star also prepares traditional meals from each nation and Vĩnh Phúc specialties such as Hòn Hương Canh cake and Tam Đảo green chayote for the main menu.
Notably, the hotel will offer thính fish pizza, a novel cuisine that combines thính fish of Lập Thạch District with European pizza.
Muay athletes will be staying in the Crowne Plaza Hotel in Vĩnh Yên City.
The 5-star hotel comprises 23 floors, 170 rooms, and a network of luxurious restaurants and bars.
To accommodate the athletes competing in the 31st Southeast Asian Games, the hotel has prepared 108 service rooms with swimming pool, spa, and fitness centre.
Along with arranging accommodation for delegations to SEA Games, Vĩnh Phúc has actively built plans and measures to prevent COVID-19 and ensure food safety as well as necessary infrastructure and technical facilities for the competitions, while allocating forces to protect security along major streets.
The province has also prepared medical equipment and personnel serving the regional sport event. — VNS
Vĩnh Phúc making most of SEA Games to boost tourism have 760 words, post on vietnamnews.vn at May 16, 2022. This is cached page on Talk Vietnam. If you want remove this page, please contact us.