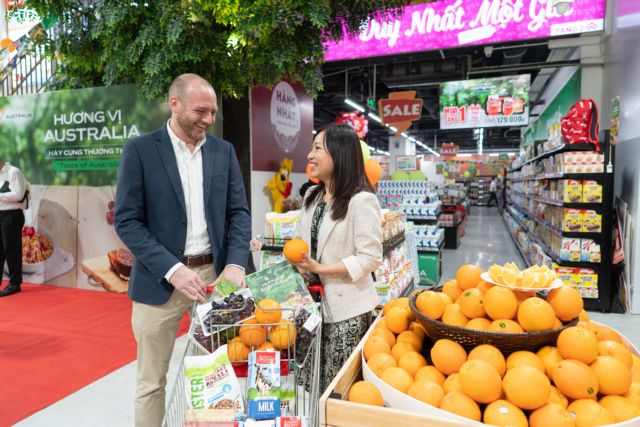 Shannon Leahy – Trade Commissioner, Austrade and Nguyễn Thị Thanh Thuỷ – General Director of BRG Retail. — Photo courtesy of Austrade
HÀ NỘI — The Taste of Australia 2022 is being held to showcase the best of Australian food, building on Australia's international reputation as a high-quality, safe, and sustainable supplier of food and beverages.
The event aims to celebrate a strengthening bilateral relationship, flourishing trade and equally vibrant culinary cultures.
This year's programme kicked off with a launch in HCM City on April 20. It will run through the month of June with a range of official events run by the Australian Embassy in Hà Nội, the Australian Consulate-General in HCM City and the Australia Trade and Investment Commission (Austrade).
Taste of Australia 2022 has partnered with up to 40 of the best restaurants and prestigious chefs from diverse culinary cultures in both Hà Nội and HCM City to highlight the versatility and first-class quality of true Australian produce and fresh fruits and products in the local market.
Festive activities include a kids' cooking class, Big Aussie BBQ, an Australian themed sparkling lunch buffet and a series of private tasting events to showcase Australian premium wines from three wine distributors in Việt Nam. Promotional programmes at the five biggest supermarket systems of Việt Nam will bring Australia's premium brands directly to Vietnamese consumers.
Vietnamese consumers can also explore the sophisticated and versatile Australian products available in Việt Nam through video series collaborating with a Melbourne-based Australian-Vietnamese chef Frank Pham, YouTube, and podcast series with Vietecera.
"With Taste of Australia, we want to share our best food and beverages with Vietnamese consumers," said Rebecca Ball, Senior Trade Commissioner at Austrade.
Australia is one of Việt Nam Nam's significant beef and lamb products suppliers. Accelerated by removing import tariffs for Australian products under the ASEAN-Australian-New Zealand Free Trade Agreement that ​​entered into force in January 2010, Australian products have seen an increasing demand among Vietnamese consumers in recent years.
"Vietnamese consumers increasingly demand clean, fresh, delicious products with premium quality and transparent origin regardless of if they eat out or at home. Australian suppliers can offer exactly what Vietnamese consumers want: high-quality products from sustainable meat, delicious fruits, and the finest dairy and cereals to premium specialities of seafood," said Nguyễn Thị Thanh Thuỷ, General Director of BRG Retail.
In 2021, even amidst lockdowns in both nations, Việt Nam and Australia reached a year-on-year rise of nearly 50 per cent in trade turnover, amounting to US$12.4 billion. Imports from Australia stood at around $7.95 billion, an annual increase of 70 per cent.
Việt Nam is Australia's 12th largest trading partner, whilst Australia is the country's 10th biggest. — VNS
Taste of Australia 2022 aims to strengthen Việt Nam – Australia relationship have 659 words, post on vietnamnews.vn at May 18, 2022. This is cached page on Talk Vietnam. If you want remove this page, please contact us.