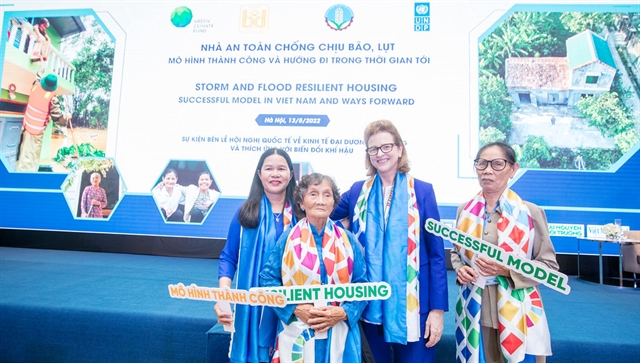 Nguyễn Thị Huyên (first, right) and UNDP Resident Representative in Việt Nam, Caitlin Wiesen (second, right) at last week's conference in Hà Nội. UNDP Photo
HÀ NỘI – Nguyễn Thị Huyên, 65, now lives in a safe house thanks to a programme initiated by the Government, the UN Development Programme (UNDP), and the Green Climate Fund (GCF).
Huyên, from Tuyết Điệm 1 Village in the central coastal province of Quảng Ngãi, suffers from sciatica and lives alone.
Every day, she relied on neighbours to bring her food and daily necessities. She lived in difficult circumstances in an old shanty house that had its roof blown off during bad weather.
She said: "Incidentally, I was advised by my nephew to apply for the safe house programme by the Government. So I registered and very quickly I received a reply.
"I sent my thanks to the donors and local authorities who helped build me a stable and warm shelter two years ago."
Huyên's house was one of 4,100 built by the programme.
"The structure of the house is very safe. During a recent storm, many relatives came to take refuge here," Huyên said.
Huyên travelled to Hà Nội to attend the meeting of an international conference titled 'Sustainable Ocean Economy and Climate Change Adaptation' last week.
UNDP Resident Representative in Việt Nam, Caitlin Wiesen said: "When building safe houses, we need to pay attention to its features, such as resistance to storms and strong winds because the households here are all in the coastal communes.
"When building safe houses for the poor, the poor are empowered to own that house and make their lives more stable," said Wiesen.
"The cost of building a safe house is not much at all. Our cost is about US$3,000/house.
"To do that we need to have specific plans in place to ensure equity in the climate change strategy and the housing strategy."
She said: "All of these houses have withstood very well the consecutive storms and large-scale floods that hit Việt Nam in 2020. These houses have secured the lives and livelihoods of many residents in many communities. These homes have also protected neighbours who live nearby. We are committed to building 1,450 more houses, expanding to Bình Định and Cà Mau provinces."
Trần Phước Hiền, Vice Chairman of Quảng Ngãi Provincial People's Committee, said: "Quảng Ngãi is a central coastal province, which every year suffers from many natural disasters such as storms and floods. Especially in recent years, the frequency of storms and floods has increased, affecting thousands of households, causing great damage to houses, properties and crops."
"As natural disasters are becoming increasingly unpredictable, affecting the poor and near-poor, it is necessary for domestic and foreign agencies and individuals to pay attention and provide more support in the future."
The Disaster Resilience Component Project, funded by the GCF, the Government of Việt Nam and UNDP, has been carrying out activities to build flood-resistant houses for more than four years. As a result, it supported the construction of 683 houses in five coastal districts of Quảng Ngãi Province. These houses have played a great role in ensuring the safety of poor people through floods and storms, especially storm No. 9 that hit Quảng Ngãi in 2020.
In 2022, the GCF Component Project in Quảng Ngãi Province will continue to provide another 200 flood-proof houses for poor households in coastal communes.
A recent report by UNDP showed more than 110,000 families still live without safe homes across 28 coastal provinces, including more than 25,000 in coastal communes.
According to Wiesen the total cost is about US$30 million to provide housing for climate-vulnerable people in Việt Nam. This can be done in a number of well-planned collaborative efforts that combine both public and private financing. This is an investment needed to ensure a fair climate transition that benefits the most vulnerable and those left behind." VNS
More safe houses against storms and floods built in Việt Nam have 1063 words, post on vietnamnews.vn at May 17, 2022. This is cached page on Talk Vietnam. If you want remove this page, please contact us.