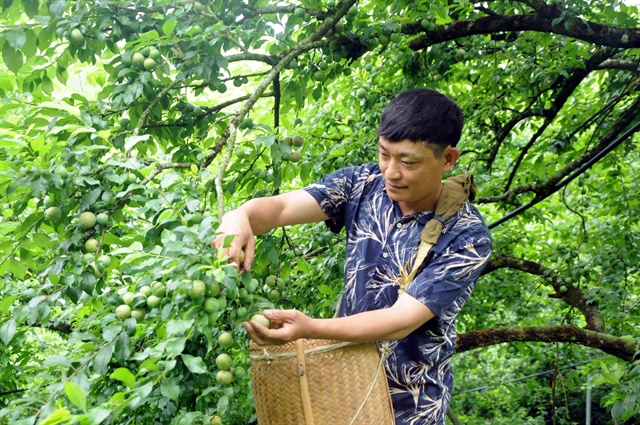 Nguyễn Đình Thuận harvesting plums. — VNA/VNS Photo Quang Quyết
SƠN LA — Plums are widely grown on the Mộc Châu plateau in the northern mountainous province of Sơn La.
In recent years, plum trees have become a key crop in local economic development, helping people eliminate hunger, reduce poverty, and even get rich.
Nguyễn Đình Thuận from Mộc Châu Township has become successful through planting the fruit.
After graduating from the Informatics Faculty of the HCM City's National University in 2008, Thuận returned to his hometown in Mộc Châu and opened a small shop providing information technology services and electronic devices for schools and offices in communes and towns in the district.
However, after a few years of running the shop, Thuận decided to switch to investing in agricultural production because he realised that his family had the advantage of hilly land with a high potential for economic development. In 2013, he started to grow plums.
Many people asked him if he regretted his university degree in information technology when he switched to being a plum farmer. But he believes that knowledge of information technology gave him an advantage in learning about techniques for planting, caring for plums, and marketing and promoting products online.
After taking over the farm from his parents, Thuận boldly borrowed money from relatives and banks to buy more agricultural land. In the first days of doing the farming work, he faced many difficulties and wondered if things would work out.
Initially, there was no water in the fields, so he had to build many tanks to store water in the rainy season to be ready for the dry season.
In addition, the roads to the farm were so narrow that motorbikes could not be used, so horses transported the goods, he said.
In the past, this area was mainly planted with grass and corn to raise horses. After building a road, Thuận switched to planting plums.
Thuận restored and trimmed 700 old plum trees his parents planted in 1994 and grew many new trees replacing the barren ones.
After many years of hard-working, Thuận reaped good results.
However, his family's products were not different from other plums in the area, and transportation was still tricky, leading to precarious prices.
In some seasons, the plums could only be sold for VNĐ2,000 (0.8 US cents) per kilo. But such obstacles pushed him to find new directions for surviving and developing.
He discussed things with his parents and other plum growers in the area and they agreed to invest more than VNĐ3 billion (US$131,000) to build a concrete road leading to the plum fields.
Then, he applied organic plum planting methods so that the plum trees were fertilised once a month with organic and inorganic fertilisers and trimmed the branches periodically.
He did not use herbicides, and his farm always yielded large, juicy and beautiful fruit, which sold well.
Currently, Thuận has five hectares of land for growing plum trees, of which 2.5 hectares are being harvested.
If the trees were well cared for with the correct procedures and techniques and there is favourable weather without hail, frost, and pests, his farm can harvest 45-60 tonnes of the fruits. Sometimes, he can harvest 100 tonnes each year.
With the selling price ranging from VNĐ15,000 to 50,000 per kilo, every year, his family earns billions of đồng , with profits of around VNĐ500 million to 700 million.
Recently, Thuận has invested in building a drying oven to process fresh plums into dried products, thereby making the most of the firewood from pruning plum trees and helping him reduce pressure on consumption and decrease production costs.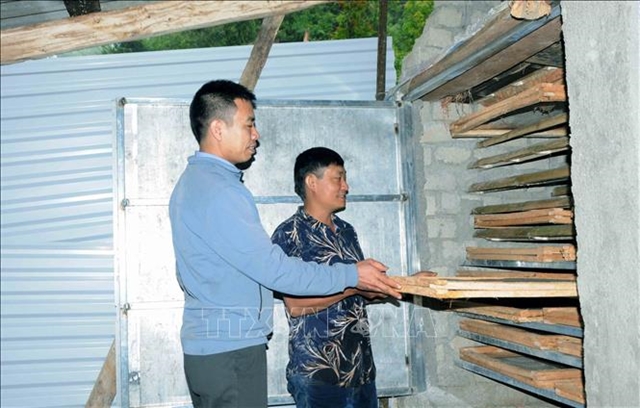 Thuận (right) at his oven for drying plums. — VNA/VNS Photo Quang Quyết
To ensure the planting, tending and harvesting of the plums, Thuận hires 20-30 seasonal workers and 5-7 regular workers with a monthly income of VNĐ5.4 million per person.
Phạm Hoàng Thiện, president of the Mộc Châu Farmers' Union, said Thuận was an example of a young and enthusiastic farmer.
Thuận's model for organic plums has brought high economic efficiency and created jobs for many local workers, Thiện said.
The development of the plum farming model of Thuận's family brought high economic value and created safe agricultural products, contributing to the improvement and protection of the environment, he added. — VNS
Mộc Châu man gets rich growing plums have 974 words, post on vietnamnews.vn at May 17, 2022. This is cached page on Talk Vietnam. If you want remove this page, please contact us.