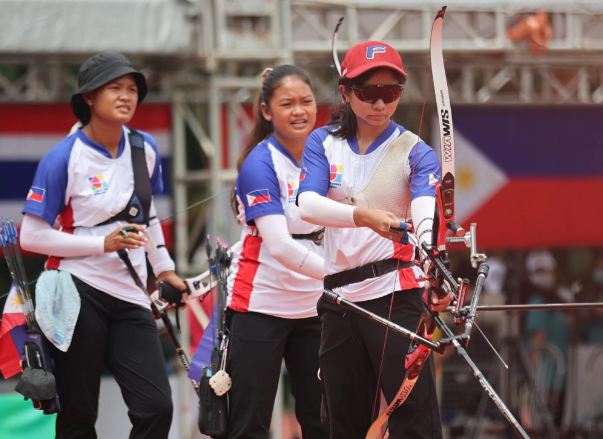 Pia Bidaure, Gabrielle Bidaure and Phoebe Amistoso won gold for the Filipino women's recurve team. Inquirer/ANN Photo
Hồ Hoàng
The Philippines archery team won its first gold medal in the women's recurve team competition at the Hà Nội Sports Training Center on May 18.
Pia Elizabeth Bidaure, Gabrielle Monica Bidaure and Phoebe Nicole Amistoso delivered the first gold for the sport after beating Việt Nam 5-4, in the final.
The Filipino archers took the lead with a score of 2-0 after two turns.
In the following four turns, the Vietnamese archers had a better performance, equalising the score to 2-2 before taking the lead with 4-2.
The Filipinos brought the score to 4-4, leading to a penalty shootout.
The Filipinos won, defeating Đỗ Thị Ánh Nguyệt, Hà Thị Ngọc and Nguyễn Thị Thanh Nhi, who settled for silver.
Abby Bidaure, 20, hit the bullseye in the final arrow of the shoot-off with just 10 seconds left on the clock, ending the home side's hopes with a thrilling 26-25 victory.
Myanmar took bronze after defeating Malaysia 5-4.
In the final of the men's singles bow, the three archers of the host country, Chu Đức Anh, Nguyễn Duy and Nông Văn Linh, could not defeat their Indonesian opponent. The final score was 6-2 in favour of the archery team from Indonesia, leaving Việt Nam to settle for silver.
Last-minute bullseye secures Filipino archery gold have 422 words, post on vietnamnews.vn at May 19, 2022. This is cached page on Talk Vietnam. If you want remove this page, please contact us.