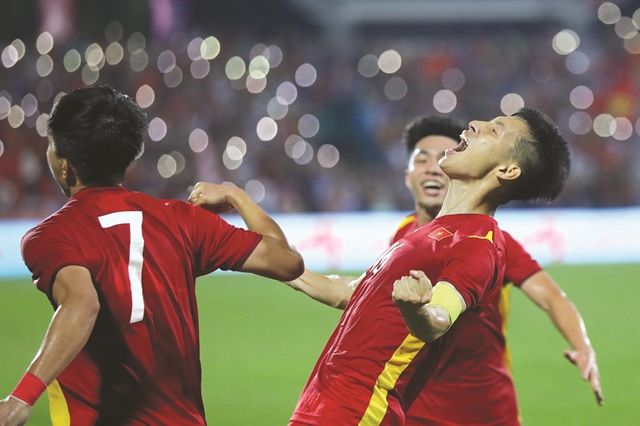 Captain Đỗ Hùng Dũng celebrates his goal during the 31st SEA Games match between Việt Nam and Myanmar. Việt Nam win 1-0. VNA/VNS Photo Hoàng Linh
Anh Đức
PHÚ THỌ — Việt Nam have edged closer to the semifinals after winning 1-0 against Myanmar in their third match in Group A of the SEA Games men's football.
The Golden Star Warriors ran into the same trouble as their previous draw against the Philippines. A low-block Myanmar defence made hard work for the Vietnamese until the 76th minute when captain Đỗ Hùng Dũng scored the solitary goal.
Contrary to the pundit opinion, Myanmar started the match attacking and created surprising pressure on the hosts. In the third minute, Moe Aung breached the Vietnamese defence, but Nguyễn Văn Toản saved his shot.
But Myanmar could not keep the pressure for long, and Việt Nam soon reclaimed possession and control of the game. Lý Công Hoàng Anh was instrumental in Việt Nam's play, creating multiple chances for his teammates upfront.
Việt Nam's most dangerous chance in the first half came with a header from Tiến Linh. Việt Nam's World Cup qualifier's top scorer rose above everyone and headed goalward, but Pyae Phyo Thu acrobatically saved it, and the first half ended 0-0.
Coach Park Hang-seo brought on changes to bolster the attack in the second half, with Lê Văn Đô replacing Vũ Tiến Long as a right wingback.
Văn Đô made a sudden impact with his dribble inside the box in the 59th minute. His shot, however, was tame, and Pyae Phyo Thu was able to clutch it safely.
Việt Nam pushed forward in the last twenty minutes and got closer and closer to Myanmar's goal. Hoàng Đức had a powerful shot outside of the box in the 71st minute, reminiscent of his goal against Indonesia three years ago, but this time he blazed over.
As the rain started showering down in Việt Trì Stadium, the Burmese defence collapsed. In the 76th minute, Lê Văn Đô got inside the box again and crossed low for Hùng Dũng to fire home.
Two minutes later, Nhâm Mạnh Dũng almost doubled Việt Nam's lead, but Myanmar's keeper saved his shot at the near post. The rain got harder, and both defences made clumsy mistakes, but no more goals were scored, and Việt Nam secured the needed victory.
Earlier on at Việt Trì Stadium, Indonesia continued their rebound streak, and the 2019 SEA Games silver medalists dismantled the Philippines 4-0 with goals from Muhamad Ridwan and Rizky Ridho in the first half, before young talents Egy Maulana and Marselino Ferdinan complete the Garudas' dominating performance in the last 15 minutes of the match.
With these results, Việt Nam are back at the top of group A and almost sure to advance to the semi-finals, should they not lose by four goals against Timor-Leste in their next match on Sunday. The latter are already eliminated along with the Philippines.
Indonesia and Myanmar are on 6 points, with Indonesia ahead on goal difference. Both teams will face off on Sunday when Myanmar must win to book a place in the semis.
Hosts edge closer to football semis have 854 words, post on vietnamnews.vn at May 13, 2022. This is cached page on Talk Vietnam. If you want remove this page, please contact us.