Vietnam's coronavirus risk assessment has seven localities belonging to the "orange zone," 23 in the "yellow zone" and 33 in the "green zone".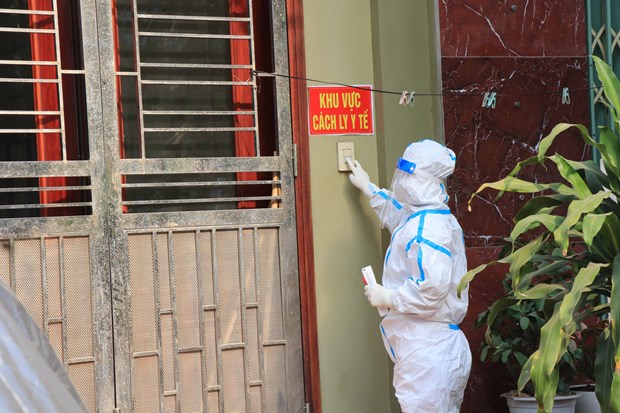 A medical employeevisits a COVID-19 patient's house to bring medicine and take samples for SARS-CoV-2, in the northern province of Bắc Ninh.
Green indicates a low-risk of COVID-19, yellow medium-risk and orange high-risk.
Hải Phòng City and the provinces of Bình Phước, Bình Định, Hậu Giang, Thừa Thiên-Huế, Tây Ninh and Vĩnh Long are orange zones, as per the Ministry of Health's latest update.
The yellow zones comprise Bà Rịa-Vũng Tàu, Bạc Liêu, Bến Tre, Cần Thơ, Sóc Trăng, Hà Nội, Gia Lai, Hòa Bình, Hà Tĩnh, Hưng Yên, Khánh Hòa, Lâm Đồng, Bình Định, Quảng Ngãi, Quảng Trị, Thanh Hoá, Vĩnh Phúc, Đà Nẵng, Đắk Lắk, Đắk Nông and Đồng Nai.
The remaining localities are green zones.
HCM City has been a green zone for two consecutive weeks, the ministry said. This is considered a positive sign, and the daily number of new cases, severe cases and fatal cases in the city are decreasing fast.
Hà Nội has seven districts – Cầu Giấy, Nam Từ Liêm, Thanh Xuân, Ba Đình, Gia Lâm, Hoàng Mai and Long Biên – belonging to the orange zone while 23 are yellow.
Back to school
Localities across the country have made adjustments to the teaching model, moving from online to offline and vice versa, depending on the development of the pandemic in each locality.
From the beginning of this week, the Mekong Delta provinces of Tây Ninh and Đồng Tháp have allowed students in grades 9 and 12 to go to school directly, after a long period of online learning.
In the Mekong Delta province of Trà Vinh, primary students have been allowed back to school since Monday.
For other grades, if the pandemic remains stable, students can return to school after the Tết (Lunar New Year) holidays.
In Cần Thơ City, students of secondary, high schools and education centres have been allowed to go to the school since Monday. The students will only learn in a morning or afternoon session each day.
In Hà Nội, students of 9th and 12th grades in seven districts belonging to the orange zone have started to learn online since Monday, instead of learning offline, while students of 9th and 12th grades in Hoàn Kiếm District, classified as a yellow zone on Sunday, have returned to school.
Trần Thế Cương, director of Hà Nội's Department of Education and Training, at a recent online meeting said that that the city had built a roadmap to allow all students from 7th and 12th grades to return to school after Tết.
Việt Nam has recorded 2,023,546 cases of COVID-19 as of Sunday, ranking 28th out of 224 countries and territories worldwide.
The total number of COVID-19 fatalities in the country so far is 35,609, accounting for 1.8 per cent of total infections.
The country has confirmed 68 cases of the Omicron variant, all quarantined immediately after entry, in Hà Nội (1), Quảng Nam (27), HCM City (30), Hải Dương (1), Hải Phòng (1), Thanh Hoá (2), Đà Nẵng (3), Khánh Hoà (2) and Long An (1).
Source: VNS
VN puts seven localities at high risk of COVID-19 have 809 words, post on vietnamnet.vn at January 17, 2022. This is cached page on Talk Vietnam. If you want remove this page, please contact us.