Four major goals have been obtained under the national program on TV digitization. Sixty-three cities/provinces throughout the country are covered with the second generation of Digital Video Broadcasting (DVB-T2) TV wave.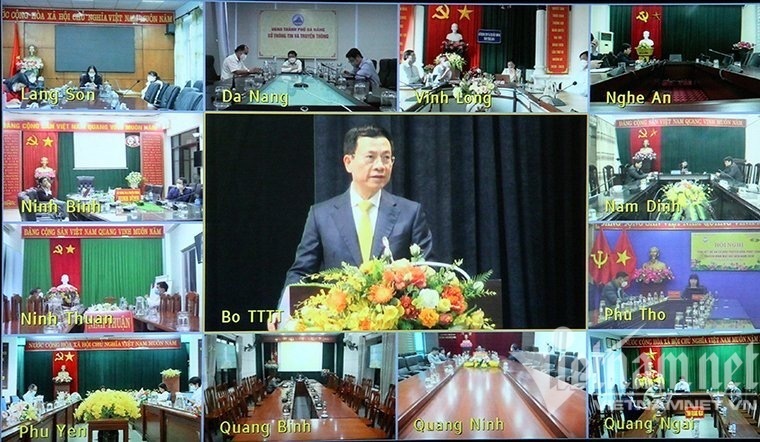 At the conference
A conference on reviewing the implementation of the project on digitizing terrestrial TV broadcasting by 2020 was held recently.
Ten years ago, Vietnam decided to use DVB-T2, the most advanced technology. This was a daring decision which showed long-term vision. At that time, Vietnam was one of six countries in the world using DVB-T2. This is a wise decision if noting that 90 percent of countries using DBV have chosen the technology.
Da Nang was the first locality that piloted the TV digitization program. At that moment, only five countries were using DVB-T2, therefore, it was difficult to persuade leaders and change people's mindset. However, with the local authorities' strong determination and support from the Ministry of Information and Communications (MOC), Da Nang successfully stopped Analog TV.
According to Tran Quang Hung from Vietnam Television (VTV), the workload was heavy and VTV had to run against time to fulfill the workload as scheduled.
On December 28, 2020, Vietnam officially stopped broadcasting analog terrestrial television. DVB-T2 covered all 63 cities/provinces nationwide with over 80 percent of total population, or 10 percentage points higher than targeted.
Under the project, the support in set-top boxes has been given to 1.9 million people worth VND1 trillion. The money is from the Vietnam Public Utility Telecommunication Services Fund.
Vo Thanh Nhan, Deputy Director of Vinh Long Television, said DVB-T2 blurs the bounds of the old-generation television. The advantage of single-frequency TV is that it doesn't depend on distance. This allows television companies to save resources and focus on content production.
As the coverage has been expanded to the north and Da Nang, television has obtained considerable growth.
Speaking at the conference, Minister of Information and Communications Nguyen Manh Hung said four major goals of the TV digitization project have been reached, including the competition of the transformation from analog to DVB-T2 TV with the frequency use efficiency increasing by 30 times; significant expansion of terrestrial TV coverage (100 percent of households that have TV sets can access digital TV under different forms); the use of different resources in the society to develop TV instead of relying on the state budget; and the organization and rearrangement of the structure with focusing on content production.
Despite challenges, Vietnam still can fulfill the plan and become one of leading countries ending analog TV thanks to a reasonable approach.
"Vietnam ranks 78th out of 193 countries that have stopped analog TV broadcasting. The success of the project is attributed to the reasonable approach that fits Vietnam's conditions," Hung said.
According to Hung, there are seven factors that bring success to the project 1/perfect legal framework 2/reasonable roadmap 3/use of advanced technology 4/creativity and flexibility in using financial mechanism 5/respect of people's opinions 6/propaganda to heighten people's awareness and 7/the active participation of localities.
"To develop rapidly and sustainably, the country needs to renovate continuously to grasp new opportunities and to march towards better things. Our biggest transformation is the move from real world into the digital world, which is called digital transformation," he commented.
Former Deputy Minister of Information and Communications Le Nam Thang said that the TV digitization plan is not only a revolution in technology, but also management and organization.
"It is necessary to persuade people that digitization will bring big benefits to the country as concentrated infrastructure will replace the costly fragmented infrastructure items. This proves to be the biggest challenge," he said.
Commenting about the success of the project, Dao Quang Hoan, former Director of the Authority of Radio Frequency Management, cited three good things done under the project. First, using the Vietnam Public Utility Telecommunication Services Fund. Second, requesting to integrate DVB-T2 set-top boxes into the TV sets made in Vietnam and imported sets. Third, digitization was implemented in cities and populous areas first and then rural and remote areas.
Duy Vu
Vietnam 'walks abreast' with leading countries in television technology have 818 words, post on vietnamnet.vn at January 15, 2022. This is cached page on Talk Vietnam. If you want remove this page, please contact us.