Netflix, the US Embassy Hanoi and NPX Point Avenue are launching a public speaking and debate competition to raise awareness on sustainability in Viet Nam
NPX Point Avenue, in partnership with Netflix and US Embassy will open applications for the "Speak to Inspire, Vietnam" competition from January 10 to February 9, 2022.
Open to Vietnamese students between the ages of 11 and 24, "Speak to Inspire, Vietnam" is an English public speaking competition that aims to raise awareness of sustainability among the local community and to spur meaningful conversations on topics such as environmental conservation and climate change.
The competition consists of three stages, across three competing categories, Speech, Storytelling and Debate.
To apply, students from Junior, Senior, and University levels will need to submit a 5-minute video in which they can choose to present, tell a story, or debate on the sustainability topic.
The submitted videos will be judged based on content, strategy, and style by a panel of national and international experts to determine the Top 100 speakers to advance to Round 2.
Finalists will be invited to partake in our hands-on Intensive Training Camp, led by international subject matter experts, and a Final Showcase.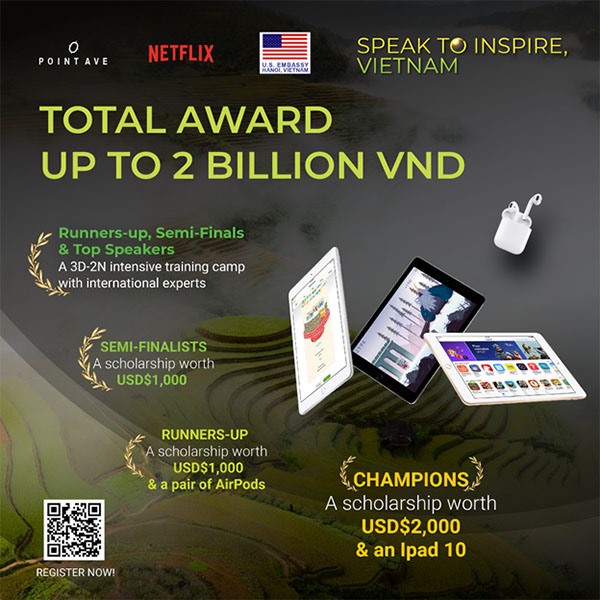 The competition officially kicks off on January 10, with a total awards of up to 2 billion VND
"We are very excited to partner with US Embassy Hanoi and NPX Point Avenue to bring 'Speak to Inspire, Vietnam 'to Vietnam,' and to raise greater awareness of sustainability. Netflix is at the start of a crucial journey in Southeast Asia to listen and to learn about sustainability priorities in the region. Through this partnership, I'm confident that the competition will spur more meaningful conversations on topics such as environmental protection and climate change among the local community, and especially among youth," said Victoria Furniss, vice president of Global Public Policy at Netflix at the launch ceremony.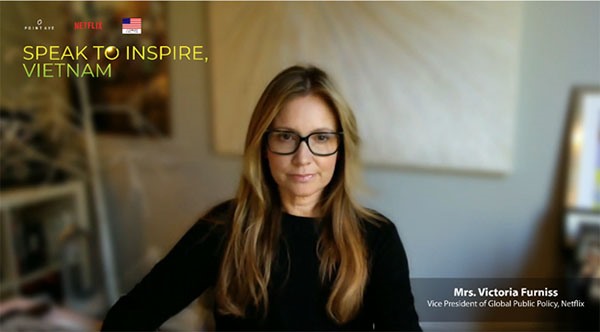 Holly Lindquist Thomas, chief of the Environment, Science, Technology and Health Section, US Embassy, said: "This initiative will prepare young leaders to tackle serious issues of climate change and sustainability. In recent years, the US Government has invested millions of dollars for local communities through regional environmental programs such as the Mekong-U. partnership. We are proud to work with our partners to secure a brighter future for the next generation."
Tommy Nguyen, COO of NPX Point Avenue, was also excited about the competition, saying: "Ideas inspire progress and move the world. NPX Point Avenue's mission is to empower tomorrow's leaders to transform the world through wisdom, integrity, and compassion. Through 'Speak to Inspire, Vietnam', and in collaboration with Netflix and the US Embass, we aim to raise awareness of sustainability among the local community and help Vietnamese youth hone the art of communication as they share their passion before small and large audiences."
For more information about the application process, please visit speak2inspire-asia.com
Organisers
About Netflix
Netflix is the world's leading streaming entertainment service with 214 million paid memberships in over 190 countries enjoying TV series, documentaries and feature films across a wide variety of genres and languages. Members can watch as much as they want, anytime, anywhere, on any internet-connected screen. Members can play, pause and resume watching, all without commercials or commitments.
About US Embassy
The mission of the United States Embassy is to advance the interests of the United States, and to serve and protect US citizens.
About NPX Point Avenue
NPX Point Avenue is a leading education technology company in Southeast Asia that provides K-12 private bilingual schooling and K-12 after-school programming. Pairing holistic education with the latest technologies, it specializes in STEAM, English Learning, Test Preparation, Competitive Debating, Admissions Consulting, and Life Coaching.
Since 2018, NPX Point Avenue has taught and mentored thousands of students from Viet Nam and Thailand to reach their educational goals, including gaining admissions into top global universities.
Netflix, the US Embassy Hanoi and NPX Point Avenue have 850 words, post on vietnamnews.vn at January 13, 2022. This is cached page on Talk Vietnam. If you want remove this page, please contact us.