Ngo Thi My is among many migrant workers in HCM City who plan to stay in the city to earn a living during the Tet (Lunar New Year) after a tough year impacted by COVID-19.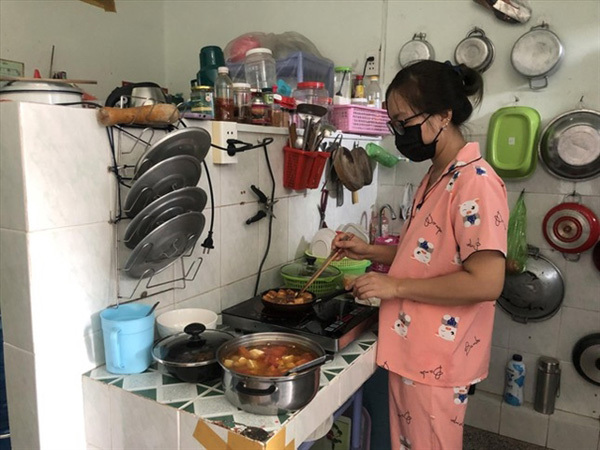 Nguyen Kim Lam, a migrant labourer in HCM City, is among many workers who decided to welcome New Year far from home. — Photo tienphong.vn
"I will not return to my hometown but stay in the city this Lunar New Year season to look for a part-time job," said My.
The 20-year-old woman hailing from central Ha Tinh Province started a job at a company in Binh Tan District, HCM City, two years ago.
She receives VND6 million (US$264) per month and sends home VND2 million for her mother. The remaining salary is used to pay for her living costs in the city.
"When the company had to suspend operations due to the pandemic, my pay decreased. I had to look for other part-time jobs like selling vegetables and making face masks to afford daily expenses and send money home," she told Tiền Phong (Vanguard) newspaper.
"Now the company has received more orders. We work extra shifts so I have stopped the part-time jobs, I only make gloves and face masks to sell online," she said.
She wishes she could earn more to afford extra school classes to get a graduation certificate.
Ho Ngoc Dinh, the owner of a rental house complex in Xuan Thoi Son Commune, Hoc Mon District, said nearly 70 per cent of labourers in his area would stay in the city during the coming holiday.
He is preparing to repaint houses and buy ornaments to decorate the complex wishing to bring the New Year atmosphere to labourers who will be away from home this season.
Looking back at 2021, Nguyen Kim Lam, 28, and her husband who both work in District 7, felt lucky because "At least we are still healthy after the pandemic. We still have jobs so we are trying more. Hopefully, next year will be better," Lam said.
She had to send two children to her hometown in Ca Mau Province since schools were closed due to the pandemic.
"I have not seen my children for a long time. I miss them," she said.
Ly Kim Chi, 26 years old, a worker from Hau Giang Province, said the highest monthly salary she could earn working as a labourer in HCM City was VNS4.9 million.
She wanted to return to her hometown but hesitated and then chose to stay.
"At least me and my husband can earn a total of VND10 million per month. Half of the wages are spent on rent and the rest sent home," Chi said.
Le Tuan Giang, a 78-year-old owner of a rental house complex in Binh Tan District, said he was preparing rice, sugar and oil to send to tenants as New Year gifts.
In July when the pandemic reached its peak, he slashed the rental fees by half and cut them completely in August and September.
After four months of social distancing, seeing a lot of tenants still unemployed, he and her daughter gave VND200,000 to each household.
Bui Thi Ben, the owner of another complex in Thu Duc City, is preparing ingredients to make chung cakes (traditional dish made of rice, green bean and pork and used during the Tet holiday).
She said she wanted to bring a warm atmosphere to labourers who could not return home because many localities had tightened quarantine regulations on returnees.
Pham Chi Tam, vice president of HCM City Labour Federation, said VND700 billion would be distributed to labourers in the city to help them have a happy New Year.
The federation will offer assistance to 600 labourers in disadvantaged circumstances working in medical and environmental sectors and living in remote areas.
Female workers who are pregnant or have newborn babies affected by the COVID-19 pandemic, and orphans of female workers who died of COVID-19 will also receive assistance from the federation.
Source: Vietnam News
Migrant labourers welcome New Year far from home have 732 words, post on vietnamnet.vn at January 19, 2022. This is cached page on Talk Vietnam. If you want remove this page, please contact us.