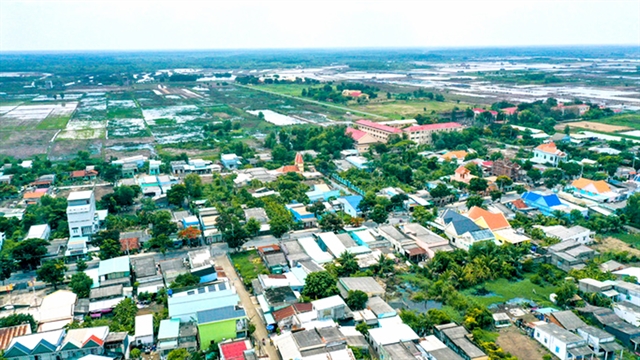 Cần Giờ is one of five outlying districts in HCM City to become urban by 2030. — Photo nld.com.vn
HCM CITY — HCM City has announced plans to speed up urbanisation of the five outlying districts of Hóc Môn, Bình Chánh, Nhà Bè, Hóc Môn and Cần Giờ, and make them urban districts by 2030.
It has assigned the Department of Planning and Investment, Department of Culture and Sports, Department of Planning and Architecture, Institute for Development Studies, and the Department of Home Affairs to cooperate for the purpose.
They will solicit investment to develop new urban areas, industrial parks, tourist areas, and commercial zones.
Criteria such as population, area, socio-economic indicators, education levels, and urban infrastructure apply for becoming an urban district, and Bình Chánh meets the highest number among the five (26 out of 30), followed by Nhà Bè and Củ Chi, Hóc Môn and Cần Giơ.
Dr Võ Kim Cương, former deputy chief architect of the city, said: "Perhaps the plan to turn the five outlying districts into urban districts aims to convert agricultural lands into urban lands."
He said urbanisation of suburban districts must meet environmental and ecological criteria.
For example, with its mangrove eco-system and world biosphere reserve status, Cần Giờ should focus on developing urban eco-tourism, he said.
Lê Hoàng Châu, chairman of the HCM City Real Estate Association, said the transformation into urban districts would benefit all concerned.
The Department of Home Affairs has submitted a plan to the People's Committee for the conversion.
Under the plan, Bình Chánh, Nhà Bè and Hóc Môn will become urban (or cities within a city) by 2025 and Củ Chi and Cần Giờ by 2030.
All have seen rapid urbanisation in recent years, with the creation of new urban areas, construction of expressways and improved lifestyles.
Hóc Môn spreads over more than 109 square kilometres and has a population of nearly 463,000. The corresponding figures are 252sq.km and 711,000 for Bình Chánh, 100sq.km and 208,000 for Nhà Bè, 435sq.km and 468,000 for Củ Chi, and 704sq.km and 73,000 for Cần Giờ. — VNS
Five HCM City suburbs to be upgraded into urban districts have 568 words, post on vietnamnews.vn at January 28, 2022. This is cached page on Talk Vietnam. If you want remove this page, please contact us.