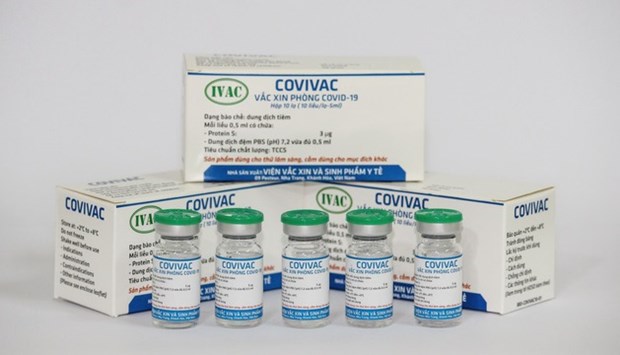 COVIVAC vaccine is developed by the Health Ministry's Institute of Vaccines and Medical Biologicals (IVAC). —VNA/VNS Photo
HÀ NỘI — The third phase of clinical trials of Việt Nam's homemade COVID-19 vaccine COVIVAC have been halted, due to a shortage of volunteers.
The Institute of Vaccines and Medical Biologicals (IVAC) under the Ministry of Health said that they are struggling to find people to test the drugs because so many have already been vaccinated.
A representative from IVAC told online newspaper dantri.com.vn on Tuesday that the institute needs around 4,000 volunteers for the third phase to be conducted this month.
The representative said: "The coverage of the COVID-19 vaccine in Việt Nam is very high. Therefore, we have difficulty recruiting volunteers who have not received the COVID-19 vaccine and meet the other criteria of the study. Volunteers from the same community are preferred as we can't recruit a few volunteers from different places."
This institute has been asked to seek out other options, including research on a booster vaccine dose for future use.
COVIVAC has been researched and developed by IVAC since May 2020. It is Việt Nam's second COVID-19 vaccine, following Nanocovax to enter the clinical trial phase.
The COVIVAC vaccine is a Newcastle vector vaccine (NDV), which binds the protein S expression gene of the SARS-CoV-2 virus, and is produced using embryonic chicken egg technology. This technology is also used to produce seasonal flu vaccines circulating in Việt Nam.
According to the report, in phase one, COVIVAC vaccine was tested on 120 people, aged 18-59 years old, distributed into four test groups, 25 people each with vaccine doses of 1μg (microgram), 3μg, 10μg and 1μg + 1.5mg excipient CpG 1018, and the placebo group had 20 people injected with phosphate-buffered saline, pH=7.2.
As a result, all four vaccine dose groups had no adverse reactions to the vaccine. Regarding the immune response, all four different dose groups of COVIVAC vaccine had different levels of immune responses against SARS-CoV-2 neutralising antibodies and anti-S protein IgG antibodies. — VNS
Việt Nam's COVID vaccine developer stops third phase trial due to volunteers shortage have 389 words, post on vietnamnews.vn at December 2, 2021. This is cached page on Talk Vietnam. If you want remove this page, please contact us.