Five countries – the United States, Japan, Australia, the United Kingdom, and Belarus – have recognised Vietnam's COVID-19 vaccination certificates with specific criteria on the vaccine types, according to the foreign ministry.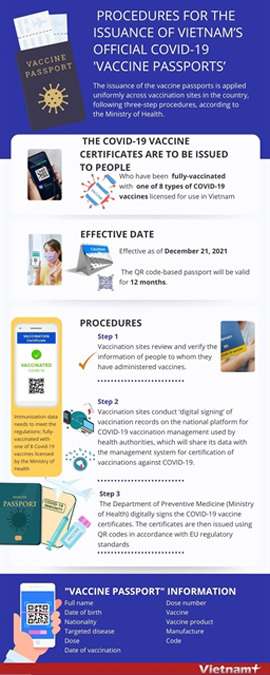 VNA/VNS Photo Infographic
80 other partners, including India and Canada, have agreed in principle with the recognition, while ASEAN countries, the European Union, China and South Korea, etc. are finishing the final procedures.
The health ministry earlier announced the official form of Vietnam's COVID-19 vaccine passport and the procedures of issuance.
The COVID-19 vaccine certificates are to be issued for people who have received the primary course of one of eight types of COVID-19 vaccines licensed for use in Vietnam by the health ministry: AstraZeneca's Vaxzevria, Gamaleya Research Institute's Sputnik V, Sinopharm's Vero Cell Inactivated along with the manufactured-in-UAE version Hayat-Vax, Pfizer/BioNTech's Comirnaty, Moderna's Spikevax, Johnson & Johnson's Janssen, and Cuba Centre for Genetic Engineering and Biotechnology (CIGB)'s Abdala.
The QR code generated will be valid for 12 months.
The vaccine passports have 11 fields of information: name, date of birth, nationality, targeted disease, doses of vaccines received, date of vaccination, lot number of the vaccine batch, type of vaccine, vaccine product received, the vaccine manufacturer, and a code for the certification.
Vietnam is planning to resume international flights from January 1, 2022, beginning first with those to and from Bangkok (Thailand), Beijing/Guangzhou (China), Phnom Penh (Cambodia), San Francisco or Los Angeles (the US), Seoul (South Korea), Singapore, Taiwan, Tokyo (Japan), and Vientiane (Laos).
Source: Vietnam News
UK, US, Japan among five countries to accept Vietnam's COVID-19 vaccination certificates have 567 words, post on vietnamnet.vn at December 28, 2021. This is cached page on Talk Vietnam. If you want remove this page, please contact us.