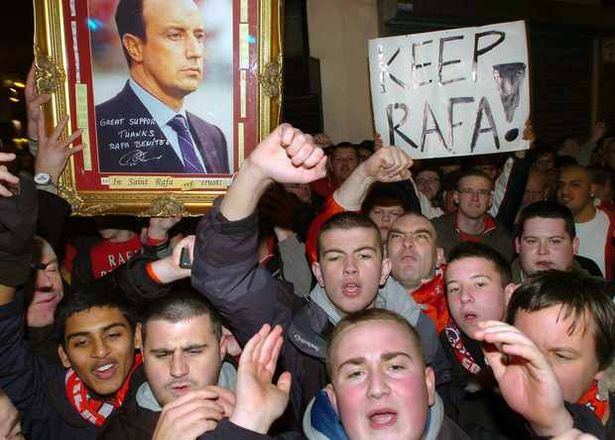 YOU'VE BEEN FRAMED: Liverpool fans show their support for Rafa Benitez during a protest outside Anfield 14 years ago. AFP Photo
Paul Kennedy
On November 28, 2007, Liverpool FC supporters organised a protest march in support of Rafa Benitez, their manager at the time, amid growing concerns and mistrust of the then club's owners.
The demonstration was ahead of the Champions League match against Porto at Anfield.
One strong memory I have of that protest is an image of a fan carrying a huge picture of Benitez in an elaborate gold frame, akin to what you would see on the streets of Iran in support of their Ayatollah.
I'm guessing that the photo was probably taken from the wall of his living room, where I reckon the image of Rafa dwarfed his wedding photograph.
That particular fan took the framed image from above the mantelpiece and brought it to the game to show his support for the Spaniard. That's just how much Rafa was loved at Liverpool.
Fans were terrified Benitez would get fed up with the club's hierarchy and walk away, which ultimately he did.
Rafa had led Liverpool to two Champions League finals, winning one, and had taken Liverpool back to being genuine title contenders.
He had worked wonders with a relatively small budget compared to the likes of Chelsea at the time. Rafa the gaffer was, quite simply, idolised.
Now he plies his trade at Everton, the other club in the city, and in the early hours of Thursday morning, he faced his former employers and the fans who once adored him, for the first time as Everton manager.
Liverpool destroyed Everton by four goals to one, and at the end of the game, as the boos rang out from those Everton supporters who were still left in Goodison Park, Rafa looked a broken man.
After a promising start to the season, Rafa's honeymoon period is well and truly over. That's now eight games in a row without a win.
The general consensus among Everton fans is that their anger is directed at Everton's board and their director of football rather than Benitez himself.
That said, Everton fans would have been seething to hear their rival supporters chanting the name of their former boss as Liverpool cruised to victory.
Everton have some serious, serious problems.
At one point in the game, just after Mohammed Salah had put the visitors two goals up, some home supporters began to leave the ground. There were only 20 minutes gone.
In the last summer transfer window, apart from a few frees, Everton only spent around US$2,000,000 bringing in Demarai Gray. In the previous transfer window, they spent around US$100 million. Go back to the one before that and it was US$150 million.
Almost US$50 million of that was spent on Alex Iwobi, an unused substitute in their derby defeat.
Money clearly not well spent.
But other than the cash for Grey, Benitez hasn't been given a penny to spend. The Everton board financially backed, and then sacked numerous managers before Rafa.
Now it's the Spaniard who is paying the price.
If Everton are serious, they must find many more millions and give them to Rafa in January. He has to put his own stamp on the team before he can be judged.
But if they don't, then I think he too will walk, and there will be no elaborately framed photographs of Rafa adorning the walls of the homes of Everton fans. VNS
Rafa the gaffer needs cash to splash have 912 words, post on vietnamnews.vn at December 3, 2021. This is cached page on Talk Vietnam. If you want remove this page, please contact us.