Many wrongdoings related to land auctions and bids have been exposed recently. Most of the defendants in the land irregularity cases are high-ranking officials of agencies and institutions.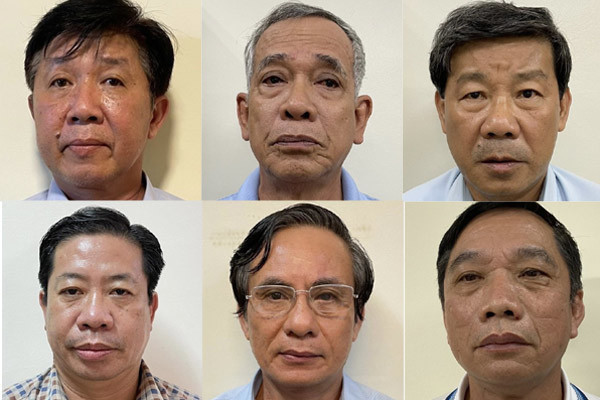 Six suspects who were leaders of Binh Duong province
On June 30, the C03 Agency under the Ministry of Public Security (MPS) filed charges and detained a number of former and current leaders in Binh Duong province for investigation of "violating regulations on State asset management and use, causing losses and waste".
These include Tran Thanh Liem, former Chair of Binh Duong, and Nguyen Thanh Trung, former Chief Secretariat and now Deputy Chair of the province.
Also in June, HCM City Police filed charges against four suspects related to the case of selling 32 hectares of public land at a reduced price to Quoc Cuong Gia Lai Company. The suspects include Tat Thanh Cang, former Deputy HCM City Party Secretary.
Most recently, Hanoi Police filed charges and detained Nguyen Thi Loan, Chair of Vimedimex, and accomplices for investigation of the charge of violating regulations on asset auctions.
The 5 hectare land plot in Co Duong commune was estimated to have value of VND500 billion. However, Loan colluded with officers to adjust the land value down to VND300 billion. A company where Loan holds a controlling stake won the auction at the price of VND20 million per square meter. One month later, Loan sold the land plot at the price of VND80-100 million per square meter.
Loopholes in land bids
Lawyer Dang Hoai Vu from Dang Hoai Vu and Associates Law Office said that corruption cases related to land mostly have involvement of high-ranking officials. Therefore, violations are difficult to discover until after inspections. Vu said this type of crime is sophisticated embezzlement.
Blaming the violations on loopholes in land bidding policies, Vu said that chairs of provincial People's Committees have the authority to approve land starting prices submitted by the local departments of finance and natural resources and the environment based on the land price framework. But there is a big gap between land prices in the framework and real market prices.
The land starting price is approved by one individual, so there can be problems in transparency.
Moreover, institutions and individuals may exploit the regulation in cases in which land is allocated without a land-use right auction to get land and then change the land-use purpose.
The regulations on exceptions in land-use right auctions may create loopholes for individuals with high positions and power to not publicize the auction and open auctions to only one individual or institution, paving the way for the individual or institution to obtain the land.
Lawyer Dang Van Cuong, Head of Chinh Phap Law Office, said that rigging is found in many cases of violating regulations on bids, and contractors are chosen on the basis of "backdoor relations", not contractors' real capability.
The cadres and high-ranking officials in high positions have deep understanding about socio-economic management policies, so they have experience and know how to circumvent the laws and disperse and hide the assets they obtained in illegal ways.
Cuong noted that there is always a high-ranking official's hand in most violations of regulations related to land. They lend a hand to individuals or institutions to convert land-use purposes and to sell State land cheaply at "preferential prices".
He said that the officials are corrupt individuals and representatives of moral degradation. These officials also could be the ones with low capability and mismanagement abilities.
"Land is a valuable asset, the 'fatty bait' that many people hunt for. In order to obtain the bait, one needs to join hands with individuals who have the right to manage the bait," he explained.
Giving power to certain individuals and cadres, to some extent, is a double-edged knife. If the cadres don't have capability and are unethical, they will make illegal decisions that cause immeasurable consequences.
Cuong agreed that there are existing legal loopholes in land bidding. The current laws only stipulate the auction of land-use rights in the case of land allocation or land lease which are not yet strictly regulated.
Auctioning is a must for land put under the management of enterprises when changing land-use purposes.
The provisions about subjects who receive allocated and leased land without auctions stipulated in Article 118 of the Land Law are still too general and not sufficiently detailed.
Among the loopholes, experts agree that land valuation that doesn't truly reflect market prices is the biggest problem. This paves the way for people to commit wrongdoings, causing losses to the State when transferring land-use rights from State-owned enterprises to private enterprises.
T. Nhung
When officials join hands with 'preying stalkers' in land bids have 1088 words, post on vietnamnet.vn at November 25, 2021. This is cached page on Talk Vietnam. If you want remove this page, please contact us.