Ministry to boost trade defence measures in line with int'l commitments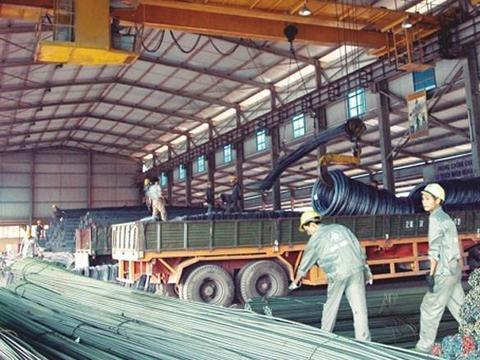 Workers loading coils on trucks at a steel mill in northern Viet Nam. An early warning system on trade remedy risks for certain exports will be completed this year so that enterprises can gear themselves up early. — Photo baodautu.vn
Le Trieu Dung, Director of the MoIT's Trade Remedies Authority of Vietnam (TRAV), said the ministry will accelerate current trade remedy probes into imports so as to take timely action to protect domestic manufacturers.
An early warning system on trade remedy risks for certain exports will be completed this year so that enterprises can gear themselves up early.
Additionally, MoIT will coordinate with relevant agencies to boost action against origin fraud and illegal transhipments aimed at evading trade remedies, while working to improve the trade remedy-related capacity of domestic businesses and State agencies, Dung said.
Since becoming a member of the WTO and free trade agreements (FTAs), Viet Nam has opened its market and slashed import tariffs on a large number of goods, exposing its businesses to strong competition from imports.
Trade defence measures, which are policy tools permitted by the WTO, he said, have an important role to play in ensuring effective economic integration and minimising its adverse impact on businesses.
Between 2016 and 2020, MoIT launched 13 trade remedy investigations into imported commodities such as DAP fertiliser, monosodium glutamate (MSG), steel, and BOPP film.
Remedies applied so far have proved effective in addressing losses caused by surges of imports and protecting domestic producers, he said.
He pointed out that State agencies and some enterprises have worked to promote their trade remedy-related capacity, but many shortcomings remain, so a new policy and legal framework that matches provisions in the FTAs Viet Nam has joined is needed.
The issue of trade defence as stipulated in Chapter 5 of the Law on Foreign Trade Management, but one chapter cannot provide all detailed regulations. This has led to certain limits in the investigation and implementation of trade defence measures.
New issues frequently emerge in the field, which also requires that relevant State agencies and businesses have in-depth knowledge about law and finance. The complex developments of COVID-19 last year also hampered support to enterprises, he acknowledged.
Meanwhile, trade remedy probes targeting Vietnamese exports in foreign markets also increased considerably in 2020 and are projected to rise even higher this year.
Given this, he said, MoIT has recommended local businesses equip themselves with knowledge on trade remedy regulations, particularly those of Viet Nam and export markets while readying resources to cope with possible foreign trade remedies.
They should also keep a close watch on the import of related products so as to detect any signs of dumping or subsidies in a timely manner and prevent losses for domestic manufacturers.
Railway companies suffer losses due to COVID-19
Vietnamese railway companies reported large losses in 2020 due to the impacts of the COVID-19 pandemic.
Ha Noi Railway Transport JSC (HRT) earned VND469 billion (US$20.5 million) in the fourth quarter of 2020, down 21 per cent year-on-year.
Cost of goods sold accounts for most of net revenue, thus gross profit totaled only over VND8 billion, down sharply compared to VND42 billion in the same period of 2019. After deducting expenses, the after-tax loss in Q4 was estimated at nearly VND55 billion, while in the same period last year its loss was just more than VND12.5 billion.
In 2020, HRT achieved revenue of VND1.94 trillion, down 24 per cent year-on-year. It suffered a loss of VND195 billion in the year while enjoying profit of VND14 billion in 2019.
Previously at the General Meeting of Shareholders in 2020, the company approved a plan for 2020 which expected total revenue to reach VND1.63 trillion, and a loss up to VND335.4 billion due to the influence of COVID-19.
Saigon Railway Transport JSC (SRT) announced Q4 revenue of VND282 billion, down by 22.5 per cent year-on-year. It reported an after-tax loss of more than VND105 billion.
For the whole year 2020, SRT reported an accumulated loss of VND218 billion, while the business had a profit of VND14.6 billion in 2019.
Due to the impact of the COVID-19 pandemic, many railway companies faced difficulties. According to experts, the railway industry in 2020 experienced the most difficult period in history.
Viet Nam Railway Corporation (VNR) also announced that its revenue in the first nine months of 2020 decreased 34.2 per cent year-on-year, equivalent to a decrease of VND1.18 trillion.
Viet Nam gains cassava export growth in 2020 despite COVID-19
Viet Nam gained growth in the export of cassava chips and cassava-made products in 2020 despite the COVID-19 pandemic, according to the Department of Agricultural Product Processing and Market Development.
Exports last year reached 2.76 million tonnes, earning US$989 million, an increase of 9 per cent in volume and 2.4 per cent in value compared to 2019. However, the average export price of those products reduced by 6 per cent to $358.3 per tonne year on year.
In December alone an estimated 330,000 tonnes with a value of $118 million were exported.
Impacts of the COVID-19 pandemic did cause problems for the cassava production industry according to the department under the Ministry of Agriculture and Rural Development, but it was still one of the few agricultural products with a positive growth in export value.
The exports of cassava chips in 2020 reached 640,000 tonnes, earning $139 million, up 60 per cent in volume and 75 per cent in value over the same period last year. The average export price for this product reached $217 per tonne, up 10 per cent.
Tapioca export was estimated at 2.1 million tonnes with a value of $850 million, down 1 per cent in volume and 4 per cent in value over the same period in 2019. Its average export price reached $401 per tonne, down 4 per cent.
According to the department, China was the largest export market with the total volume of cassava chips and cassava-made products reaching 1.9 million tonnes, earning $772 million. That's an increase of 11.5 per cent in volume and 2.7 per cent in value compared to 2019.
Taiwan and Malaysia were also two other largest export markets of Vietnamese cassava with the growth in export value of 15 per cent and 3 per cent year on year, respectively, in the first 11 months of 2020.
In China market, Viet Nam is currently the second largest supplier of both cassava chips and tapioca, according to China's General Department of Customs.
Vietnamese garments made with Korean fabrics to enjoy tax incentives in EU
Local garments and clothing items made using fabrics from the Republic of Korea (RoK) are set to enjoy lower tariffs than in the EU, according to a statement issued on February 8 by the Korean Ministry of Trade, Industry and Energy.
Previously, clothing items had been required to be made using locally produced fabrics in order to get the benefits of the EU-Vietnam Free Trade Agreement (EVFTA).
Subsequently, the Korean Ministry of Trade, Industry and Energy has revealed that with the Republic of Korea (RoK) representing the second-largest supplier of fabrics in Vietnam, the latest policy will cause greater demand for products from the RoK in comparison to other competitors such as those from China and Taiwan (China).
In line with this, the country has to import up to 80% of raw materials in order to meet the needs of the domestic garment and textile industry.
Last year saw China make up 55% of the nation's fabric imports, followed by the RoK, Taiwan (China), and Japan, accounting for 16%, 12%, and 6%, respectively.
Most notably,  the country's fabric exports from the RoK declined by 18.4% on-year to US$2.35 billion last year.
Da Nang seeks to develop supporting industries
The central city of Da Nang has set a goal of developing supporting industries in tandem with high-tech industry to create products with high added value for export.
Under action programme No 01-Ctr/TU issued by the municipal Party Committee on December 10, 2020, the industry-construction sector is to grow by 11%-11.5% annually between 2020 and 2025.
The municipal Department of Industry and Trade has reported that several large-scale projects in supporting industries have gradually joined the global supply chain.
Since 2016, Da Nang has attracted 24 new supporting industry projects worth over VND9 trillion, two of which are foreign-invested, with US$240 million, specialising in manufacturing aviation and automobile spare parts.
Da Nang is now home to around 110 supporting industry firms, accounting for 6.3% of all industrial enterprises in the city.
However, the number of domestic companies in the field remains limited, and most are of small scale with average technological capabilities. Meanwhile, foreign firms mostly process and assemble imported materials because the rate of domestically-made items remains low. Links between foreign and domestic businesses, meanwhile, are still less than needed.
General Director of the Long Hau Company, Tran Hong Son, said a number of local companies have yet to meet requirements for being recognised as supporting industry enterprises or manufacturers under Vietnam's regulations.
He suggested quickly completing planning for an area devoted to supporting industry enterprises inside the Da Nang Hi-tech Park (DHTP) and putting it into operation to attract capable investors.
Head of the management board of the DHTP and industrial parks in Da Nang, Pham Truong Son, said the municipal People's Committee has completed the planning for a supporting industrial park in the DHTP, which has been submitted to the Prime Minister for approval.
Once approved, Da Nang will outline a list of sectors in need of investment and then set up the park, the first of its kind in supporting industries in the city. Investors in the park would work with those at DHTP to create an industrial ecosystem.
If Da Nang develops supporting industries, investment will also pour into nearby localities, he said.
Under Politburo Resolution No 43/NQ-TW, Da Nang is to be a nucleus of the central key economic region and will develop hi-tech industries and information technology. To this end, Son suggested making the best use of its geographical location, infrastructure, human resources, and supporting industry.
Under the pending plan, the supporting industrial park is to cover an area of over 102 ha in Hoa Vang district, adjacent to the DHTP and the city's information technology park.
In line with Resolution No 01-NQ/TU from the standing board of the municipal Party Committee, supporting industry enterprises will increase in number by 2030 and be capable of producing highly-competitive products, focusing on spare parts, software, and key services in support of priority industries. The city will also attract multi-national groups to guide and facilitate technology transfer.
By 2025, the city expects to have over 150 supporting enterprises, with at least 10% of domestic supporting enterprises being able to supply products to manufacturers. The value of the supporting industry will make up around 30% of added valued in the manufacturing and processing sector. At least one multi-national group or company is to invest in manufacturing end products.
Of the more than 300 supporting enterprises to be in business by 2030, at least 15% are to be able to directly supply products to manufacturers and assemblers. The value of the supporting industry will account for nearly 40% of added value in the manufacturing and processing sector and at least one multi-national group or company will invest in manufacturing end products.
Can Tho attracts largest FDI project of US$1.3 billion
Can Tho City's People's Committee granted an investment registration certificate on the morning of February 8 to representatives from investors of the O Mon II Thermal Power Plant Project.
The factory aims to meet increasing demand for electricity from the regional power grid and the national power system, thereby attracting domestic and foreign investment in order to continue contributing to socio-economic development in Can Tho and throughout the Mekong River Delta region.
O Mon II Thermal Power Plant represents the largest-ever FDI project in Can Tho, which has increased the number of FDI projects in the region to 85, with total registered capital of approximately US$2 billion, including seven Japanese FDI projects capitalised at more than US$1.3 million.
Tai Miura, general director of Marubeni Asian Power Vietnam Co., Ltd, spoke highly of timely and strong support offered by relevant agencies of Can Tho in order to facilitate the firm's procedures as a means of swiftly obtaining an Investment Registration Certificate.
Miura also stressed that the project will make further contributions aimed at meeting the power development needs of the city and the wider region, adding that the company has committed to using hi-tech equipment in implementing the project, minimising the environmental impact, and transferring technological expertise to the locality.
During the event, the chairman of Can Tho City's People's Committee Tran Viet Truong expressed his belief that the participation of both Marubeni Group and Vietnam Investment Construction and Trading Joint Stock Corporation will help deploy the O Mon II thermal power plant project in line with the schedule. Indeed, it will ultimately contribute to accelerating the local economy as well as generating jobs for residents.
He therefore emphasised that the city will strive to create the optimal conditions as part of the implementation of the project, create an open investment environment, and turn Can Tho into a reliable and attractive destination for investors.
VN, Japan banks provide joint financial services
Saigon Commercial Joint Stock Bank (SCB) has recently entered into a strategic cooperation deal with Kiraboshi Business Consulting Vietnam, the representative of Kiraboshi Bank of Japan.
Representatives of the two banks said that such comprehensive cooperation will enable the two banks to develop into a major financial cooperation alliance in the future that is to support businesses and investors of the two countries.
They will also expand cooperation to serve clients of other countries alongside Vietnamese and Japanese ones.
SCB Acting General Director Jeremy Chen explained said that more and more Japanese organizations and businesses are interested in investing in the Vietnamese market, and this is why SCB has teamed up with the Japanese partner to provide financial support and advice for clients.
Gold investors urged to stay cautious amid strong market volatility
Vietnam's gold market has witnessed strong market volatility in the first month of the year, for which experts warned such trend could further persist in February due to global economic-political uncertainties.
In the global market, gold prices surged by US$33 to US$1,931 per ounce in early 2021, the highest since last November. The price, however, suffered a sharp decline by US$20 to US$1,848.1 per ounce in late January and US$1,840 in early February.
The domestic gold prices, meanwhile, seemed to stay away from the global trend as state-owned Saigon Jewelry Company (SJC), the country's largest gold and gold jewelry production and distribution company, posted the selling and buying prices in February at VND56.3-56.8 million (US$2,457–2,479) per tael, slightly higher than the corresponding prices of VND55.05 -56.67 million (US$2,394-2,473) from early 2021. A tael is 37.5 grams or 1.2 ounces.
While the global gold prices are on a declining trend, it is expected to go up in long-term at a time when governments around the world are injecting cash and draft supporting polices to speed up economic recovery process.
Moreover, high demand for gold after the Lunar New Year holidays in Asian countries could further drive prices of this precious metal up.
In a surprise move, India, the second-largest consumer of gold in the world after China, announced its decision to cut half the import duty for gold and silver, saying the move is necessary to curb inflows of illegal supplies and boost domestic consumption.
According a Kitco News outlook survey, 84% of respondents said they see gold over US$2,000 an ounce by the end of 2021, while Credit Suisse expected the gold prices to average US$2,100.
Risks remain
On February 3, SJC gold prices topped VND57 million (US$2,487) per tael, driving domestic gold prices up to around VND5.3 million (US$231.27) per tael, higher than the prices in global market.
With three weeks away from the God of Wealth Day [February 21], the day when people would rush to buy gold expecting this would bring good fortune to their businesses and families in a new year, the gold prices are expected to go up.
Investor Director of Maybank KimEng Vietnam Phan Dung Khanh predicted the gold prices in the God of Wealth Day would rise by 3-5% from previous days.
"Assuming the global gold prices in the God of Wealth Day are around US$1,850 per ounce [or US$2,220 per tael], the domestic price should be VND56 million (US$2,436) per tael, but a strong demand could push the prices to VND57.7-58.8 million (US$2,517-2,565) per tael," he noted.
Given a large gap between domestic and international gold prices, banking expert Nguyen Tri Hieu said it would be high risks for investors to bet their money on gold at the moment.
"Gold prices could change its course immediately when bad news turns up," Mr. Hieu suggested.
In fact, over the last few months, many gold investors have suffered losses of up to hundreds of dollars per tael due to a volatile market, added Mr. Hieu.
Sharing Mr. Hieu's view, economist Can Van Luc said a new US administration under President Joe Biden with different economic policies could cause a major shuffle in the international gold market.
COVID-19 boosts online shopping for Tet
Ms. Thu Hang, an accountant from Techcombank in Hanoi, is busier than usual with financial settlements at the end of the year, and online shopping on e-commerce sites is a salvage solution for her to prepare for Tet, especially in the context of the outbreak of COVID-19.
This year, Tet items such as kitchen guard meat, dried bamboo shoots, mushrooms, sausages, and clean food are more available on e-market than the previous year at the convenience of local consumers like Ms. Thu Hang. Many retailers have offered more promotions and diverse products with reasonable prices.
In order to meet the demand of online shopping during the Lunar New Year, e-commerce floors have pre-stocked goods and integrated new technology for online shopping activities.
Compared to the previous Tet holiday, Tiki, a Vietnamese online marketplace, increased at least its goods supply by 30%, focusing on packaged food, beverages, nutritional products, milk, spices.
"We expect sales in this year's Lunar New Year at Tiki will grow up to 70% over the same period last year", a representative from Tiki said.
Shopee, owned by Singapore-based tech group Sea, has worked with its vendors, brands and shipping partners to launch a new program for Tet delivery during the Lunar New Year.
Brick-and-mortar retailers such as Saigon Co.op, Big C and Megamarket have turned to their websites and apps to stimulate consumption . Co.opmart supermarkets saw an increase of 30-40% in online orders in recent days. Sales of Tet gift baskets through e-retailing have increased by 200% compared to the same period last year.
Hanoi Trade Corporation (Hapro) in cooperation with BRG Retail has promoted online shopping channel through its BRG Shopping app and Facebook fanpage, according to Deputy General Director of Hapro Do Tue Tam.
According to a representative of BigC/GO!, the supermarket chain also receives orders via Zalo and offer free delivery during this Tet season, in addition to receiving orders by phone and website as usual.
"COVID-19 has created an opportunity for businesses to boost the process of digital transformation, including online sales. We believe that this year's Lunar New Year will see a boom in online shopping," Mr. Nguyen Anh Duc, General Director of Saigon Co.op, said.
LG Display Vietnam Haiphong increases capital by $750 million
Haiphong People's Committee has awarded the investment certificate for the LG Display Haiphong project to increase capital by $750 million.
The meeting between Haiphong City Party Committee and industrial zone (IZ) infrastructure investors aimed to resolve the difficulties and promote investment in IZs. Additionally, LG Display Haiphong Co., Ltd. has been awarded the certificate to expand investment by $750 million.
The LG project is located in Trang Due Industrial Park, Haiphong city. Haiphong Economic Zone Authority has issued its first investment registration certificate on April 15, 2016 with the total registered investment capital of $2.5 billion, authorising it to manufacture OLED TV screen, plastic OLED screens, and LCD screens, among others.
After the capital expansion, the project will have a total investment capital of $3.25 billion, becoming the biggest foreign project in Haiphong city. The project is expected to launch in March and officially begin production in May this year, providing jobs for about 5,000 workers as well as meeting the housing demand of about 10,000 workers and experts. It will contribute about $5 million to the state budget annually.
$800 million Tan Phu-Dong Nai Expressway to be built in 2021-2025 under PPP model
The Tan Phu (Dong Nai) – Bao Loc (Lam Dong) Expressway project with a total investment of approximately VND18.2 trillion ($791.3 million) (excluding bank interest rates) will be built in 2021-2025 under the public-private partnership (PPP) format.
The project will feature a roadway with the length of about 67km, and four lanes belonging to Dau Giay-Lien Khuong Expressway.
Accordingly, the PM agreed to assign the People's Committee of Lam Dong province to be the competent agency organising the implementation of the expressway project in 2021-2025 under the PPP model.
The People's Committee of Lam Dong province will take the helm in organising the mobilisation of financial resources according to current regulations.
The roughly estimated total investment (excluding interest rates) is about VND18.2 trillion ($791.3 million). Of this, the investorswill arrange about VND9.646 trillion ($419.4 million), while around VND8.554 trillion ($317.9 million) will be sourced from the public budget, including around VND4.227 trillion ($183.8 million) from the provincial budget, and approximately VND4.227 trillion ($183.8 million) arranged by the central government.
The Tan Phu-Bao Loc section of the Dau Giay-Lien Khuong route is in the development plan of Vietnam's expressway network in the period of 2021 with a vision to 2030, which has been approved by the PM in Decision No.326/QD-TTg dated March 1, 2016.
This project marks an important milestone for economic development in Lam Dong province as well as in the Central Highlands region.
The early implementation of the project is slated to solve the largest bottleneck of Highway 20, the dangerous section passing Bao Loc pass. This area is often affected by extreme weather and has remained unresolved for a long time.
The PM also asked the Ministry of Planning and Investment to coordinate with the Ministry of Finance and the Ministry of Transport to comment on the arrangement of the central budget in the period of 2021-2025.
Source: VNA/VNN/VNS/SGGP/VOV/NDO/Dtinews/SGT/VIR
VIETNAM BUSINESS NEWS FEBRUARY 11 have 3799 words, post on vietnamnet.vn at November 2, 2021. This is cached page on Talk Vietnam. If you want remove this page, please contact us.