On the occasion of the 50th anniversary of the establishment of Norwegian – Vietmanese diplomatic ties (1971-2021), the Norwegian Ambassador to Việt Nam, H.E. Ms Grete Løchen, looks back on the quality cooperation between the two countries and the shared vision for the future.
*** Fifty years ago, on November 25, 1971, Norway officially established diplomatic ties with Việt Nam by appointing its Ambassador in Beijing, later Bangkok, to be accredited to Hà Nội. Norway was one of the first Western countries to enter a diplomatic relationship with Việt Nam during the wartime.
In 1996, when Prime Minister Gro Harlem Brundtland visited Việt Nam, Norway opened its embassy in Hà Nội on this occasion. In October that year, the two countries signed a Framework Agreement on Development Cooperation. For almost 10 years of its presence in Hà Nội (1996-2015), the Royal Norwegian Embassy was located at the Sofitel Legend Metropole in Hà Nội.
Over the last 50 years, Norway and Việt Nam have enjoyed a good and solid friendship and closely cooperated on bilateral, regional, and global issues.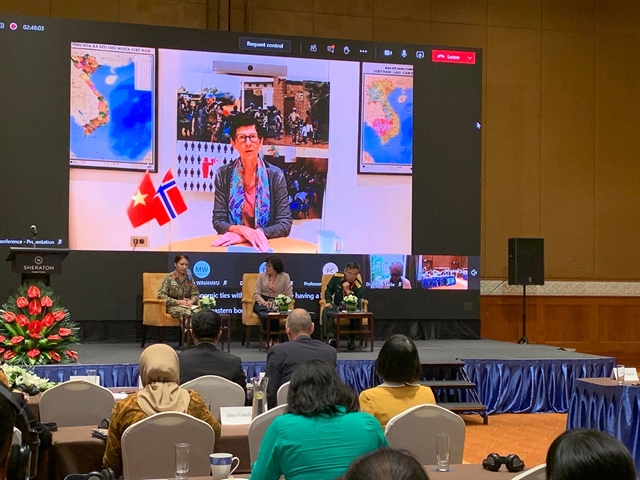 Ambassador Grete Lochen (on-screen) addressing the International Conference on Women Peace and Security hosted by Việt Nam's Ministry of Foreign Affairs in 2020. — Courtesy Photo of the embassy
Bilaterally , the two countries share many similarities as we are both coastal nations with a large seafood industry and among the world's ten largest fishery nations. Therefore, the co-operation is particularly strong in the areas of fisheries, environment and climate change, clean water and energy, education, governance, human rights, and gender equality.
Norway was among the big ODA donor countries to Việt Nam. Since 1972, official government aid from Norway to Việt Nam has amounted to over NOK 2.3 billion (nearly VNĐ 7 trillion). Some of the key priority areas have been to address the effects of climate change and deforestation together with developing a sustainable ocean economy. We are happy to see the relationship of our countries evolving throughout the years from one based on development cooperation to equal partners and joint business interests.
The five decades of cooperation also witnessed how Norway and Việt Nam turned from donor and recipient countries into equal partners both politically and economically. Trade and investments are playing an increasingly important role in bilateral relations. Despite steady growth rates in two-way trades over years, there remains a lot of potentials that needs to be untapped to further boost bilateral investments and trades.
Oceans have been a blue thread in our bilateral cooperation. Norway helped Việt Nam with the development of the first Fisheries Law. Norwegian research institutions have been collaborating with Nha Trang University in building a strong academic centre with high-quality education and capacity in the marine sector. Norway's prominent shipbuilding companies such as Vard have been operating in Việt Nam. Now we're looking into how we can promote marine aquaculture and fish farming in Việt Nam. Norway has learned many good and practical lessons from the sustainable development of our famous salmon industry, and we're ready to share our experiences with Việt Nam.
Multilaterally , in addition to high-level political visits, our State leaders and Foreign Ministers regularly meet each other on the sidelines of various international summits, and we also cooperate constructively at organizations like the UN, WTO, UN, ASEM, ASEAN and now AIPA.
As we are going through a challenging time for all, international cooperation and solidarity are more important than ever.  Like Việt Nam, Norway strongly supports a multilateral system with a strong and efficient UN and a well-functioning international order. Our cooperation in multilateral forums has become an important part of our bilateral relationship. I am very pleased that we are establishing closer dialogue and cooperation on a number of multilateral issues – not least in the UN Security Council (UNSC), where our two countries overlap as elected members this year. Norway and Việt Nam share many of the same priorities in the Council, including women, peace and security, protection of civilians, as well as climate change and security. We enjoy the close dialogue we have established so far on these issues.
ASEAN provides another track for Norway and Việt Nam to work closely together on matters of shared interest. When Norway celebrated our fifth anniversary of sector dialogue partnership with ASEAN in 2020 under  Việt Nam's chairmanship, the Norwegian Parliament – Stortinget – also obtained the status of observant parliament in AIPA.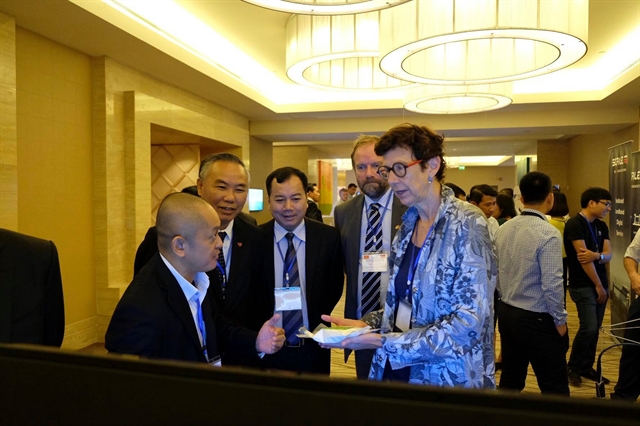 Ambassador Grete Lochen and Ministry of Agriculture and Rural Development's Deputy Minister Phùng Đức Tiến at a Norway-Việt Nam Conference on Marine Aquaculture. — Courtesy Photo of the embassy
Our cooperation activities will be centred around sustainable ocean economy, renewable/clean energy, and circular economy solutions. We commend Việt Nam for signing a Global Coal to Clean Power Transition Statement and setting a goal to reach a net-zero goal by 2050. This shows Việt Nam's strong political will and commitment, which will make a significant contribution to keeping 1.5 degrees within reach and stopping catastrophic global warming. This also offers a lot of cooperation opportunities in the renewable energy sector for Norwegian and Vietnamese companies where Norwegian businesses can contribute on multiple levels with know-how, technology, expertise, and lessons learned.
We, therefore, look forward to the completion of the negotiations of the Free Trade Agreement between  Việt Nam and EFTA countries (Norway, Switzerland, Lichtenstein and Iceland). An early conclusion would be in our common interest to build back not only better but also greener and sustainably.
Norway stands ready to continue our dialogue and cooperation on the issues of mutual concern, stand up for global values, and work constructively for sustainable development. We are committed to remaining a true friend of Việt Nam. We will go through challenges TOGETHER and make our shared future TOGETHER by leaving no one behind!
Happy 50th anniversary to us! VNS
True partners with a shared future have 1216 words, post on vietnamnews.vn at November 25, 2021. This is cached page on Talk Vietnam. If you want remove this page, please contact us.