Despite the coronavirus pandemic and lengthy lockdowns putting a huge strain on access to many of the capital's key cultural sites, the use of advanced online technologies has enabled many to flourish.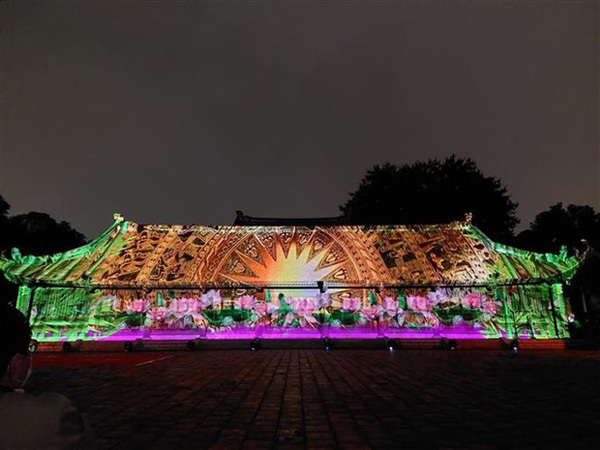 A 3D Mapping demonstration conducted at Thai Hoc Courtyard. VNA/VNS Photo Dinh Thuan
Van Mieu-Quoc Tu Giam (The Temple of Literature and the Imperial Academy), a major landmark in Hanoi dating back almost a thousand years, is a prime example of how technology has been utilized despite being unable to physically welcome visitors.
A series of social platforms have been visited by thousands of virtual tourists since the launch of a project to popularise the temple's historic and cultural values.
Co-launched by the Van Mieu-Quoc Tu Giam Culture and Science Centre and non-profit organisation Gavisto Diplomat, the Cultural Space of Quoc Tu Giam project has held a number of cultural activities and exchanges on its official Facebook and Instagram pages since September.
It has also organised multiple arts and cultural events for young people at home and from overseas, alongside discussions on how the values of ancient education impact lives today.
Nguyen Thanh Huyen, a follower of Quoc Tu Giam Cultural Space Facebook page, said she was impressed with the many vivid images featuring the national history of exams, as well as the exhibits on display.
"At first, I was curious about being invited to like the page, but then I found it quite interesting and informative. I have learned so much about national history, which I wasn't able to do in my previous in-person visits," she said.
The project has also received much support from parents in Hanoi.
"As a parent of a sixth grader, I expect my child to be able to approach and understand the values and academic spirit of Quoc Tu Giam [also known as the first national university], and provide motivation and pride for him to confidently move on. I hope that the project will succeed and spread to various generations," wrote netizen Giang Thi Phu Binh on the site's Facebook page.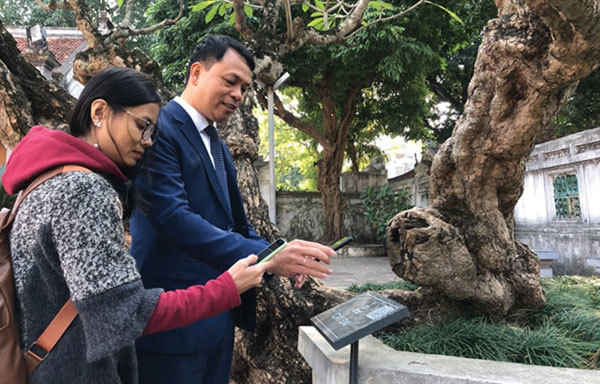 A tourist (left) is instructed on how to scan the QR Code by a tree planted in Van Mieu – Quoc Tu Giam. Photo baotintuc.vn
Quoc Tu Giam has also employed QR code technology to track and display information on over 40 artefacts, ancient trees and construction works in its space. Tourists use smartphones to scan QR codes displayed on signboards, which login and transfer basic information about artefacts to users.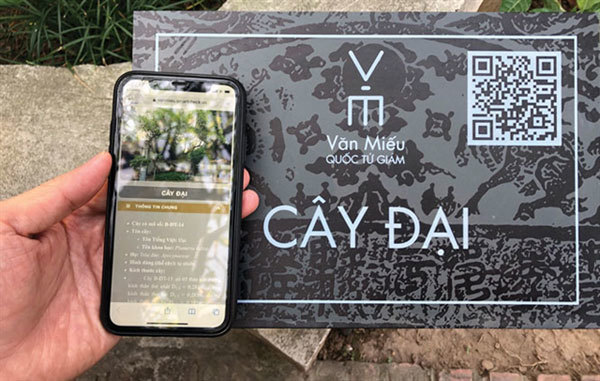 Basic information about the artefacts will be immediately displayed after the tourists scan the QR code. Photo baotintuc.vn
Le Xuan Kieu, director of the Centre for Cultural and Scientific Activities of Van Mieu-Quoc Tu Giam, said the management board of the site had focused on retraining staff while researching and building new technology-based products during its temporary suspension of guests reception.
"We have been developing a project to develop smart tourism associated with preservation. Accordingly, the centre has been building a 3D database and digitising information about relics, education, trees and architectural works in the space," said Kieu.
"Building a database of long-term goals is for conservation purposes, but also the basis for building tourism products. Besides, the project has suggested other technology-based ideas like selling tickets online in advance and automatic ticket checking to limit contact and prevent the spread of the pandemic. This not only contributes to publicising heritage but also meets tourist needs."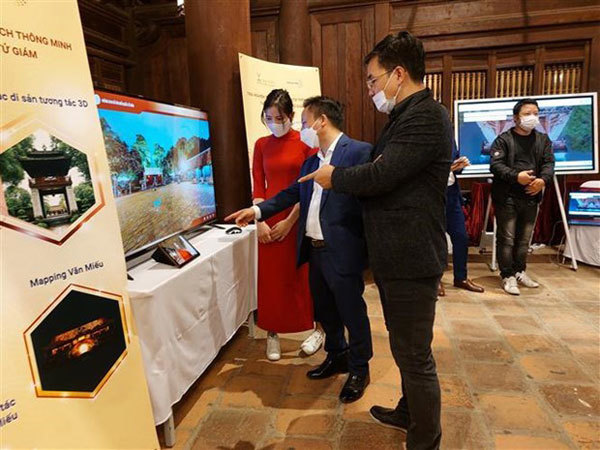 People can experience technology-based tourism at Van Mieu-Quoc Tu Giam.
Another example of technology being put to good use is a 3D Mapping demonstration recently conducted at Thai Hoc Courtyard in the Temple of Literature during a seminar on preservation of the heritage. The technology is expected to pave the way for the launch of night tours for the site.
The Imperial Citadel of Thang Long, another key tourist destination in the capital, has also used technology to appeal to tourists, with the launch of a series of virtual exhibitions on its website, such as Mid-Autumn Festival Union, Võ Nguyên Giáp – the Legendary General and The Gentle Breeze on the Double-Fifth Day, with all three presented both in Vietnamese and English.
The website also offers 360-degree virtual tours featuring four dynasties associated with the Imperial Citadel and highlighting historical architecture and artefacts as well as many major events of the country.
Nguyen Thi Yen, head of communication for the Thang Long – Hanoi Heritage Conservation Centre, said that the historical site had attracted an increasing number of virtual tourists with an interest in understanding its history and values since the launch of the tours.
"It is an encouragement for the management board to continue with the technological approach and find new ways to connect the heritage to the public," she added.
Hanoi's historical Hoa Lo Prison Relic has taken a different tack and launched an exclusive radio channel on Spotify in June to help audiences learn more about its history in a more accessible way.
Entitled Time Travel, the channel includes podcasts that are produced by an experienced and creative team with a passion and love for the historical site. The prison's visually rich Facebook page also leans heavily on interesting information and vivid illustrations, receiving many positive comments from web users.

Time travel, the exclusive radio channel on Spotify of Hoa Lo Prison.relic.
Following the trend, many districts of Hanoi have utilised digital technology to introduce and promote local heritage sites; for example, Dong Da and Hoan Kiem districts have both launched websites, with VR photography in particular bringing much interest from online visitors.
Meanwhile, Bat Trang Ceramic Village in Gia Lam District has become the first craft village in Hanoi to apply VR technology enabling tourists to go on virtual visits or immerse themselves in festivals full of traditional customs and rituals.
Inevitable trend
Hanoi is currently the locality with the largest number of historical sites in the country, with 5,922 relics, of which 2,435 have been nationally ranked.
In November 2013, the Ministry of Culture, Sports and Tourism approved a strategy for Science and Technology Development of Culture, Sports and Tourism for 2013-2020, with a wider vision to 2030. It was this that provided the basis for the capital to apply digital technology to preserve and promote its relics and heritage.
The application of digital technology at tourist attractions is also an important part of building a database for Hanoi Tourism Introduction Portal, thereby publicising images and tourism to visitors.
In strengthening the digital transformation in developing the tourism sector of the capital, the Hanoi Department of Tourism and the Hanoi Department of Information and Communications has also signed a cooperation agreement for 2021 to 2025.
Pham Thi My Hoa, deputy director of the Hanoi Department of Culture and Sports, said technology-based solutions were suitable in the current climate and met the demands of people who could not visit in person due to the impact of the coronavirus
Meanwhile, Vice President of the Vietnam Cultural Heritage Association Dang Van Bai said, "Education about heritage will be more effective if we know how to use digital technologies as they help create virtual reality products allowing visitors to explore what they want to know."
If Hanoi continues to use technology for the new to embrace the old, its cultural heritage is all set to be in safe hands going forward and continue to inspire the next generation.
Source: Vietnam News
Technology helps Hanoi's historic relics embrace future have 1432 words, post on vietnamnet.vn at November 23, 2021. This is cached page on Talk Vietnam. If you want remove this page, please contact us.