Nguyen Hong Thinh and her friend from Hanoi were impressed with the immense green fields of su su (chayote), both young tops and fruits, in Tam Dao District of the mountainous province of Vinh Phuc, when they visited the area last week.
Brought to Tam Dao, which has a cool climate year round, in the early 20th century by the French, the chayote tops have become a must-try dish for travellers and guests, said an elderly resident, adding that many bring the chayote tops home as gifts for their relatives.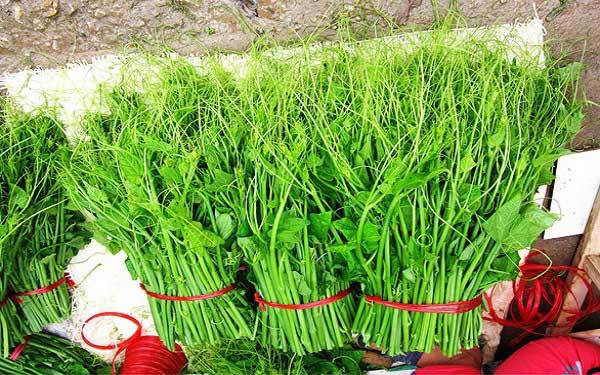 Tam Dao's fresh chayote tops are popular among visitors. — Photo poliva.vn
After checking into a hotel, Thinh and her friend ordered fried chayote tops with garlic and a big plate of boiled chayote fruit dipped in ground salted sesame.
"The tops are sweet mixed with garlic, while the fruits are fresh and soft. We enjoyed it so much," Thinh said.
She told Việt Nam News she was addicted to the chayote tops.
"I try to visit the area once a year to tour chayote gardens and also eat chayote dishes because eating the fresh tops on the spot is much more enjoyable compared with those brought in supermarkets in Hanoi," Thinh said.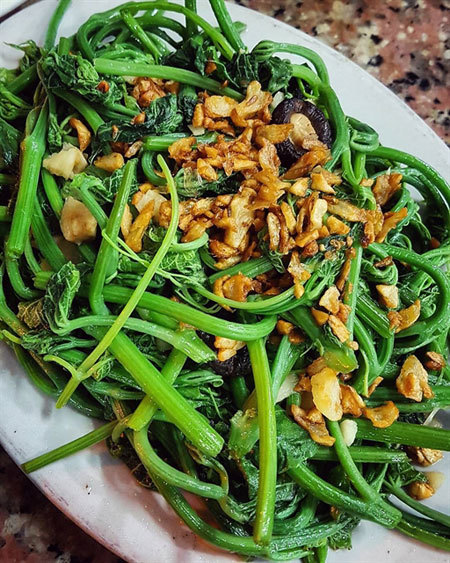 Fried chayote tops with garlic is popular. — Photo halotravel.vn
Thinh said while in Tam Dao she visited a garden of a local grower named Truong Thi Dau, 50, to enjoy the green chayote tops that spread far and wide. She picked the tops then cooked them on the spot.
"Dau was eager to satisfy guests by telling us how to pick the youngest tops and cook them. The dish is so tasty and delicious that we thought we were in heaven.
"My friend who visited Tam Dao for the first time agreed, saying she will return to the area," Thinh said.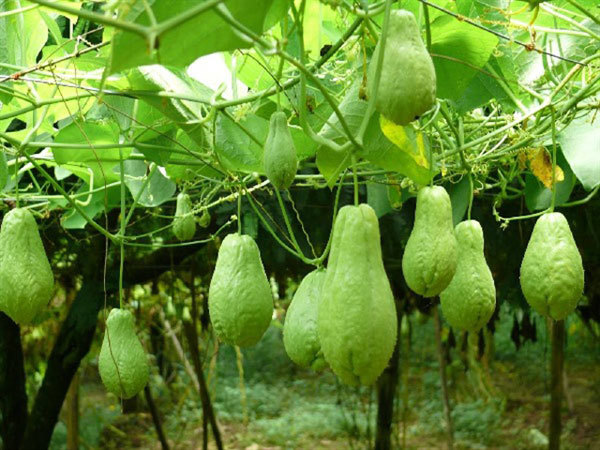 With favourable natural conditions, Tam Dao's chayote tops and fruits are more sweet and fragrant compared with others. — Photo heya.com.vn
Dau said her family grows two sào (each sao is about 360sq.m) of chayote to supply to local households, visitors, restaurants and supermarkets.
Thanks to natural conditions, Dau earns a stable monthly income of between VND10-15 million from chayote tops and fruits.
"We often wake up at four or five o'clock in the morning to pick the tops and tie them into small bunches before selling them at the market or supplying restaurants," Dau said, adding that the vegetable helps to put Tam Dao on the map for the fresh chayote.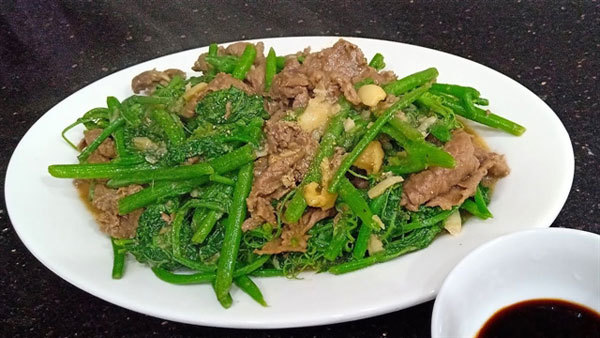 In addition to boiled chayote tops, diners also like fried chayote tops with beef. — Photo clickladi.vn
An official from Tam Dao Tourism Promotion Centre Do Hong Duong said chayote is an important produce in promoting tourism and economic development of this mountain district.
Ta Ngoc Anh, in Hanoi's Tu Liem District, said she likes to eat boiled chayote tops dipped in soy sauce and with minced garlic and chili.
But she said she often fries the tops with beef or puts the vegetable in hotpots or stew with pig bones. "The dish gives us a lot of energy during severe cold days."
Nutritionists from the National Institute of Nutrition said chayote helps to control weight gain and is very good for the digestive system because it is rich in fiber.
The vegetable supports healthy liver function and is good for pregnant women because it contains vitamin B9. Nutritionists say chayote also assists in preventing cancer.
They warn however, that people, particularly children, should not eat too much chayote at the same time.
Source: Vietnam News
Tam Dao's green chayote tops and fruits leave visitors impressed have 799 words, post on vietnamnet.vn at November 20, 2021. This is cached page on Talk Vietnam. If you want remove this page, please contact us.