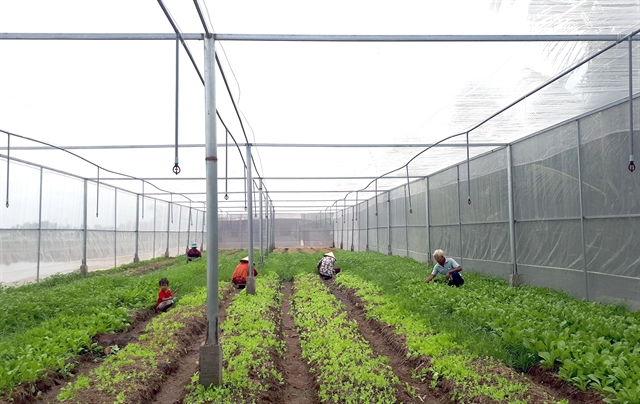 Vegetables are cultivated in a nethouse in Sóc Trăng Province's Mỹ Xuyên District. — VNA/VNS Photo Trung Hiếu
SÓC TRĂNG — The Cửu Long (Mekong) Delta province of Sóc Trăng's large-scale farming areas and improved linkages among stakeholders have resulted in higher yield and profits after five years of agricultural restructuring.
Agriculture is the province's main economic sector, with rice, seafood and fruits its key products.
Trần Văn Lâu, chairman of the province People's Committee, said:  "The province is effectively restructuring agriculture production in combination with new-style rural areas, and applying advanced techniques and sustainable development" in combination with environmental protection.
Under the plan, localities have restructured crop cultivation, aquaculture and animal husbandry to suit the conditions of their areas.
Farmers have been encouraged to convert ineffective rice fields to high-value vegetables, aquaculture or animal husbandry.
The province has advantages for cow breeding as it has hot and humid weather and plenty of plants year round, and locals have had a tradition of breeding the animal for generations.
Last year the province had more than 10,000 milk cows, up two times against 2013. It also has more than 44,000 oxen.
Cow and oxen breeding has improved the lives of people in rural areas and helped many households escape poverty and have a good life, according to the province's People's Committee.
In concentrated farming areas, farmers have contracts with companies to secure outlets and stable selling prices.
The "three increases – three reductions" and "one must and five reductions" methods have helped to increase yield and profit. Under the "one must and five reductions" method, rice farmers must use certified seeds and reduce the use of plant-protection chemicals, nitrogenous fertilisers, irrigation and post-harvest losses.
The province has 243 large-scale rice fields with a total area of 53,000ha. It has 1,226ha of rice planted under organic standards and 330ha planted under Vietnamese good agricultural practices (VietGAP) standards, according to the province's Department of Agriculture and Rural Development.
Huỳnh Ngọc Nhã, director of the department, said these rice areas are planted under contracts between farmers and companies, securing outlets and stable prices.
The province has also developed 420ha of fruit orchards with a production – code for export. Its fruits like milk star apple, mango, grapefruit and longan are exported to the EU and the US.
The province has 76,270ha of aquaculture, with 1,188ha bred under VietGAP, GlobalGAP, Global Aquaculture Stewardship Council (ASC) or Best Aquaculture Practices (BAP) standards.
The department has helped farmers implement effective models such as two-stage shrimp breeding, or intercropping shrimp with black tilapia in the same pond.
It has also helped seven localities open clean food shops, showcasing OCOP products under the country's 'one commune-one product' (OCOP) programme.
There are 99 OCOP products in the province, including four fragrant-rice products. They are ST 24 rice, organic rice from Bờ Đập Agriculture Farm, tài nguyên rice from Phú Khang, and sữa rice from An Cư.
Speciality rice cultivation
Sóc Trăng has created many local speciality rice varieties like ST 24 and ST 25. The former ranked third in the World's Best Rice Contest in 2017 and the latter ranked first in the contest in 2019.
Its rice varieties named ST (including ST 24 and ST 25) are also planted in other provinces and in high demand at home and abroad.
More farmers have expanded the cultivation of fragrant rice and speciality rice varieties for export in recent years, according to the department.
In Long Phú District, for instance, speciality rice varieties accounted for 46.7 per cent of the district's total rice growing area.
Last year farmers in the district applied "three increases – three reductions" and "one must and five reductions" on a total of 1,830ha of rice, and grew 80 ha of rice under VietGAP standards.
The district has more than 1,200ha of large-scale rice fields in Trường Khánh and Long Đức communes.
Lâm Văn Vũ, head of the Long Phú Agriculture and Rural Development Bureau, said the district will review crop cultivation and animal husbandry in each area and will switch to agricultural products with high competitiveness and value.
The district will also maintain and develop more large-scale rice fields planted under farm contracts.
In Mỹ Xuyên District, the cultivation of local speciality ST rice varieties, including ST 24 and ST 25, accounts for 80 per cent of the district's total rice-shrimp farming area, according to the district's Agriculture and Rural Development Bureau.
The district's ST rice varieties have high quality as farmers use few chemicals under a rice-shrimp farming model.
Sóc Trăng has 179,076ha devoted to fragrant and speciality rice varieties, up 27.8 per cent against its target, according to the department.
It plans to increase the cultivation of high-quality rice varieties and speciality rice varieties to more than 80 per cent of the province's total rice farming area by 2025. — VNS
Sóc Trăng increases yield, profits after five years of agricultural restructuring have 1016 words, post on vietnamnews.vn at November 25, 2021. This is cached page on Talk Vietnam. If you want remove this page, please contact us.