President Nguyen Xuan Phuc received Director-General of the World Trade Organization (WTO) Ngozi Okonjo-Iweala in Geneva on November 28 (local time) as part of his official visit to Switzerland. ​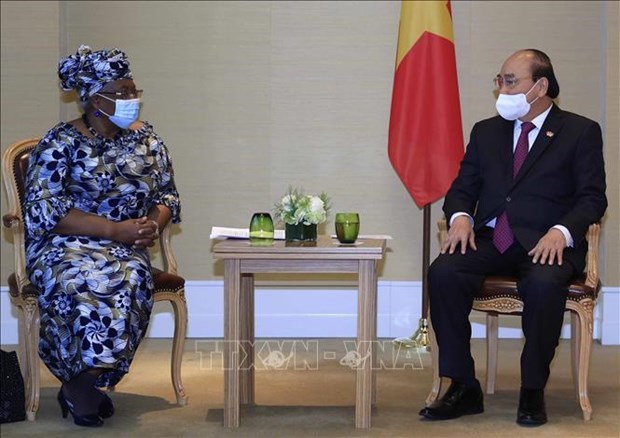 President Nguyen Xuan Phuc receives Director-General of the World Trade Organization (WTO) Ngozi Okonjo-Iweala (Photo: VNA)
At the meeting, he thanked the WTO for its attention and support given to Vietnam's socio-economic development.
He said that from a war-torn country, Vietnam has gradually risen to become a major exporter and effectively solved social security problems, thus improving people's living standards. Vietnam is also an active and responsible member in international affairs.
In the development process, Vietnam also maintains a consistent policy of promoting international economic integration, supports the role of the WTO, and is willing to work closely with the Office of the WTO Director-General and other members in all activities of the organisation.
In the coming time, the WTO should focus on solving a number of technical problems in order to maintain its effective operation in the context of more and more disputes and trade remedies arising, he noted.
"Vietnam supports the WTO's reform efforts and initiatives on the basis of maintaining a balance between rights and obligations, ensuring that they are appropriate to the development level and implementation capacity of its members, especially developing and underdeveloped ones," he stressed.
For her part, Ngozi Okonjo-Iweala expressed her impression of Vietnam's achievements in socio-economic development and international economic integration in general as well as in the implementation of commitments and obligations within the WTO framework in particular.
Especially, she praised Vietnam's impressive achievements in improving people's lives and reducing poverty, saying it is a good model for all developing countries to follow.
The WTO Director-General also appreciated Vietnam's efforts in producing COVID-19 vaccines, joining hands with the world in the fight against the pandemic.
The same day, President Phuc visited Geneva State and was warmly welcomed by President of the state's Council Serge Dal Busco.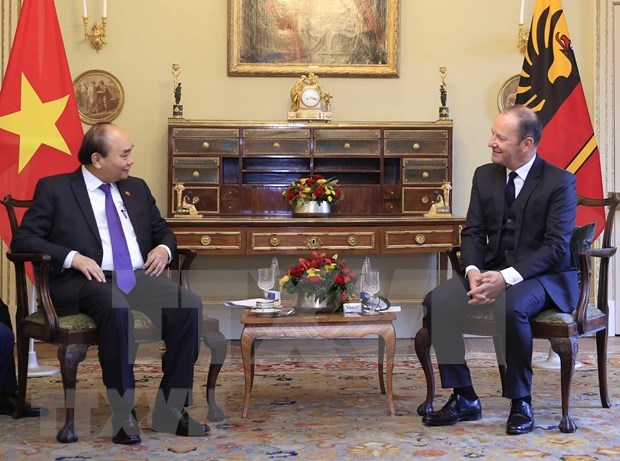 President Nguyen Xuan Phuc meets with President of the state's Council Serge Dal Busco (Photo: VNA)
The Geneva leader spoke highly of Vietnam's socio-economic development achievements and expressed his delight at the good results of the multifaceted cooperation that the two sides have obtained since the establishment of diplomatic relations in 1971. He believed that these are solid foundations that contribute to promoting bilateral cooperation in the coming time.
President Phuc asked the leaders of Geneva state to create favourable conditions for local businesses to expand investment and business cooperation with Vietnam. He suggested the state study the establishment of partnerships with Vietnamese localities, especially in the fields of Geneva's strengths such as economy-finance, tourism, science-high technology, medicine, economy, environment, and urban planning and development.
Meeting with President of the International Federation of Association Football (FIFA) Gianni Infantino on November 28, President Phuc asked FIFA to continue to cooperate and support the Vietnam Football Federation (VFF) in programmes and projects to develop facilities, improve expertise and administrative management, and organize professional football tournaments in Vietnam.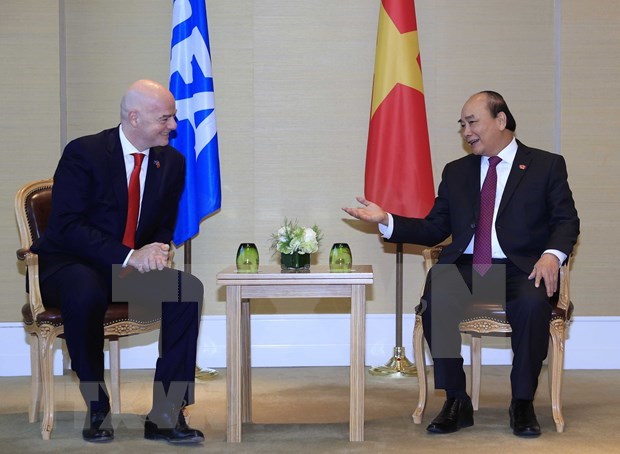 President Nguyen Xuan Phuc receives FIFA President Gianni Infantino(Photo: VNA)
He expressed his wish that FIFA will continue to promote world football activities post pandemic, adding that Vietnam always supports FIFA's activities and will actively participate in activities organised by the organisation.
Gianni Infantino also recommended that Vietnam should create conditions for its teams to participate in regional and international tournaments to sharpen their skills, gain experience and become more mature.
He affirmed that FIFA will continue to closely cooperate and support the VFF and look forward to having the opportunity to return to Vietnam soon.
At a meeting with Tatiana Valovaya, Director-General of the UN Office in Geneva, the Vietnamese State leader appreciated the effective multifaceted cooperation between Vietnam and the UN, considering it a top priority in its foreign policy of multilateralisation and diversification.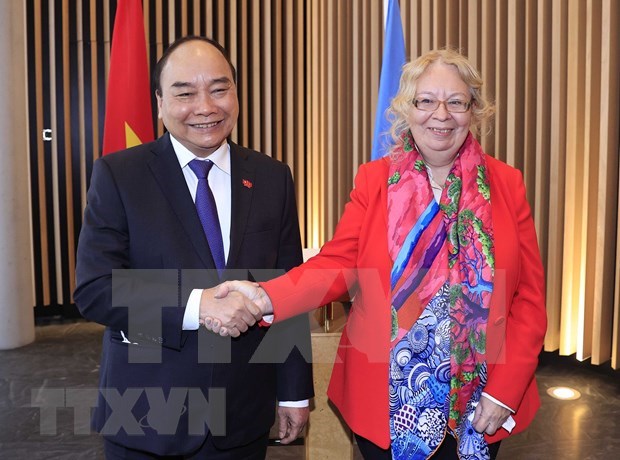 President Nguyen Xuan Phuc and Tatiana Valovaya, Director-General of the UN Office in Geneva (Photo: VNA)
The President affirmed that Vietnam supports the UN in promoting its central role in global governance, keeping international peace and security, boosting sustainable development, ensuring human rights, and effectively responding to common challenges, especially non-traditional ones such as climate change, epidemics, food security.
Vietnam wishes to develop comprehensive cooperation with the UN, including the UN Office in Geneva, especially in the context that 2022 will mark the 45th anniversary of Vietnam's accession to the UN.
Regarding the prevention and control of the COVID-19, the President said that at this time, the epidemic situation in Vietnam has been basically controlled. Vietnam has switched to a safe and flexible adaptation strategy to realise the goals of effectively fighting the pandemic, ensuring social security, and restoring and promoting socio-economic development.
He suggested that UN organisations continue to support Vietnam in increasing access to vaccine sources and implementating its vaccination campaign, help with medical supplies and equipment as well as policy advice and experience to support long-term socio-economic recovery in a green, sustainable, and more resilient direction.
On this occasion, President Phuc thanked the UN for cooperation and support for Vietnam to fulfill its role as a non-permanent member of the UN Security Council for nearly two years.
For her part, Tatiana Valovaya highly valued Vietnam's excellent performance as a non-permanent member of the UN Security Council for 2020-2021 with many initiatives and practical contributions to global issues.
She also lauded Vietnam's determination and efforts in protecting human rights and realising the sustainable development goals, emphasising that Vietnam is a developing country but shows its leading role and is a model in combating climate change. She added that the UN always attaches importance to and is ready to cooperate with Vietnam to promote areas of shared concern.
On the same day, President Phuc and his entourage visited officials and staff of the Permanent Mission of Vietnam to the UN and Vietnamese experts working at international organisations in Geneva./.
Source: VNA
President Nguyen Xuan Phuc active in Switzerland have 1118 words, post on vietnamnet.vn at November 29, 2021. This is cached page on Talk Vietnam. If you want remove this page, please contact us.