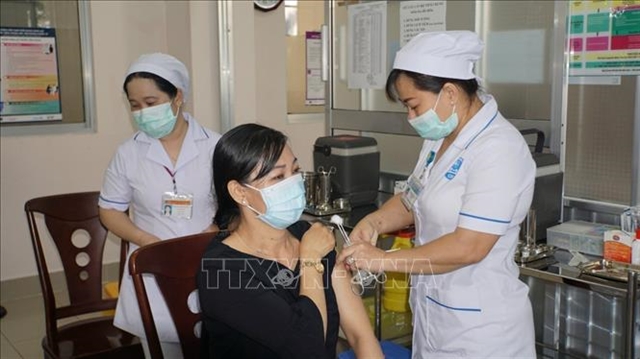 A person gets a COVID-19 vaccine in Cần Thơ City on June 17. There is now a spike in infections in the Mekong Delta city. VNA/VNS Photo
HCM CITY — The Cửu Long (Mekong) Delta city of Cần Thơ on Thursday saw its highest single day incidence of COVID-19, 1,310 cases, and six related deaths, according to its Department of Health.
The total number of infections so far has exceeded 21,330, and there have been 168 deaths.
Field hospitals in the city are now operating at full capacity, prompting more patients to opt for isolation and treatment at home. More than 5,600 are being treated at home.
Dr Phạm Phú Trường Giang, deputy director of the department, said the city was stepping up vaccination amid the spike in infections.
Almost all vaccinated patients had mild symptoms, and all deceased were unvaccinated, he said.
More than 96 per cent of the city's population aged 18 and above received at least one dose, and 85 per cent of them are fully immunised. More than 59 per cent of people aged 12 to 17 have got one dose.
Bạc Liêu and Sóc Trăng provinces in the delta also reported record high new cases on Thursday, 617 and 532.
More than 97 per cent of the Bạc Liêu population received at least one shot and 65.7 per cent have been fully vaccinated.
In Sóc Trăng, the numbers are 92.6 per cent and 74.6 per cent. —VNS
COVID-19 cases spike to new high in Cần Thơ City have 432 words, post on vietnamnews.vn at November 26, 2021. This is cached page on Talk Vietnam. If you want remove this page, please contact us.