Artist Nguyen Ngoc Phuong has opened an exhibition 'Niệm' (Opinion) in Hanoi, showcasing his lacquer paintings that were inspired by the historic flooding in the central region.
The abstract paintings are large; even the smallest measure 1.24m by 2.44m.
The paintings came to life after Phuong visited the central region in 2018 and 2019, after massive floods.
He felt an urge to paint after witnessing the land erosion, the destroyed forests and people's loss after the disaster.
"After the flooding and heavy rain, water flowing down from the peak caused land erosion. Seeing that scene made me think that mountain is crying," he said.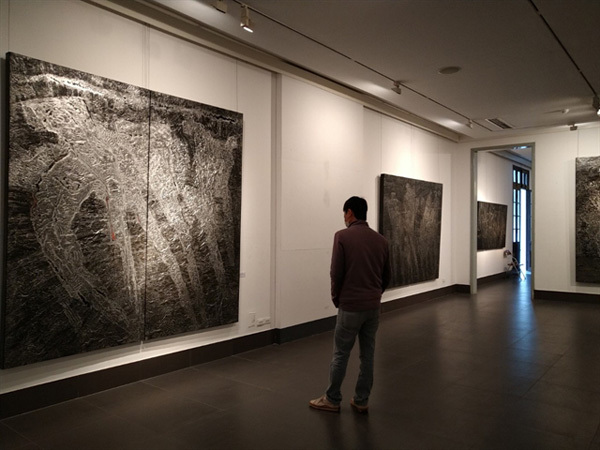 A visitor at the exhibition of Nguyen Ngoc Phuong. VNS Photos Thu Hang
To create these lacquer paintings Phuong collected mud to mix with the paint.  He hopes his artworks make people ponder nature and spirituality.
Phuong was born in 1975 in Hanoi. Between 2008 and 2018, he participated in many international exhibitions worldwide. This is the third time he has organised a solo exhibition in Vietnam.
What makes this exhibition different from previous ones is he is always renovating himself and his art, keeping to his own path and avoiding others.
He renovated the lacquer art by mixing paint with mud collected from the central region. He only polished part of the artwork, not the entire painting, leaving rough places to illustrate the land surface, forests, mountains and caves.
"In this exhibition, I painted the nature and people of my homeland with all of my consciousness and conscience," said Phuong.
Artist Ly Truc Son remarked that the art and personality of Nguyen Ngoc Phuong is of oneness. "He doesn't try to find a style, he just presents what he experienced, hoped for and felt proud of," said Son.
"To make this painting collection, Phuong used black and white only, like yin and yang, two factors that can create endless expression. Contemplating his paintings, I think he united consciousness with intuition from an unconscious mind," he added.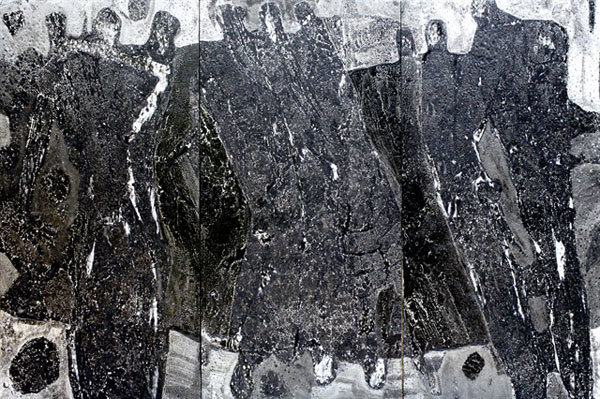 Evacuate, one of the paintings displayed at the exhibition.
Painter Yen Nang appreciated that "Niệm" is a successful exhibition because Phuong expressed clearly his opinion and intention through art.
"Mud mixed in paint is evidence of the era. His art hints at the feeling of terrace, loss, changes and people's actions. Photos of the paintings can't show artistic effect. I think the audience should come and see personally," said Nang.
The exhibition will run until Tuesday, November 30, at the Vietnam Fine Arts Museum, 66 Nguyen Thai Hoc Street, Hanoi.
Source: Vietnam News
Abstract painting exhibition ponders natural disaster have 637 words, post on vietnamnet.vn at November 29, 2021. This is cached page on Talk Vietnam. If you want remove this page, please contact us.