Developing electric vehicles is a "golden opportunity" that comes once every hundred years and a chance for Vietnam to rewrite the development scenario for the auto industry.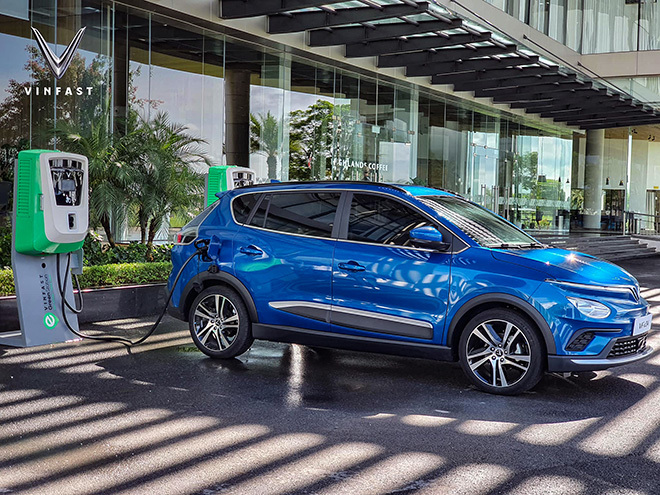 VinFast has developed 10,000 charging columns nationwide, and plans to invest in another 30,000 charging columns in the near future.
An electric car model VF e34 has been officially introduced by VinFast. The VF e34 measures 4,300 mm long, 1,793 mm wide and 1,613 mm tall with a wheelbase of 2,611 mm and 180 mm of ground clearance, which places it in the ballpark of the B-segment SUV in terms of physical size, and weight of 1,490 kg.
A single electric motor is rated for output of 147 hp and 242 Nm of torque, driving the front wheels. This is fed by a lithium-ion battery pack – earlier noted to have a capacity of 42 kWh – offering the VF e34 a range of 300 km on a full charge, and a claimed 180 km of range from 15 minutes of charging.
Equipment as listed in a Vietnamese brochure indicates that the VF e34 comes with a HEPA filter with PM2.5 filtration, while a 10-inch infotainment unit offers Wi-Fi and Bluetooth connectivity, in addition to Apple CarPlay and Android Auto for smartphone integration.
In HCM City, a truck manufacturing and assembly company said that it was testing a number of electric truck models. Some automakers are also "eyeing" the electric vehicle market of Vietnam. A number of large automotive FDI firms, including Japan's Mitsubishi Corporation, have discussed with Vietnamese authorities their plans to expand investment in manufacturing and assembling electric cars in the future.
According to VinFast, it has developed 10,000 charging columns nationwide, and plans to invest in another 30,000 charging columns in the near future. Previously, Mitsubishi Vietnam and Porsche Vietnam have also invested in battery charging stations to serve the distribution of electric vehicles in Vietnam.
Although it is still new, the electric vehicle market in Vietnam is considered one with high potential. A survey by Frost & Sullivan (USA) in 2017 showed that 33% of Vietnamese consumers had thought of buying an electric car for the first time. Vietnam has a young population and a high proportion using the Internet. Vietnamese interest in electric vehicle technology has overcome its limitations such as high cost, and time-consuming battery charging. This is a high/potential market, Frost & Sullivan commented.
Six months after launching the VF e34 electric car model, 25,000 customers have placed orders for this model, according to Vinfast.
Experts say that developing electric vehicles is a "golden opportunity" for Vietnam to rewrite the auto industry development scenario because using electric cars is considered an inevitable trend in the future.
Nguyen Trung Hieu, planning development chief expert from Toyota Vietnam, said it is forecast that by 2030, annual sales of cars in Vietnam will reach 1 million units, three times higher than the current figure. Thus, the number of people using electric vehicles will be higher.
However, the development of electric vehicles depends greatly on state policies. This is a matter of national competition. According to Toyota, electric cars are a change that happens once every 100 years.
In Southeast Asia, Thailand has announced a plan to become the production center of electric cars and electric motorbikes of the region, with 750,000 units/year by 2030. This ambitious goal is gradually realized by comprehensive policies aimed at bringing the price of electric vehicles down close to the price of petrol and diesel cars.
Meanwhile, Indonesia is on the way to become the region's electric vehicle manufacturing hub and has ambitions to overtake Thailand in terms of scale. Car manufacturers are lining up to invest in Indonesia, because attractive policies have been issued.
Vietnam still does not have a roadmap and goal for electric vehicle development, and does not have a system of complete standards and regulations on safety technical standards of component parts, systems and complete vehicles. Incentive policies are still minor and unattractive.
Duong Dinh Giam, former director of the Institute of Industrial Policy (Ministry of Industry and Trade), said that the most important thing for the electric vehicle manufacturing industry at present is support policies, not technology. Many auto manufacturers are still waiting for policies to make investment decisions. The countries with good policies will be able to develop an electric vehicle industry.
Not only tax and fee incentives, but also an overall strategy with a long-term vision are needed. Many countries have launched a roadmap to ban the sale of internal combustion engine vehicles at specific times.
If Vietnam does not develop electric vehicles, with specific routes to replace internal combustion engine vehicles, there is a risk that it will consume outdated technology products, Giam said.
When the electric vehicle industry develops, it will bring great benefits to Vietnam by creating jobs, improving the manufacturing industry, and making a great contribution to the country's GDP and helping it to escape from the "middle income trap" to become a developed country with high technology.
Tran Thuy
Once-in-a-lifetime opportunity to rewrite development scenario for VN auto industry have 948 words, post on vietnamnet.vn at October 21, 2021. This is cached page on Talk Vietnam. If you want remove this page, please contact us.