NEW YORK– Vingroup and Google Cloud have signed a Memorandum of Understanding (MOU) to support Vingroup's ongoing digitization and innovation strategy.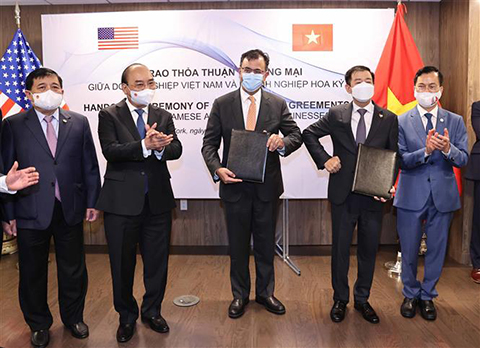 President Nguyen Xuan Phuc (second, left) at the ceremony. VNA/VNS photo – Thong Nhat.
The MOU agreement was signed this week in New York City, on the sidelines of President Nguyen Xuan Phuc's diplomatic trip to the United States. The agreement sees Vingroup and Google Cloud collaborating closely as strategic partners, to drive the group's digital transformation.
Specifically, Google Cloud will help Vingroup to advance its Cloud-based services and identify opportunities to apply cloud-based machine learning, artificial intelligence, and smart data analytics technologies across Vingroup's varied lines of business.
Nguyễn Việt Quang, Vice Chairman and CEO of Vingroup and Thomas Kurian, CEO of Google Cloud signed the MOU.
Nguyễn Việt Quang said, "This MOU with Google Cloud builds on our successful on-going relationship with Google. This new step forward in our partnership will see us working closely to explore new opportunities to digitize, not only the way we engage our consumers, but also how Vingroup enhances its resilience, agility and executes its global expansion plans."
"Google Cloud is uniquely positioned to help Vingroup drive its growth strategy, with our innovative and trusted industry solutions and vertical expertise. We look forward to our expanded collaboration, and to supporting Vingroup as it continues to play a leading role in the long term success of Vietnam's digital transformation," said Thomas Kurian, CEO of Google Cloud.
This partnership with Google Cloud is one of Vingroup's major achievements in acquiring the latest technologies, streamlining its products and services development, as well as enhancing customer experience.
As the largest private conglomerate in Vietnam, Vingroup is currently doing business in three core sectors namely technology, industry and services. In all sectors it has participated in, Vingroup is always a pioneer that leads market trends and creates world-class products and services of Vietnam.
Google Cloud accelerates organizations' ability to digitally transform their business with the best infrastructure, platform, industry solutions and expertise. We deliver enterprise-grade solutions that leverage Google's cutting-edge technology – all on the cleanest cloud in the industry. Customers in more than 200 countries and territories turn to Google Cloud as their trusted partner to enable growth and solve their most critical business problems. VNS
Vingroup signs Memorandum of Understanding with Google Cloud have 640 words, post on vietnamnews.vn at September 23, 2021. This is cached page on Talk Vietnam. If you want remove this page, please contact us.