7.3 million people in HCM City to receive COVID relief
Over 7.3 million people affected by the COVID-19 pandemic will benefit from HCM City's third relief package.
The city's largest relief package to date was approved on Thursday by the standing committee of the People's Council, and will provide VNĐ1 million (US$45) to each person.
There would be no discrimination between permanent and temporary residents and be distributed immediately, the city assured.
The beneficiaries will include poor and near-poor households and those receiving social welfare people and facing difficulties due to the pandemic.
Workers in difficult circumstances due to job loss and without an income will get paid.
Parents, spouses and children living with unemployed workers will be among the others to benefit.
People living in poor residential areas and in very difficult circumstances make up the final set of beneficiaries.
All of them are required to be physically present to get the relief payment.
Reports from districts and Thủ Đức City said nearly two million poor and near-poor households face difficulties due to the pandemic.
Vietnam, US step up cooperation in tackling war consequences
Deputy Minister of National Defence Sen. Lieut. Gen. Hoang Xuan Chien met with Patrick Leahy, president pro tempore of the US Senate on September 22 (local time) in Washington DC, with their discussion focusing on war-aftermath mitigation projects in Vietnam.
The US senator expressed his delight at outcomes of the nations' collaboration in tackling war consequences, particularly a dioxin detoxification project at the Bien Hoa airport and a project on improving the quality of life of people with disabilities in eight provinces heavily sprayed with Agent Orange.
He also acknowledged the progress made in cooperation in searching for remains of missing-in-action US servicemen and Vietnamese martyrs as well as in the implementation of joint communications campaigns.
Chien informed Leahy that his ministry has supported the COVID-19 vaccination of people involved in the Bien Hoa airport project to ensure its progress and asked the US official to support the provision of more funding to complete the project sooner.
Chien proposed the US study to expand the beneficiaries in the life quality improvement project as most provinces in Vietnam have AO/dioxin victims.
Leahy highlighted the importance of war-aftermath mitigation cooperation to the nations' comprehensive partnership and vowed to do his best to facilitate these above-said activities.
Earlier, Chien held a meeting with Samantha Power, Administrator of the US Agency for International Development (USAID), during which he proposed the agency study and support the identification of Vietnamese soldiers who died in the war, as well as improve testing capacity for Vietnam in this field.
Power said she backs Vietnam's proposals and stressed the need to accelerate the progress of the Bien Hoa airport project.
While in the US, the Vietnamese official also met with Ely Ratner, US Assistant Secretary of Defence for Indo-Pacific Security Affairs, and Atul Khare, UN Under-Secretary-General for Operational Support ./.
FM Bui Thanh Son to visit Russia this weekend
Vietnamese Foreign Minister Bui Thanh Son will pay an official visit to the Russian Federation from September 25-28 at the invitation of Russian Foreign Minister Sergey Lavrov.
Vietnam and the former Soviet Union, now Russia, established diplomatic ties in 1950. They lifted their relationship to a level of strategic partnership in 2001 and then comprehensive strategic partnership in 2012 to fully tap into the two countries' potential.
Russia is an important strategic partner in Vietnam. The October 2016 enforcement of the Vietnam – Eurasian Economic Union Free Trade Agreement, of which Russia is a member, has opened up many business and investment opportunities for both sides.
Two-way trade turnover between Vietnam and Russia reached US$4.85 billion in 2020, up 9% compared to 2019. In the first half of 2021, bilateral trade value hit US$2.6 billion, a year-on-year rise of 12.5%.
As of 2019, Russia ranked 25th among foreign investors in Vietnam, pouring US$943 million into 137 projects. Meanwhile, Vietnam has so far invested nearly US$3 billion in more than 20 projects in Russia.
The two countries closely coordinate and support each other at international forums such as the United Nations, the Asia-Pacific Economic Cooperation forum. (APEC), Asia-Europe Summit (ASEM), ASEAN Regional Forum (ARF), and Conference on Interaction and Confidence Building Measures in Asia (CICA).
Hanoi to spend VND500bn to renovate old apartment buildings
Hanoi authorities will spend VND500bn (USD21.8m) on upgrading and rebuilding old apartment buildings that are more than 60 years old.
Hanoi People's Council approved of the project to renovate and rebuild old apartment buildings after all deputies at the meeting on September 23 voted for the project.
According to the Director of the Hanoi Department of Construction Vo Nguyen Phong, as of 2020, Hanoi has 1,579 old apartment buildings. Of which 1,273 buildings belong to 76 apartment building zones and 306 buildings located separately across the city. Most of them were built from 1954 to 1994. The authorities are still reviewing the buildings and may add 200-300 more buildings to the list.
The buildings have badly deteriorated over the years and become a risk to the residents., The authorities will select 10 buildings for renovation during the 2021-2025 period.
"The city will spend VND500bn to review and upgrade the buildings from 2021 to 2025," Phong said. "We'll complete the review process on all apartment buildings in the city in the second quarter of 2023."
After detailed zoning, the authorities will announce the renovation and rebuilding plans, find investors and help residents be relocated. Phong went on to say that district authorities should be given more responsibilities to speed up the plan.
Vietnam refutes "unobjective" claim about Internet freedom
Việt Nam has refuted Freedom House's report saying that the country has no Internet freedom.
Answering question from a local reporter during a press briefing on Thursday, spokeswoman of the Ministry of Foreign Affairs Lê Thị Thu Hằng said: "This is not the first time that Freedom House has given unobjective assessment on Việt Nam based on incorrect information and prejudice about the country."
"The efforts to promote and ensure human rights in Việt Nam have been highly regarded by countries and international organisations in the universal periodic review by the Human Rights Council of the National Nations through various periods," she said.
"The report of the Freedom House is invalid and I don't feel the need to further comment on this," the spokeswoman said.
Hanoi approves 17 resolutions for the capital city's development
Hanoi People's Council has approved 17 resolutions for the capital city's development, as its two-day meeting ended on Thursday.
The second session of the 15th-term municipal People's Council was held both online and in-person, taking place on September 22 and 23.
The resolutions included; a five-year socio-economic development plan, a five-year medium-term public investment plan for 2021-25, developing infrastructure in suburban areas, fees for public schools in the 2021-22 school year, supportive policies for students affected by the COVID-19 pandemic and upgrading old apartment buildings in Hà Nội.
The resolutions were unanimously approved by the delegates.
Specifically, fees for studying online in public schools will be reduced by 25 per cent.
Speaking at the meeting, the chairman of the Hà Nội People's Council Nguyễn Ngọc Tuấn said that these new policies would promptly solve people's problems, promote economic and social development, and ensure security and national defence. The resolutions play an important role in implementing the city's political agenda, both this year and for the rest of the term.
Tuấn urged the implementation of the resolutions to ensure that tangible results could be achieved, including improving the quality of life for the city's inhabitants.
Authorities should deploy more effective solutions to manage the pandemic, through prioritising resources on pandemic prevention and control, whilst also promoting socio-economic development.
The municipal People's Committee and its associated groups would continue to review policies to support people and businesses in the recovery from the COVID-19 pandemic, said Tuấn.
Chairman of the Hà Nội People's Committee Chu Ngọc Anh said that the city has proactively adopted guidelines to manage the COVID-19 pandemic, and will adjust plans and policies to suit the developing situation. Protecting people's health is the first and most important task at hand.
Anh affirmed the city's determination to overcome the unprecedented difficulties COVID-19 has caused, by ensuring socio-economic development targets for this year are met to create momentum for the capital to develop in the coming years.
The Municipal People's Committee is aware of the challenges the city will face and will make every effort to act decisively to meet the goals of the People's Council, said Anh.
The Hà Nội People's Council will lay out detailed plans and assign responsibilities to departments, branches and localities to implement their duties effectively.
Quang Ngai flooded after heavy rain
Many areas in the central Quang Ngai Province have been flooded with houses damaged after a rainstorm on September 23.
The rainfall measured during the six-hour of rain in Quang Ngai was 150-300mm. Various streets in Quang Ngai were deeply flooded including Hung Vuong, Phan Boi Chau, Quang Trung and Tran Hung Dao streets. Some places were under 500mm of water.
A whirlwind also occurred in Son Tra Village, damaging the walls and blowing away the roofs of 15 houses in the village. Ung Dinh Hien, vice chairman of Binh Son District said they had relocated the residents from the damaged houses and other vulnerable areas to safe zones.
Boats and ships including the passenger ship on the Sa Ky-Ly Son route were banned from going out to sea until further notice. Coastal towns and communes such as Binh Son, Mo Duc and Ly Son must guide residents on how to reinforce their houses.
Quang Ngai Centre for Hydro-Meteorological Forecasting raised warnings about flash floods and landslides in the mountainous areas and flooding in the urban areas from September 23 to 25.
HCM City receives over 200 million VND from businesses for COVID-19 fight
Ho Chi Minh City has received 1 million rapid test kits worth more than 200 billion VND (8.8 million USD) donated by a number of businesses to help the city in COVID-19 control.
Sovico Group, HDBank and Vietjet Air offered the support to join hands with the city in implementing a fast testing campaign on all residents to define "green zones".
At a ceremony to receive the donation on September 23, Standing Vice President of the city Vietnam Fatherland Front Committee Nguyen Thanh Trung highly valued the social responsibility of the firms. He pledged that the city will distribute the medical supplies promptly, contributing to quickly pushing back the pandemic and resuming normal situation in the city.
Since July 1, the city's committee for raising, receiving and distributing fund for COVID-19 prevention and control has received over 2.1 trillion VND (92.47 million USD) in cash, essential goods, medical supplies and medicine from 179 individuals, businesses and organisations inside and outside the country.
The committee has so far distributed over 825 billion VND in cash and more than 322 billion VND worth of goods to COVID-19 prevention and control activities in the city./.
Countries have responsibility to contribute to regional, global peace: spokesperson
Peace, stability, cooperation and development in the region and the world is the common goal of all countries, to which countries have the responsibility to contribute, spokesperson of the Vietnamese Foreign Ministry Le Thi Thu Hang has said.
Hang made the remarks while responding to queries regarding the formation of a security partnership by Australia, the UK and the US, at the ministry's regular press conference held online on September 23.
Vietnam always keeps a close watch on developments in the regional situation, she said.
Asked about Australia's submarine project, Hang said the development and use of nuclear energy must serve peaceful purposes and socio-economic development in countries, while ensuring absolute safety for humans and the environment.
Regarding the EU's Strategy for Cooperation in the Indo-Pacific announced on September 16, the spokesperson said Vietnam values the EU's role and active contributions to peace, cooperation and development in the region.
On the basis of the Vietnam-EU partnership and comprehensive cooperation, Vietnam stands ready to coordinate with the EU, implement cooperation frameworks of shared concern, promote ASEAN's centrality, and boost the Asia-Europe partnership and the ASEAN-EU strategic partnership, contributing to maintaining peace, stability and prosperity in the region, the spokesperson said./.
Wild bird hunting remains rampant in Ha Tinh
Wild bird hunting has been rampant in the central province of Ha Tinh's Loc Ha and Nghi Xuan districts despite great efforts by the local authorities.
Every August and September, many people in the two districts prepare to hunt wild birds such as storks and night herons.
People take advantage of brush to set up traps with food favoured by the birds. They also use some decoys with their legs tied to a string to lure wild birds. Hunters tow the string to cause the decoys to fly to attract them.
Many decoys have become exhausted, even seriously injured white being used for this trick.
A resident in Thinh Loc Commune said the number of wild bird hunters has sharply declined thanks to strong cooperation between different local agencies to destroy traps. Local authorities have also intensified activities to help raise people's awareness about wild animal protection.
However, the problem has continued happening in many areas in the two districts of Loc Ha and Nghi Xuan.
Local photographer wins bronze at Paris Photography Prize 2021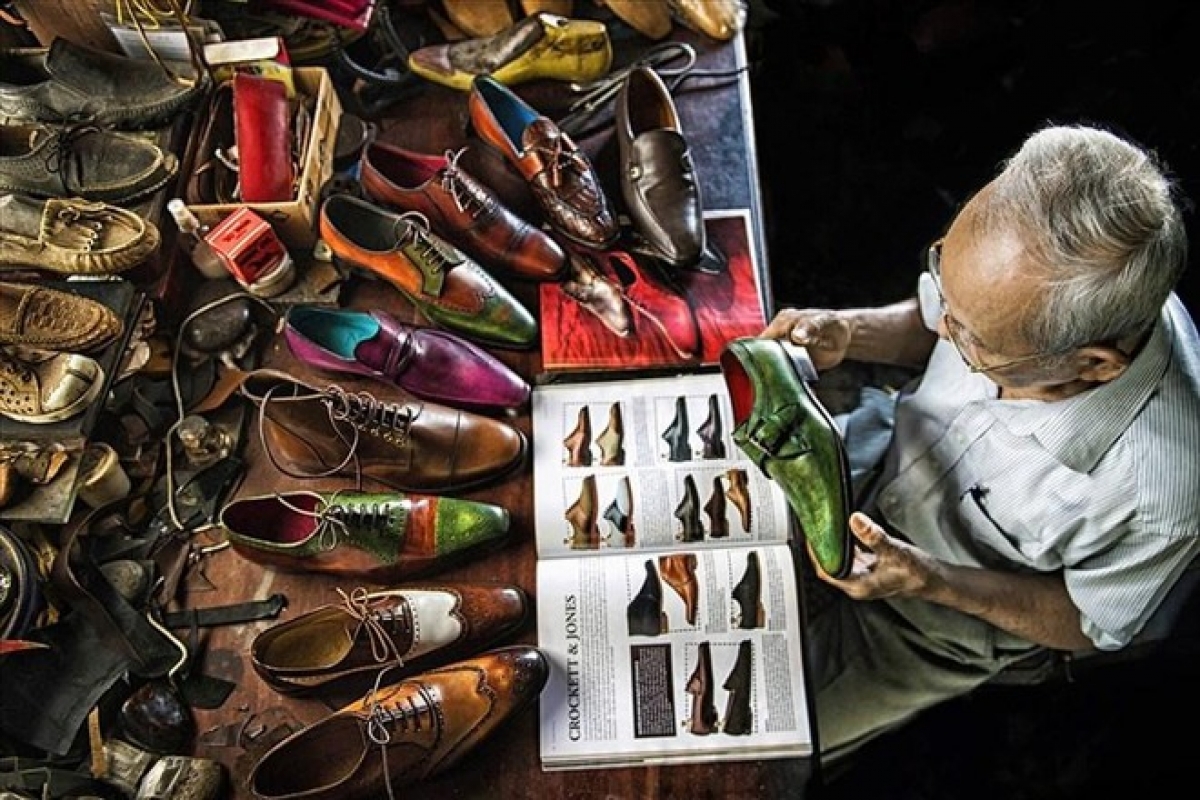 A photo entitled "90-year-old shoemaker" taken by Viet Van wins a bag medal during the PX3 Paris Photography Prize 2021.
Vietnamese photographer Tran Viet Van was awarded a silver medal in the press awards for a photo entitled "90-year-old shoemaker" during the PX3 Paris Photography Prize 2021.
In a chat with photographer Viet Van, the shoemaker said, "My life is very simple, I just think: If you create joy for others, you will receive double happiness."
The PX3 Paris Photography Prize 2021 was launched back in June and has so far received thousands of entries from photographers in over 100 countries globally.
The judges of the competitions include experts from a range of renowned photography organisations, such as National Geographic Society of the United States and Paris Match of France.
The aim of the contest is to connect photographic talents from around the world to the artist community in France.
This comes after earlier in the same year Viet Van's photo showcasing shoemaker Trinh Ngoc won the first prize at the seventh Concurso International De Fotografia Alicante in Spain and was published on French website Private Photo Review.
Van Don Airport welcomes over 300 passengers with 'vaccine passport' from France
Vân Đồn International Airport on Wednesday received over 300 passengers on the fourth flight as part of the pilot 'vaccine passport' programme.
Arriving from France at around 7am, all passengers on flight VN18 met requirements as per the seven-day quarantine policy of the Ministry of Health.
This is also the last flight in the pilot 'vaccine passport' programme to Việt Nam during the COVID-19 pandemic.
Before boarding the plane, passengers had to meet all health requirements, be fully vaccinated, have proof of negative COVID-19 tests (RT-PCR/RT-LAMP methods) 72 hours before departure, and ensure safety measures throughout the flight.
After arriving at the airport in Vân Đồn, they were transported to FLC Hạ Long Hotel in Quảng Ninh for seven-day centralised quarantine.
September has seen flights in this 7-day quarantine programme taking place smoothly and safely, which builds confidence within the community for the near future in which domestic and international travel resumes.
The programme also provides crucial data for review and evaluation before the 'vaccine passport' or 'green card' are deployed on a larger scale in an aim to balance economic development and the fight against COVID-19, according to Phạm Ngọc Sáu, Director of Vân Đồn International Airport.
With advanced technology, strict procedures against the pandemic, and excellent coordination between departments, Vân Đồn International Airport is the first to receive pilot flights in the seven-day quarantine programme.
A total of 943 Việt Nam nationals have returned home under this programme to date. Passengers arriving in Việt Nam on September 4 and 12 have been able to return to their localities after completing the centralised quarantine in Quảng Ninh.
Disadvantaged students get support with internet connections
In response to the "Telecommunications services and computers for children" programme launched by the Prime Minister Pham Minh Chinh, Vietnam Internet Network Information Centre (VNNIC) have presented gifts including smartphones and 4G Mobifone SIM cards for disadvantaged students at Dich Vong Secondary School in Hanoi's Cau Giay district.
VNNIC has teamed up with internet service provider, Mobifone, to give 4G sim cards with a free package for three months, ensuring internet coverage to serve online studying for the students.
The centre has also developed VNNIC Internet Academy platform with a desire to transmit basic knowledge, in line with the digital skills of each audience in the online environment, including children, the elderly, and even adults. The use of the platform is expected to contribute to creating healthy online habits to study and explore the internet safely and effectively.
The VNNIC will continue to donate computers and smartphones to needy students at primary and secondary schools in Hanoi, Da Nang and Ho Chi Minh City from now until the end of September.
Data from the Ministry of Education and Training showed that over 1.5 million students across the country lacked facilities for study online. It does not only creates difficulties for teaching and learning in many provinces and cities in the context of the COVID-19 pandemic but also limits children's ability to access knowledge, creativity, and development in cyberspace./.
Vietnamese singer picked by Spotify for NYC Times Square billboard
An image featuring local singer Phung Khanh Linh has been picked by Spotify and showcased on the Times Square billboard in the heart of New York City.
The 27-year-old singer was featured as artist of the month on Spotify's Equal programme and appears in their billboard ad. Equal is a global programme which strives to foster equity for women in music.
The image of Linh shown on the Times Square billboard was extracted from "Look at me now", her latest music video.
The singer shared that she felt proud to represent the nation and appear in the Equal programme by Spotify, with this set to offer great encouragement for her music career moving forward.
Phung Khanh Linh originally made her debut on the local music scene back in 2018. She released her latest album "Yesteryear" in September which includes the song "Look at me now", with this release leaving a positive impression on both Vietnamese and international listeners.
National team receive reward for performances at Futsal World Cup
The Vietnam Football Federation (VFF) have rewarded the national futsal team with a VND500 million bonus to thank them for their strong performance against Russia on September 22 in the knockout stage of the Futsal World Cup.
The bonus comes after the team also received a reward of VND1.5 billion after making it out of the group stage of the Futsal World Cup.
Con Dao to return to 'new normal' under province's proposal
Several wards and communes in Bà Rịa – Vũng Tàu Province are expected to continue to be under the Government's Directive 16, while Côn Đảo District would return to a "new normal" state.
The provincial Steering Committee for COVID-19 Prevention and Control on Tuesday held a meeting on epidemic prevention and control plans after September 22 to discuss ending the province's 5th social distancing period.
Directive 16 would continue to be applied in wards Nguyễn An Ninh, Thắng Nhất, Thắng Nhì, 1, 10 and 11, located in various districts.
Some communes and towns in Long Điền District, namely Phước Hưng, An Ngãi and Long Hải, will also be under Directive 16.
Bà Rịa City, Phú Mỹ Town, Châu Đức District, Đất Đỏ District and Xuyên Mộc District, together with the remaining communes and towns of Long Điền District, will be under the more relaxed Directive 15.
Production and business activities in Côn Đảo District will resume in a new normal state. However, traffic from the mainland to the island must be carefully monitored.
Districts such as Châu Đức, Đất Đỏ, Xuyên Mộc and Bà Rịa City aim to slowly recover and carefully open some types of economic activities in four stages.
During the first stage, between September 23 and 30, those areas will loosen travel control in the "green zone" and reopen supermarkets, retail store chains, small businesses selling essential items, traditional markets and take-away food services, and resume agricultural, forestry and fishery production activities.
The second stage, from October 1 to 31, involves tourism at hotels with closed services.
If the epidemic continues to be controlled well and Bà Rịa – Vũng Tàu returns to the new normal, the third stage, from November 11 to December 31, will be implemented.
The locality will allow tourist and resort establishments to welcome guests who are fully vaccinated. Real estate agencies, and security and insurance activities will be permitted to open, and intra-provincial public transport will operate at 50 per cent capacity. Education, training services and sports activities would be limited to no more than 20 people.
All economic activities in the last stage will reopen in 2022.
Vice chairman of the provincial People's Committee Trần Văn Tuấn is seeking feedback from authorities and will announce the final plan soon.
As of September 21, after more than two months of social distancing, Bà Rịa – Vũng Tàu had recorded 3,943 COVID-19 cases.
Dianmu weakens, heavy rain drenches central Vietnam
Storm Dianmu was downgraded to a tropical low depression when it battered Vietnam's central coastal region early on September 24, causing rough seas and torrential rain.
According to the National Centre for Hydro Meteorological Forecasting, lashing rain poured down overnight along the central coastal provinces from Quang Binh to Quang Ngai, plus Kon Tum and Gia Lai provinces in the Central Highlands, with rainfall exceeding the 100mm mark.
Torrential rain is expected to lash regional localities from Ha Tinh to Thua Thien Hue and then expand to Thanh Hoa, Nghe An and other localities in the north-central region on September 24-25. Rainfall totals can climb as high as 150mm or even 200mm.
Experts warned about possible flash floods and landslides in mountainous areas and flooding in low-lying and riverside areas.
Dianmu formed from a tropical low depression in the East Sea two days ago. It moved quickly towards central Vietnam but was downgraded to a tropical low depression after making landfall.
Art performance to connect people to overcome pandemic
Music and art is the best way to connect people to overcome any challenge, which is the message of an online art performance that will be organised on Sunday, September 26.
Artists from HCM City and Hà Nội will gather in this special event to call on every person in Việt Nam to unite to overcome the current COVID-19 pandemic.
Named after a famous song by late composer Trịnh Công Sơn, the art performance Nối Vòng Tay Lớn (The Great Circle of Việt Nam) is to honour the considerable efforts of the frontline forces in the COVID-19 fight, praising the spirit of solidarity. It also will help to connect kind-hearted individuals to contribute to the fight.
The event is organised by the HCM City Department of Culture and Sports, in collaboration with the Association of Vietnamese Scientists and Experts (AVSE Global) and the Trịnh Công Sơn Foundation.
To diversify the repertoire of the programme, thus to draw the interest of the public, artists of different theatres and art groups in the city will join this special performance. They are from the Pop Music Centre, the HCM City Ballet Symphony Orchestra and Opera (HBSO), the Bông Sen Theatre of Traditional Music and Dance, and the Trần Hữu Trang Cải Lương (Reformed Opera) Theatre.
HCM City-based artists such as People's Artist Tạ Minh Tâm, Cẩm Vân, Khắc Triệu, diva Hồng Nhung, and American singer Kyo York, will perform in the event.
The line-up of artists also include some from Hà Nội, including diva Thanh Lam and Mỹ Linh, divo Tùng Dương, rapper Hà Lê, and emerging young singer Mỹ Anh.
Songs by famous composers such as Trịnh Công Sơn, Trần Long Ẩn, Thanh Tùng, Lê Quang and Quốc Bảo, whose tunes have become popular among many generations of Vietnamese people will be presented during the concert.
Deputy director of the HCM City Department of Culture, Thanh Thúy said: "The event will praise the silent dedication and sacrifice of all the frontline forces, the support of people across the country, the attentive care of city authorities to their residents during the difficult time when HCM City is a hotspot of the COVID-19 pandemic.
"Through the programme, we also want to present the determination of the city in this fight against the pandemic."
The concert will be broadcast on HTV channel.
"Hanoi on a Vendor's Yoke" wins national art contest
The painting Hà Nội Rong (Hà Nội on a Vendor's Yoke) has won first prize at the "Hà Nội là…" (Hà Nội is…) art contest on Wednesday. Artist Đặng Thái Tuấn's winning piece shows some of Hà Nội's most iconic symbols, balancing on a vendor's yoke.
Highlighting architectural symbols such as Hồ Chí Minh's mausoleum, traditional cuisines like vermicelli with fried tofu and shrimp paste, and even one of Hà Nội most recognisable sights (tangled electrical wires!), the capital through Tuấn eyes is both simple and full of colour.
Trần Phát's "Hanoi by Night" won the second prize and the most voted prize. Photo courtesy of the contest.
The contest, organised by UNESCO, UN-Habitat and the Vietnam Local Artist Group, was to encourage young artists to showcase the "Ha Noi Creative City" title awarded by UNESCO in 2019, with their illustrations and drawings.
From August 6 to September 9, 2021, the contest received artwork from nearly 250 young artists, both in Việt Nam and abroad.
With the theme: "Hanoi is…", the artists were expected to deliver the unique ideas, stories and emotions provoked by the capital through their works. During the contest, many creative ideas were expressed, with diverse materials from digital painting, silk, oil painting and lacquer.
Vietnam displays global leadership at UNSC: The Washington Times
The Washington Times of the US has published an article commending Vietnam's role in global issues particularly in its post as a non-permanent member of the UN Security Council (UNSC) for the 2020-2021 tenure.
The article said despite a resurgence of COVID-19 and the Delta variant, the nation's self-image was boosted in its rotating role as a non-permanent member of the UNSC and presidency in April 2021, and ability and confidence to steer signature evens and peace building efforts.
Vietnam was first elected as a non-permanent member of the UNSC for the 2008-2009 term. In 2020, the nation for the second time in history secured the post with 192 out of 193 votes.
The article highlighted that Vietnam's ascendancy in international security has been broadly witnessed in its role in hosting the 2017 Asia Pacific Economic Cooperation (APEC) Leaders' Meeting and the 2019 DPRK-US Summit. Although the second summit failed to bridge any solution on the disarmament of a global nuclear threat, Vietnam emerged as a recognised peace builder in what is generally regarded as a niche position in reconciliation or mediation diplomacy, it said.
According to the author, Vietnam's remarkable repositioning as a middle power and evolving role as a peace builder demonstrates the nation's growing confidence to play a key meditation role in the Association of Southeast Asian Nations (ASEAN) on regional security issues. Vietnam has successfully adopted the correct market institutions that have led to more than two decades of impressive economic performance.
UN member nations have applauded Vietnam's role in promoting the struggles for national independence, sovereignty, and self-determination. Vietnam's remarkable journey from low to middle-income status lifted over 40 million people out of poverty between 1993 and 2014.
The nation's successful march to the UN was accelerated by steps taken from 1995 to 1999, including the normalisation of diplomatic and trade relations with the US, and cooperation with multilateral donors like the World Bank and the Asian Development Bank.
The article noted despite spending a half century at war, Vietnam has lost no time in supporting UN initiatives that highlight the fundamental principles of international laws and the Charter in addressing international conflicts through peaceful measures.
This has been most evident in the nation's successful efforts to join the UN peacekeeping operations in early 2014 and its active engagement in training personnel to dispatch officers to take part in peacekeeping activities in South Sudan and the Central African Republic.
The author wrote that Vietnam has been championing multilateralism and respect for international law and the UN Charter, quoting Vietnamese Party General Secretary Nguyen Phu Trong as saying: "We are duty-bound to strengthen and reinvigorate the world's largest multilateral organization, particularly in the face of the immense challenges and opportunities in the 21st century."
In addition, over the past three decades, Vietnam has been recognised as a responsible member of the international community, particularly in supporting UN Climate Change Initiatives and 2030 Sustainable Development Goals./.
More than 9,000 COVID-19 cases reported on Thursday, more than half community infections
The Ministry of Health has reported 9,472 new cases of COVID-19 on Thursday evening, in 33 provinces and cities.
These include 9,465 domestic infections with 5,344 being detected in the community.
The number of locally transmitted cases decreased by more than 2,000 compared to yesterday.
A further 236 deaths were also reported in HCM City, Bình Dương, Long An, Đồng Nai, Bà Rịa – Vũng Tàu, Bình Thuận, Tây Ninh, Tiền Giang, Hà Nội and Bình Định.
The total death toll from COVID-19 in Việt Nam now stands at 18,017.
HCM City reported the highest number of domestic cases today with 5,032, followed by the southern provinces of Bình Dương (2,764), Đồng Nai (760) and Long An (190).
Other cases were found in Kiên Giang, An Giang, Tây Ninh, Tiền Giang, Cần Thơ, Đắk Nông, Đắk Lắk, Khánh Hòa, Quảng Bình, Đồng Tháp, Hà Nam, Ninh Thuận, Thừa Thiên Huế, Bình Định, Bình Phước, Bạc Liêu, Cà Mau, Bình Thuận, Phú Yên, Quảng Nam, Hà Nội, Quảng Ngãi, Bà Rịa – Vũng Tàu, Đà Nẵng, Gia Lai, Trà Vinh, Quảng Trị, Hải Dương  and Thanh Hóa.
Over the past seven days, Việt Nam recorded an average of 10,319 new cases a day. The total national tally now stands at 728,435, ranking 46 out of 222 countries and territories.
It was also reported that 6,226 patients have recovered, bringing the total recoveries to 493,488 nationally.
Việt Nam has so far administered more than 36.2 million doses of vaccines.
Start-up business in Bac Ninh Province grateful for provincial support
The trend of youth business start-ups in Bắc Ninh Province has grown rapidly in recent years, thanks to the support of the provincial Youth Union.
As a result, many jobs have been created and many more young people are attracted by the opportunity to start their own business.
Chu Văn Đạo, 30, in Cầu Gạo Yên Phú Commune, Yên Phong District, is one of the success stories. He borrowed capital to invest in his family's rice processing business.
Đạo, who has a passion for technology, graduated from the Hà Nội University of Industry in 2006. At first, he borrowed VNĐ600 million (US$26,300) to buy new rice processing machines, such as milling machines, husk separators, threshing machines and a polishing machine.
Then, with confidence and acumen, he went to agents, stores and supermarkets to introduce his products to the market. His business has been growing ever since.
Customers always demand a high quality of rice, so, along with looking for high-quality rice paddies, Đạo continues to invest in more modern machinery to continuously improve the quality of his products.
Early this year he learned about the start-up fund for young people of the province and applied for a loan of VNĐ700 million (US$30,700) to buy more husk separators.
Đạo said there were many stages in the rice milling process.
First is paddy threshing; then separating husks, cleaning and polishing the rice before finally, the product goes through packaging lines.
Modern production lines have helped to considerably increase the quality of rice products, he said.
With the desire to promote the special Yên Phụ sticky rice of his homeland, Đạo bought all the rice he could from local farmers, to process and sell to rice agents throughout the country.
Talking about the purpose of the business start-up fund, Đạo said: "For young people, the biggest hurdles to starting a business are capital and experience."
"Having access to the province's youth start-up fund, with low-interest rates of 5 per cent per year and 5-year terms, helped me to feel secure in producing and getting rich legitimately," Đạo said.
At present, his family's workshop mills 20 tonnes of rice per day, generating a profit of VNĐ500 million (US$22,000) every year.
His business has created jobs for 5 employees, who are paid a monthly salary of VNĐ9 million (US$400) each.
Like Đạo, Nguyễn Công Trung, director of Thành Đạt Ltd., Company in Yên Phong District's Yên Trung Commune, was successful in finding a new direction for his business.
Trung knew that Bắc Ninh is a developed industrial province with thousands of businesses and companies established, so the demand for office furniture was very large.
He decided to get into the market, investing in machinery and importing wood-making materials.
In 2016, he borrowed VNĐ500 million (US$22,000) from parents and friends and opened a workshop to produce office furniture.
Talking about the first days of starting up the business, Trung said: "I faced many difficulties due to a lack of capital and experience. No customers knew about my products."
"The products were defective and contracts were cancelled. I had to deal with many things at the same time," Trung said.
"But I always kept in my mind: 'no pain, no gain'," he said.
He learned from more experienced business people to improve his product quality, and took advantage of social networks such as Zalo and Facebook to market his products effectively.
Last year, he got a loan of VNĐ1 billion (US$44,000) from the province's youth start-up fund.
He built 300 sq.m more of workshop space, and imported more raw materials for production.
"The loan was so helpful, especially in the context of the COVID-19 pandemic, which made importing new raw materials and transporting products difficult," said Trung.
"With this money, I could import more raw materials and I am able to receive larger orders," he said.
At present, his profits are VNĐ1 billion a year from the workshop, and he has created jobs for 12 labourers with incomes of VNĐ9 million per month.
He plans to expand his scale of production soon and enter the home furniture market.
Motivation for young people
On the youth business start-up fund in Bắc Ninh Province, Secretary of the Provincial Youth Union Nguyễn Đức Sâm said that the movement had created groundbreaking results in the socio-economic development of the region.
Start-up projects are quite diverse, in all industries and fields.
Up to now, most of the projects had been well disbursed, creating regular and stable jobs for over 400 employees, he said.
In addition, the projects also helped unite young people and develop Youth Unions in rural areas and industrial zones, Sâm said.
In the three years since the launch of the movement, 90 different start-up projects have been funded, to a total of VNĐ60 billion (US$2.6 million).
To further motivate young local people to start new businesses, the provincial Youth Union has accelerated the establishment of youth start-up clubs in many districts, in order to nurture and support business ideas.
The Youth Union has also organised training courses and provided consultants on capital lending and business branding.
Sâm added that because of the huge demand for start-up capital, the union would ask the province to increase the entrusted capital amount through the provincial Bank for Social Policies, allowing more young people to access the start-up capital.
Social welfare packages benefits over 2.91 million people in Hanoi
Hanoi has provided assistance using the support packages of both the Government and the city for a total of 2.91 million people, labourers and households, with a combined amount of 1.16 trillion VND (50.9 million USD).
Of the total, nearly 883 billion VND was sourced from both central and local budgets, and over 278 billion VND from various sources, according to the municipal Department of Labour, Invalids and Social Affairs.
For the Government's support package, the city has decisions to aid 1.63 million employees and employers, with a total amount of 593 billion VND.
Over 1.4 million labourers benefited from the policy of reducing the insurance premium for occupational accidents and diseases, with a total amount of 147 billion VND. Meanwhile, 164,000 freelancers received a total of 246 billion VND, and 20,400 labourers who are forced to postpone labour contracts and take unpaid leave received 81.5 billion VND.
The city's support package reached the hands of over 1.27 million locals, with an amount of 568 billion VND. Accordingly, nearly 285,000 people and business households received cash and 985,000 others were presented with food and necessities.
On September 21, the city eased social distancing measures, and the life is gradually returning to new normal. However, local authorities still continue providing social welfare support packages for needy people./.
Russian newspaper hails Vietnamese futsal team's spirit
Russian newspaper Championat has praised Vietnam's solid defence and indomitability when playing Russian players at the knockout round of the 2021 FIFA Futsal World Cup in Lithuania.
Vietnam lost 2-3 to Russia in a match on September 22, a clear improvement from the 0-7 loss to the same rivals in the Round of 16 at the 2016 World Cup in Colombia.
Author Mikhail Chesalin stated that the stability in defence of the Asian team caused troubles to Russia until the match's end.
He went on to say that it was not an easy task for Russian players to score as their Vietnamese rivals had speed and flexibility, coupled with a strong defence.
He underlined that Pham Duc Hoa's goal for Vietnam had made Russian fans worried.
In addition, on its homepage, the International Federation of Association Football (FIFA) used the title "Heads held high" to write about Vietnam's performance in the match.
Russian midfielder Ivan Milovanov also spoke highly of Vietnamese players after the game, saying that they had fought until the last seconds./.
ADB helps GMS in environmental sustainability
A regional technical assistance project for the Greater Mekong Subregion Climate Change and Environmental Sustainability Programme (CCESP) was launched at a workshop on September 23.
The event, held virtually by the Institute of Strategy and Policy on Natural Resources and Environment (ISPONRE) under the Vietnamese Ministry of Natural Resources and the Environment, brought together members of the Working Group on Environment (WGE), and representatives from concerned government agencies of GMS countries, development partners, socio-economic organisations, universities, and research institutes.
Financed by the Asian Development Bank (ADB), the project aims to support the implementation of the GMS Core Environment Programme (CEP) Strategic Framework and Action Plan endorsed by environment ministers of GMS countries.
The bank has signed a contract with international consulting firm Ramboll that will be in charge of implementing the project.
The CCESP is the third and current phase of the GMS Core Environment Programme (CEP), which will run until 2025. The CCESP is managed under an ADB regional technical assistance (TA 9915), and covers six priority themes that were identified during the 24th Annual Meeting of the GMS WGE in 2019: building climate and disaster resilience; facilitating low carbon transitions; promoting climate-smart landscapes; enhancing environmental quality through pollution control and sustainable waste management; deploying digital technologies for climate actions and environmental sustainability; and financing low-carbon and climate-resilient infrastructure and technologies, including demonstrating climate and disaster risk financing instruments.
This will build on the achievements and lessons from the first two phases of the CEP, and will continue to support environmental cooperation and green investments in the GMS.
ISPONRE Director Nguyen Dinh Tho said during the workshop, the delegates discussed methods to realise the project.
He affirmed Vietnam's commitments and resolve to address challenges regarding natural resources, environment and climate change, which have been reflected through the issuance of major documents in this field.
Through the CEP, Vietnam has stepped up environmental cooperation with other GMS countries, Tho added.
The workshop will last until September 24./.
Hanoi prioritises cooperation with Russian localities
Hanoi always gives the top priority to developing friendship and cooperation with Russian localities, including Moscow, contributing to consolidating and strengthening the special relations between the two countries, a municipal leader has said.
At a reception for Russian Ambassador to Vietnam Bezdetko Gennady Stepanovich on September 23, Secretary of the Hanoi Party Committee Dinh Tien Dung said the city aims to actively ad proactively integrate into the world, prioritises economic integration, and focuses on realising its commitments.
Dung expressed his wish that Russia will continue to help Vietnam with COVID-19 vaccines, treatment drugs and other medical supplies to serve the pandemic combat.
He also called on Russia to assist Vietnam in vaccine access and speed up the transfer of COVID-19 vaccine production technology.
For his part, the ambassador spoke highly of cooperation between Russia and Vietnam and Hanoi in particular.
Russia and Vietnam will soon reach a programme on COVID-19 vaccine supply and transfer of vaccine production technology in the Southeast Asian nation, he affirmed.
Russia will support Hanoi's authorities in various sectors, Stepanovich promised, adding that Russia wishes to tighten and expand cooperation between its localities and the Vietnamese capital city./.
Top legislator chairs meeting on land use planning
The national land use planning scheme must ensure thrifty, effective and sustainable use of land resources, National Assembly Chairman Vuong Dinh Hue said at a meeting with the NA's Economic Committee on September 23.
The top legislator was reported on the national land use planning scheme for 2021-2030 with a vision towards 2050, and the 2021-2025 land use plan.
Hue emphasised the significance of land resources which are associated with urban development, infrastructure, environment, and national defence and security.
The national land use planning scheme, therefore, must serve as a ground for planning schemes of sectors, regions and localities, and create regional connectivity, the NA leader said.
The scheme and the land use plan are scheduled to be submitted to the second meeting of the 15th legislature.
Deputies looked into objectives set in the documents, and exchanged their views in this regard, saying it is a must to ensure publicity and transparency in land management and use, and fix shortcomings over the past time.
Hue expressed his support for the Government's views on the scheme and the plan, and suggested supplementing land resources' role to the country's sustainable development, in accordance with socio-economic development strategies of the country and localities./.
More religious volunteers sent to frontline in COVID-19 fight
Nineteen volunteers who are Buddhist and Catholic dignitaries and followers in Ho Chi Minh City have joined the frontline forces in COVID-19 treatment in Trung Vuong Hospital and Gia Dinh People's Hospital in the city.
Addressing a send-off ceremony held by the city Vietnam Fatherland Front Committee on September 22, Vice Chairwoman of the committee Phan Kieu Thanh Huong highly valued the volunteers' devotion, contributing to reducing pressure on medical workers in COVID-19 treatment.
Meanwhile, Than Thi Thu Ba, head of the Nursing Department of Trung Vuong Hospital expressed her joy to receive the volunteers who have been carefully trained to assist doctors in caring for COVID-19 patients.
Priest Dao Nguyen Vu, head of the Office of the Catholic Bishops' Conference of Vietnam (CBCV) in HCM City, wished the volunteers a good health, expressing his hope that they will maintain the voluntary spirit and love for the people, giving helpful support to doctors and nurses in caring for COVID-19 patients.
According to Venerable Thich Nhat Tu, Vice President of the Vietnam Buddhist Institute in HCM City, more than 700 Buddhist dignitaries and followers have registered to join hands in COVID-19 fight. So far, 114 people have been sent to the frontline in pandemic fight.
Since July 22, some 686 religious volunteers have arrived in COVID-19 treatment hospitals across the city./.
Vietnamese FM holds bilateral meetings with foreign diplomats
Vietnamese Minister of Foreign Affairs Bui Thanh Son had bilateral meetings with his counterparts of Saudi Arabia, Syria, Egypt, Latvia, Venezuela and Nicaragua and US Deputy Secretary of State Wendy Sherman on the sidelines of the 76th session of the United Nations General Assembly in New York on September 22 (local time).
Meeting with Saudi Arabian Foreign Minister (FM) Prince Faisal Bin Farhan Al Saud, Syrian FM Faisal Al-Mekdad, Egyptian FM Sameh Hassan Shoukry, Latvian FM Edgars Rinkevics, Venezuelan FM Felix Plasencia, Nicaraguan FM Denis Ronaldo Moncada Colindres and US Deputy Secretary of State Wendy Sherman, Son and the diplomats emphasised the fine traditional friendship with Vietnam.
They affirmed the determination to enhance economic and trade ties to match their sound political and diplomatic relations, continue effectively upholding existing cooperation mechanisms, and offer mutual support at the United Nations and other important international forums.
Son thanked nations for assisting Vietnam in the fight against the COVID-19 pandemic and expected to receive more COVID-19 vaccines and medical supplies.
He pledged to enhance economic, trade and investment ties between Vietnam and the countries, facilitate export-import, and increase coordination in regional and global issues, thus making practical contributions to peace and stability in the region and the world.
The officials discussed measures to bolster ties between Vietnam and the countries in the near future on the basis of mutual benefits and respect to each other's independence, sovereignty and territorial integrity.
The same day, Deputy Minister of Foreign Affairs Dang Hoang Giang attended the 14th Ministerial Meeting of the Global Governance Group (3G) under the chair of Singapore, which holds the presidency of 3G.
Giang put forth three priorities in global cooperation against the COVID-19 pandemic and promoting strong, sustainable and inclusive recovery. They include stepping up timely and fair access to vaccines and facilitating cooperation in vaccine and medicine production technology; enhancing international cooperation, improving self-resilience and adaptation in new normal, facilitating trade and investment across the borders, maintaining stable global manufacturing and supply chains, and ensuring free travelling; and ensuring the implementation of the 2030 Agenda on sustainable development.
Founded in 2020 under the initiative of Singapore, 3G provides a platform for small and developing economies to discuss global economic and governance issues of G20. It now consists of 30 members, with Vietnam being one of the first members that made active contributions to its development./.
Prime Minister requests strict implementation of COVID-19 prevention measures
The Government Office has issued an urgent dispatch requiring the strict implementation of COVID-19 prevention and control measures.
The dispatch stated that over the past few days after easing social distancing measures, new outbreaks have emerged in some localities.
To continue to strictly implement regulations and measures to prevent and control the COVID-19 pandemic and maintain the achievements of anti-pandemic efforts in the past time, Prime Minister Pham Minh Chinh requested General To Lam, Minister of the Ministry of Public Security and head of the sub-committee on security and social order of the National Steering Committee for COVID-19 Prevention and Control, to direct localities to promptly strengthen inspection to prevent mass gatherings in public places and strictly handle violations, avoid the risk of community transmission.
The dispatch ordered Minister of Health Nguyen Thanh Long, who is also head of the National Steering Committee's sub-committee on healthcare, to direct centrally-run cities and provinces namely Ha Nam and Kien Giang provinces and Da Nang city immediately carry out measures on zoning off, quarantining, and testing quickly to "filter out" hidden COVID-19 cases, taking effective solutions to manage F1 (people in close contact with COVID-19 patients),  in new outbreak areas in the community, resolutely not let the virus spread widely.
Secretaries of the provincial and municipal Party Committees, the head of the steering committees for COVID-19 prevention and control, the chairpersons of the People's Committees of Ha Nam, Kien Giang and Da Nang are told to strictly follow the directions and solutions for pandemic prevention and control of the Government, the Prime Minister, the National Steering Committee for COVID-19 Prevention and Control and the guidance of the Ministry of Health, ensuring that the pandemic would be put under control soon, achieving the desired target and normal life will be resume soon./.
98.9 percent of fishing vessels in Ben Tre install monitoring devices
Fishing vessels in the southern province of Ben Tre have completed the installation of monitoring devices in line with regulations, as part of efforts to fight illegal, unreported and unregulated (IUU) fishing as warned by the European Commission.
Deputy Director of the provincial Department of Agriculture and Rural Development Nguyen Van Buoi said the department considers the effort as one of the top major tasks to combat IUU fishing.
So far, 98.8 percent of fishing vessels have been equipped with the devices. The remaining stopped operations or went missing.
The department also worked with the provincial Department of Information and Communications to issue a resolution on assisting fishermen in part of subscription fees for the devices in two years.
Vice Chairman of the provincial People's Committee Nguyen Minh Canh said authorities will continue raising fishermen's awareness of regulations on exploitation of aquatic products.
The province will also direct agencies concerned to promptly prevent individuals and organisations from bringing fishing vessels abroad for exploitation./.
Suburban infrastructure plan get green light
The Hanoi People's Council discussed and approved 15 reports and 18 resolutions including a five-year socio-economic development plan, five-year medium-term public investment plan for 2021-25 and developing infrastructure in suburban areas during its meeting which kicked off on September 22.
The second session of the 15th-term municipal People's Council was held both online and in person, taking place on September 22 and 23.
Speaking at the meeting, secretary of the Hanoi Party Committee Dinh Tien Dung said that this year was the first year to implement the 13th-term National Party Congress's resolutions.
Up to now, the capital city has maintained production chains despite the pandemic, with some positive results such as the gross domestic product in the second quarter increased by 6.61 percent, higher than the previous quarter, which had increased by 5.17 percent. The overall growth of the first six months reached 5.91 percent, higher than the national average of 5.64 percent. In the first eight months of this year, budget revenue reached 69.8 percent, up by 10.3 percent compared with the same period last year.
However, the city still has limitations and shortcomings that need to be overcome. Due to the impact of the COVID-19 pandemic, the implementation of socio-economic targets, budget revenue and expenditure and enterprises faced many difficulties, while people's lives are affected.
Dung said that during the meeting, the municipal people's council would review and evaluate economic, social, financial, and security development in the first eight months of this year and orientations and key tasks for the last months.
They were very important policies and solutions to remove obstacles, create favourable conditions to promote socio-economic development, and ensure social security, he said.
He added that to complete the goals and tasks this year, creating a premise for the following years, especially when the COVID-19 pandemic was still complicated and unpredictable, the whole political system, including the People's Council and the People's Committee must bear an extremely heavy responsibility.
The real situation requires leaders and the people to focus on innovation, creativity, improving the sense of responsibility, strengthen close coordination among all levels and sectors to successfully accomplish the set goals, he said.
Also at the meeting, the chairman of the Hanoi People's Council Nguyen Ngoc Tuan said that the city would develop infrastructure in suburban areas including Highways 1A, 6 and 32. The city would also invest more on ring road No 4 to open more space, connecting traffic with neighbouring provinces and cities.
The city would pay more attention to building and upgrading hospitals, schools, cultural and historic sites.
Tuan added that the people's council had compiled 30 questions about people's daily life and pressing issues sent by people's council deputies and sent them to the municipal people's committee for answers./.
Winners of drawing contest about Hanoi announced
The painting entitled "Hanoi's Street Vendors" by Dang Thai Tuan has won the first prize at the "Hanoi is…" illustration contest, according to organisers.
The second prize went to "Hanoi by Night" by Tran Phat, "Mind in the Cloud" by Ha Manh Hieu, "Mot bat bun ngan" (A Bowl of Fresh Noodle with Duck Meat) by Ton Nu Thi Bich and "Hanoi Collage" by Nguyen Huu.
Nearly 250 young artists across the country and abroad have submitted their entries to the contest, which aims to promote the title Hanoi — Creative City awarded by UNESCO in 2019. It is organised by the UN cultural agency UNESCO, the UN Human Settlement Programme (UN-Habitat), and the Vietnam Institute of Culture and Arts Studies (VICAS) with the companionship of the Vietnam Local Artist Group (VLAG).
With the evocative theme "Hanoi is…", young artists have come up with unconventional and refreshing ideas integrated with a personal emotion to portray their own unique Hanoi. The city has been illustrated in digital and silk painting, collage art, lacquer, among others.
Recognised as a UNESCO Creative City of Design in 2019, Hanoi has committed to placing culture and creativity at the core of its sustainable development, with a wider vision to become a leading creative hub of Southeast Asia.
To support the commitment of the city, UNESCO is leading the project Mobilising Cultural Dynamics and Youth Participation towards Hanoi Creative Capital with the slogan "Hanoi Rethink" together with other two implementing partners UNIDO and UN Habitat. This project will support the city to implement its new strategic vision of a Creative City of Design, harnessing its cultural assets and youth participation as key agents for innovation, creativity, and social change.
One of the key outcomes of the project is to empower young Vietnamese creative talent to influence and contribute to the new development agenda of Hanoi as the Creative Capital with innovative ideas and actions./.
Source: VNA/VNS/VOV/VIR/SGT/SGGP/Nhan Dan/Hanoitimes
VIETNAM NEWS HEADLINES SEPTEMBER 24 have 9367 words, post on vietnamnet.vn at September 24, 2021. This is cached page on Talk Vietnam. If you want remove this page, please contact us.