Netherlands donates ventilators and medical equipment to Vietnam
The government and business community of the Netherlands will donate ventilators and medical equipment worth VND43 billion to help Vietnam combat COVID-19, Ambassador Elsbeth Akkerman told her host Prime Minister Pham Minh Chinh in Hanoi on September 10.
She affirmed that the Dutch government attaches great importance to the comprehensive partnership and the strategic partnership on climate change adaptation, sustainable agriculture and water management with Vietnam.
The relationship between the two governments and their business communities continues to develop effectively for the sake of the economy, people and planet, she said.
The Ambassador thanked the Vietnamese Government and the Prime Minister personally for caring about the EU business community, including Dutch businesses in the context of the COVID-19 pandemic, and noted the two countries are having many opportunities and prospects to strengthen cooperation.
She said she hopes the two sides will effectively implement the Vietnam – EU Free Trade Agreement (EVFTA) and soon implement the Vietnam – EU Investment Agreement (EVIPA), creating fresh impetus to the strategic relationship and economic cooperation between Vietnam and the EU as well as between Vietnam and the Netherlands.
EU investors, including those from the Netherlands, are keen on seaport and logistics cooperation with Vietnam, and if the projects are realized, they would contribute to reducing transportation costs and increasing the flow of goods from Vietnam to Europe, she said, adding the Netherlands port of Rotterdam accounts for about 60% of Vietnamese goods entering the region.
For his part, Prime Minister Pham Minh Chinh thanked the Dutch government and businesses for their valuable assistance to Vietnam in the fight against COVID-19.
The Prime Minister suggested that the government, relevant agencies and businesses of the Netherlands continue supporting Vietnam in early access to vaccine sources through either lending or ceding unused vaccines, as well as providing COVID-19 treatment drugs and medical equipment to Vietnam.
On economic cooperation, the PM agreed that, after one year of enforcement, the EVFTA has been bringing about positive changes in economic and trade cooperation. The Netherlands is currently the second largest trading partner and the largest FDI partner of Vietnam in Europe.
He requested that the Dutch Parliament soon ratify the EVIPA and lobby the European Union to remove the 'yellow card' for Vietnamese seafood.
Chinh highly appreciated the Dutch experience in the areas of climate change adaptation, water management and sustainable agriculture, and asked the Netherlands to assist Vietnam in these areas, especially in the Mekong Delta that is most vulnerable to sea level rise, land subsidence, and coastal erosion.
Simultaneously he also requested that the Netherlands expand bilateral cooperation to other areas such as human resource training, public-private partnership, sea transport, railway and aviation, to optimize the exchange of goods between the two countries, while creating conditions for Vietnamese agricultural and aquatic products, and seasonal fruits to enter the Netherlands and other EU countries.
The PM reaffirmed that the Vietnamese Government always creates favourable conditions for foreign investors, including potential EU and Dutch enterprises equipped with high technology, to do business and invest in Vietnam.
He welcomed potential international investors to eye Cai Mep Ha Logistics Center project in Ba Ria-Vung Tau province, and said he has assigned the Ba Ria-Vung Tau province and the Ministry of Planning and Investment to urgently complete procedures on the project.
With regard to the East Sea issue, Ambassador Akkerman said that the Netherlands supports ASEAN's common stance of maintaining peace, stability, security, safety and freedom of navigation and overflight, and resolving all sea-related disputes by peaceful means, on the basis of international law, including the 1982 United Nations Convention on the Law of the Sea (UNCLOS).
At the end of the meeting, PM Pham Minh Chinh asked the ambassador to convey an invitation to Dutch PM Mark Rutte to visit Vietnam again.
Papua New Guinea delivers AstraZeneca vaccine to Vietnam
Vietnam on September 10 received 30,000 doses of the AstraZeneca vaccine transferred by Papua New Guinea to help the Southeast Asian nation combat COVID-19.
The vaccines were channeled through COVAX with assistance from international organisations such as WHO, GAVI and UNICEF.
The vaccines were originally sourced from New Zealand's donations but they were yet to be used in Papua New Guinea due to local people's hesitation to get vaccinated.
Grabbing the chance, ambassador Thanh contacted John Ma'o Kali, High Commissioner for Papua New Guinea to Australia and requested that the island nation in Oceania urgently transfer the vaccines to Vietnam for use first.
New Zealand and multilateral institutions will seek and deliver the vaccines back to Papua New Guinea if it needs.
Besides Papua New Guinea in the South Pacific region, Australia is actively supporting Vietnam in responding to the COVID-19 pandemic.
Along with its commitment to deliver 1.5 million doses of the AstraZeneca vaccine to Vietnam this year, Australia has also pledged to provide AUD40 million to help Vietnam access vaccines over three years.
Of the total, AUD34 million will be channeled through multilateral mechanisms such as UNICEF to assist with distribution and technical advice, and the remaining AUD6 million will be supported bilaterally.
NA chairman signs resolution on allocation of regular State expenditure estimates for 2022
National Assembly (NA) Chairman Vuong Dinh Hue has signed a resolution of the NA Standing Committee stipulating principles, criteria, and norms for the allocation of regular State expenditure estimates for 2022.
The resolution will take effect from the 2022 budget year.
According to the resolution, the development of a system of norms for allocation of regular State budget expenditures must contribute to the realisation of the objectives and tasks of the socio-economic development plan, ensuring national defense and security,  prioritise funding for important sectors, ethnic minorities and mountainous areas with special difficulties, border and islands.
The allocation principle must be consistent with the ability to balance the State budget in 2022, the three-year financial – State budget plan for 2022 – 2024 period, the five-year national financial plan for 2021 – 2025 period and prioritising resources to carry out wage reform.
It is necessary to gradually improve the efficiency of the use of the State budget and reduce the proportion of regular expenditures, contributing to the restructuring of the State budget.
The allocation of State budget expenditure should be based on the principle of practising thrift and preventing wastefulness. It is essential to adopt administrative reform to improve the quality of public services and effectively use the State budget.
Budget allocation criteria must be clear, simple, and easy to understand, implement and supervise. It must ensure fairness, publicity and transparency and gradually in line with international practices, the resolution said.  The expenses for organising conferences, seminars and sending delegations on business trips abroad should be reduced while giving priority for the allocation of funds to the judicial bodies, the State Audit, and the Government Inspectorate.
The norm of allocation of regular estimate expenditure for provinces and centrally-run cities must comply with some principles and criteria, in which population is a major one.  Other criteria are needed to be relevant to the specific characteristics of each region.
The resolution stipulates that there will be additional allocation of expenditure for provinces and centrally-run cities which enjoy a special mechanism. Accordingly, Hanoi and Ho Chi Minh City will be allocated an additional 80 percent; the cities of Hai Phong, Da Nang, and Can Tho 70 percent; Thanh Hoa, Nghe An and Thua Thien Hue provinces 45 percent. The remaining provinces will get a supplement of 60 percent, 50 and 40 percent, respectively, depending on the central budget regulation rate./.
Vietnam receives 8 tonnes of COVID-19 medical equipment from Poland
A military transport plane carrying eight tonnes of medical equipment donated by the Polish Government arrived at Ho Chi Minh City's Tan Son Nhat International Airport on September 10.
The haul of medical equipment was loaded onto a plane that took off from Poland on September 8.
In a statement, a spokesperson for the Polish Foreign Ministry said that the shipment is a testament to the traditional friendship and cooperation between the two countries.
The Vietnamese community in Poland have carried out many activities, including providing protective equipment and SARS-CoV-2 test kits to local people since the resurgence of the virus, so Poland's support is the result of a relationship based on solidarity and mutual respect, said the diplomat.
Earlier, Poland decided to donate 500,000 doses of the AstraZeneca vaccine and medical equipment worth US$4 million to Vietnam.
Vietnam is the first non-European country that has received vaccines and medical equipment from Poland.
Sputnik V vaccine manufactured by Vietnam meets quality standards
The Company for Vaccine and Biological Production No.1 (VABIOTECH) has announced that it will soon import the semi-finished Sputnik V vaccine for vial packaging in Vietnam in the near future.
The Russian side has now fully assessed the packaging of Sputnik V vaccine samples conducted by the company, judging it to meet the quality standards in line with its stringent requirements.
At present, the firm is working alongside relevant agencies to receive permits for the launch of the vaccine.
VABIOTECH will carry out procedures to import semi-finished products of the Sputnik V vaccine in September to quickly package the vaccine for use in Vietnam, said Dr. Do Tuan Dat, VABIOTECH Chairman.
RDIF and VABIOTECH signed an agreement on bottling and packaging Sputnik V vaccine vials from semi-finished products, with the scale set to be five million doses per month starting from July.
They are now working on the transfer of vaccine production technology aiming to produce 100 million doses annually.
The Sputnik vaccine, produced by Russia's Generium JSC, has been granted approval by the Ministry of Health for emergency use in March for COVID-19 prevention work.
Last month, Vietnam negotiated with the Russian partner to purchase 20 million doses of the Sputnik V vaccine.
In late July, VABIOTECH sent 10,000 doses of the Sputnik V vaccine which were outsourced by the company to Russia in order to evaluate their quality standards.
Women footballers to depart for Asian Cup qualifiers next week
The Vietnamese women's football team are scheduled to depart for Tajikistan on September 17 in order to start their journey in the qualifying round of the 2022 Asian Football Confederation (AFC) Women's Asian Cup.
All members of the squad have already received two doses of the COVID-19 vaccine and are preparing medical examinations before their departure.
The women footballers are currently taking part in a training camp in Hanoi ahead of the Asian qualifiers.
They are set to play two friendly matches against the Vietnamese U15 men's futsal team in Hanoi on September 11 and September 13. Following the two matches, head coach Mai Duc Chung will select 23 players for the national line-up before flying to Tajikistan.
The Asian Cup qualifiers are due to be held in Tajikistan between September 17 and October 12, with a total of 28 teams being divided into eight groups.
Vietnam are in Group B and will face Afghanistan, the Maldives, and the hosts Tajikistan on September 23, 26, and 29 respectively.
The best 12 teams will then progress to the final round of the AFC Women's Asian Cup which is set to take place between January 20 and February 6 in India.
The top five teams will then go on to represent Asia at the 2023 FIFA Women's World Cup.
Event planned to celebrate Vietnamese culinary, tourism products
The Vietnam Culinary and Cultural Association (VCCA) in collaboration with the Restaurant Association of Vietnam held an online press conference introducing the ASIA Food and Beverage Summit (AFBS).
The event is scheduled to take place on November 10 and 11 at the Saigon Exhibition and Convention Center SECC (District 7, Ho Chi Minh City), with hundreds of domestic and international businesses and investors expected to attend.
Considering the COVID-19 epidemic, AFBS 2021 will be held both online and offline, under the main theme of operation excellence. The event, aiming to help businesses develop a strong business ecosystem and recover after the COVID-19 epidemic, will include a wide range of activities related to development trends in the coming years, effective business models, standardisation and development of chains, technology application, brand communication and sustainable business.
According to VCCA, Vietnam is home to many iconic dishes that can be used to promote culinary tourism to international friends including spring rolls, bun cha, sandwiches, and pho… Culinary experts should choose some typical dishes and promote them to international community, following the examples in other countries such as kimchi of the Republic of Korea and pizza of Italy./.
Vietnam ready to join talks on global treaty on marine plastic waste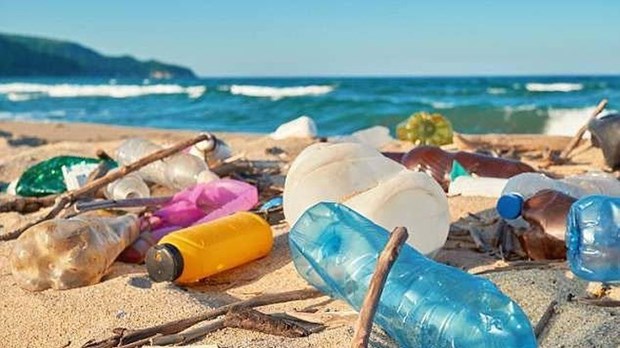 Challenges posed by marine plastic waste are global issues which require global-scale approaches and solutions
Prime Minister Pham Minh Chinh has approved a plan for Vietnam to proactively prepare for and take part in the building of a global agreement on ocean plastic pollution.
The Government leader signed Decision No 1407/QD-TTg to approve the plan with a view to ensuring sufficient conditions in terms of human resources, information, and data to serve Vietnam's participation in the negotiation, thereby protecting the country's rights and interests and improving its capacity in ocean plastic pollution prevention and control.
By making this move, Vietnam has shown its pioneering viewpoint in the region in dealing with marine plastic waste while proactively and actively joining in the formation of regional and international cooperation frameworks on marine plastics prevention, control, and minimisation.
The plan is part of efforts to carry out the Party and State's guidelines on sustainably developing Vietnam's sea-based economy, and help build and successfully implement effective models for the circular economy and plastics management.
It helps consistently implement the foreign policy of independence, self-reliance, peace, friendship, cooperation and development, diversification and multilateralisation of foreign relations, and safeguarding Vietnam's rights, legal and legitimate interests.
It also demonstrates the country's viewpoint of optimising international support and assistance for the preparation for and engagement in building a global treaty on ocean plastic pollution, and of seriously and responsibly performing relevant international obligations during the participation process.
Under this plan, surveys of the marine plastic waste situation will be conducted in some key zones of the northern, central, and southern regions. These localities include Quang Ninh and Hai Phong in the north, Da Nang and Quang Nam in the central region, and Ba Ria – Vung Tau and Ho Chi Minh City in the south.
Ta Dinh Thi, General Director of the Vietnam Administration of Seas and Islands, said the plan issuance illustrates the country's viewpoint that challenges posed by marine plastic waste are global issues which require global-scale approaches and solutions, but these approaches and solutions must still match the priorities of ASEAN and Vietnam.
Vietnam supports and is ready to join negotiations on an agreement on marine plastic waste on the basis of international law and within the United Nations framework, for the sake of a green planet, peace, stability, and prosperity, he added./.
Additional 13,321 COVID-19 cases reported on September 10
Vietnam recorded 13,321 new COVID-19 infections, including 15 imported cases, in the last 24 hours to 5pm on September 10, raising the national tally to 589,417, the Ministry of Health announced.
Ho Chi Minh City, which is the country's largest pandemic hotspot, reported the highest number of infections with 7,539 cases.
It was followed by neighbouring Binh Duong province (3,563), Dong Nai (823), Long An (321), Tay Ninh (248), Tien Giang (156), and Kien Giang (86). The capital city of Hanoi logged 29 cases.
A total of 8,680 cases were detected in the communities outside of lockdown areas or concentrated quarantine areas.
An additional 254 deaths were reported on the day. The new fatalities brought the country's death toll since COVID-19 broke out in Vietnam in early 2020 to 14,745.
Since the fourth outbreak began on April 27, the country confirmed 585,051 infections, of them 348,147 patients were given the all-clear.
Ten localities nationwide have gone through two weeks without new infections, including Bac Kan, Tuyen Quang, Lai Chau, Hoa Binh, Yen Bai, Thai Nguyen, Ha Giang, Dien Bien, Vinh Phuc, and Hai Phong.
More than 25.92 million doses of COVID-19 vaccines have been administered so far, with nearly 21.46 million people receiving the first shot and over 4.46 million others fully getting two jabs./.
More tourist destinations set to welcome back foreign travelers
Along with the launch of a pilot plan aimed at welcoming international tourists to Phu Quoc island, the Vietnamese tourism industry is preparing to gradually expand to other destinations across the country, including Ha Long, Hoi An, Nha Trang, and Da Lat.
In line with this plan, priority will be given to speeding up the COVID-19 vaccination drive for residents and workers at tourist centres in order to ensure safety for tourists.
Most notably, tourism service establishments and tourist destinations will be required to improve their pandemic prevention capacity and abide by COVID-19 guidelines set out by the Health Ministry, along with facilitating the travel of vaccinated domestic and international visitors.
Furthermore, the Ministry of Culture, Sports and Tourism will strive to ramp up tourism promotion in a bid to stimulate tourism demand. It will also boost communication campaigns to popularize its twin messages of 'Vietnamese People Travel in Vietnam' and 'Vietnam – A Safe and Attractive Destination'.
The ministry will introduce safe travel procedures and fresh immigration policies, and renew promotional tourism schemes, while simultaneously diversifying communication channels via social media, online travel events, and other major international media channels.
This will see the Ministry effectively co-ordinate efforts with Vietnamese representative agencies located abroad to deploy promotional tourism activities, encourage tourism firms to develop incentive tour packages, and assist them in resuming and expanding markets and selling tourism products.
A primary focus will be on  diversifying tourism products in a bid to meet fresh market trends, including culinary tourism, agricultural tourism, eco-tourism, golf tourism golf, and health care travel.
The ministry says the tourism industry will accelerate digital transformation by digitizing a network of tourist attractions, while upgrading tourism applications and building a digital vaccination certification system at www.travelpass.tourism.vn.
Vietnam has closed its borders since last April 2020 to combat COVID-19, and it has therefore received almost no foreign tourists. Initial success in the COVID-19 fight in late 2020 gave the local tourism industry the chance to gradually recover from the pandemic, but the resurgence of the virus early this year jeopardized its hope.
Several regional countries like Thailand and Singapore have begun to welcome back foreign travelers on the condition that the travelers are fully vaccinated against COVID-19 and they test negative before their entry.
Economic experts and tour operators requested the Vietnamese Government to follow the model if they do not want the local tourism industry to lose out to regional rivals.
Most recently, Phu Quoc island in the southern province of Kien Giang has been green-lighted to carry out a pilot scheme of receiving back vaccinated travelers. The Ministry of Culture, Sports and Tourism hopes the model will be replicated if the pilot scheme proves successful.
German newswire: NA Chairman's Europe visit reflects Vietnam's diversifed policy
Germany's Junge Welt newswire on September 10 ran an article saying that Vietnamese National Assembly Chairman Vuong Dinh Hue concluded his two-day working trip to the European Parliament and Belgium after attending the fifth World Conference of Speakers of Parliament (WCSP 5) in Austria, which demonstrated Vietnam's diversified and independent external and economic policies.
During talks with EP President David Sassoli at the host's invitation, both sides discussed ways to strengthen bilateral economic and trade ties, towards effectively realising the European Union – Vietnam Free Trade Agreement (EVFTA) that took effect on August 1, 2020.
During meetings with President of the European Council Charles Michel and Chairman of the International Committee on International Trade (INTA) Bernd Lange, they focused discussions on the fight against COVID-19 pandemic.
Hue also called for promptly completing procedures to ratify the EU-Vietnam Investment Protection Agreement (EVIPA), saying that it is one of the important foundations to bolster bilateral ties.
According to the article, Vietnam is one of the largest trade partners of the EU in ASEAN while the EU was one of the biggest foreign investors in Vietnam with a total direct investment of 6.1 billion EUR in 2019.
In his talks with Prsident of the Belgian Chamber of Representatives Eliane Tillieux and other Belgian leaders, Hue said Vietnam consider Belgium a significant trade partner. He also suggested the European nation soon ratify the EVIPA to make way for Belgian firms to invest in maritime transportation, logistics, renewable energy and hi-tech agriculture in Vietnam.
Earlier in Vienna, Hue held talks with President of the Inter-Parliamentary Union (IPU) and President of the Austrian National Council Wolfgang Sobotka.
At the WCSP 5, Vietnam urged strengthening the role of the IPU in current global issues, especially enhancing joint work with the UN.
The top Vietnamese legislator's visit is considered a success and proved that Vietnam is a capable partner, the article said./.
PM agrees on pilot plan to welcome foreign tourists to Phu Quoc island
Prime Minister Pham Minh Chinh has basically agreed with the Ministry of Culture, Sports and Tourism's proposal on a pilot plan to welcome international tourists with vaccine passports to Phu Quoc resort island in the Mekong Delta province of Kien Giang for six months from October.
The Ministry of Health will work with the Ministry of Information and Communications, the Ministry of Public Security and the Ministry of Foreign Affairs in guiding the issuance of certificates of vaccination against COVID-19, and distributing vaccines to swiftly inoculate people living and working in Phu Quoc island city.
The Ministries of Culture, Sports and Tourism; Health; Public Security; National Defence; Foreign Affairs; Transport; and Information and Communication and related agencies are requited to coordinate with, guide and support the provincial People's Committee in implementing the plan.
According to a draft pilot scheme, the plan targets foreign tourists who have been fully vaccinated against COVID-19 or those with certificates of recovery from COVID-19 recognised by an authorised agency in Vietnam.
Eligible tourists should be given their second shots at least 14 days and no more than 12 months before their entry. For those who have recovered from COVID-19, the time from hospital discharge to their entry date must not exceed 12 months. Travelers will be requested for a RT-PCR test within 72 hours prior to their departure, and certified negative for COVID-19 in English by authorities of the country that conduct the test.
The scheme will be applied for visitors who have registered to join package tours of travel agencies.
General Director of the Vietnam National Administration of Tourism (VNAT) Nguyen Trung Khanh said Phu Quoc needs to speed up the vaccination for its residents, and those that will directly involved in welcoming and serving holiday makers.
Attention should be paid to developing a specific plan for the pilot programme related to medical regulations, immigration procedures, procedures to welcome and serve tourists at accommodation establishments, tourist attractions, and plans for handling medical incidents.
Phu Quoc is one of the eight "green zone" districts and cities of Kien Giang province. It has to date recorded five COVID-19 infections which have been successfully treated.
Under the draft plan, Kien Giang needs to prepare human resources, materials, medical equipment and supplies, strengthen testing capacity, ensure safety plans for disease prevention and settlement of incidents.
Previously, the Government Office sent a document to the Ministry of Health and the Ministry of Culture, Sports and Tourism, ordering "rapid" study and piloting of a 'vaccine passport' mechanism for foreign arrivals to some popular tourism destinations where COVID-19 outbreaks could be contained such as Phu Quoc island.
At a regular meeting of the Government on September 6, Prime Minister Pham Minh Chinh directed the implementation of the pilot plan, aiming to attract between 2-3 million foreign arrivals to the island this year./.
Wildlife trafficker arrested in Lam Dong province
Police in the Central Highlands province of Lam Dong have caught red-handed a man while he was transporting and trading a large quantity of illegal wildlife animals.
The suspect is Trinh Ngoc Dong, 40, residing in Di Linh district's Gia Bac commune.
Dong was arrested on September 9 when he was transporting a live pangolin weighing 3 kilogrammes hidden in his motorbike's trunk. The man admitted he had just caught the pangolin.
He also confessed that he is keeping and freezing many wild animals.
Authorized forces found a 3-kilogramme salamander and 20 bamboo rats weighing totally 17 kilogrammes kept in Dong's house. They also found five porcupines, 32 ferrets, 20 chevrotains, and 35 kilogrammes of meat and bones of chamois in three freezers in his house.
Dong admitted that he bought the meat and bones of wild animals from hunters and re-sell for profits.
All exhibits were confiscated and handed over to Di Linh district's police for further investigation./.
HCM City installs QR-code scanning cameras at Covid checkpoints
The HCM City Department of Public Security has installed 100 QR-code scanning cameras at COVID-19 checkpoints to minimise the risk of disease transmission.
Officers at checkpoints will be able to know whether residents are eligible for travel.
The cameras are expected to make it easier to move through the checkpoints and reduce the risk of COVID-19 infections at the areas, a department representative said.
To ensure the supply of food and goods, the People's Committee of HCM City has agreed to extend free COVID-19 testing for shippers until September 15.
Shippers in extremely high-risk (red zone) districts will undergo rapid antigen tests every day, while shippers in the remaining districts of the city will be tested twice a week./.
Woman in An Giang prosecuted for anti-State activities
A woman in the southern province of An Giang was arrested and prosecuted by local police on September 10 for "conducting activities to overthrow the people's administration" in accordance with clause 2, Article 109 of the Criminal Code 2015.
The police said Le Thi Kim Phi, 62, used a Facebook account named "Phi Kim" to make friends with several members of the reactionary organisation called "Chính phủ quốc gia Việt Nam lâm thời" (Provisional National Government of Vietnam) led by Dao Minh Quan.
From September to late December 2020, Phi regularly followed, commented, liked and shared articles, video clips and images with contents aimed at sabotaging the Party and State on her account.
After joining the Provisional National Government of Vietnam in early 2021, she was assigned to popularise the organisation and Quan to connect with and incite others to join it.
The police confiscated six video clips and 440 pages of documents from the account "Phi Kim" with contents aimed at sabotaging the State of the Socialist Republic of Vietnam and overthrowing the people's administration.
Further investigation into the case is underway./.
Switchboard launched to support COVID-19 patients
Military Hospital 175 in Ho Chi Minh City in cooperation with Viettel Military Industry and Telecoms Group (Viettel) on September 10 launched a multi-channel switchboard 19001175 to serve officers, soldiers and people in HCM City and other localities in providing support for  COVID-19 patients and information in other areas.
According to the Military Hospital 175, 80 percent of COVID-19 patients are mild or asymptomatic. The number of new cases has increased, leading to an overload in treatment while there is too much coronavirus-related information. Therefore, consultancy for COVID-19 treatment at home has become a necessity for people.
The switchboard will give advice on the treatment of COVID-19, common diseases, chronic diseases, and administrative-related issues. The consultant will speak in Vietnamese and English.
Regarding counseling on COVID-19, if a patient has mild or moderate illness and does not need to be hospitalised, the consultant can advise the patient on how to treat at home. If the patient is seriously ill and needs to be hospitalised, the consultant will provide an emergency hotline for him/her.
Speaking at the launching ceremony, Senior Lieutenant General Vo Minh Luong, Deputy Minister of National Defence and head of the government's special working group on COVID-19 prevention and control in HCM City and southern localities, praised the proactive and creative spirit of the Military Hospital 175 in establishing the multi-channel switchboard.
He emphasised that it is necessary and in line with current practical needs, adding that the hospital is the first unit of the army to do so.
The switchboard does not only support residents in HCM City, but also help those in neighbouring provinces, even the people of the whole country in seeking advice on prevention, control and treatment of COVID-19. The hospital's creativity will help the government and people of HCM City to soon control and defeat the COVID-19 pandemic, he said./.
Health Minister asks Hanoi to ensure progress, safety of COVID-19 vaccination
Minister of Health Nguyen Thanh Long on September 10 inspected COVID-19 vaccination in Hanoi's Ba Dinh and Long Bien districts, during which he stressed the need to ensure progress and safety of the inoculation at the same time.
Minister Long reminded medical staff to strictly follow safety regulations during vaccination to ensure safety for themselves, volunteers and people receiving vaccine injection.
Director of the Hanoi Department of Health Tran Thi Nhi Ha said that Hanoi has conducted the flexible distribution of vaccines to districts to ensure vaccination progress.
The Minister lauded Hanoi's efforts to raise vaccination capacity to over 300,000 shots per day, the highest ever. The city is on the right track to the goal of giving COVID-19 vaccine shots to all local residents aging from 18 years old by September 15, he said.
So far, Hanoi has administered nearly 2.89 million shots of COVID-19 vaccines to locals, including 317,777 people receiving full two jabs. Around 57 percent of adults in the city have received at least one vaccine shot.
The capital city reported additional nine COVID-19 cases, including two in the community, in the past six hours to 12pm on September 10.
Since April 27 when the fourth COVID-19 outbreak hit the country, Hanoi has confirmed 3,714 infections, including 1,586 found in the community and 2,128 in quarantine facilities./.
Digital transformation roadmap endorsed at 53rd AEM Meeting
The Bandar Seri Begawan Roadmap on digital transformation to accelerate ASEAN's Economic Recovery and Digital Economy Integration (BSBR) was endorsed during the virtual 53rd ASEAN Economic Ministers' (AEM) Meeting chaired by Brunei on September 8-9.
The roadmap highlights existing ASEAN initiatives that are crucial in supporting the Association of Southeast Asian Nations (ASEAN)'s ongoing digital integration, turning the ongoing pandemic crisis into an opportunity through digital transformation.
The BSBR will build a resilient foundation for an ASEAN Digital Economy, where the seamless and secure flow of goods, services and data is underpinned by enabling rules, regulations, infrastructure and talent.
Under the BSBR, ASEAN members have also agreed to conduct a study on the establishment of an ASEAN Digital Economy Framework Agreement (DEFA) by 2023 and to commence negotiations on the DEFA by 2025.
The 53rd AEM Meeting noted that economic recovery across the region remains fragile, as gradual reopening in ASEAN members is disrupted by surges in COVID-19 cases with the rise of new variants. Nonetheless, the meeting welcomed that the economy is picking up, and gross domestic product (GDP) in Southeast Asia is expected to reach 4 percent this year and 5.2 percent in 2022.
As the region moves to sustain the momentum of recovery, the event recognised that vaccination remains the top priority, and continued fiscal and monetary stimulus are necessary to reinforce the economy.
It reaffirmed that support for the vulnerable groups, including informal workers, women, and youths, is important to minimise the development gap that has been amplified by the pandemic.
The event noted the implementation of the ASEAN Comprehensive Recovery Framework (ACRF) and its Implementation Plan, which serves as a consolidated exit strategy from the COVID-19 crisis through the five ACRF broad strategies around health, human security, economic integration, digital transformation, and sustainability.
It also endorsed the expanded list of essential goods that incorporates certain food and agricultural products into the Memorandum of Understanding (MOU) on the Implementation of Non-Tariff Measures on Essential Goods under the Hanoi Plan of Action on Strengthening ASEAN Economic Cooperation and Supply Chain Connectivity in Response to the COVID-19 pandemic that was signed by the AEM Meeting last November.
The meeting noted the progress of the endorsement of the post-COVID-19 Recovery Plan for ASEAN Tourism which will provide coordinated measures to be undertaken by member countries in a phased approach to safely reopen the industry while working towards a more sustainable, resilient, and inclusive ASEAN tourism./.
Corruption fight must be associated with negative phenomena prevention: Party chief
The anti-corruption work should be associated with the prevention of negative phenomena among officials, Party members and public servants, Party General Secretary Nguyen Phu Trong has requested.
Addressing the Politburo meeting collecting ideas on the project amending and supplementing functions, tasks and power of the Central Steering Committee for Corruption Prevention and Control on September 10, the Party chief stressed that it is necessary to not only fight corruption in the economic field, but more importantly, negative phenomena in political thought, morality, and lifestyle.
Corruption and degradation in political thought, morality, lifestyle, "self-evolution" and "self-transformation" all are manifestations of negative phenomena. Corruption in particular and negative phenomena in general have robbed the transparency of the Party and State apparatus, seriously affecting the honour, prestige, morality and role of setting example of officials, Party members and public servants, and undermining the people's trust in the Party, State and regime, he noted.
The Central Steering Committee for Corruption Prevention and Control now is called the Central Steering Committee for Corruption and Negative Phenomena Prevention and Control.
It is tasked with directing the fight against corruption and negative phenomena, with the focus on the degradation of political thought, morality and lifestyle among officials, Party members and civil servants, leaders and managers of all-level organisations in the political system throughout the country.
The steering committee directly instructs the handling of serious and complicated corruption cases that draw public concern; and cases and other negative acts that seriously affect the honour, reputation, morality and example-setting role of oficials, Party members, and civil servants as well as erode trust of the people towards the Party, State and regime.
The Politburo's decision to amend and supplement the functions, tasks and power of the steering committee affirms the determination of the Politburo, Party and State in this work./.
Vietnam calls on stakeholders in Afghanistan to ensure people's access to humanitarian aid
Ambassador Dang Dinh Quy, Vietnam's Permanent Representative to the UN, has called on all stakeholders in Afghanistan continue to ensure people's full access to humanitarian assistance as well as safety for UN staff and humanitarian workers as well as diplomatic corps, international organisations and foreigners in the country.
Quy made the statement at a United Nations Security Council (UNSC) discussion on the Afghanistan situation on September 9.
The diplomat called on all relevant parties in Afghanistan to restrain and not to use force, ensuring normal operation of important infrastructure works and necessary services for civilians, while seeking a comprehensive political solution with the full, equal and meaningful engagement of women and youth.
He also stressed the need to strengthen efforts to deal with challenges regarding terrorism, food security, migration, COVID-19 and prevention of crimes and drug trafficking in Afghanistan. The global community,the UN, international and regional partners should give more humanitarian and reconstruction aid to the country, he added.
He also highly valued efforts by the UN and the UN Assistance Mission in Afghanistan (UNAMA), calling for all parties in Afghanistan to respect for and show full cooperation with the mission, while creating favourable conditions for it to complete its tasks for the long-term interest of the country.
Addressing the event, Deborah Lyons, UN Special Representative for Afghanistan and head of the UN's assistance mission here, showed deep concern over the instability in Afghanistan, especially the humanitarian crisis in the country.
Although Taliban have won power, but not yet gained the confidence of all the Afghan people, she said, expressing disappointment that no women, minority representatives or non-Taliban individuals have been named as part of the de facto Government.
She call on all stakeholders to protect human rights in Afghanistan and the international community to give humanitarian and reconstruction support to the country. The UN, including the UNAMA, commits to staying to support people in Afghanistan in this hard time, she pledged.
UNSC members lauded the efforts of the UNAMA, stressing the need to ensure security and safety for UN staff here.
Also on September 9, the UNSC also adopted Resolution 2594 on the transitions from peacekeeping operations./.
Vietnam News Agency has new General Director
Prime Minister Pham Minh Chinh on September 10 signed Decision 1469/QD-TTg appointing Vu Viet Trang as General Director of the State-run Vietnam News Agency (VNA).
The decision took effect the same day.
Vu Viet Trang, the new General Director of VNA, born October 16, 1969, graduated from the Vietnam National University – Hanoi, majoring in English, in 1993.
She started working at the VNA in 1993 as a sub-editor at the News for Foreign Service Department.
In 2004, she was promoted to head of the English Desk at the News for Foreign Service Department and Assistant to the Department's Director.
In 2005, Trang was appointed Deputy Director of the Editorial Secretariat and External Relations Department of the VNA.
She became Director of the Editorial Secretariat and External Relations Department in 2011.
On November 17, 2017, Trang was appointed Deputy General Director of VNA by the Prime Minister.
During her career, she has been awarded the Prime Minister's Certificates of Merit several times, for contributions to the coverage of the APEC Leaders' Meeting and related meetings in 2006 and the communication drive on the 12th National Party Congress in 2016, for outstanding work performance in 2018, and for her role in the communication drive on the Vietnam ASEAN Year 2020.
She was admitted to the Party in 2000, and has been a member of the VNA's Party Committee since 2014 and a member of the standing board of the VNA's Party Committee since 2015./.
HCM City drafts plan for COVID-19 response beyond Sept 15
Ho Chi Minh City, the country's largest COVID-19 epicentre, targets to fully vaccinate all residents aged above 18 against COVID-19 and use "COVID-19 green cards" to enable eligible people to resume economic activities and social interactions in certain sectors depending on their level of virus control effectiveness.
The moves form part of a draft plan to fight COVID-19 beyond September 15 submitted to the municipal People's Committee by the local Department of Health.
Based on the city's data on COVID-19 caseloads, hospitalization and fatality, as well as intervention solutions, the southern economic hub is likely to put the coronavirus situation under control in accordance with the Minister of Health'
Its core strategy is to inoculate all adults aged above 18 with two jabs of COVID-19 vaccines and start vaccinating at-risk children, for example, those with underlying illness and obesity, if vaccines are available.
HCM City will also step by step relax social distancing rules based on results of risk assessment, epidemiological surveillance data and the healthcare system's capacity, in order to restore production, supply of essential services and circulation of goods.
Local authorities intend to classify business sectors and units based on their level of COVID-19 exposure risk and allow production and economic activities, and social interactions to gradually resume accordingly.
The Department of Health will make sure all home-quarantined COVID-19 patients will be provided with medical monitoring by grassroots health units and receive COVID-19 medicine packages. It plans to promptly discover and offer first aid to these patients when their conditions turn worse; and prevent unexpected COVID-19 deaths at home.
Additionally, it will adopt exclusive mechanism and solutions to mobilise all possible community-based resources to care for self-quarantined patients, while restoring the normal operation of the local health system to serve patients with non-COVID-19 and COVID-19 diseases.
The department is calling recovered COVID-19 patients to assist the city's COVID-19 response. As of September 8, a total of 1,543 patients have reportedly registered to join./.
Talk on Vietnam's innovation, start-ups held in Switzerland
A talk on Vietnam's innovation and start-ups took place in Switzerland on September 9 to exchange views on innovation and digital transformation in Vietnam, and on how to start a business in blockchain technology, health care, community service and startup ecosystem in Vietnam.
The event was jointly organised by the Vietnamese Embassy in Switzerland, the University of Applied Sciences and Arts Northwestern Switzerland (FHNW), and the Association of Vietnamese Intellectuals and Experts in Switzerland.
Vietnamese Ambassador to Switzerland Le Linh Lan informed participants of Vietnam's economic development achievements during the 35 years of Doi Moi (Renewal), making it one of the most vibrant economies in the Asia-Pacific region, with its development goals focusing on promoting national digital transformation and developing digital economy and digital society.
Lan emphasised the role of innovation and digital transformation in Vietnam's development strategy in the context of the COVID-19 pandemic. Accordingly, the pandemic is the factor that promotes the development and innovation in digitisation in Vietnam with the birth of many applications to connect and protect public health such as Bluezone and Zavi.
Lan and other speakers discussed and answered many questions related to the Government's policies on startups and the startup ecosystem in Vietnam, and the building of blockchain application projects to collect and share data on health, and the development orientation of VietSearch ecosystem to support Vietnamese individuals, communities and businesses around the world.
On the same day, the ambassador and the Association of Vietnamese Intellectuals and Experts in Switzerland had a meeting with FHNW president Regula Altmann-Hohl to discuss cooperation in business training, promoting the business and investment environment in Vietnam, and boosting exchanges between researchers and experts of the two countries./.
COVID-19: Disadvantaged children to get more support
Babies with mothers infected with COVID-19, born between April 27 and December 31, 2021, will be provided with 1 million VND (44 USD) each, according to the Ministry of Labour, War Invalids and Social Affairs (MOLISA).
Under a decision made by Minister of Labour, War Invalids and Social Affair Dao Ngoc Dung, Standing Vice Chairman of the National Committee on Children, orphaned or disadvantaged children with their mothers or fathers die of the coronavirus between April 27 and December 31, 2021 will also get 2 million VND (88 USD) each. Funding for the aid package comes from the National Fund for Vietnamese Children (NFVC).
The MOLISA requested the People's Committees of provinces and centrally-run cities to direct relevant agencies to strictly comply with regulations on COVID-19 prevention and control to protect children from infection, prioritise treatment and care for those infected with COVID-19 at medical facilities, as well as care for their mental and psychosocial health.
They were also asked to coordinate with the NFVC to timely deploy, simplify procedures and create maximum favourable conditions for children of the above-mentioned groups to receive assistance.
In related news, Deputy Prime Minister Le Minh Khai on September 9 asked the Ministry of Finance (MoF) to collaborate with the Ministry of Education and Training and relevant agencies in guiding localities delivering rice support for students in the 2021-2022 school year.
The MoF was assigned to supervise the receipt, distribution and use of rice, ensuring that it reaches the right people at a right time in line with regulations.
According to the MOLISA, the COVID-19 pandemic has left a big impact on socio-economic development and people's health, including children and pregnant women.
It is estimated that 11,822 children were F0s (COVID-19 patients) and 27,334 others are in close contact with COVID-19 patients as of August 31, 2021.
The pandemic has seriously affected children, both physically and mentally, because many of them had to study online for a long time and had a reduced source of nourishment, and even some are left without care as their parents were treated, quarantined, or died due to COVID-19./.
More than 2.6 million workers in HCM City benefit from social insurance policy
Ho Chi Minh City's Social Security Agency has been carrying out some policies to support both employees and employers who are affected by the COVID-19 pandemic.
The agency has allowed 190 COVID-hit units with 37,300 workers to suspend payments to pension and survivorship benefit funds, worth over 290 million VND (12.7 million USD).
More than 2.3 million employees working at 101, 300 enterprises in the city have had their insurance premiums for occupational accidents and diseases reduced from 0.5 percent to zero percent between July 2021 and June 2022. The total reduction is worth over 1 trillion VND (43.4 million USD).
The agency has also coordinated with the city's Department of Labour, Invalids and Social Affairs to certify 19,657 units with 296,640 employees who take unpaid leave, temporarily suspend their labour contracts, and disqualify for unemployment benefit, thereby helping them receive support from 1.8 million VND to 3.71 million VND in line with government's Resolution 68, which aims to help businesses and employees overcome difficulties during the COVID-19 pandemic.
Phan Van Men, director of the agency, said it has issued specific guiding documents to facilitate local residents' medical examination and treatment and payment for medical expenses covered by health insurance.
Accordingly, patients in quarantine and locked down areas who receive medical examination and treatment at any medical facility, will still enjoy full benefits when participating in health insurance as prescribed by law.
Patients with health insurance cards can take diagnostic tests for COVID-19 in line with the guidance of the Ministry of Health and their payment is covered by the health insurance fund or the state budget according to regulations, he said./.
Soldiers on duty at DK1 platforms support HCM City in COVID-19 fight
Officers and soldiers on duty at DK1 platforms under Naval Region 2 in the southern province of Ba Ria – Vung Tau have turned their hearts towards the mainland in the fight against COVID-19, by providing 300 "social welfare" bags to local people in Ho Chi Minh City – the country's biggest pandemic hotspot at the moment.
The "social welfare" bags, comprising rice, cooking oil, fish sauce, and dried anchovies, have been presented to disadvantaged people in Tan Dinh ward in District 1.
To support the mainland, officers and soldiers at DK1 platforms have launched the "DK1 platforms join the nation's efforts in COVID-19 prevention and control" campaign. Donations were used to fund the 300 "social welfare" bags for people in Ho Chi Minh City.
The "social welfare" bags are an illustration of the solidarity between the military and the people. They provide a source of encouragement for pandemic-hit residents to overcome the challenges posed by COVID-19./.
Vietnam to conduct clinical trials of France's XAV-19 COVID-19 drug
Vietnam is ready to cooperate with France in conducting the third phase of clinical trials of and transferring production technology of its XAV-19 COVID-19 treatment drug, said Deputy Minister of Health Tran Van Thuan.
Thuan made the statement during an online meeting on September 7 with France's Xenothera Company that develops XAV-19.
The latest technology XAV-19 represents a polyclonal antibody directed against the SARS-CoV-2 which has been researched and developed by Nantes-based biotech XENOTHERA.
The results of the first and second phases of the clinical studies indicate that the drug is both safe and effective in preventing disease progression, neutralising the virus, and reducing inflammation in patients.
So far, XAV-19 has proved to be effective against various SARS-CoV-2 strains, with this polyclonal antibody also having the ability to create immediate immunity and prevent viruses from entering cells.
This represents an important difference from the monoclonal antibodies which are used to treat patients in the early stages of infection.
The third phase of clinical trials of XAV-19 is getting underway in France, along with other European countries such as Greece, Bulgaria, Romania, and Spain.
Deputy Minister Tran Van Thuan highly appreciated the encouraging results that XAV-19 has achieved in both the first and second phases of clinical trials, expressing his wish that Vietnam would like to take part in the third phase of the drug's clinical trials, as well as transfer of its production technology.
Odile Duvaux, president of Xenothera, said that his company welcomes Vietnam's proposal, saying it is willing to discuss technology transfer more deeply in order to allow the country to proactively produce the drug in the future.
Xenothera is a partner introduced by AIC Group that aims to ramp up co-operation in seeking supply sources of COVID-19 treatment drugs in Vietnam.
Immediately after the online meeting, through the AIC Group, a domestic group exchanged specific contents and prepared to sign a memorandum of understanding on co-operation in implementing the third phase of clinical trials and technology transfer with Xenothera.
Bình Dương lifts COVID restrictions in city
Update: September, 10/2021 – 17:02 |
People get vaccinated against COVID in Bình Dương Province's Thủ Dầu Một City. —  VNA/VNS Photo
However, seniors, people with underlying medical conditions and children are still prohibited from all but essential travel.
Restaurants and cafés can reopen though only serve takeout.
In the case of other businesses, the People's Committee has empowered local authorities to decide when they can reopen based on the situation.
People living in 'high-risk' areas like Thuận An and Dĩ An cities and Bến Cát Town cannot enter Thủ Dầu Một.
The province hopes to test everyone living in Thuận An, Dĩ An and Bến Cát for COVID-19 by September 15.
The provincial People's Committee has called on its Steering Committee for Covid-19 Prevention and Control to allow some essential services to resume. It wants traditional markets and supermarkets to reopen.
However, it requires all of them to have specific plans to ensure pandemic prevention and get approval from competent authorities.
Bình Dương has been under Directive 16 since July 19.
It has vaccinated for 1.2 million people with more than 46,000 people getting two shots.
Bình Dương, home to major industrial complexes, has been the second-worst hit locality after HCM City in the fourth COVID-19 wave that began in late April.
Over 300,000 doses of COVID-19 vaccine administered daily in Hà Nội
The capital's mass COVID-19 vaccination is being conducted successfully, and the city can now administer more than 300,000 doses daily, the highest amount so far, said Minister of Health Nguyễn Thanh Long.
Visiting vaccination sites in Hà Nội on Friday morning, Long said that it was ambitious with the city targeting to vaccinate all of its population aged over 18 by September 16.
However, the minister said he expected the city could achieve the goal as for the last few days the city has quickly increased vaccination capacity, with some wards in the city expected to complete the vaccination by Sunday.
Inspecting the vaccination in Ba Đình District and Long Biên District, Long also paid more attention to screening work, COVID-19 testing and documenting data of vaccinated people.ms.
He also encouraged medical workers and volunteers, especially those from other localities who have arrived in Hà Nội to help  the city's mass vaccination and testing.
"The vaccination must be sped up but still ensure safety first," he said.
An elderly man in Văn Miếu Ward told the health official that he felt more secure after getting vaccinated against COVID-19.
At a vaccination site in Phúc Lợi Primary School in Long Biên District, four teams of medical workers from Bắc Giang Province worked in three shifts – morning, afternoon and evening. On September 9, they helped provide jabs for over 1,600 people.
Until September 13, the vaccination sites could host a total of about 7,000 people for testing and vaccination.
Trần Thị Nhị Hà, director of Hà Nội's Health department, said that vaccination teams were arranged flexibly among districts to meet vaccination demand.
Vaccination sites also received people in the evening, Hà said.
As of September 9, Hà Nội has vaccinated around 2.9 million people with at least one COVID-19 vaccine shot, and over 317,000 people have been fully inoculated, according to the municipal health department.  Around 57 per cent of adults in the city have received at least one vaccine shot.
Source: VNA/VNS/VOV/VIR/SGT/SGGP/Nhan Dan/Hanoitimes
VIETNAM NEWS HEADLINES SEPTEMBER 11 have 8927 words, post on vietnamnet.vn at September 11, 2021. This is cached page on Talk Vietnam. If you want remove this page, please contact us.