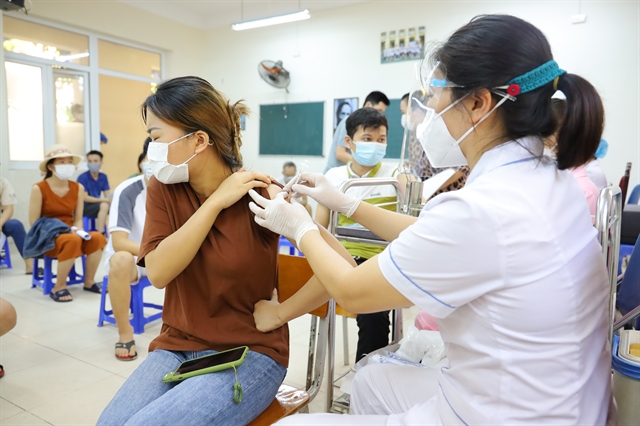 A resident in Hoàng Mai District, Hà Nội, receives a shot of Sinopharm COVID-19 vaccine on September 10. — VNA/VNS Photo Mạnh Khánh
HÀ NỘI — The Government has agreed to buy 20 million doses of the Vero Cell COVID-19 vaccine produced by China's Sinopharm.
The purchase was announced in Resolution 110/NQ-CP.
Accordingly, regarding the purchase, the Government agreed with the Prime Minister's permission of applying the form of contractor selection in special cases as specified in Article 26 of the Law on Bidding, with conditions attached.
The Government agrees that with this procurement, similar to purchases of other COVID-19 vaccines, liability for complaints arising from the use of the vaccine will be waived.
It also agrees to use the payment as specified in the contract.
The signing, validity, implementation, and handling disputes related to the contract will follow China's laws. In case the disputes cannot be resolved, the China International Economic and Trade Arbitration Commission in Beijing will handle the case and issue the final verdict (Mandarin is used during the arbitration process).
The Ministry of Health is responsible for a speedy procurement of the vaccine to ensure their quality and effectiveness in pandemic prevention.
The document, signed by Deputy Prime Minister Lê Minh Khái, took effect immediately.
Sinopharm COVID-19 Vaccine (Vero Cell), Inactivated Vaccine is approved for emergency use in Việt Nam in early June.
The source of Sinopharm vaccines used in Việt Nam has been mostly from the donation of Vạn Thịnh Phát, a private group in HCM City, as well as some 700,000 doses as aid from the Chinese Government.
Earlier this week, the Drug Administration of Việt Nam has agreed to allow Vimedimex to import 30 million doses of Hayat-Vax COVID-19 vaccines, which are essentially Sinopharm vaccines but are packaged in the UAE.
It was given conditional approval by the Vietnamese health ministry for emergency use on September 10, the seventh to obtain such authorisation, after AstraZeneca, Pfizer/BioNTech, Sputnik V, Moderna, Janssen, and Sinopharm's Vero Cell.
To date, the country has received about 50 million doses of COVID-19 vaccines.
35,675,840 doses have been administered, with nearly 7 million people fully vaccinated. — VNS
No waste in procuring COVID-19 equipment
On Wednesday, the Government Office issued a dispatch to all local leaders and COVID-19 committees, reiterating the need to ensure economic use and no losses or waste in procuring COVID-19 equipment, medical supplies, tests medicines and vaccines, etc., stressing that all corruption and vested interests in the procurement and use of medical supplies, medicines and vaccines are absolutely forbidden.
Health authorities and local leaders are asked to direct relevant agencies to hold vaccination drives in a safe, proper, convenient manner for people, and avoid risks of spreading diseases at vaccination sites.
The dispatch underlined that COVID-19 vaccinations are free, and no vaccination fees or other forms of profiteering from the vaccinations are allowed.
Việt Nam to buy 20 million doses of Sinopharm's Vero Cell COVID-19 vaccine have 742 words, post on vietnamnews.vn at September 23, 2021. This is cached page on Talk Vietnam. If you want remove this page, please contact us.