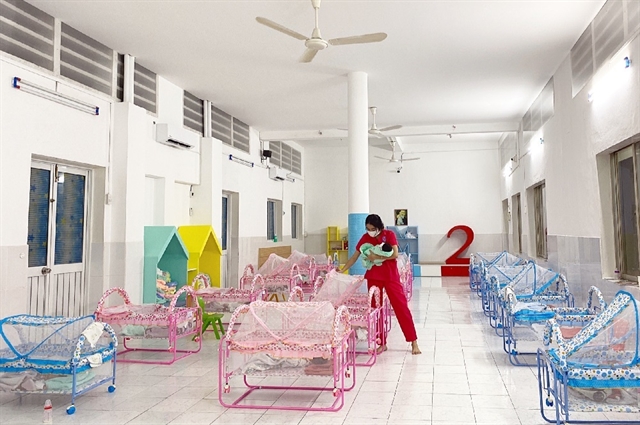 Each volunteer takes care of six or seven babies. — Photos courtesy of the Hùng Vương Hospital
HÀ NỘI — The baby boy takes 20 minutes to drink a tiny amount of milk. Then, Võ Thanh Phương gently picks up the newborn, pats his back to help him burp and puts him into his cradle.
By now it is 3am and Phương's eyes nearly close. She sits against a wall and is about to take a few minutes' sleep when a little girl squeals nearby. Phương quickly runs over and whispers to her. Phương checks her nappy and uses a small tower of warm water to clean her.
Phương does everything masterfully, even though she has never given birth.
Phương, 33, is a teacher in HCM City. She married seven years ago but has not had a child. Hearing Hùng Vương Hospital had founded the H.O.P.E Centre at Lý Thường Kiệt Street in District 5 to take care of newborns whose mothers suffered from COVID-19, Phương instantly registered to help.
After a health check, the hospital nurses spent two days giving Phương training about caring for newborns. Phương learnt about problems with newborns such as choking, vomiting, and how to understand their needs through their crying.
There are two working shifts at the centre per day. The first is from 7am to 5pm, and the second 5pm to 7am the next day.
Each volunteer is in charge of six babies: feeding, changing nappies, singing lullabies, whatever is needed.
"I have been married for many years but have no children. Coming here, doing the work of a mother, I feel really happy," Phương told e-newspaper Vietnamnet .
Võ Thanh Phương finds meaning in her volunteer work.
During her first days, Phương felt tired because she had never had a sleepless night before. To fight against sleep, Phương now drinks coffee, though she does not like it. She often splashes water on her face to stay awake.
"When the babies come here, they all look so immature. But after a few weeks, they are stronger. Their facial expressions are more soulful because besides being cleaned and fed, every day, they are also spoken to and sung lullabies," Phương said.
Kim Tiền, 22, is another "mother" at the centre.
Tiền works for a company in HCM City, but after hearing that hundreds of newborns had to live far from their mothers due to COVID-19, Tiền temporarily quit her job.
Tiền said that with so many people needing help at this time, she did not want to miss a chance to help others.
At first, she did not tell her family about her volunteer work so they would not worry. Then on the second day of working, her mother gave her a video call, and saw her in a pink uniform holding a bottle of baby-milk. "Who is the baby? Where are you?" she repeatedly asked.
Tiền told her mother about her work and received her full support.
She said that on their first day of being "a mother," as soon as a car of babies arrived, the nurses rushed out as if picking up their own children.
Looking at the tiny newborns lying in a long line of cradles, with sparkling eyes, Tiền felt an indescribable feeling. She suddenly realised how painful it must be for mothers to give birth but then not be close to their children.
"So, I told myself that I would love the children during this difficult period to partially compensate them," Tiền said.
On the first nights, Tiền found taking care of the babies much harder than she thought.
Many of the babies sleep all day and stay awake all night, so the volunteers must hold them for a long time before they will sleep.
As a young girl, Tiền has not had any experience looking after newborns before. The first time she held the babies in her arms, she was just afraid because they were so small and fragile.
In the past, if she saw vomit or dirty nappies, Tiền felt awkward, but when she entered the centre she didn't feel shy about anything.
She can now hold two babies in her arms at the same time, and her leg can push the cradle for another baby.
Feeding children requires meticulousness and patience, especially for children who eat slowly and vomit easily. Tiền said that in the past she was a patient person, but now that patience has risen to a new height.
Võ Thị Ngọc Diệp, head of the Nurse Division under the Hùng Vương Hospital, said all the volunteers were young and did different jobs before, such as editors, students and kindergarten teachers.
Some of them have never given birth.
"All of them are enthusiastically adapting to the life here and are eager to work," she said.
About 60 babies are being taken care of at the centre. Many babies cannot be picked up because their families are COVID-19 patients. Some of them are more than one month old, but still cannot go back home.
Diệp said that children who have been separated from their mothers since birth are disadvantaged. Many mothers did not even have time to see and remember their children's face. In some cases, the mothers even died from the coronavirus.
"That's why when the children are picked up by their families, the volunteers here are extremely happy. If it is their mothers who come to pick them up, everyone feels like have won the jackpot because they know that the children still have mothers, and the babies have not been orphaned," said Diệp. — VNS
Surrogate mothers take care of newborns in HCM City have 1148 words, post on vietnamnews.vn at September 11, 2021. This is cached page on Talk Vietnam. If you want remove this page, please contact us.