Vietnam's Nui Chua National Park and Kon Ha Nung Plateau were recently recognised by UNESCO as Global Biosphere Reserves.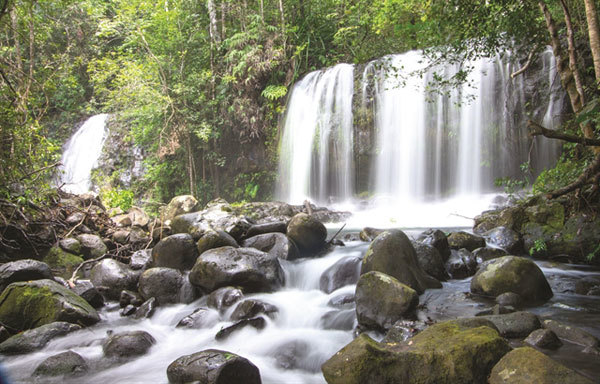 The wonder of a waterfall in Kon Ha Nung World Biosphere Reserve. VNA/VNS Photo
This is a great honour for Vietnam in nature conservation but also poses many challenges in terms of preserving and promoting the values of the two sites, experts and authority officials have said.
Nui Chua National Park is located in the districts of Ninh Hai and Thuan Bac in the southern central province of Ninh Thuan.
The reserve with a high density of natural population, land and sea, and the area inside the buffer zone (forest, sea and semi-desert) covers more than 31,000 hectares.
Meanwhile, Kon Ha Nung Plateau, a forest ecology system, is spread over more than 413,500 hectares in six districts of Gia Lai Province in Central Highlands.
"This is a very special and meaningful event as after six years, our country has two more new World Biosphere reserves (the last one was in Lang Biang in 2015), and for the first time in 12 years, we have had two areas recognised by UNESCO at the same time after Cham Island and Ca Mau Cape in 2009," said Ambassador Le Thi Hong Van, permanent representative of Vietnam to the UN culture agency.
The recognition creates opportunities for the country to apply initiatives and share experience on natural resource management and sustainable socio-economic development.
It demonstrates Vietnam's commitment to conserving nature and biodiversity, restoring ecosystems and responding to climate change, while contributing to the expansion of the World Network of Biosphere Reserves, Van told Thế Giới và Việt Nam (The World and Vietnam).​
The wild beauty of Hang Rai (Rai Cave) tourist site in the Nui Chua World Biosphere Reserve. — VNA/VNS Photo Trong Dat
​The official said that the recognition was "not merely a title" but should create an opportunity for localities to build a model for comprehensive sustainable socio-economic development that helped boost links between man and nature and keep a balance between biodiversity conservation and people's livelihood.
"This is especially important in our efforts to restore biodiversity and development recovery after the COVID-19 pandemic," Van said.
Many experts have highlighted the extremely important solutions in dealing with biosphere reserves as Vietnam's world biosphere reserves previously recognised by UNESCO currently occupy 12.1 per cent of the country's total area and are home to 2.3 million people. The two new biosphere reserves, Nui Chua and Kon Ha Nung, will create more challenges.
Dr Ho Long Phi, an expert on urban planning and climate change, said that keeping a balance between economic development and biosphere reserve conservation in the country was a challenging issue.
"As most people living in biosphere buffer zones or conservation areas have difficult economic conditions, they are less interested in environmental protection. For them, environmental factors still go after livelihood," he said.
The expert explained his opinion in a recent blog post on the website of Environment for Development Initiative, a capacity-building programme in environmental economics focusing on research, policy interaction and academic programmes.
He said Vietnam had tried solutions such as subsidising people's livelihood in the biosphere buffer zone, but he thought the environmental damage came from other things like hydropower plants, road construction and sea encroachment.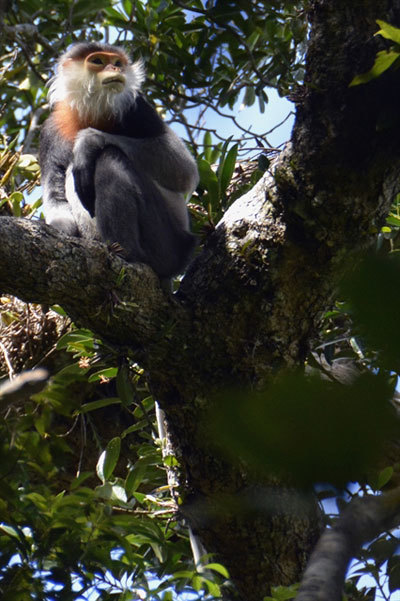 A grey-shanked douc in Kon Ha Nung Plateau. Photo courtesy of the MOFA
​"Recently, many biosphere and mangrove reserves have been surrounded by newly developed residential areas such as those in HCM City's Can Gio District and Quang Ninh Province. This shows tension between economic benefits and environmental protection which cannot be easily resolved in the short-term," he said.
Dr Phi added that the scientific community had done a lot of research and activities for ecological environment protection, attracting international attention. Scientific studies have helped, including a change in the perception of local people and management officials.
"However, it is a very long process. We are just in the 'toddler steps' of recovering what has been lost, but the road is still very difficult ahead and the focus is on human awareness," Phi said.
Awakening the potential of Nui Chua
Nui Chua is a site of natural landscape distributed on a mountain complex close to the coast, creating a beautiful landscape in the southern central coast, which is the only standard sample of the typical dry forest ecosystem in Vietnam and Southeast Asia.
Here, the habitat of six types of forests are distributed with 1,514 species of plants and 763 species of animals, among them 54 species of plants and 46 species of rare animals listed in the Vietnam Red Book and the World Red List.
The site is also home to the black shanked douc langurs (Pygathrix nigripes), a primate species listed in the Red List to be preserved and developed. In particular, the Vietnam Red Book shows 48 endangered animal species and 34 globally endangered species are still found here.
Nui Chua has rare marine flora and fauna, with a large coral population of more than 350 species. It is also a rare place on the mainland, where three species of turtle — hawksbill sea (Eretmochelys imbricata), pacific ridley sea (Lepidochelys olivacea), and green sea (Chelonia mydas) — come to breed under strict protection of conservationists every year.
The Ninh Thuan authorities have always encouraged people living in the buffer zone to participate in protecting forests and rare plants and animals.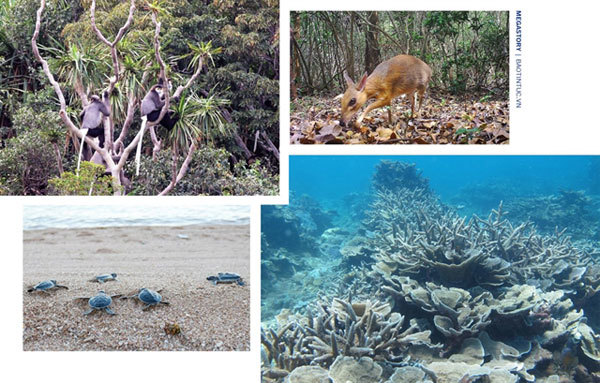 Many rare animals living in Nui Chua Biosphere Reserve need to be protected. — Photo baotintuc.vn
Three volunteer groups with between 15 and 20 members each regularly work on protecting sea turtles, corals and seagrasses.
Nguyen Thanh Danh, a group leader, told Nhân Dân (The People) newspaper that in the past, people living in the buffer zone used to go to the forest to exploit resources and catch sea turtles, but for nearly 10 years most had quit such jobs to become leading members in preventing harm.
With the advantage of being near three major tourist centres in the south, namely Da Lat, Nha Trang and HCM City, the Nui Chua World Biosphere Reserve is convenient for the development of eco-tourism.
Ninh Thuan will soon make a master plan for both the core and buffer zones to combine conservation and sustainable development for tourism, the provincial authority has said.
The planning will be the basis for delimiting strict conservation areas, areas for conservation and areas for investment and development at different levels, including developing eco-tourism, calling for investment in conservation, and tourism and leasing the forest.
Pham Van Hau, deputy secretary of the provincial Party Committee, told Nhân Dân that the UNESCO recognition was great news for the province.
"But at the same time, the province should be more and more aware of its responsibility to protect and exploit the invaluable assets of humanity," he said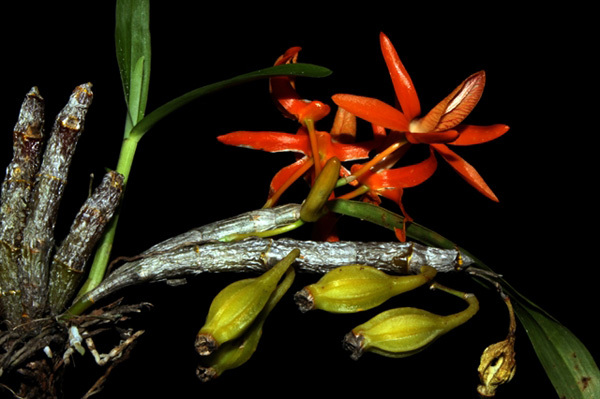 A species of orchid in Kon Ha Nung World Biosphere Reserve. — Photo courtesy of the MOFA
Eco-tourism in Kon Ha Nung
Kon Ha Nung Plateau consists of three zones including the 57,589-hectare core site that comprises Kon Ka Kinh National Park and Kon Chu Rang Nature Reserve, the 152,009-hectare buffer zone and the transition zone of 206,211 hectares.
The World Biosphere Reserve is also known as the 'Roof of Indochina' with the highest peak at more than 1,700 metres.
This is an area with a closed subtropical humid evergreen forest ecosystem that remains relatively intact.
There are many unique and outstanding features. The fauna and flora in the core zone of Kon Ka Kinh National Park are diverse, and abundant with rare plants and wild animals.
Scientists have recently discovered some endemic species such as chestnut-eared laughing thrush (Garrulax konkakinhensis), and the grey-shanked douc langur (Pygathrix cinerea), which are primates of Vietnam.
Kon Ha Nung Plateau possesses many beautiful waterfalls, making it an extremely attractive eco-tourism destination.
UNESCO's recognition of Kon Ha Nung Plateau as a Global Biosphere Reserve will provide vital conditions for Gia Lai Province to preserve the landscape and ecosystem in the area, opening up opportunities for people to develop an environment-friendly economy in parallel with preserving national cultural identity.
At the same time, this is also the basis for the province to plan and outline strict conservation areas and areas permitted for investment and development.
On the basis of promoting community participation in forest management and protection, the provincial authorities have identified the corridor connecting Kon Ka Kinh National Park and Kon Chu Rang Nature Reserve as a pilot area.
Accordingly, the province is focusing on supporting and creating conditions for local communities to participate in forest conservation and restoration through the development of local sustainable agriculture and forestry.
Ngo Van Thang, deputy director of Kon Ka Kinh National Park, said that participating in forest protection contracts had helped households achieve stable incomes, contributed to improving their livelihood and, more importantly, that deforestation for farming was now almost non-existent.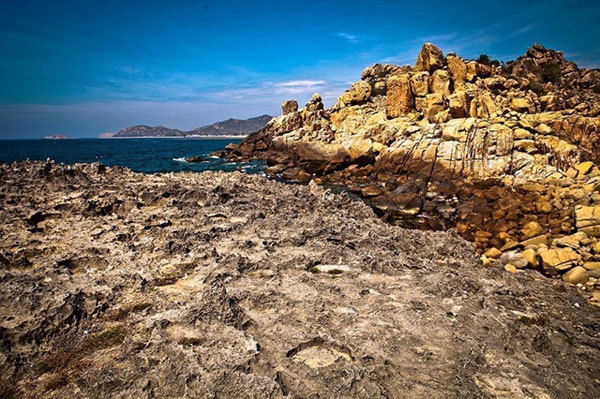 Sao Hoa (Mars) Rocks – an ancient coral reef from millions of years ago in Nui Chua World Biosphere Reserve. — VNA/VNS Photo Trong Dat
A local resident, To Ang, contracted to manage and protect the forest in De KJieng Village in Mang Yang District, said in the past, his family's living conditions like many other households in the village were difficult because of unemployment and dependence on working in the fields.
"Since joining the contract of forest land, in addition to the income from the contract, the family also has an additional source of income from byproducts such as bamboo shoots and mushrooms, so their life has become more stable," he said.
The Kon Ka Kinh National Park Management Board attaches importance to selecting specialised forces for forest protection, mostly using local people.
Byut, also a De KJieng villager and a group leader in forest protection since 2015, has been contracted to protect nearly 2,000 hectares of forest. Thanks to his good work, at the end of 2019 he was promoted by the authority to be a full-time officer in charge of forest protection.
Vice Chairman of Gia Lai Provincial People's Committee Kpă Thuyen emphasised that the province had committed to UNESCO's regulations in order to ensure the Kon Ha Nung World Biosphere Reserve becomes a model of sustainable socio-economic development in the locality, connecting biodiversity conservation and the preservation of ethnic cultural identities, as well as economic development and environmental protection.
Source: Vietnam News
Recognition more than a title for biosphere reserves have 1958 words, post on vietnamnet.vn at September 27, 2021. This is cached page on Talk Vietnam. If you want remove this page, please contact us.