Vietnam always welcomes US investors and gives high priority to efforts to sustainably develop the energy sector with the goal of maintaining national energy security and reducing greenhouse gas emissions, President Nguyen Xuan Phuc has affirmed.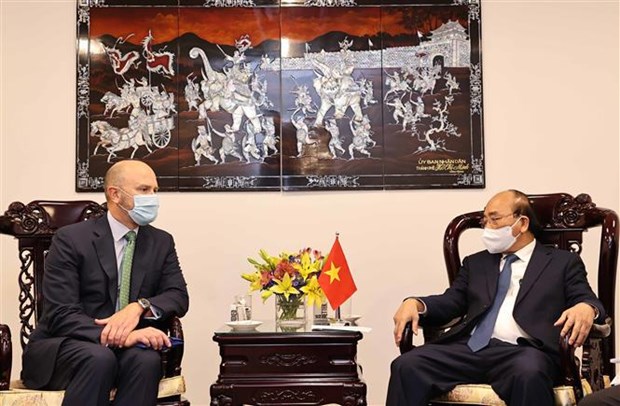 President Nguyen Xuan Phuc (R) receives a leader of Blackrock (Photo: VNA)
President Phuc made the statement while receiving leaders of the US's leading energy enterprises on September 23 (local time), as part of his activities in New York to attend the 76th session of the United Nations General Assembly.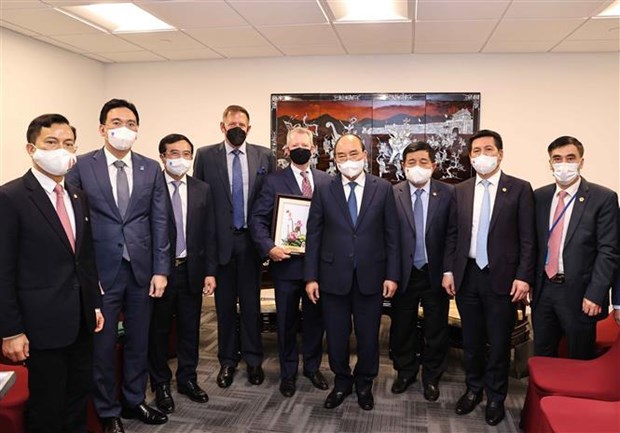 President Nguyen Xuan Phuc and Vietnamese officials pose for a photo with ExxonMobil representatives
Receiving leaders of Exxon Mobil Corporation (ExxonMobil), Phuc suggested the corporation continue to work with Vietnamese partners and authorities to develop projects that it is interested in.
The activities of major US oil and gas companies, including Exxon Mobil, in Vietnam's waters, especially in deep-water and high-potential areas, not only bring economic benefits to both sides, but also have important strategic significance, serving the two countries' common goal of contributing to the maintenance of peace, stability, cooperation and development in the region.
At his meeting with leading officials of NextDecade Corporation, the President stated that Vietnam wishes to import liquefied natural gas (LNG) from the US, contributing to the harmonious and sustainable development of two-way trade.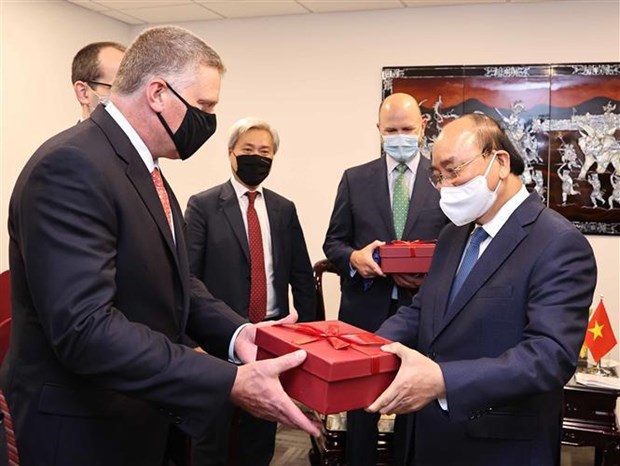 President Nguyen Xuan Phuc presents gifts to NextDecade leaders (Photo: VNA)
He welcomed NextDecade's proposals in ensuring sustainable economic development, and suggested NextDecade consider expanding investment and business cooperation and providing solutions to reduce carbon dioxide emissions for production and business establishments in Vietnam.
Hosting leaders of Blackrock, a leading multinational investment management corporation, President Phuc welcomed Blackrock's interest in investing in energy development in Vietnam, and suggested the company continue working with Binh Son Refinery and Petrochemical Company and relevant Vietnamese agencies to realise this idea.
As Blackrock has just established a climate fund with a priority to support developing markets to shift to clean energy, the Vietnamese leader shared that Vietnam advocates energy diversification and makes the most use of renewable energy sources. He asked Blackrock to study investment prospects in Vietnam./.
President receives representatives of US business associations, investors
President Nguyen Xuan Phuc received representatives of the US-ASEAN Business Council (USABC), the American Chamber of Commerce (Amcham), the US Chamber of Commerce (USCC), and several US companies and multinational groups in New York on September 22 (local time).
These enterprises included McLarty, Philip Morris, AES, Thermo Fisher, Asia Group, Northwestern Medicine, Excelerate Energy, GE, and McDermontt, Delta Offshore Energy and Boeing.
Receiving leaders of the AES Group, President Phuc highly valued its activities in Vietnam as well as its contributions to the Vietnamese energy sector's growth. Affirming Vietnam's support to the enterprise's expansion of operations in Vietnam, he encouraged the group to invest in green and renewable energy in the country. He also lauded the firm's partnership with PVGas in building Son My liquefied natural gas (LNG) storage in Vietnam.
At his meeting with representatives of the Asia Group, the Vietnamese leader suggested the firm continue to work as a bridge between the two nations and urge the US government to further promote practical and long-term cooperation with Vietnam. The Asia Group should mobilise the US government to donate more COVID-19 vaccines and medical supplies to Vietnam, and transfer COVID-19 production technology to the country, he added.
Meeting leaders of Thermo Fisher, President Phuc lauded the firm's commitments to support vaccine development programmes and exchange experience with partners in responding to the COVID-19 pandemic.
At his meeting with leaders of Northwestern Medicine, the President thanked clinics and member hospitals of Northwestern Medicine for their donation of medical supplies and equipment to Vietnam. He proposed Northwestern Medicine further foster cooperation between Vietnam and Chicago in research, development and application of hi-tech in health check-up and treatment.
Meeting partners of Delta Offshore – Bạc Lieu Energy, he hailed Delta Offshore Energy's LNG-fueled power project in Bac Lieu province – the biggest foreign-invested project in the Mekong Delta region so far. He expressed his hope that the project will become a model of quality and progress with most competitive power prices, thus inspiring more US energy firms to invest in Vietnam.
At a meeting with representatives from the USABC, Amcham, USCC, McLarty and Philip Morris, President Phuc spoke highly of the role of US business associations and enterprises in encouraging US firms to invest in Vietnam over the past years.
He suggested that the associations will continue to encourage US businesses to invest in Vietnam, especially in strategic areas, helping Vietnam engage in regional and global supply chains, while hastening the US Government to continue its donation of COVID-19 vaccines and medical supplies to Vietnam as well as transferring vaccine production technology to the country. He hoped the associations will contribute their voices to the US Government in optimising the Vietnam-US partnership and promoting stable and long-term cooperation with Vietnam on the basis of mutual support and interest.
Receiving the Business Council for International Understanding (BCIU)'s representatives and a number of enterprises, President Phuc lauded the efforts and the role by the council in improving US investors' confidence in the business and investment environment in Vietnam. He thanked BCIU for accompanying with and supporting Vietnam in accessing vaccines and medical supplies serving the COVID-19 fight.
Meeting representatives from the Boeing Group, President Phuc congratulated the firm on its opening of first representative office in Vietnam, which shows Boeing's commitments to long-term investment in Vietnam despite difficulties posed by COVID-19.
He proposed Boeing continue to assist Vietnamese airlines to open more direct air routes to the US, while increasing investment in Vietnam in the fields of infrastructure construction, airplane component production, and aviation technical services, helping Vietnam enter supply chains of groups on the globe, and considering the opening of a pilot training centre in Vietnam./.
Source: VNA
President welcomes leading US energy enterprises have 1174 words, post on vietnamnet.vn at September 24, 2021. This is cached page on Talk Vietnam. If you want remove this page, please contact us.