Many investors have offered to sell their homestays as they do not have enough money to pay debts and maintain operations.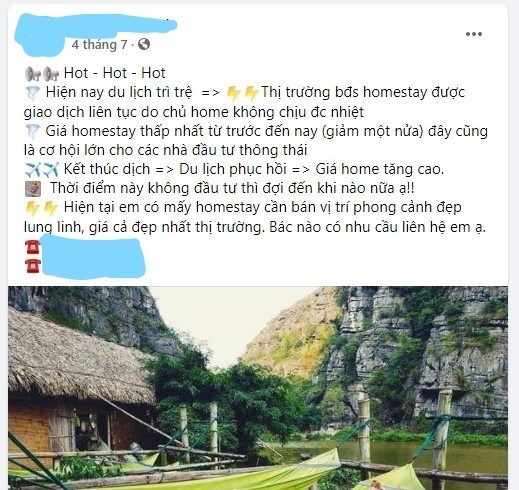 Many investors have offered to sell their homestays
T., the owner of a homestay in Hoa Lu in Ninh Binh province, said he built a 400 square meter homestay in 2019. At first, the homestay had many customers, and he thought he would able to pay bank debts quickly. Homestay was a favorite form of accommodation chosen by a large number of tourists, especially the youth, for the competitive prices and novel experiences.
However, the Covid-19 pandemic broke out in 2020, which caused the number of guests to plummet. He cut the workforce to save money and stopped operation temporarily, hoping to reopen later.
In September 2020, he offered to sell the homestay at VND15 billion, but could not find buyers. As he has incurred heavier losses since the fourth Covid-19 outbreak, he has offered to sell it at VND12 billion. But the number of calls asking about the homestay has been very modest.
There are now thousands of homestay sale ads on real estate trading websites.
The homestay rush kicked off several years ago. In 2017-2019, the rapid growth of the tourism industry led to higher demand for accommodations. Investors then rushed to develop homestays, a market with an estimated revenue of $130 million in 2018.
In 2019, a report from AirDNA, a market analysis firm, showed that the homestay market in Vietnam saw the hot growth of 452 percent in terms of supply within only one year. HCM City, Da Nang, Hanoi, and Lam Dong and Khanh Hoa provinces had the highest number of homestays.
When the Covid-19 pandemic broke out in 2020, investors managed to survive the three pandemic waves. However, the recent fourth wave appears to have dealt a death blow. Investors have been hurrying to sell homestays to stop losses.
Selling rush
Homestays' major clients are domestic and foreign travelers. Because of Covid-19, Vietnam has yet to reopen the market to international tourism, resulting in a sharp fall in foreign travelers.
The General Statistics Office (GSO) reported that only 88,200 foreigners came to Vietnam in the first half of 2021, a decrease of 97.6 percent compared with the same period last year. Domestic tourism has also been quiet because of the pandemic.
The total number of travelers to Ninh Binh province in the period dropped by 42.3 percent compared with the same period last year, while revenue dropped by 32.8 percent.
In Lam Dong, where tourism is considered the key business field, only 2 million travelers were seen in the first seven months of the year, a drop of 11.99 percent. Meanwhile, foreign travelers plummeted by 84.4 percent.
In Da Lat, the famous tourism city in Lam Dong province, many ads about the sale of hotels and home stays can be seen.
A 4x20m homestay on To Ngoc Van Street, just a five minute motorbike drive from Xuan Huong Lake, is being offered at VND10.7 billion. The seller, when posting the ad about the sales, said that he has fallen into insolvency and is wili g to sell the homestay at a loss.
On the website of a real estate trading floor in Da Lat, one can find many homestays on sale, with prices between several billions of dong and VND30-40 billion.
In Ninh Hai commune in Hoa Lu district in Ninh Binh, where there are about 100 homestays, many investors are seeking buyers. However, a local official said since late 2020 the local authorities have reported about only two official transfer deals.
Quan, a broker, said the market is gloomy with many sellers and few buyers. In general, small homestays priced at several billions of dong have higher liquidity, while the ones priced at tens of billions of dong cannot attract investors.
Quan said homestay owners want to sell as soon as possible because they built them with borrowed money and now is the time for them to pay debts.
According to Quan, buying homestays can be a wise decision now, because the prices are very good. However, few investors show their interest in homestays, because they cannot go to see homestays amid social distancing, and cannot do business with homestays soon after the purchase.
Mai Thanh
Investors sell homestays at a loss of billions of VND have 879 words, post on vietnamnet.vn at September 12, 2021. This is cached page on Talk Vietnam. If you want remove this page, please contact us.