Securities firms cautious on directionless stock market
Viet Nam's stock market struggled to find direction last week as liquidity fell continuously and foreign investors net sold a value of more than VND2.22 trillion (US$96.6 million), causing analysts from securities firms to have cautious views of the market this week.
On the Ho Chi Minh Stock Exchange (HoSE), the market benchmark VN-Index inched down in the last trading session to 1,268.83 points, while the HNX-Index on the Ha Noi Stock Exchange (HNX) plunged to 301.77 points.
For the week, the VN-Index lost 2.34 per cent and the HNX-Index plummeted 1.95 per cent. Both benchmarks had declined more than 4 per cent since the close of trade Monday.
The liquidity on both exchanges declined compared to the previous week. It was lower than the recent 20-week average, with a value of VND20.5 trillion per session.
The trading value on the HOSE decreased by 5.2 per cent to VND91.54 trillion, equivalent to a drop of 4 per cent in trading volume to nearly 2.86 billion shares.
On HNX, the trading value reduced by 18.9 per cent to VND11.2 trillion, the equivalent of a fall of 22.1 per cent in volume to 498 million shares.
According to Vietcombank Securities Company (VCBS), even though the market liquidity was subdued, the losses were not much, showing cautious sentiment of investors and low bottom-finish demands amid the complexity of the ongoing COVID-19 outbreak.
The market started to witness a clearer division between stock groups as mid-cap stocks rose against the general downward trend, especially in real estate and seaports.
"A new price base is gradually formed around 1,270 point-level," VCBS said. Investors should consider restructuring their portfolios and gradually disbursing target stocks with small proportions, but following investment disciplines and avoiding chasing in rally sessions, the securities firm added.
"We still expect that there will be more new investment opportunities when the market benchmarks are stabilised," VCBS said.
"Therefore, the disbursement at the moment should focus on medium and long-term investment opportunities, with the expectation of positive business results of enterprises in the second half of 2021."
Analysts from BOS Securities Corporation said that technically, the VN-Index dropped sharply and fell below the support zone of around 1,280 points in the last trading session. This causes technical indicators to continue to show the dominance of the downtrend in the short-term.
There is a possibility that the VN-Index will continue to correct in the early sessions of this week and might test the old bottom of around 1,220 – 1,230 points again.
BOS also recommends investors prioritise risk management and only disburse for short-term targets when there is a clear sign of recovery.
Similarly, Viet Dragon Securities Corporation (VDSC) said that the benchmark VN-Index slid back to the territory of ​​1,265 – 1,275 points in the last session. Liquidity was higher than that of Thursday trade, showing rising short-term profit-taking pressure. However, the pressure was not great enough and it is necessary to wait for more supply and demand signals at the level of around 1,270 points.
"Due to the sensitivity of the market in the near future, investors should observe trading movements and keep their portfolios at a balanced level," VDSC recommended.
Meanwhile, Saigon – Hanoi Securities JSC (SHS) is more optimistic when it comes to the market this week. On the technical front, with the end of the last trading session above the support level of 1,260 points, the VN-Index still has the ability to recover this week and head toward the 1,300 point-level. However, the market is likely to struggle in the first session of the week.
SHS said that the losses of most of the stock groups were driven by the market's correction. Of which, bank stocks posted the biggest losses in market capitalisation, down 4.8 per cent, with all the big names plunging more than 1.5 per cent.
It was followed by consumer service stocks, down 2.5 per cent.
On the other hand, information technology stocks were the biggest gainers last week, up 3.4 per cent in market capitalisation, with FPT Corporation rising 4.3 per cent.
180 SOEs privatized in 2016-2020 period
A legal framework for restructuring state-owned enterprises (SOEs) in the 2021-25 period is expected to speed up the process.
In 2020, nine SOEs were privatized for proceeds of VND949 billion (US$41.2 million), which resulted in a total of 180 state firms completing the privatization process in the 2016-2020 period and raising VND36.5 trillion ($1.58 billion) for the state budget.
The information was revealed in a recent government report on the restructuring process of the state sector, suggesting the progress remains slow at 27.3% of the plan as of late 2020.
According to the report, the process remains pending in 89 SOEs, including 13 in the capital city and 38 in the country's southern hub. The others include six managed by the Committee for State Capital Management (CSCM), four under the Ministry of Industry and Trade (MoIT), and two under the Ministry of Construction (MoC).
"The key bottleneck that slowdown the privatization process was the difficulties in business valuation and the approval of land-use plans to prevent possible revenue loss for the state budget," noted the report.
Another issue pointed out by the government is the fact that certain enterprises have not adopted corporate governance models in line with the market mechanisms, including the lack of transparency in information declaration which is making it hard to attract potential buyers.
The government acknowledged stronger discipline measures would be needed to ensure enterprises' leaders to fully commit to privatization.
Along with privatizing SOEs, the government also received VND5.9 trillion ($256 million) in book value by divesting state capital worth VND2.5 trillion ($108.5 million). For the 2016-2020 period, the government recorded an accumulated amount of VND27.31 trillion (US$1.18 billion) in divested capital for VND177.4 trillion (US$7.7 billion) in proceeds.
To accelerate the process, the Ministry of Finance is tasked with finalizing the legal framework for restructuring SOEs in the 2021-25 period, consisting of a stronger monitoring mechanism to ensure a transparent privatization process and avoid losses of the state capital.
A priority in this framework measures to deal with 12 ineffective and stagnant projects in the industry and trade sector, for which the government noted a task force has been set up to work on these projects that have caused accumulated losses of VND26.3 trillion ($1.14 billion) of public funding.
Virtual reality, live streams esential for selling real estate during pandemic
The prolonged impact of the COVID-19 pandemic has made digital tools such as live streaming, augmented reality (AR) and virtual reality (VR) essential to real estate transactions, according to real estate broker Tran Minh.
Minh no longer regularly meets customers face-to-face and now uses online exchange applications such as live stream on Facebook, video calls on Messenger, Zalo or Viber to connect with his customers.
Minh told Dau tu chung khoan (Stock Investment) newspaper that he has used both face-to-face meetings and digital applications. But he says it is better to meet customers directly due to the nature of his work. However, with the current pandemic, he has to rely more and more on apps to stay active. Previously he had worked as a professional online marketer, which he says has given him an edge.
In fact, across the industry, livestream sales exploded a few years ago but were mainly used with fashion, cosmetics and food. Now it has also become a trend in the estate industry with not only individuals but also brokerage companies aiming to develop online consulting channels through technology platforms to avoid the impact of the pandemic.
Hai Phat Land – one of the largest real estate distributors in the North, recently added an online talk show forum to consult and update information about projects and the property market in addition to direct sales.
Accordingly, they set up a separate studio fully equipped to facilitate online communication with customers on Facebook and Youtube.
Vu Kim Giang, general director of Hai Phat Land said that they considered it as a tool to provide information to customers.
The online consultancy would help homebuyers have more time before making a decision. AR and VR applications help them feel the space in a room and get a feel for the interior design without going directly to apartments. They only need to visit the apartments to check the accuracy of the information received through the online channels and to sign contracts.
A vital trend in a touchless economy
The property market is gradually changing with the development of digital technology. With the widespread development of the internet, online marketing has become an effective tool for marketers in general and in the real estate sector in particular. This development forces people working in the sector to constantly change their sales strategies as well as update their digital tools in a responsive and instantaneous way.
According to Nguyen Trung Vu, Chairman of Cengroup, Viet Nam's real estate industry is changing very quickly, not every year, every month, but every day, and every hour. In particular, the transformation of "investment taste" and the change in the behaviour to using digital technology utilities requires estate developers to quickly adapt and apply technology in a methodical way to shorten the distance between buyers and sellers.
This is also the reason that Cengroup has invested heavily in upgrading technology platforms to support sales. They are also strengthening their cooperation with start-ups on digital solutions to add to their estate trading ecosystem in recent years. In May 2021, on Shark Tank Vietnam, Cengroup successfully closed a deal with a smart call centre start-up – a solution to support their marketing and sales management.
The race to put goods in the "online marketplace" is very exciting and businesses have been spending a lot of money on technology to reach customers. However, when they start to implement the actual implementation, the challenge is not small.
Thaco halts investments in HAGL Agrico
The Board of Directors of Hoang Anh Gia Lai International Agriculture JSC decided to stop issuing shares for a debt swap and called off private placement plans for Truong Hai Agriculture JSC (Thagrico) at the request of the latter.
Thagrico pointed out three reasons for suspending investment in HAGL Agrico. First, to support the company to repay loans from BIDV and other banks, Thagrico received the transfer of three HAGL Agrico subsidiaries namely Indochina Rubber, Dong Penh, and Trung Nguyen Rubber in 2019. The subsidiaries have a total production area of ​​22,462 hectares in Cambodia and Gia Lai province with a total value of VND7.62 trillion ($331.48 million).
While the payment has been completed, Thagrico has not received any documents on land ownership after the subsidiaries, which are being held at BIDV.
By the beginning of 2021, Thagrico continued to receive the transfer of four other companies, including An Dong Mia, Hoang Anh Quang Minh Rubber, Hoang Anh Dak Lak, and Tay Nguyen Dairy Cow with a total area of ​​20,744ha. However, the land papers of these units are mortgaged to secure the debts of Hoang Anh Gia Lai Group (HAGL) at BIDV. Meanwhile, Thagrico has invested in building infrastructure and planting new fruit trees on the area of ​​the companies. However, without legal documents, the company cannot raise capital to continue investing in these projects.
Secondly, amid the difficult conditions of HAGL Agrico and as the planned share issuance has yet to be implemented, since the beginning of 2021 HAGL has reduced its ownership in HAGL Agrico to 11.43 per cent. This despite the commitment in the share issuance plan that HAGL would maintain its ownership at 25.24 per cent. This has caused HNG price to fall below par value.
Third, the COVID-19 epidemic is disrupting Thagrico's production and business activities, affecting the supply chain of agricultural materials in Laos and Cambodia, as well as fruit exports. This has forced Thagrico to adjust its investment and business plans.
According to HAGL Agrico, Thagrico is the only investor selected to be issued shares according to the plan approved by the general meeting of shareholders. Because Thagrico reduced its ownership, HAGL Agrico could not carry out the procedures for the private placement and share issuance at the State Securities Commission. Therefore, the Board of Directors held a meeting to pass a resolution on stopping the issuance of 550 million HNG shares for debt swap as previously planned.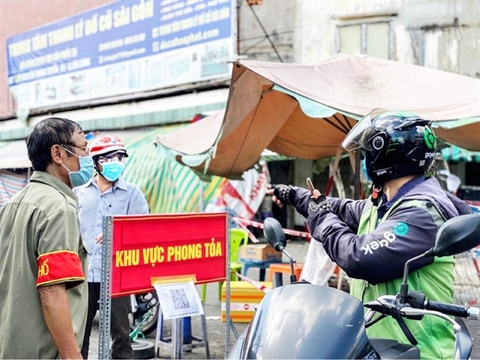 Delivery costs in HCM City have risen sharply due to high demand because of social distancing. — Photo phunuonline.com.vn
Shippers gouge consumers in HCM City as demand surges
HCM City has imposed strict travel restrictions and locked down many places, causing demand for home delivery services to skyrocket along with costs.
Tran Thi Mai, living in District 3, said she had ordered 15 baguettes from a District 1 store and a delivery app informed her delivery would cost VND95,000 (US$4.1) for the 5km distance. The bread cost only VND80,000.
But no driver accepted the order. She tried other delivery apps with the same result.
"I had to add a VND20,000 tip for a driver to accept my order. The total cost was 115,000 while it is normally VND30,000-VND40,000."
Streets are largely empty but it is easy to spot shippers in Grab or Now uniforms driving back and forth or queuing up in front of supermarkets and food stores.
However, not only consumers, but also online sellers have been hit by the high delivery fees since they are causing customers to routinely cancel orders.
Nguyen Nguyen Ngoc, an online pastry seller, said the delivery fees change constantly. She might have delivered to District 1 from District 8 just the previous day at VND90,000, but a day later it could be VND135,000, she said.
"The high delivery fees cause many customers to cancel orders, and my order volumes are down by more than 50 per cent. When there are big orders from regular customers, I foot half the delivery bill."
Tran Van Thanh, a Grab driver, said the fourth wave of the pandemic spread rapidly, causing demand for transportation to slump. But demand for delivery, especially foodstuff, had surged, especially around lunchtime.
In one afternoon a shipper could undertake seven to eight orders depending on the delivery distance, he added.
But amid this sharp increase in demand, the number of drivers has fallen steeply since many have returned to their hometowns or do not want to work due to fear of the coronavirus, he said.
Delivery service providers also claimed that charges have increased also because, with many roads in the city blocked, their drivers have to travel longer distances.
Mekong Delta attractive to renewable energy investment
The Mekong Delta has great advantages to develop the renewable energy sector, including wind, solar, biomass and gas thermal power, according to experts.
Eleven of 13 cities and provinces in the region hold great potential for solar energy development, with average solar radiation of 1.387-1.534 Kwh per year.
Coastal areas in the region have high potential to develop wind power, with wind speeds of 6.5-7m per second.
Taking advantage of its natural conditions and investment attraction policies, the region has become a destination for investors in renewable energy projects.
With long coastline and estuaries and islands also create favourable conditions for the localities to build warehouses, ports, gas pipelines and storage and regasification systems to develop gas-fired power projects./.
Corporate bond issuance proposed for building 3,800km expressway
The goal of building 3,800km of expressways within 10 years, as the top focus of the government's public investment plan, requires a variety of solutions to diversify capital sources due to a finite government budget and increasingly difficult credit access.
According to Nguyen Viet Huy, deputy director of the PPP Department under the Ministry of Transport, issuing corporate bonds is a legitimate solution helping to open the door for investors to participate in implementing highway projects under PPP method.
Huy raised the example of Deo Ca Group, a major developer of transport infrastructure projects in central Vietnam, which succeeded with the implementation of capital-intensive projects with limited access to credit like the Deo Ca Tunnel project or the Bac Giang-Lang Son and Trung Luong-My Thuan expressway projects BY using diverse capital mobilisation methods.
Huy added that while previous legal documents guiding PPP projects restricted capital mobilisation to borrowing from from credit institutions, this is now a significant barrier to implementing large-scale transport PPP projects.
"According to the newly-promulgated Law on PPP Investment, in addition to borrowing capital from credit institutions, capital can now also be mobilised through lawful organisations or individuals. I think this is the right direction in the context of the restricted budget, especially when infrastructure development needs to be one step ahead of emerging needs," said Huy.
Currently, Decree No.28/2021/ND-CP regulating the financial management investment of PPP projects provides has provided specific instructions on necessary procedures and steps to help PPP enterprises in bond issuance.
PPP projects following the build, operate, transfer (BOT) format are not like real estate projects or other development projects. In the early years of BOT projects operation, cash flows are often limited due to the low volume of vehicles as well as the interest and principal burden payable to the bank.
The biggest problem related to the issuance of corporate bonds is the slow adjustment of tax policies, especially regarding interest payment at BOT projects.
"To ensure the effective enforcement of the Law on PPP Investment, it is necessary to clearly separate PPP project enterprises from normal businesses. The financial plan of the PPP project must include the repayment schedule throughout the life cycle of the project, which can last up to 30 years. I think it is necessary to remove the current tax policy inadequacies in order to ensure the projects' economic efficiency," Huy noted.
Tran Chung, chairman of the Vietnam Association of Road Traffic Investors (VARSI) said that VARSI has received a document from Deo Ca Group proposing to settle the inadequacies in the accounting and allocation of interest expenses at current PPP projects.
On the basis of recommendations from Deo Ca Group and other BOT investors, VARSI will report to the government and submit a proposal to the National Assembly to remove difficulties for BOT transport infrastructure projects.
"In fact, no PPP projects have been implemented in the past five years. Most PPP projects cannot find investors because they don't have a bank guarantee. If we restrict the mobilised capital to bank credit only, several projects that have signed contract would face being invalid because of the low possibility of having able to sign a credit contract with bank after a short period of time as the regulated six months," said VARSI chairman.
The focus of the public investment plan in the next 10 years is to make 3,800km of highways, as stated by Prime Minister Pham Minh Chinh at a recent government meeting. This task is an important part of three strategic breakthroughs to lift the country's development to a new height.
The target is basically completing the Eastern Cluster of the North-South highway network(about 3,000km) by 2025, and having in place about 5,000km of expressways by 2030.
The three strategic breakthroughs are synchronously completing development institutions, particularly those on developing a socialist-oriented market economy; developing high-quality human resources; and building a seamless and modern infrastructure system both economically and socially.
FPT sees six-months profit up 21 per cent
Vietnamese leading technology company FPT Corporation (FPT) recorded revenue of VND16.2 trillion (US$704.7 million) and profit before tax of VND2.9 trillion in the first half this year, up 19.2 per cent and 20.9 per cent, respectively over the same period last year.
FPT attributed the positive earning results to the increased demand for technology and improved profit margins in the telecommunications segment.
After the first half of this year, the company has completed nearly 50 per cent of the year's revenue and profit targets.
The technology sector, including domestic and overseas information technology services, continued to play a key role, contributing 56 per cent of FPT's revenue and 44 per cent of pre-tax profit, equivalent to VND9 trillion and VND1.3 trillion, respectively.
Due to the constantly increasing demand for tech investment in both domestic and foreign markets, the value of new orders for FPT's technology segment increased by 43.9 per cent, reaching VND5.8 trillion.
Digital transformation revenue reached VND2.1 trillion, up 19.3 per cent compared to the first six months of 2020. The positive growth rate was thanks to FPT's efforts in implementing new technology solutions in the field of Low Code, Cloud and Blockchain for international customers.
Thanks to the increased profit from the television segment, along with the postponement of investment in infrastructure due to the complicated situation of the COVID-19 pandemic, the pre-tax profit margin of the telecommunications services segment continued to improve.
In the first half of this year, revenue and profit before tax of this segment reached VND5.8 trillion and VND1 trillion, respectively, up 12.1 per cent and 28.2 per cent, over the same period last year.
Meanwhile, a strong increase in demand for education in the information technology industry has contributed to boost FPT's education service revenue by 53 per cent in the first half of 2021 compared to the same period last year, reaching VND1.36 trillion.
Vietnam exports auto parts to world's leading auto powers
Despite being an importer of car spare parts, Vietnam also earns billions of US dollars from exporting auto parts each year to the world's leading auto powers.
It is worth mentioning that Vietnam is an export partner of components with many of the world's leading auto manufacturers such as the United States, Japan, the Republic of Korea, China, Thailand and Germany.
Customs data show the first six months of the year saw the Southeast Asian nation ship more than US$1.3 billion worth of auto parts to Japan, nearly US$1.1 billion to the US, more than US$230 million to China and Thailand, more than US$330 million to the RoK, and over US$74 million to Germany.
Most of the exports were executed under outsourcing contracts between global companies and joint ventures and wholly foreign owned firms in Vietnam. Main export products included electrical equipment, tires, leather and paint which are of low added value.
Some export items such as car frames are exported to other ASEAN countries.
Meanwhile, Vietnam imports between US$4-6 billion worth of car components per year to serve domestic car manufacturing and assembling factories. The main imported items are engines, chassis, axles, paint, electrical systems, chips, and circuit boards.
Wood exports to UK rise by 53.5% in first half
The export value of local timber and wood products to the UK market during the first half of the year soared by 53.5% to US$146.5 million against the same period last year, according to the Vietnam Timber and Forest Products Association (VIFOREST).
Some of the key export items include construction furniture, chairs, kitchen decorations, and bedrooms, all of which have enjoyed a rise of between 16% and 47% throughout the reviewed period.
The International Trade Center (ITC) reports the UK mainly imports wooden furniture from China and Poland.
Although Vietnam is the third largest supplier of wood products to the UK, its export value accounts for only 7.5% of the UK's overall wood imports.
Following the enforcement of the UK-Vietnam Free Trade Agreement (UKVFTA), several timber and wood products are now set to enjoy a preferential tariff of 0% over a five-year period.
The Vietnamese Ministry of Industry and Trade notes there remains plenty of room for local firms to boost exports to the UK as the wood industry is among those to significantly benefit from the UKVFTA.
Meanwhile, along with highly competitive prices, strong raw materials, and high-quality products, rubber wood is not commonly grown in the UK or the EU, a factor which creates advantages for Vietnamese businesses operating in the demanding market.
In addition, some large companies operating in the UK wood industry, such as IKEA, the largest furniture retailer in the UK, have already established production facilities or signed long-term partner contracts with manufacturers in Vietnam.
The UKVFTA is anticipated to increase transparency regarding the quality standards of products, improve the Vietnamese business investment environment, and serve to attract greater FDI inflows into the country's wood processing sector, according to industry experts.
ST24, ST25 rice varieties become increasingly popular globally
Vietnam's ST24 and ST25 rice exports witnessed robust growth during the first half of the year despite a downward trend in the international market.
Statistics by the General Department of Vietnam Customs indicate that the country exported approximately three million tonnes of rice worth US$1.64 billion throughout the reviewed period, down 14.8% in volume and 4.7% in value year on year.
During the five-month period, the export of ST24 rice which is among the top three best rice in the world, recorded a surge of 800% to reach 23,560 tonnes, while the export of ST25 rice, the world's best rice recognized in 2019,  soared by 1,470% to 2,570 tonnes.
Customs data show approximately 90% of ST24 rice has been shipped to China, and almost 100% of ST25 rice has been exported to the United States.
According to the Vietnam Food Association (VFA), the export volume of ST24 and ST25 rice has increased considerably due to a gradual rise of supply sources, while there continues to be a high demand for these varieties in the international market.
Along with the US market, consumers in the EU has shown a keen interest in ST25 rice. However, ST25 rice has yet to be listed among the nine fragrant rice varieties exported to the EU as it has only started to become known globally since 2019 after winning the world's best rice contest.
Tech giant targets 26 per cent rise in revenues
Tech giant VNG targets a 26 per cent increase in sales this year to VNĐ7.6 trillion (US$330.7 million).
Its games have grown in popularity in Southeast Asian markets and enjoyed early success in India and Russia.
Zalo has become a popular messaging application in Việt Nam with an amazing 76.5 per cent of the population using it in 2020. E-wallet ZaloPay has seen solid growth.
VNG cloud services are enabling small and medium-sized enterprises to carry out digital transformation of their management amid the COVID-19 outbreak.
Last year VNG invested in logistics start-up Ecotruck and gifting platform Got It.
Economic uncertainty weighs on Vietnamese businesses
Heightened economic uncertainty amidst the coronavirus spread has affected sentiment among Vietnamese companies.
In Vietnam, economic uncertainty has risen to its highest level on record with 68 per cent of companies identifying this as a constraint to growth, whilst a shortage of orders has been cited as a concern by 65 per cent of the companies.
The report indicates that optimism is up 8 percentage points with 58 per cent of mid-market companies now feeling optimistic, which is lower than the 64 per cent in ASEAN. Whilst revenue and profit expectations have fallen by 5 and 4 percentage points, respectively, over 63 per cent of the companies expect yearly increases in both. Whilst a little disappointing, this is still above the ASEAN averages.
Kenneth Atkinson, founder and senior adviser of Grant Thornton Vietnam said: "In Vietnam, whilst mid-market companies displayed amazing levels of health, at the beginning of the pandemic compared to other countries in our survey this has been slowly deteriorating over the last 12 months. In the last six months companies have been impacted by worsening barriers to growth, primarily related to economic uncertainty and demand constraints, largely due to the continued outbreaks of COVID-19. There is some improvement in the general outlook but the elements are mixed with economic optimism and investment intentions strengthening and growth expectations weakening."
Vietnam has shown historic strength in export expectations but the most recent results have shown growth expectations falling by 10 percentage points. This could be due to the timing of the survey which was conducted during the start of the most recent outbreak and the export expectations had increased by 7 percentage points in the second half of 2020.
In terms of the impact of COVID-19 on Vietnamese companies, 59 per cent reported a decrease in sales, whilst 54 per cent cited a loss of business opportunities probably due to the continuing barriers to travel. 41 per cent of companies had faced difficulties because of supply chain interruptions and 40 per cent had experienced work force issues. Another popular challenge citied by 45 per cent of the companies was challenges managing stakeholders.
When looking at COVID-19 impact on earnings before interest, taxes, depreciation, and amortisation (EBITDA), 39 per cent of companies had experienced no change or an increase in 2020. A decrease of 1-9 per cent in EBITDA was reported by 23 per cent of the companies and 18 per cent reported a decrease of 10-19 per cent. 15 per cent reported a negative impact of 20 per cent or greater.
Approximately 90 per cent of companies stated that they would be making major new investments in the coming 12 months. The top four categories for operating system investment were IT security management (55 per cent), companywide IT infrastructure (49 per cent), supply chain (46 per cent), and sales optimisation and accuracy (44 per cent). Interestingly, 33 per cent of companies were going to make investments into enterprise resource planning (ERP) systems.
Vietnam saw a record number of mergers and acquisitions (M&A) transactions last year and 53 per cent of the companies stated that they were considering M&A as a way of strengthening their business whilst 26 per cent were considering M&A as a means of exiting the business.
How new rules will change the securities basket of VN DIAMOND index
The Ho Chi Minh City Stock Exchange has revised the criteria of the Vietnam Diamond (VN Diamond) index with changes to the listing period, market capitalisation, liquidity, and foreign ownership limit effective from this October.
The Ho Chi Minh City Stock Exchange (HSX) has announced some changes in the rules for the VN Diamond index on June 15 and is expected to take effect in October. According to VNDIRECT, the new rules will criteria for listing time, capitalisation, liquidity, and foreign ownership limit in order to enhance the quality of index.
According to VNDIRECT's estimates, some stocks will be affected by the new rules.
First and foremost, new rules require stocks to have freefloat adjusted market capitalisation above VND2 trillion ($86.96 million) to be eligible for inclusion in VN Diamond. This mean listed companies like Coteccons (HSX: CTD) and Thanh Cong Textile Garment Investment Trading JSC (HSX: TCM) may be excluded from the index in the next review period.
Second, new rule adds liquidity ratio into the index calculation, meaning stocks with lower liquidity ratio will have their weight reduced in the VNDiamond index. Based on data from June 2021, the weight of Eximbank (HSX: EIB), VIB (HSX: VIB), Mobile World Group (HSX: MWG), and PNJ (HSX: PNJ) will likely be reduced due to their current low liquidity ratio.
"Third, the new rules also tighten VN Diamond's foreign ownership limit (FOL) ratio screen. This will make it more difficult for stocks with a set foreign ownership limit to enter VN Diamond. For example, SHB (HNX: SHB) and Viet Capital Bank (UPCoM: BVB) are planning to lower their FOL to 10 and 5 per cent, respectively, and are planning to move to the HSX in the future. Even though these stocks always fill out their FOL, they will also not be eligible to enter VN Diamond," the brokerage noted.
Sixty-one wind power plants register to go online
According to the Electricity of Vietnam (EVN), this company has signed power purchase agreements (PPA) with 144 wind power plant projects, with a total capacity of more than 8,144 megawatts (MWs).
Based on the progress reports of the investors, by July 22, 13 wind power plants with a total capacity of 611.33 MWs have been put into commercial operations. Around 106 wind power plants, with a total capacity of 5,621.5 MWs, are expected to be put into commercial operations before October 31, 2021.
However, by July 22, only 61 wind power plants with a total capacity of 3,487.8 MWs sent official letters to register for energizing and connecting to the national grid and testing following the regulations 90 days in advance. Twenty-five wind power plants with a total capacity of 1,912.05 MWs cannot operate commercially before October 31.
Slower dealmaking in second half
The momentum for mergers and acquisitions in Vietnam has decreased, rendering the outlook for the second half of the year rather conservative as the world continues to attempt to stave off the pandemic.
In the first six months of this year, Vietnam reported slightly more than 1,850 capital contributions and stake purchases with total value of $1.61 billion, signifying a plunge of 55 per cent in quantity and 54.3 per cent in value on-year, according to statistics published by the Foreign Investment Agency (FIA) under the Ministry of Planning and Investment.
In this period, there were no deals worth $100 million or above, while in the same period of 2020, there were five such deals.
Le The Binh, investment promotion specialist at Capital Asset Management Co., Ltd. (CAM), told VIR that there are numerous reasons for the decreased momentum.
"Foreign investment is declining globally. One reason is that the pandemic in economies such as Japan, South Korea, and Taiwan – all of which usually invest large capital in Vietnam – is still complex, thus the demand for overseas investment is impacted.
Besides this, the postponement of international commercial flights due to the pandemic is also a barrier because before agreeing on a deal, the participating two parties need to take part in field surveys and face-to-face meetings to study the operations of each other.
"The problems in investment promotion progress, the lack of transparent information from domestic partners, and the lack of support from local authorities are factors impacting the attraction of foreign capital in the mergers and acquisitions (M&A) deals. Japanese enterprises highly appreciate transparency and direct negotiations are a compulsory requirement," Binh said.
Statistics published by the FIA show that Japanese investors spent an average of VND50 billion ($2.17 million) on each deal, while their Hong Kong counterparts invested around VND23 billion ($1 million) per deal. South Korean spent an average of VND15 billion ($650,000) on their agreements. Meanwhile, the average figure of deals from Chinese investors stood at VND8.5 billion ($369,500).
Explaining the above differences, Vu Thanh Tung, partner at law firm Bae, Kim & Lee Vietnam, said, "From my experience, South Korean and Japanese investors are often drawn to the financial market. They have strengths in finance, human resources, and technology where they cooperate with Vietnamese partners."
"In addition, due to certain restrictions by the Vietnamese government on the establishment of new financial institutions in the country and to familiarise themselves with the legal framework and the Vietnamese market, foreign investors tend to seek local partners which already have certain position in the market. As a result, the scope of a deal is typically large," Tung said.
"On the contrary, investors from China, Taiwan, and Hong Kong are normally interested in the manufacturing sector. This may be due to the similarity of consumption habits with Vietnam, making it easier for investors to access and do business here. These investments are typically of a smaller size," Tung said.
Commenting on the outlook for M&A in Vietnam in the second half of 2021, he said that many foreign investors have accumulated a considerable amount of capital since the beginning of the pandemic, but travel restrictions remain a major obstacle."
"Further, the possibility of delays in carrying out administrative procedures to close deals, as well as a potential suspension in business and production due to pandemic prevention and control measures, is also concerned by the foreign investor. Thus, we maintain a conservative view for M&A activities," Tung said.
Crucial foreign groups attempt to stabilise business activities
Along with local businesses, foreign-invested counterparts are also grappling with mounting hardships in an attempt to retain business continuity amid the pandemic's complexities.
Japanese-backed Brother Vietnam Co., Ltd. has suspended operations at its manufacturing plant in Tan Truong Industrial Zone (IZ) in the northern province of Hai Duong for one year starting this month.
The plant, representing the total investment of $73 million, has been making industrial sewing machines and accessories for the textile and apparel industry.
"COVID-19 has dealt a strong blow to the industry. We have to temporarily cease operations as the demand has abated," a company representative told the media.
In the immediate future, the company's manufacturing plant in China will take over fulfilling orders. The representative also noted that before suspending operations, the company has fulfilled all welfare benefits for its 300 employees.
Meanwhile, Brother Industries Co., Ltd., which produces and trades in printers, fax machines, and electric equipment, reported unclear prospects in some areas. With five operating plants in Hai Duong worth $180 million in total, one of which was inaugurated at the beginning of this year, Brother Industries has successfully maintained stable operations.
However, a company representative unveiled that they are facing a critical shortage of workers. "Our plants are using a huge number of workers from the nearby provinces of Bac Ninh and Bac Giang, which were the epicentres of COVID-19 outbreaks a few months ago," the source said.
Brother Industries' five plants employ 12,000 labourers. The company has requested support from the province to deal with the shortage of hands but the situation has not improved.
Meanwhile, US-backed Cargill Vietnam has been facing multiple hardships as COVID-19 is plaguing localities in southern Vietnam where many of its animal feed production facilities are located. While receiving tailwind from increasing market demand, the company has been facing sharply-rising input costs in the past few months.
According to John Fering, regional managing director of Cargill Animal Nutrition South East Asia, soaring input costs are a challenge shared by the global industry. This is driving up animal feed prices, impacting the margins of farmers.
Foreign-invested enterprises (FIEs) in Bac Giang have gradually stabilised production since the worst outbreaks there began to be controlled.
So far, 263 businesses based in the province's IZs with nearly 78,000 workers have resumed operations. Many enterprises have welcomed back workers in droves. For instance, more than 17,200 employees have returned to work at Foxconn, nearly 15,000 at Luxshare, and more than 4,000 at Crystal Martin. Labour shortages, however, remain the greatest concern for other manufacturers.
FIEs in the province's IZs, including Luxshare, Newwing, and Lens Vietnam, are also looking to recruit 42,000 workers as many of their labourers still cannot return to work.
As soon as such FIEs based in northern locations have gradually stabilised business, those in southern locations, particularly in Ho Chi Minh City, were hit next. Over 33,000 workers at Taiwan-backed PouYuen Vietnam in Ho Chi Minh City had to suspend work. Of those, nearly 10,000 people from the southern province of Long An could not return due to travel restrictions put in place by Ho Chi Minh City authorities. In Tien Giang and Ben Tre provinces in the Mekong Delta, more than 3,500 workers of PouYuen Vietnam faced similar difficulties.
Source: VNA/VNS/VOV/VIR/SGT/SGGP/Nhan Dan/Hanoitimes
VIETNAM BUSINESS NEWS JULY 26 have 6697 words, post on vietnamnet.vn at July 26, 2021. This is cached page on Talk Vietnam. If you want remove this page, please contact us.