World Environment Day: Vietnam preserving Mekong Delta's ecosystem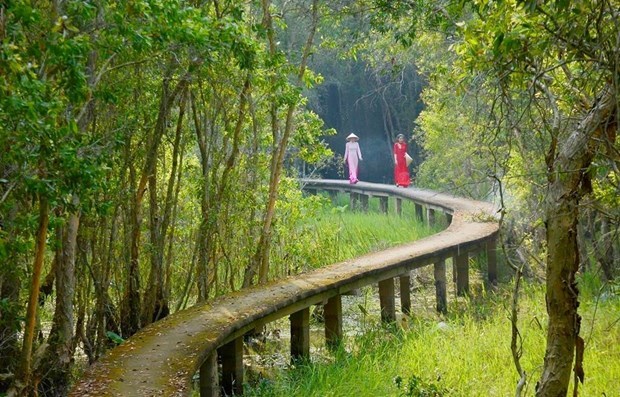 Vietnam is preserving Mekong Delta's ecosystem.
In Vietnam, multiple efforts have been made to assist in the recovery of degraded and destroyed ecosystems as well as conserve those that are still intact, particularly in the Mekong Delta, one of the world's deltas most vulnerable to climate change.
The Mekong Delta is in the southern part of Vietnam and includes the centrally-run city of Can Tho and 12 provinces, accounting for 12 percent of the country's area and nearly 20 percent of its population.
The region is rich in biodiversity. It comprises a vast array of ecosystems, from ocean, rivers, and streams to mangrove forests, islets, and wetlands, and a number of national parks and nature reserves, such as Mui Ca Mau and U Minh Ha National Parks in Ca Mau province, U Minh Thuong and Phu Quoc National Parks in Kien Giang, Tram Chim National Park in Dong Thap, the Lang Sen Wetland Reserve in Long An, and the Lung Ngoc Hoang Nature Reserve in Hau Giang.
Its ecosystems, however, have reduced in size and become degraded due to the adverse effect of climate change and the overexploitation of natural resources. More attention has therefore been paid to strengthening the conservation of biodiversity and reducing ecosystem degradation to improve local livelihoods and minimise the risk of natural disasters.
In Kien Giang, the provincial People's Committee has approved a project examining and surveying the current status of biodiversity in the Phu Quoc Marine Protected Area. Action is being taken to restore ecosystems that have become degraded or destroyed and to strengthen the monitoring of the environment and natural resources to promptly identify solutions for adaptive management.
The province has ramped up the planting of coastal protection forests and implemented projects on planting trees for salinity control and sea dyke protection on a total area of 85 hectares in response to climate change, said Vice Chairman of the provincial People's Committee Nguyen Thanh Nhan. Since the end of 2017, over 540 hectares of mangrove forests have been grown in the province, he noted.
On the island city of Phu Quoc, the first Saturday of each month has been observed as a day for the environment since mid-2019, when all people and organisations are called on to act for a greener, cleaner, and safer "Pearl Island". Together with Patong in Thailand and Donsol in the Philippines, Phu Quoc Island has made a commitment to eliminating plastic pollution by developing an action plan and trialling innovative solutions as part of the World Wildlife Fund (WWF)'s Plastic Smart Cities initiative.
Many endangered and native animals, for instance Burmese pythons and pangolins, have been released into Ca Mau's U Minh Ha National Park – a Ramsar site in Vietnam – by authorities, to protect its biodiversity, according to the park's Director Huynh Minh Nguyen.
Conserving biodiversity and endangered natural resources not only help sustain local livelihoods but also remain key in boosting tourism in the Mekong Delta./.
Vietnam logs 94 COVID-19 cases during June 5 morning
An additional 94 cases of COVID-19 were reported over the past six hours to 12pm June 5, raising the national tally to 8,458, according to the Health Ministry.
Of the number, three are imported cases, while among 91 locally-infected cases, 65 are in Bac Giang, 15 in Ho Chi Minh City, 8 in Bac Ninh, two in Ha Tinh and one in Tien Giang.
The number of cases recorded in the latest wave of outbreaks since April 27 rose to 5,340.
A total 3,242 patients have been given the all-clear, while the death toll rose to 51, most of whom suffering from serious underlying illnesses.
Among active patients, 213 have tested negative for the coronavirus once, 82 twice and 78 thrice.
Over 176,870 people who had close contact with COVID-19 patients or arrived from pandemic-hit areas are being quarantined across the country.
An additional 60,701 people received COVID-19 vaccine shots on June 4 while 32.401 people have received two shots. The total number of COVID-19 vaccine doses administered so far rose to more than 1.21 million./.
Vietnam reports another COVID-19-related death
The Sub-committee for Treatment under the National Steering Committee for COVID-19 Prevention and Control has announced another death related to COVID-19, the 51st fatality from the disease in the country to date.
The 63-year-old male patient from the northern province of Hai Duong tested positive for the coronavirus SARS-CoV-2 on May 7. He was treated for infection and pneumonia but showed poor response.
He was diagnosised with ankylosing spondylitis and kyphosis for more than ten years, and had a fever lasting for two months before being admitted to the provincial General Hospital of Hai Duong on April 28.
The patient passed away on June 4 early morning with a diagnosis of septic shock and ARDS pneumonia caused by SARS-CoV-2 on the background of ankylosing spondylitis and kyphosis./.
Health Ministry negotiates to buy COVID-19 vaccine from Johnson & Johnson
Health Minister Nguyen Thanh Long held an online working session with representatives of Johnson & Johnson pharmaceutical company on the morning of June 4 to discuss the import of COVID-19 vaccine from the firm into Vietnam.
Minister Long shared that the country is keen on gaining access to vaccines as soon as possible in order to serve the needs of the people. He therefore expressed hope that Johnson & Johnson would arrange to supply COVID-19 vaccine doses and co-operate in outsourcing and technology transfer to establish a local vaccine factory in the near future.
Currently, several major Vietnamese groups aspire to engage in the global vaccine supply chain, Minister Long emphasised, adding that the nation is also one of more than 40 countries that can produce vaccines to serve its own domestic vaccination needs. As a result of this, the vaccine production experience of Vietnamese factories is guaranteed.
"Vietnam's National Regulatory Authority (NRA) for vaccines has also been certified by the World Health Organization (WHO) after meeting its standards. Therefore, Vietnam highly wants Johnson & Johnson to transfer its technology to help the nation produce vaccines domestically," Minister Long said.
In terms of Johnson & Johnson's ability to supply COVID-19 vaccines, the company's representative stated that it has joined the COVAX mechanism with a commitment to supply 200 million doses by the end of 2021.
Moving forward, they are fully committed to redoubling efforts to speed up the supply of vaccines through the COVAX mechanism, thereby ensuring that the country is able to access Johnson & Johnson's vaccine as soon as possible.
The company's representative also said that it plans to apply for a license for a COVID-19 vaccine in Vietnam. Simultaneously, the company will study the possibility of transferring vaccine production technology to the nation.
Recently the country has been in the process of urgently licensing three COVID-19 vaccines, including those from AstraZeneca, Sputnik V, and Sinopharm.
The Vietnamese COVID-19 vaccine campaign initially started on March 8 using AstraZeneca's vaccine. To date, more than 1.1 million doses have been administered, with more than 30,000 people receiving two shots of the vaccine.
AI app helps push mask wearing on public transport
An artificial intelligence (AI) app that issues warnings when facemasks are not being worn has been introduced on public transport to raise awareness of seriously observing the Ministry of Health's "5K message".
The computer vision app, which was developed by the Binh Anh Electronic Technology Development Co. (BA GPS), warns passengers not wearing masks or improperly wearing them.
The app is connected to surveillance cameras on public transport vehicles and can access image data and then automatically analyse it and send appropriate notifications to the server of the transport company if it detects someone not wearing a mask or wearing one incorrectly.
Chairman of BA GPS Dao Thanh Anh said AI technology not only brings about many benefits to public transport owners but also helps improve safety for passengers.
Other apps developed by BA GPS are to be piloted on public transport soon, he added./.
Vietnamese community in Czech Republic supports COVID-19 fight at home
The Vietnamese Embassy in the Czech Republic and the Vietnamese community in the European country on June 3 held a fund-raising event to support COVID-19 prevention and control efforts at home, especially the COVID-19 vaccine fund.
Addressing the event, Ambassador Thai Xuan Dung said that the event aims to contribute to realising Vietnam's goal of buying 150 million doses of COVID-19 vaccines, thus helping control the pandemic and maintain socio-economic development in the country.
He called on the Vietnamese community in the Czech Republic to promote solidarity to join hands with fellow Vietnamese at home to respond to the call of the Party, State and Vietnam Fatherland Front to contribute to the pandemic prevention and control efforts.
The same day, leaders of the Vietnamese Federation in Europe and the Vietnamese Association in the Czech Republic also met to discuss ways to make donations to the Vietnam COVID-19 vaccine fund.
Hoang Dinh Thang, Chairman of the Vietnamese Federation in Europe, underlined the significance of the fund, pledging to encourage Vietnamese people in Europe and the Czech Republic in particular to contribute to the fund.
Meanwhile, Nguyen Duy Nhien, Chairman of the Vietnamese Association in the Czech Republic, said that the association will set up a committee in charge of raising donations to the vaccine fund among Vietnamese associations and individuals as well as foreign friends./.
High demand for home workout equipment amid pandemic
The closure of gyms during Covid-19 has led to burgeoning sales of home fitness equipment. With more people now choosing to work out at home, shops are finding it hard to keep up with demand.
Handy and portable equipment such as yoga mats, dumbbells and kettlebells, skipping ropes, and treadmills are most popular. More orders have been made compared to the time prior the resurgence of Covid-19.
Regular exercise accompanied by a healthy and balanced diet are essential in maintaining physical and mental health and well-being, especially in the Covid-19 time./.
Vietnam Buddhist Sangha supports COVID-19 fight in hotspots
Most Venerable Thich Duc Thien, Vice President and General Secretary of the Vietnam Buddhist Sangha's Executive Council, on June 3 presented close to 2 billion VND (86,602 USD) worth of cash and necessities in aid to the northern provinces of Bac Ninh and Bac Giang which are hard hit by the latest resurgence of COVID-19 outbreaks.
Accordingly, via the local Vietnam Fatherland Front Committees, each province will receive 500 million VND, 20 tonnes of rice, and 2.5 tonnes of sugar to provide for workers and residents affected by the pandemic.
Bac Ninh and Bac Giang, home to a large number of industrial parks, have borne the brunt of the fourth wave of COVID-19 outbreaks, which began in late April.
On June 3, the Health Ministry announced 79 domestic infections and 12 imported cases of COVID-19 that were detected during six hours to 6pm. Among the locally-transmitted cases, 58 are in Bac Giang, 10 in Bac Ninh, and 11 in Ho Chi Minh City./.
Text-to-donate campaign seeks support for COVID-19 fight
A text message campaign for making donations to the fight against COVID-19 and the "vaccines for workers" programme were launched in Hanoi on June 3 as Vietnam exerts every effort to contain its latest outbreak.
The launch, held by the Vietnam Fatherland Front (VFF) Central Committee, the Vietnam General Confederation of Labour, and the Ministry of Information and Communications, saw the presence of Chairman of the National Assembly (NA) Vuong Dinh Hue.
All donations via text messages sent to the National Humanitarian Portal on 1400 will be transferred to the COVID-19 vaccine fund and used to assist anti-COVID-19 activities, with priority given to the procurement of vaccines for workers and the disadvantaged.
Addressing the event, NA Chairman Hue asked VFF member organisations to increase communications to help people from all social strata understand the purpose of the text campaign.
President of the Vietnam General Confederation of Labour Nguyen Dinh Khang also appealed to organisations, individuals, agencies, and enterprises to continue giving material and spiritual support to the COVID-19 fight.
At the launch, Hanoi trade unions presented initial donations of 12 billion VND (nearly 522,000 USD) to the COVID-19 vaccine fund. Other trade unions at ministries and agencies contributed nearly 146 billion VND to the "vaccines for workers" programme.
Photo book on Ho Chi Minh's journey for nation salvation debuts
A photo book on late President Ho Chi Minh's journey to seek ways for national salvation has been launched to mark the 110th year of his departure (June 5, 1911 – 2021).
Published in four languages – Vietnamese, English, Russian, and Chinese, the 252-page book features hundreds of valuable documentary photos, documents, and autographs relating to the President's activities during 1911 – 1945.
Compiled by the Information and Communication Publishing House in coordination with the Ho Chi Minh relic site at the Presidential Palace, the book aims to give insight into his works and contributions to the nation's revolutionary cause.
On June 1, the Tre (Youth) Publishing House also published a map on the President's 30-year journey.
In early May, a new book about President Ho Chi Minh compiled by Assoc. Prof. Dr Bui Dinh Phong, a lecturer at the Ho Chi Minh National Academy of Politics, came to the public, highlighting President Ho Chi Minh's revolutionary career, the close-knit relationship between his aspiration and content of documents adopted in the 13th National Congress of the Communist Party of Vietnam.
President Ho Chi Minh has become a great source of inspiration for not only Vietnamese authors and artists, but also their foreign counterparts./.
Platform on Asia-Pacific intangible cultural heritage launched
An information sharing platform on intangible cultural heritages (ICH) of Asia-Pacific nations, including Vietnam, has recently been launched.
The ichLinks platform, at (https://www.ichlinks.com), is an initiative of the International Information and Networking Centre for Intangible Cultural Heritage in the Asia-Pacific Region under the auspices of UNESCO (ICHCAP).
It gathers the participation of seven member states – Kazakhstan, Uzbekistan, Mongolia, Malaysia, Vietnam, India and Fiji.
In June, the Ministry of Culture, Sport and Tourism appointed the Vietnam Institute of Culture and Arts Studies (VICAS) as the Vietnamese member partner of the platform.
The platform helps ICH researchers and experts easily find and locate information and data by using advanced technological tools.
In addition, the content of the website can be freely used by everyone to serve the purpose of promoting intangible cultural heritage globally./.
Six-month-old boy recovers from COVID-19 in Vietnam
A six-month-old baby who had been infected with the novel coronavirus (COVID-19) was discharged from the Lung Hospital in Da Nang on June 3.
The baby's aunt, who had previously tested positive for COVID-19, was with him throughout his treatment. She said the baby did not show any symptoms of COVID-19 such as a fever or cough.
The discharged patients are now required to self-isolate at home for two weeks and will be placed under the supervision of local medical officials.
Da Nang, the country's largest COVID-19 hotspot last year, has recorded 158 new cases since the virus recurred in Vietnam in late April. It has so far gone 15 consecutive days without any locally-transmitted cases.
SARS-CoV-2 virus spreads through droplets, air, says health official
Deputy Minister of Health Truong Quoc Cuong on June 3 advised people to wear a face mask in public places to prevent them from getting infected with the SARS-CoV-2 virus as its variants are said to spread through both droplets and the air.
Vietnam is battling the fourth COVID-19 wave, with the virus spreading to 38 cities and provinces nationwide. Close to 5,000 cases, including 13 deaths, have been confirmed since the virus recurred in late April.
Most notably, results of genome sequencing show variants B.1.1.7 and B.617.2 first identified in the United Kingdom and India respectively have been found in various localities. Both mutated strains are believed to be highly transmissible than their predecessors.
Regarding vaccine imports and vaccinations in Vietnam, Cuong said the government has encouraged eligible localities and businesses to import vaccines to inoculate their residents and employees. He also said that as the vaccines are imported for emergency use, their negative side-effects are closely being monitored by authorized agencies.
"We have to accept the vaccines that have been approved by manufacturing countries. The solution is ….to purchase them directly, not through intermediaries, for safety reasons," said the health official.
On vaccination progress, Cuong noted the Ministry of Health has been tasked with securing at least 150 million doses of COVID-19 vaccines to immunize 70% of Vietnamese population, and the target is likely to be achievable.
In fact, Vietnam has reached agreements with AstraZeneca, COVAX Facility, Pfizer/BioNTech and Sputnik V to get more than 130 million doses. The Ministry of Health is seeking deals with other COVID-19 vaccine manufacturers such as Moderna and Johnson&Johnson to diversify sources of supply for domestic use.
Mekong Delta provinces make efforts to preserve ecosystems
Local authorities and environmental organisations in the Mekong Delta are making efforts to preserve and develop ecosystems vulnerable to the impacts of climate change.
Located in southern Việt Nam, the Mekong Delta has a diverse and unique ecosystem including marine ecosystems, islands, estuaries, wetlands, mangroves, delta islands, along with many biosphere reserves, national parks and nature reserves.
The preservation, development and responsible exploitation of resources from unique ecosystems are vitally important for localities in the region, contributing to environmental protection and climate change adaptation.
According to the People's Committee of Kiên Giang Province, to enhance the conservation of marine and island ecosystems, the committee has launched a project to investigate and survey the status of biodiversity and adjust the area of ​​subdivisions in the protected area in Phú Quốc marine reserve, Phú Quốc City.
The Phú Quốc Marine Protected Area in Phú Quốc National Park has a water area of ​​​​more than 40,909ha, including coral protection area and seagrass protection area.
The province plans to restore corals and important groups of resources in ecosystems like abalone, sand sea cucumbers, snails, seahorses and encourage environmentally-friendly natural farming methods.
Nguyễn Thanh Nhàn, vice chairman of Kiên Giang Province People's Committee, said in response to climate change, the province has planted coastal protection forests, run a project to create reclamation sites to plant trees to prevent salinity, and protected sea dykes in An Thái Commune, Nam Biên District and from Bình Giang to Bình Sơn, Hòn Đất District with a total newly planted area of 85ha.
Since the end of 2017, the province has planted more than 540ha of mangrove forests.
Also located in the Mekong Delta, Cà Mau Province is home to a world Ramsar Site, meaning it has been designated to be of international importance.
The U Minh Hạ National Park located in the Ramsar Site, one of the three wetland conservation sites in the Mekong Delta, has a total core area of ​​8,527ha and a buffer zone of 25,000ha.
Many projects have been implemented at the park including planting and restoring native timber forests, building fire forecasting models and ensuring water balance to protect biodiversity.
Huỳnh Minh Nguyên, director of U Minh Hạ National Park, said to preserve forest ecosystems and biodiversity with many species of flora and fauna, the park management board has received and released into the forest area many rare and native animals of U Minh Hạ Forest, such as the golden python – a wild animal named in Việt Nam and the world's Red Book and belonging to endangered, precious and rare species.
Phạm Duy Khanh, director of Mười Ngọt Eco-tourism Site in the buffer zone of U Minh Hạ Park, said to develop eco-tourism on forest land, he regularly reminds staff to keep the environment clean, grow trees and comply with forest fire prevention and control measures.
The site holds an exploration tour in which visitors can make bees' nests and harvest honey. Tour guides always have to follow forest protection rules to avoid forest fires and harm to the living environment of animals, he said.
On Phú Quốc Island, a beach cleanup campaign on the first Saturday of every month has run since mid-2019 and has been joined by not only local residents but also tourists.
Hotels and resort owners in Phú Quốc have also helped protect the environment and preserve the marine ecosystem by reducing the use of plastic bottles and straws, as well as giving eco-friendly shopping bags to tourists.
HCM City unveils 2nd COVID financial relief package
HCM City is set to offer a second financial relief package for businesses and workers affected by the COVID-19 pandemic, according to its Department of Labour, Invalids and Social Affairs.
Tourism, transport and small and medium-sized businesses, teachers, laid-off workers, and informal sector workers will be beneficiaries of payments that will be made between this month and December.
Lê Minh Tấn, director of the department, said it was working with authorities in city's 21 districts and Thủ Đức City to compile a list of affected businesses and laid-off and informal sector workers who are eligible to receive the payments.
The department proposes to pay workers who were laid off for at least a month due to the pandemic monthly relief payments of VNĐ1.8 million (US$78), Tấn said.
The department allocated VNĐ611 billion (US$26.5 million) and VNĐ181 billion ($7.85 million) for businesses and informal sector workers in the first relief package last year.
More than 20,500 lottery ticket sellers received more than VNĐ20 billion ($869.400).
Free food, essential goods
More than 600 workers placed under quarantine at the VINA Kitchen Ware JSC at the Tân Bình Industrial Park in HCM City on June 1 received essential goods and food for free from the Trade Union of the industrial parks and export processing zones.
They are quarantined after coming into close contact with COVID-19 patients.
Huỳnh Văn Tuấn, chairman of the Trade Union, said the workers got minimum wages and other support in quarantine.
Infected workers would get financial assistance of up to VNĐ3 million ($130.000) and others would get VNĐ1.5 million ($65), he said.
A free rice dispensing machine for poor people and those out of work has been installed at a kindergarten in District 12's Thạnh Lộc Ward, which is under lockdown.
Disadvantaged people could get free rice and essential goods from a store set up next to the machine, Nguyễn Đức Vinh, secretary of the Thạnh Lộc Ward Youth Union, said.
Some three to four tonnes of vegetables transported from Lâm Đồng Province are delivered to people quarantined in the Thạnh Lộc Ward every three or four days.
Cost to advertise during World Cup qualifier broadcasts soars
The cost to advertise during the broadcast of Việt Nam's upcoming World Cup qualifying fixtures has soared, with Vietnam Television (VTV) charging prices normally only seen during the tournament proper.
A 30-second advert during the three matches will cost firms up to VNĐ600 million (US$26,000), according to zingnews.vn.
TVAd, TV Advertising and the Service Centre of VTV is offering a price of VNĐ240 million ($10,430) for a 10-second advertisement, depending on the broadcast time.
This is a very high increase compared to the average of VNĐ100 million for 10 seconds in the past.
VTV's previous record bid threshold for the 2018 World Cup finals was VNĐ 250 million for 10 seconds, VNĐ 300 million for 15 seconds and VNĐ 500 million for 30 seconds.
Advertising prices also soared for Việt Nam's matches during the AFF Cup 2018 and SEA Games 2019.
According to Vietnamese national team media copyright owner Next Media, the last three matches in the second qualifying round will be broadcast live on VTV5 and VTV6.
The national team is leading Group G with 11 points after five matches and has the opportunity to make it to the final qualifying round for the first time in history.
The remaining matches in Group G will see Việt Nam face Indonesia, Malaysia and the UAE – the hosts of the group.
The match against the bottom team Indonesia on June 7 is considered a must-win.
After Indonesia, VIệt Nam will face Malaysia on June 11 and the UAE on June 15.
All the matches will take place at 11.45pm Việt Nam time.
Solutions sought to promote sustainable development of Lý Sơn Island
Experts have called for measures to ensure the sustainable development of Lý Sơn Island in the central province of Quảng Ngãi.
Speaking at a conference about the island, Trần Hữu Vỹ, Director of the GreenViet Biodiversity Conservation Centre, said Lý Sơn has beautiful natural landscapes thanks to the perfect combination of mountain and sea.
The island has strong potential in sea-based economic development, said Vỹ, stressing the need for the island to grow in the direction of sustainability with ensured livelihoods for local residents, preserved cultural identity, suitable use of natural resources and the environment protected.
Mentioning the promotion of marine biodiversity on the island, Dr Nguyễn Văn Long from the Institute of Oceanography under the Vietnam Academy of Science and Technology said that in recent years, the strong and unplanned growth of a number of economic sectors has harmed the ecological balance, natural landscape and the living environment of many aquatic species.
Over-exploitation of coral sand and aquatic farming activities, along with plastic pollution, are part of the problem, he said, adding that waterway traffic works and the formation of fishing vessel wharves have also caused difficulties in handling maritime violations.
He stressed the need to strengthen communications to raise public awareness of environmental protection, while seeking ways to improve locals' livelihoods, increasing patrols to handle maritime violations and promoting financial solutions.
Meanwhile, Bùi Thị Thu Hiền from the International Union for Conservation of Nature (IUCN) in Việt Nam said in the near future, the engagement of businesses in operating small-scaled natural reserves can be key to protecting the ecosystems of forests, coral reefs, seagrass, and mangrove forests.
At the event, the business circle, scientists and managers discussed issues related to ensuring a balance between economic development and natural preservation, as well as support for enterprises in investing in the field as well as ensuring the legal responsibility of State agencies and businesses.
Experts also gave recommendations for the sustainable development of Lý Sơn Island, including enhancing the efficiency of management and use of software in biodiversity and natural resources preservation, the adjustments of planning, as well as the establishment and operation of aquatic varieties preservation areas, the combination of conservation and eco-tourism, and the development of environmentally-friendly recovery models.
Lý Sơn Island, known as the Kingdom of Garlic in Việt Nam, has about 21,000 inhabitants, of whom 73 per cent make their living from farming garlic and spring onions, alongside fishing.
In 2018, the central province of Quảng Ngãi allocated VNĐ42 billion (US$1.8 million) to support ecosystem recovery and biodiversity supervision as well as strengthening the protection of the Lý Sơn Marine Protected Area (MPA) for 2018-22.
Viet Nam, South Korea seek to promote trade, industry partnership
Minister of Industry and Trade Nguyen Hong Dien held a working session with Ambassador of South Korea to Viet Nam Park Noh-wan in Ha Noi on Wednesday to discuss measures to further facilitate cooperation between the two countries in trade, industry, and energy.
Both sides agreed that they boast major potential to further expand their economic and trade ties to match their sound political relations.
Sharing similarities in consumer interests, having a complementary goods structure, and being members of many joint free trade agreements, Viet Nam and South Korea have seen increasingly tight links in the global value chain, they noted.
Believing that COVID-19 is likely to remain a complex issue and create difficulties in bilateral economic and trade ties, Dien and the ambassador sought measures to promote trade, industrial, and energy cooperation between the two sides in the future.
They agreed to continue working closely together and to optimise the efficiency of existing bilateral cooperation mechanisms to reach specific goals, including in COVID-19 prevention and control, while implementing action plans to realise the target of US$100 billion in two-way trade by 2023.
Both sides will strengthen links in the Viet Nam-South Korea supply chain while fostering cooperation in energy, strengthening the operations of the Viet Nam-South Korea Centre for Consultation and Technology Solutions, and organising regular dialogues between the Ministry of Industry and Trade and Korean enterprises.
Dien shared the difficulties facing Korea-funded projects amid COVID-19, including those related to the entry of experts and high-quality human resources into Viet Nam, especially in projects in Bac Giang, Bac Ninh, Vinh Phuc and Thai Nguyen provinces.
He underlined that these difficulties are only temporary and that the localities will promptly bring COVID-19 under control.
He asked for support from Korean enterprises for Viet Nam's measures in COVID-19 prevention and control, to avoid the spread of the virus in the community.
In order to ensure safe and continued production at foreign firms and those from South Korea, Dien asked the ambassador as well as the Samsung Group and the SK Group, which have signed agreements on COVID-19 vaccine production in South Korea with the Moderna and Novanax Groups, to assist Viet Nam in accessing vaccine sources so the country can reach its goal of conducting large-scale vaccinations, especially among workers at companies in industrial parks, including those from South Korea.
Ambassador Park Noh-wan and representatives from Korean firms affirmed that they will try to provide Viet Nam with better access to COVID-19 vaccines, helping the country implement its "dual targets" of protecting people's health and speeding up socio-economic development and recovery in the "new normal".
According to figures from the Asian-African Market Department, in the first four months of 2021, two-way trade hit $23.7 billion, up 15 per cent year-on-year, with Viet Nam's exports of $7.1 billion being a year-on-year increase of 14.3 per cent. Viet Nam posted a trade deficit of about $9.5 billion with South Korea in the period, up 9.3 per cent over the same period last year.
South Korea is Viet Nam's largest foreign investor, with 9,076 projects and capital of nearly $72 billion as of May 20, 2021.
Vietnam maintains top position in World Cup qualifying group
The Vietnamese national men's football team remained top of Group G in the Asian region's second qualifying round for the 2022 FIFA World Cup following two group matches being played in the United Arab Emirates (UAE) on June 4.
Thailand recorded a 2-2 draw against Indonesia and can consider themselves unlucky not to come away with a win after dominating large spells of the game and going two goals ahead.
However, the Indonesian players showed great heart and skill to come back and manage to level the game in the 90th minute.
Elsewhere, hosts the UAE demonstrated their excellence by trouncing Malaysia 4-0.
This win helped the UAE climb to nine points, level with Thailand and Malaysia, and are in second place in the group as they have a higher goal differences compared to their rivals.
Vietnam are currently top of the group with 11 points, followed by the UAE on nine points.
Thailand, Malaysia, and Indonesia are in third, fourth, and fifth place in Group G.
The national squad are scheduled to take on Indonesia on June 7, Malaysia on June 11, followed by the UAE on June 15.
ADC believe Vietnamese precision steel pipes were not dumped in Australian market
All Vietnamese exporters of precision steel tubes have not been dumped in the Australian market and have received no subsidies or significant subsidies from the Government, according to the details given by the Trade Remedies Authority of Vietnam.
This information comes as the Australian Anti-Dumping Commission (ADC) launched a preliminary antidumping investigation into precision steel pipes and tubes from China and the Republic of Korea (RoK), Taiwan (China), and Vietnam on June 1.
As part of their conclusions in the investigation, the ADC said it was not satisfied as there appears to be sufficient grounds for the publication of a dumping duty notice in relation to goods exported from Taiwan (China), or a dumping duty notice and a countervailing duty notice in respect of goods exported from the Vietnamese market.
The conclusion also stated that ADC is also unaware of any intervention by the Vietnamese Government in terms of affecting the normal value of the product.
With regard to allegations of dumping and subsidies, all Vietnamese enterprises were concluded to have a negative dumping margin and did not receive subsidies or significant subsidies from the Government. Most notably, the dumping margin determined for Vietnamese enterprises is from -12.2% to -6.5%, while the subsidy margin is from 0% to 0.01%.
ADC therefore revealed that goods originating from both Vietnam and Taiwan (China) did not cause significant damage to the domestic industry in comparison to those from China and the RoK.
The preliminary anti-dumping tax rate of 6.2% will therefore be applied to manufacturers and exporters from the RoK, while Chinese manufacturers will be subject to anti-dumping duties of between 11.9% and 54.5%.
The Ministry of Industry and Trade moved to affirm that the ADC's preliminary conclusions have proven the effectiveness of co-ordination among the Government, enterprises, and foreign investigation agencies with regard to trade defence lawsuits.
According to statistics compiled by the General Department of Vietnam Customs, the export turnover of Vietnamese precision steel pipes to Australia in 2019 reached more than US$15 million.
HCM City authorities call for blood donations
HCM City is facing blood shortages after social distancing rules were applied.
According to HCM City People's Committee, after social distancing rules were applied, various blood donation programmes have been cancelled or postponed. As a result, the donated blood dropped significantly. As of May 27, there are only 5,000 blood bags left, the lowest in the past nine months.
As the ongoing Covid-19 pandemic has continued, there is currently only enough blood supply to cover five days. 130 hospitals in the city need 600-900 blood bags each day.
On June 3, Vice Chairman of HCM City People's Committee Duong Anh Duc sent an official document about the problem and called for localities authorities and firms to continue blood donation programmes.
The blood donation events can be held in short sessions and the number of donors for each session can be limited to 20-30. People are encouraged to donate blood at the Hospital of Haematology in District 5 and Blood Transfusion and the Humanitarian Blood Donation Centre in Tan Binh District.
HCM City residents encouraged to stay at home
HCM City has encouraged residents including state employees to work from home amid the continuing spread of coronavirus.
Chairman of HCM City People's Committee Nguyen Thanh Phong signed an urgent document sent to various state agencies on June 3.
State agencies were asked to work from home as much as possible and only maintain half of the usual employees at offices. State employees were encouraged to use technology more in their work and always keep their phones on.
For special units, the leaders must report to the Department of Internal Affairs and HCM City People's Committee for review. The leaders will take all responsibility if they let an outbreak occurs inside their units. Unnecessary inspections will be halted.
State employees at Covid-19 hotspots must stay home and must be tested negative before they go to the offices.
The outbreak in HCM City is still developing. The city has reported 265 cases linked to the outbreak at the Revival Ekklesia Mission from May 26 until now. The B.1.617.2 variant has been found in seven members of the sect. 40 out of 55 members who went to the meeting have tested positive.
A series of cases have been found afterwards. 50 employees of Thien Tu FN Company and 23 employees of IDS Company were tested positive for the virus and infected their families. One nursery teacher in District 12 was identified as a patient 0 and infected many people at school and other families.
Patients linked to the case have also been found in Bac Lieu, Long An, and Dong Thap provinces.
The city took 4,241 test samples from May 26 to June 2 from people who were in close contact with patient 0s. The results for 4,024 samples have come back negative.
Two quarantine centres were opened for 6,600 people to deal with the outbreak. However, due to the situation, the city authorities are planning to open more quarantine centres. Nine quarantine centres at military bases and one at the dormitory of the Vietnam National University, HCM City are ready to receive up to 30,000 people.
Source: VNA/VNS/VOV/VIR/SGT/Nhan Dan/Hanoitimes
VIETNAM NEWS HEADLINES JUNE 5 have 6138 words, post on vietnamnet.vn at June 5, 2021. This is cached page on Talk Vietnam. If you want remove this page, please contact us.