HSX trading congestion to be addressed in July
Investors are looking forward to the Ho Chi Minh City Stock Exchange (HSX) adopting new infrastructure in July to resolve congestions and lagging.
"The Ministry of Finance (MoF) is implementing drastic solutions to thoroughly handle the technical outages on HSX. The MoF, the State Securities Commission, HSX, and related units have been making great efforts to address this problem," emphasised the minister.
The prolonged technical issues and overload have been cause for widespread concern over the past few months and have prompted relevant authorities to implement many urgent solutions such as increasing the board lot size from 10 to 100, stopping the trading of newly-listed shares on HSX, technical improvements from FPT. The latest solution will be the forthcoming adoption of technical infrastructure from the Korea Exchange (KRX).
Restrictions to preserve system stability have not gone down altogether too well among investors, who have been criticising securities companies for restricting them from editing and cancelling orders on HSX since June 2.
The implementation of KRX infrastructure will take place between June 14 and August 6, with the official launch expected in the third or fourth quarter of this year.
In the latest initiative, the MoF signed Decision No.81/QD-TTr on June 10 on administrative inspection at the HSX over the bourse's trading congestion.
"Based on the current situation of the COVID-19 outbreak in Ho Chi Minh City, the inspection team will draw up a specific work plan in line with regulations on COVID-19 prevention and control," the MoF said in an official announcement.
Vietnam emerges as one of new PPE suppliers globally: IFC
Vietnam has emerged as one of the new personal protective equipment (PPE) suppliers globally and its PPE manufacturing capacity surged six-fold last year, according to the International Finance Corporation (IFC), a member of the World Bank Group.
This ramped-up supply was initially driven by textile manufacturers shifting production in response to the health emergency during the Covid-19 pandemic and to mitigate losses caused by canceled orders for garments.
"Some textile manufacturers who started producing PPE products as an immediate response to the pandemic, are now considering the medium to longer-term business opportunity in this area," said Vu Duc Giang, chairman of the Vietnam Textile and Apparel Association.
"However, local manufacturers have struggled with insufficient input materials, technical skills and sector knowledge and the disparity between local and international standards to access the global market," he added.
In response, as part of the global PPE advisory program supported by the UK Government, IFC is working with local garment manufacturers through the Vietnam Textile and Apparel Association and national labs through the Directorate for Standards, Metrology and Quality of Vietnam, IFC announced on June 9.
The aim is to improve PPE producers' operations and reduce costs by removing unnecessary burdens related to PPE standards and conformity assessments.
"The Covid-19 pandemic has tested the resilience of supply chains to the limit, especially in terms of medical supplies, including PPE. The UK believes that the diversification of PPE manufacturing will make the global supply chain more adaptable and prevent future disruption," said Gareth Ward, British Ambassador to Vietnam.
"I am very pleased that Vietnam has been chosen as a priority country for this UK government-funded program. Vietnamese companies have a lot of potential to succeed globally with a skilled labor force," he added.
Over the next 18 months, the program will support select manufacturers to scale quality PPE production, access the reliable supply of materials and equipment and achieve PPE international standards and certification to expand exports.
According to Kyle Kelhofer, IFC country manager for Vietnam, Cambodia, and Laos, access to cost-effective and quality PPE products is vital to the national Covid-19 response, helping to contain and manage the spread of the coronavirus.
"Promoting the production of PPE products in compliance with international standards not only helps increase Vietnam's resilience to the pandemic, but also presents a business case as the PPE global supply chain is diversifying with opportunities for new manufacturers from emerging markets including Vietnam," he said.
CAAV asks Transport Ministry for consultancy over cargo airline project
The Civil Aviation Authority of Vietnam (CAAV) has written to the Ministry of Transport asking for consultancy over IPP Air Cargo JSC's proposal to establish an airline specializing in cargo transport.
CAAV said that in accordance with the Investment Law, the IPP Air Cargo airline project is not included in the list of projects whose investment plans need to be approved by relevant agencies.
Besides, according to the Government's Decree No. 89, IPP Air Cargo has to complete procedures for the issuance of a business certificate on air cargo transport.
In 2020, the prime minister agreed with the Ministry of Transport's proposal that the establishment of new airlines will only be considered after 2022, when the aviation market recovers.
Therefore, to respond to IPP Air Cargo's proposal, CAAV needs the Ministry of Transport's directive on instructing IPP Air Cargo to prepare the necessary documents to request a business certificate on air cargo transport.
IPP Air Cargo JSC, whose chairman is well-known businessman Johnathan Hanh Nguyen, is an arm of Imex Pan Pacific—a retailer that makes up nearly 70% of Vietnam's luxury items market and a large shareholder of Southern Airports Services JSC and the Cam Ranh International Terminal Company.
IPP Air Cargo airline has a total investment of VND2.4 trillion, including 30% of IPP Air Cargo JSC's equity and 70% mobilized. The airline will operate both in Vietnam and abroad.
IPP Air Cargo expects to transport some 115,000 tons of cargo and generate revenue of US$71 million in the first year of operation.
According to the plan, IPP Air Cargo will operate five planes in the first year of operation, seven plans in the second year and 10 planes in the third year. It hopes to earn profits from the fourth year.
Vietnam has yet to have a cargo transport airline. Meanwhile, more than 80% of Vietnam's imports and exports transported by air are done by foreign airlines.
In 2008, Trai Thien Air Cargo was granted a certificate to operate air cargo transport. However, the airline was nonoperational after that and the certificate was retrieved in 2011.
Since the Covid-19 outbreak, many Vietnamese air carriers have used aircraft transporting passengers to transport cargo to earn more revenue.
In 2020, Vietnam Airlines used 12 Boeing 787 and Airbus A350 planes to transport cargo. The national flag carrier transported 196,000 tons of cargo last year, surging 54.3% compared with 2019.
Low-cost carrier Vietjet transported 60,000 tons of cargo in 2020 and its revenue from air cargo transport soared 75% year-on-year.
2021 economic outlook remains positive despite COVID-19 resurgence
Despite the complexity of the fourth COVID-19 wave, Vietnam's GDP growth is forecast to exceed 6.5 percent this year on the back of surging industrial production and global economic recovery, according to Assoc. Prof. and PhD Dinh Trong Thinh, a senior economist from the Academy of Finance.
Given the economy is growing well in the first half of 2021, it is likely to expand over 7 percent in the remaining months, setting the scene for the country to achieve an overall GDP growth of at least 6.5 percent this year, Thinh told the Lao Dong (Labour) newspaper.
The coronavirus is gradually brought under control, he said, plus domestic production has been experiencing positive growth, with manufacturing and processing picking up at a current rate of 10 percent. The sector may rise by 17 – 18 percent during the final months of 2021, he added.
Data shows that industrial production index in the first five months of the year advanced 9.9 percent year-on-year, with manufacturing and processing up 12.6 percent. Total retail sales of goods and services hiked 7.6 percent year-on-year.
Thinh went on to say that the US, Chinese and EU economies are bouncing back, and increases in global credit demand will provide a good opportunity for Vietnam's exports. The US's economic growth remains positive at present and Vietnam's shipments to the US is growing strong, he added.
A recent report by RongViet Securities Corporation (VDSC) forecast that the country's GDP will grow by 7.2 percent in the second quarter of 2021 and 6.5 percent for the year as a whole.
Asian Development Bank (ADB) Country Director for Vietnam Andrew Jeffries said Vietnam is capable of achieving the twin goals of curbing the pandemic and sustaining economic growth this year. The country's success in containing the virus has strengthened foreign investors' confidence in its economy, he added.
It is important for Vietnam to boost growth and easy ways for small- and medium-sized enterprises (SMEs) to grow at the same time, thereby creating a solid foundation for a future private sector-led economy, Jeffries remarked.
According to the latest economic outlook report from Oxford Economics (OE), commissioned by the Institute of Chartered Accountants in England and Wales (ICAEW), despite the recent resurgence in COVID-19, Vietnam's growth outlook remains optimistic and the economy is expected to return to pre-pandemic levels by the second half of 2021.
The country's GDP is forecast to grow at 7.6 percent in 2021, among the highest rates in the region, the report said, noting that Vietnam was one of the few economies in the world to grow in 2020 due to its success in containing the pandemic.
"This early success enabled the economy to benefit from the surge in global trade activity and enjoy strong foreign direct investment flows that boosted export-oriented and manufacturing industries," according to the report.
It said together with Singapore, Vietnam is expected to continue leading the region in recovery. "Despite a resurgence of COVID-19 cases in Vietnam, which has affected its manufacturing sector and export industries, its economy is predicted to rebound swiftly once restrictions are lifted," the report read.
Economist Thinh emphasized that the most important thing at present is that Vietnam must give priority to giving COVID-19 vaccine to workers and preventing the virus from spreading inside companies and industrial parks.
Accelerating COVID-19 vaccine inoculation and keeping the coronavirus at bay remain key factors to sustain growth because with the COVID-19 resurging, declining incomes and economic conditions will have long-term impact on consumers' spending behaviour and lifestyle, he said./.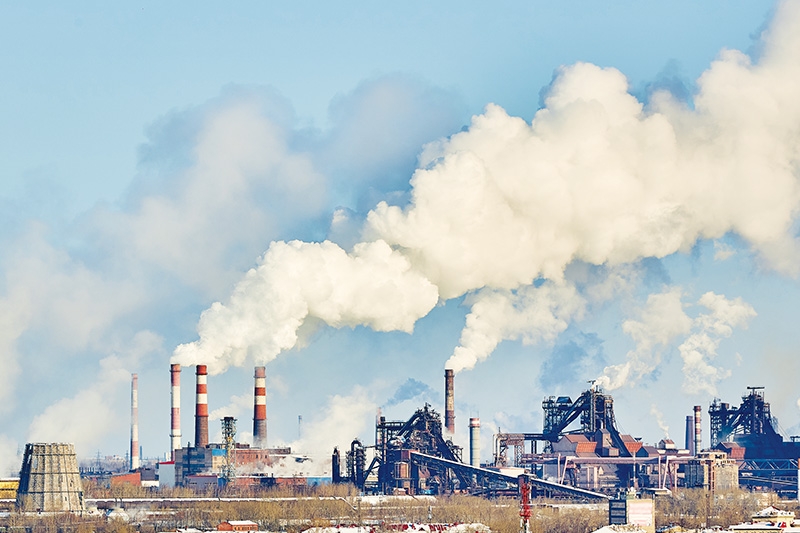 Many nations in the world currently have to cut down on their greenhouse gas emissions.
Budget collection up over 15 percent in five months
State budget collection was estimated to reach 98.6 trillion VND in May, pushing total revenue in the first five months of 2021 to 667.9 trillion VND (nearly 29 billion USD), equivalent to 49.7 percent of the yearly estimate, up 15.2 percent year on year, the Ministry of Finance has reported.
Of the amount, contributions to the central budget totalled 347 trillion VND, fulfilling 46.9 percent of the yearly target, while local budget revenue was 320.9 trillion VND, equivalent to 53.1 percent of the estimate.
Meanwhile, State budget spending was 125.8 trillion VND in May and 581.6 trillion VND in the first five months, equivalent to 34.5 percent of yearly estimate, similar to that in the same period last year, according to the ministry.
Spending on development and investment was at 102 trillion VND, representing 21.4 percent of the estimate, including 47.8 trillion VND for debt payment and 430.8 trillion VND for regular expenditure./.
Vietnam has 620 industrial aquatic processing facilities
Vietnam has 620 industrial aquatic processing facilities, according to the Directorate of Fisheries at the Ministry of Agriculture and Rural Development.
Of them, 415 have met standards for exports to Japan, the US, Europe and other markets.
In addition, there are some 3,000 small-scale establishments at traditional trade villages.
Aqua product processing has become a spearhead sector which boasts a large production volume and takes the lead in international integration, said the Directorate.
Vietnamese aqua products have made their appearance in 176 markets across the globe.
Furthermore, local processors are striving to boost domestic production and consumption as exports are hindered by the COVID-19 pandemic.
Vietnam earned 790 million USD from exporting aquatic products in May, lifting the total figure in the first five months of this year to nearly 3.3 billion USD, a year-on-year rise of 14 percent./.
Ho Chi Minh City aims to promote hi-tech use in agriculture cooperatives
Ho Chi Minh City aims to have at least 30 percent of its agriculture cooperatives apply advanced technologies in production, including bio technology, information technology, and automation.
The project is designed to with the aim of raising the proportion of high-tech agriculture production to 75-80 percent of the city's total agricultural production value by 2030. By that time, 70 percent of local households and over 80 percent of businesses in agriculture will have applied high tech cultivation and harvest techniques, mechanization and automation in farming, livestock breeding and waste processing, particularly in the production of key agricultural products, namely vegetable and fruit, pig, milch cow, shrimp and ornamental fish./.
Vietnam working to stabilise economy amid challenges from pandemic
Despite the complex developments of the COVID-19 pandemic, Vietnam's overall macro-economy remains stable, with encouraging growth seen in industries and a low rise of average consumer price index (CPI).
According to the Ministry of Planning and Investment, Vietnam's industrial production index (IIP) is estimated to have increased 9.9 percent in the first five months of this year compared to the same period of 2020. Agricultural production growth was recorded, with rice production increasing over the same period of 2020. Inflation was under control, while the average CPI in the first five months increased just 1.29 percent year-on-year, the lowest rate since 2016.
Accumulated State budget collections met 49.7 percent of the annual estimate in the period and were up 15.2 percent year-on-year. Export turnover, meanwhile, was estimated to have increased 30.7 percent compared to the same period last year.
The lending interest rate was low, creating favourable conditions for enterprises to borrow capital for production and business. The number of newly-established enterprises during January-May neared 55,800, the most for five years. FDI inflows in the period hit 14 billion USD, an annual increase of 0.8 percent.
Apart from these encouraging outcomes, the ministry also pointed out a series of challenges in the upcoming months. These include the increasing number of enterprises withdrawing from the market, unstable growth in foreign investment attraction, a pandemic-hit labour market, and difficult social welfare issues.
At a regular Government meeting in May, Minister of Planning and Investment Nguyen Chi Dung proposed a host of solutions. He said the Ministry of Health should cooperate with localities to build pandemic prevention options at industrial parks to avoid interruptions in supply chains, while studying the extension of the prioritised groups for COVID-19 vaccinations.
He projected inflationary pressure to rise over the remaining months of the year, recommending that the Ministry of Industry and Trade (MoIT) closely monitor global price fluctuations and trends in certain costly materials such as steel and cement, so that suitable forecasts can be made and solutions adopted.
Regarding foreign trade, MoIT and the Ministry of Finance were advised to research and prepare plans for adjustments to import taxes as well as for temporarily suspending or adjusting trade remedies for a number of commodities and raw materials with strong price increases, in a bid to meet market demand and promptly support businesses.
As for the disbursement of public investment capital, the Ministry of Planning and Investment proposed that ministries, branches, and localities proactively update, adjust, and announce unit prices of building materials and construction price indexes in line with market developments, to help enterprises and ensure their projects are on schedule.
Dung also forecast that the pandemic would remain complex for the time being, saying it is necessary to maintain and replicate effective agricultural production models and methods./.
Major transport projects in Mekong Delta to be prioritised: MoT
The Ministry of Transport (MoT) has suggested prioritising investment in expressway projects in the Mekong Delta over the next ten years to ensure socio-economic development and national security and defence.
This is part of the specialised master plans for road, railway, maritime, inland waterway, and aviation transport in the 2021-2030 period with a vision to 2050, which have been submitted to the Prime Minister for approval.
Priority will be given to a number of expressway projects, including Chau Doc-Can Tho-Soc Trang (Tran De), Can Tho-Ca Mau, My An-Cao Lanh, Cao Lanh-Lo Te-Rach Soi, Ha Tien-Rach Gia, and Hong Ngu-Tra Vinh.
The ministry also suggested the arrangement of capital for the HCM City-Can Tho railway line and Tran De Wharf (in Soc Trang province), and the upgrading of the Cho Gao canal in the second phase.
The development of maritime corridors and logistics networks in the southern region and the upgrading of the three mainland waterways routes of Muong Khai-Doc Phu Hien, Ham Luong River, and Ha Tien-Rach Gia-Ca Mau are also included.
Nearly 252.7 trillion VND (11 billion USD) in the mid-term investment plan for the 2021-2025 period will be allocated to the ministry. Of this, the ministry plans to allocate 50.6 trillion VND (2.2 billion USD), or 20 percent of the sector's total investment, for the Mekong Delta to carry out expressway projects under public-private-partnerships and other key projects./.
Vietnam wishes to learn from others' experience in building circular economy
Ambassador Le Thi Tuyet Mai highlighted Vietnam's wish to learn from developed countries' experience in operating a circular economy and developing sustainably while addressing a recent virtual meeting of the World Trade Organisation (WTO).
The teleconference on circular economy, economic diversification, and aid for trade took place as part of the aid-for-trade work programme for 2020 – 2022 of the WTO Committee on Trade and Development.
Speakers included representatives of some international organisations like the WTO, the UN Industrial Development Organisation (UNIDO), the Organisation for Economic Cooperation and Development (OECD), the Asian Development Bank (ADB), and the Royal Institute of International Affairs of the UK (Chatham House).
Presenting Vietnam's viewpoint and experience, Ambassador Mai, Permanent Representative of the country to the United Nations, the WTO, and other international organisations in Geneva, said in its socio-economic development strategy for 2021 – 2030, Vietnam identified building a circular economy model as one of the orientations and solutions for fast and sustainable development.
Some policies and mechanisms promoting factors of a circular economy have been included in the country's guidelines, policies, and laws about environmental protection and the national action plan to implement the 2030 Agenda for Sustainable Development.
In particular, they have been institutionalised in the Law on Environmental Protection, the national green growth strategy, and the national action plan on sustainable production and consumption, she went on.
She emphasised that since the Doi moi (Renewal) period began in 1986, Vietnam has continually paid attention to the combination of economic development with environmental protection, sustainable use of natural resources and production materials, and realisation of the Sustainable Development Goals (SDGs).
These policies have proved effective, as seen in many enterprises succeeding in applying clean production models, she said.
Mai also pointed out major challenges to Vietnam during the transition from the traditional economy to a circular one, adding that the country wishes to learn from developed countries' experience in how to operate a circular economy and develop sustainably.
Stepping up international economic integration via commitments under the WTO and recently inked trade agreements will help Vietnam promote the building of a circular economy, achieve the SDGs, and bring about benefits to its people, the ambassador said./.
HCM City to auction thousands of apartments in Thu Thiem New Urban Area
The HCM City People's Committee has instructed the Department of Natural Resources and Environment to complete procedures required to auction 3,790 resettlement apartments in the Thu Thiem New Urban Area in Binh Khanh Ward, Thu Duc City.
They are part of 12,500 completed in 2015 on an area of 38.4ha in the centre of the old District 2, with convenient transportation to central districts.
There were attempts to auction them in 2017 with a reserve price of VND8.8 trillion (US$384.66 million) and in 2018 at VND 9.1 trillion ($397.46 million), but there were no buyers.
The department now proposes to divide them into two auction packages, one with 1,570 apartments in 11 blocks, the other with 2,220 in 14 apartment blocks.
The department has sought the city property valuation council's approval of the reserve price for publishing on its website and for the City Land Fund Development Centre to invite eligible bidders.
The prices are expected to be higher than the previous ones.
Winners of the bids can convert the apartments into commercial housing for sale, but must get approval from the People's Committee if they want to start new projects on the land.
The HCM City Real Estate Association has told its member businesses to attend the auction.
The apartments are in a prime location, and winning the bid would enhance the prestige of their brands, it said.
However, companies with experience in developing housing projects said attracting interest in the auction is not easy despite the prime location because of the likely starting price of more than VND10 trillion (nearly $437 million).
The previous auctions failed for similar reasons: bidders had to deposit 20 per cent of the reserve price, and the winner had to pay 50 per cent within a month and the rest within 90 days, not sums most companies could raise within that short time frame.
Dr Su Ngoc Khuong, senior director, Savills Vietnam, said it would be convenient for bidders if the city divides the bidding packages into smaller ones, each with a few hundred apartments.
Besides, it could hold several auctions to gradually increase the reserve price, like commercial housing developers do, he said.
Le Hoang Chau, chairman of HoREA, said if the auction is not successful this time, the city should consider reducing the price by 10 per cent and create smaller bidding packages.
Central ports propose upgrades
Many ports in the central region are improving their capacity or proposing upgrades to meet the rising demand for foreign trade.
Several businesses are investing in upgrading ports in Quang Ngai Province's Dung Quat Port Cluster, a network of eight ports, including three general and five specialised ones meant for private businesses.
Among the ports, one specialised facility is capable of berthing ships of 150,000 – 200,000 tonnes ships, while the remaining seven can only receive vessels of 50,000 – 70,000 tonnes.
The province has over 20 businesses exporting and importing goods using container ships and around 6,500 containers annually, and they currently have to use ports in Da Nang and elsewhere in the central region.
Dang Van Minh, chairman of the Quang Ngai Province People's Committee, said the Dung Quat Port Cluster has reached full capacity, and so fresh investment is crucial for the province's export-import needs.
In Binh Dinh Province, Quy Nhon Port is handling 2,500 tonnes of goods per berth metre, more than five times its capacity.
The Quy Nhon Port Joint Stock Company will begin upgrading one of its piers in August to expand its capacity.
Phu Yen Province is planning to build a deep-water port.
The Cam Ranh Port Joint Stock Company in Khanh Hoa Province is planning on building a new berth in its Cam Ranh Port.
Dr Tran Du Lich, a member of the Government Advisory Group, said coastal provinces in central Viet Nam had been soliciting investment in ports.
Now the region typically transports goods to ports in Hai Phong or HCM City for exporting, and investment is spread too thin for many ports to berth large vessels, according to Lich.
Quang Tri inks MoU with Singapore Manufacturing Federation
The People's Committee in the central province of Quang Tri signed a memorandum of understanding (MoU) with the Singapore Manufacturing Federation (SMF) via a video conference late last week.
The two sides have agreed that this year the Singaporean not-for-profit organisation will introduce experts to assist the province with its planning and propose ideas, solutions, and adjustments to a master plan for the South East Quang Tri coastal economic zone.
Quang Tri authorities have allowed enterprises introduced by SMF to conduct feasibility studies and submit investment proposals for certain infrastructure projects, including those on the construction of airports, seaports, and industrial parks.
Speaking at the signing ceremony, Secretary of the provincial Party Committee Le Quang Tung said the agreement marked a milestone in Quang Tri's socio-economic development strategy and would present opportunities for the comprehensive and sustainable development of the two sides' operations in the future.
He also voiced his hope that SMF would promptly carry out cooperation plans and propose ideas that capitalise on the potential and advantages the province holds.
SMF had studied opportunities for Singaporean firms to invest in Quang Tri since 2016, SMF President Douglas Foo said.
Regulations on temporary suspension of payment to the retirement and survivorship fund needed amendment
The Ministry of Labour, War Invalids and Social Affairs has proposed the Government amend the regulations on temporary suspension of contributions to the retirement and survivorship fund for enterprises affected by the pandemic.
The ministry said due to the complicated developments of the COVID-19 pandemic, many businesses have suspended operations or reduced production. The suspension of contributions to the retirement and survivorship fund would help enterprises ease financial difficulties and maintain their operations during the pandemic.
Under the current regulations, enterprises who have been forced to reduce at least 20 per cent of their employees since the COVID-19 outbreak in April would be allowed to suspend their payment for the retirement and survivorship fund.
Enterprises would be allowed to suspend payments for no longer than three months.
A recent survey by the Vietnam Chamber of Commerce and Industry revealed that 12,000 businesses have difficulty accessing this policy.
The ministry said the regulations needed to be amended so that more enterprises would be eligible .
According to the ministry, enterprises who have had to reduce 10 per cent of their employees can suspend the payment for the retirement and survivorship fund, and the time of suspension should be six months instead of the current three months.
The Vietnam Social Security, the unit in charge of managing the two funds, agreed. But deputy director Trần Đình Liệu proposed adding some conditions to the beneficiary group.
The policy would only apply to businesses operating in the areas of transport, hotels, restaurants, tourism, education, culture, sports or businesses in isolated industrial zones, clusters or export processing zones.
In addition, enterprises must fully pay social insurance, health insurance and unemployment insurance until the end of this April.
The ministry estimates that about 39,000 businesses with 1.15 million employees will be temporarily suspended from paying the retirement and survivorship fund with a total amount of VNĐ8.45 trillion (US$365 million) if the amendment of the policy is applied.
According to the Vietnam Social Insurance, after a year of implementing the Government's Resolution 42, more than 1,800 enterprises have temporarily suspended their payments to the retirement and survivorship fund with the amount of VNĐ786 billion ($34 million).
Effective control of COVID-19 vital to ensure industrial production growth
Implementing effective COVID-19 prevention measures at industrial parks and export processing zones should be a top priority for the country from now until year-end to ensure stable industrial production growth, according to the Ministry of Industry and Trade (MoIT).
The management boards of industrial parks and export processing zones should require enterprises operating in these zones to self-review and then revise measures to both prevent and control the spread of COVID-19 and ensure their production activities, the MoIT said.
The ministry also requested localities to strictly handle violations made by civil servants in COVID-19 prevention and control that might negatively affect local production and business activities.
The index of industrial production (IIP) grew by 9.9 per cent in the first five months of this year over the same period last year.
By sector, the processing and manufacturing industry increased by 12.6 per cent; the electricity production and distribution industry increased by 8.3 per cent; water supply, drainage and waste treatment 7.5 per cent; while the mining industry fell by 7 per cent.
Among the secondary industries, a number of key industries had a high production index in the first five months compared to the same period last year.
Metal production grew by 38 per cent; motor vehicle production 35 per cent; production of beds, wardrobes, tables and chairs 18.3 per cent; and production of electronic products, computers and optical products 15.5 per cent.
The positive IIP in the period was attributable to effective COVID-19 prevention measures and the State's accurate and timely policies to support businesses, stimulate the domestic market and boost exports, the ministry said.
However, the complicated development of the COVID-19 pandemic from the end of April, which directly affected a number of industrial zones in the two provinces of Bac Giang and Bac Ninh still caused concerns for many enterprises.
Chairman of the Ha Noi-based TOMECO An Khang JSC Le Quy Kha told Ha Noi Moi (New Ha Noi) newspaper that the increasing prices of steel and the fourth COVID-19 wave would impact business and production activities.
Thus, besides tax payment extension, businesses also hoped to soon access the source of vaccines so that all of their workers could be vaccinated, Kha said.
Spain-based FocusEconomics, which provides in-depth economic analysis globally, said in its May report that after last year's slowdown, industrial production is projected to gain momentum on the back of returning demand from key international partners.
"Despite the ongoing COVID-19 pandemic, the underlying strength of Viet Nam's industrial sector remains intact: Viet Nam is an attractive low-cost base for manufacturing firms, including those looking to relocate from China due to US-China trade tensions," it said.
"That said, a sluggish rollout of the vaccine, coupled with an uncertain development of the pandemic, pose a risk to the positive outlook."
FocusEconomics also estimates that Viet Nam's industrial output will grow 9.2 per cent in 2021, down 0.2 percentage points from last month's forecast.
For 2022, FocusEconomics expects the country's industrial production to expand by 8.4 per cent.
Management of off-plan property to be enhanced
The Ministry of Construction has asked localities to enhance the management of sales of off-plan property before June 15.
The ministry made the request due to recent reports of legal violations in the development and transactions of off-plan property, causing disputes, creating risks for buyers and harming the real estate market.
The construction ministry requested localities to publicise information about off-plan property projects. Such projects eligible for transactions would be integrated into the national public service portal.
Provinces and cities must check to ensure compliance with laws about procedures and conditions for transactions of off-plan properties, especially payments and mortgages.
The rules for buying and selling off-plan property were included in the Law on Real Estate Business in 2006.
Despite this, transactions of off-plan property remain complex, forcing several provinces to urge buyers to be cautious and send warnings about law violations from developers.
The Department of Construction of Quang Nam Province in mid-May issued a document to better manage the real estate market in the central province. The provincial construction department asked developers of real estate projects to put their developments for sale only when meeting requirements in the Law on Real Estate Business and other legal documents.
The northern province of Bac Giang's Department of Construction recently announced a list of urban and residential projects which were not eligible for transactions, urging citizens to study projects carefully before purchasing.
Early this year, Son La Province's construction department announced 11 commercial housing projects not eligible for capital raising or transactions as of March.
A lawyer said the transactions of off-plan properties had not been put under property management, resulting in violations from developers such as using buyers' advance payment for the wrong purposes, especially developers with weak financial capacity, and not following commitments about project quality or progress.
Ministry to inspect stagnant, abandoned projects
The Ministry of Natural Resources and Environment said it could work with provincial People's Committees to inspect real estate projects suffering stagnant progress or sitting unfinished and abandoned for years.
Real estate projects which were left deserted were causing significant waste of land resources. The ministry pointed out several reasons for the stagnation, including slow construction progress of contractors, failure to complete legal documents, facing disputes, shortage of infrastructure system and inconsistencies in overall planning.
In Ha Noi, there were a number of stagnant projects, mainly in Hoai Duc, Me Linh, Nam Tu Liem and Bac Tu Liem districts.
Some have been deserted for years, such as Song Hong City which was approved in 1994 and AIC new urban area, approved 13 years ago.
A report by the municipal People's Committee showed 383 projects in the capital city had signs of violations of the land law, 379 of which were inspected from July 2018.
Among them, 35 projects with a total area of 57ha were given 24 months of extension for the deadline to put the land into use. If the developers still failed to put the land into use after the extension, the land would be confiscated without any compensation.
Twenty-nine projects with a total area of 1,840ha were proposed to be revoked land and the investment projects cancelled.
Vaccination important factor in Southeast Asia growth: Oxford Economics report
Progress in vaccination will continue to be an important barometer for growth in the second half of 2021 in Southeast Asia including Viet Nam, experts have said.
In the latest economic outlook report from Oxford Economics (OE), commissioned by the Institute of Chartered Accountants in England and Wales (ICAEW), Mark Billington, managing director international, ICAEW, said: "We expect that countries which are able to contain new COVID-19 cases and reach high levels of vaccinations will outperform the rest of the region and be better placed for recovery.
"While most Southeast Asian economies have experienced a surge in COVID-19 cases since the start of 2021, leading to the reinstatement of social distancing measures, this has dimmed but not derailed economic recovery."
According to the report, despite the recent resurgence in COVID, Viet Nam's growth outlook remains optimistic and the economy is expected to return to pre-Covid levels by the second half of 2021.
The country's GDP is forecast to grow at 7.6 per cent in 2021, among the highest rates in the region.
Viet Nam was one of the few economies in the world to grow in 2020 due to its success in containing the pandemic, the report said.
"This early success enabled the economy to benefit from the surge in global trade activity and enjoy strong foreign direct investment flows that boosted export-oriented and manufacturing industries.
"Singapore and Viet Nam are expected to continue leading the region in recovery. Despite a resurgence of COVID-19 cases in Viet Nam, which has affected its manufacturing sector and export industries, its economy is predicted to rebound swiftly once restrictions are lifted."
Southeast Asia's GDP would rebound strongly to grow at 4.8 per cent this year, after contracting 4.1 per cent last year, it said.
ICAEW and Oxford attributed the rebound to an improvement in global trade activities, accommodative policies, continued government fiscal support and low interest rates across the region, adding growth is forecast to improve to 6.5 per cent in 2022 as countries move closer to herd immunity and the recovery becomes more synchronised across sectors.
The report said Southeast Asian economies would continue experiencing varying speeds of recovery in 2021 driven by their ability to contain fresh waves of COVID infections and procure and distribute vaccines.
Uncertainties remain as rates of recovery depend on the progress of vaccine rollouts and whether the possibility of further lockdowns remains high in the near-term, it said.
However, the economic outlook is optimistic in the medium to long terms, it said.
Recent lockdowns in Singapore, Viet Nam and Malaysia mean household spending reduced in the second quarter of 2021, but it is unlikely to dip significantly since households and businesses are better equipped with digitisation to enable them to work and shop remotely, it said, adding Governments have also used more targeted measures than nation-wide lockdowns, which have minimised disruption.
Vietnam Railway revenue slumps due to a drop in passengers
Vietnam Railway Corporation (VNR) reported its five-month revenue decreased by 51.4 per cent year-on-year due to the impact of the COVID-19 pandemic.
The railway served about 1.147 million passengers, a reduction of 35.4 per cent compared to the same period last year, bringing in over VND400 billion (US$17.4 million) in revenue.
In May, which saw the peak of COVID-19 outbreaks in the latest wave, the number of passengers was only by 132,300, equal to 48.4 per cent of the corresponding figure last year. As a result, revenue from passenger transport stood at VND44.7 billion, equivalent to 55.4 per cent of the figure of the same period last year.
According to VNR, a decline in revenue and demand for transportation and travel is attributable to travel restrictions prompted by outbreaks of COVID-19 in many localities across the country.
The VNR curtailed most of its operations in May. It is currently operating only one train on the Ha Noi-HCM City route.
Also due to the COVID-19 resurgency, more than 11,300 tickets were returned on the occasion of the Reunification Day (April 30) and May Day (May 1) holidays, worth about VND4 billion.
First-half GDP growth for Vietnam projected at 5.8%
The figure is 0.42% less than the target the Government set in its resolution 01/NQ-CP and 0.12% less than the Government target revised after quarter 1.
The MPI forecast agro, forestry and fishery sector would develop steadily in the first six months, but meet difficulties in consumption. The sector is projected to grow approximately 3% in the first half, 0.35% lower than expected.
Similarly, the industrial and construction sector is anticipated to increase 7.85%, 0.71% lower than the set target. The emergence of the SARS-CoV-2 virus has slowed its growth despite its recovery efforts in recent times.
Similarly, the services sector is likely to grow approximately 5%, or 0.33% lower than estimated.
The MPI also forecast consumption would continue to bounce back, with total retail sales of goods and services expected to increase about 7.1%. However, a number of services such as tourism and transportation would continue to experience difficulties due to the impact of the COVID-19 pandemic.
It's worth remembering that the General Statistics Office, in an earlier issued report, announced Vietnam's GDP grew 4.48% in the first quarter of the year, or 0.8% higher than the figure recorded in the first quarter of 2020.
The high rate demonstrated the adaptation, resilience and recovery of the national economy despite the impact of the coronavirus outbreak in late January.
However, the latest COVID-19 outbreak, which started in late April and has since spread to 39 cities and provinces, seems to negatively impact the economy.
The MPI's calculations show the economy is yet to completely get back on track and are putting mounting pressure on ministries, sectors and localities in the second half of the year, aiming to meet the 6.5% GDP growth target which has been set by the Government and later approved by the National Assembly.
Vietnamese lychees with origin tracing stamp hit shelves in France
The first batch of fresh lychees originating from the northern province of Hai Duong have hit the shelves of a supermarket chain in France, thereby marking the first time that the local fruit has been imported to the European country via official channels.
The shipment of approximately a tonne of lychees arrived at the Paris Charles de Gaulle Airport in France on June 12 and can be purchased at Thanh Binh Jeune, a supermarket chain specialising in selling goods of Asian origin, especially those from Vietnam.
Ngo Minh Duong, chairman of Thanh Binh Jeune Company, said overseas Vietnamese in France are highly appreciative of the quality of fresh lychees which originate from the Vietnamese market. Moving forward it is expected that the company will continue to import roughly five tonnes of lychees from now until the end of the season.
Duong went on to state that the official import of lychees the EVFTA implementation along with the appllication of quality standards and the rule of origin have clearly reflected the company's professionalism and help the products to become more reliable among foreign consumers.
At present, Thanh Ha lychees are sold at the supermarket for €18 per one kilo box, equivalent to more than VND500,000 per kilo.
Vu Anh Son, head of Vietnam's Trade Office in France, said the successful export of a lychee batch labeled with the Vietnamese itrace247 origin tracing stamp clearly demonstrates the Vietnamese Government's determination to support firms amid the complicated nature of the COVID-19 pandemic.
Son noted that in order to penetrate the most demanding market in Europe, the European – American Market Department under the Ministry of Industry and Trade (MoIT) has continuously urged Vietnamese trade offices abroad to seek new outlets specifically for Vietnamese agricultural products.
In order to adapt to France's continuous lockdowns and social distancing measures, Vietnam's Trade Office and the Vietnamese Embassy in France have co-ordinated efforts with local and French agencies to deploy online trade promotion activities to introduce the potential of Vietnamese agricultural products to French businesses.
The Vietnamese trade office has initiated plans to support local firms as they export nearly one tonne of lychees every week, along with over 10 tonnes via air and marine routes, this year.
The office therefore revealed that negotiations are also underway to bring more shipments of lychees and other Vietnamese agricultural products to the Rungis market system, or Tang Frères, the largest Asian supermarket chain in France.
After the conclusion of events aimed at promoting Vietnamese lychees at Asian supermarkets, the Vietnam Trade Office and the Vietnamese Embassy in France will co-ordinate alongside other units to introduce the product within the framework of the Vietnam Food Festival 2021 in Paris.
Vietnam's agro-products: Strategies for safeguarding intellectual property rights needed
Safeguarding intellectual property rights in agriculture is not a new issue in Vietnam. However, Vietnamese agricultural producers and exporters still do not have a good grasp of the necessity of ensuring these rights in the long run and how they can formulate a strategy for doing so.
Inadequate attention to intellectual property rights in agriculture leads to many drawbacks such as loss of trademark rights (consider, for example, Trung Nguyen Coffee in the United States; Phu Quoc fish sauce in China, Australia and the U.S.; and ST25 rice, which a foreign enterprise registers as a trademark for rice) or registration rights for intellectual property protection (applicable to, say, plant variety or innovations). Market share may be eroded and the financial cost incurred by brand development or research and development (R&D) can be squandered.
In the long run, specific strategies for intellectual property rights are beneficial. They fuel innovations across big, medium and small enterprises, which will thrive in a knowledge-based economy. The risks of instability triggered by natural disasters or dwindling demand can be lowered, opportunities (new markets and better funding prospects by virtue of better products) may arise and the firms' reputation will be polished. Enterprises can also recoup investment in R&D (via licensing, transfer of intellectual property rights and so on).
To flesh out appropriate strategies for safeguarding intellectual property rights that stoke production and boost consumption in both domestic and overseas markets, enterprises should focus on the following factors.
First, these strategies should identify intellectual properties that a firm has or will have.
In agriculture, these intellectual properties of enterprises are mainly industrial property rights (trademarks, patents, geographical indications, trade secrets and plant variety protection). Two attributes are worth highlighting. First, the intellectual property rights are country-specific (registration in a country is effective only in that country). Second, the early bird catches the worm (first come, first served). Understanding both attributes will enable firms to actively safeguard their intellectual property rights, especially in overseas markets. Once a market has been identified, firms should apply for intellectual property protection there. There are some systems under which protection applies across several countries (such as trademark and plant variety protection in Europe) to reduce registration fees and simplify registration procedures.
It is crucial to have a clear understanding of a country's laws. For example, plant variety protection differs from country to country. In most countries, it applies to new varieties that meet other criteria such as uniqueness, consistency and stability (Article 158 of Vietnam's Intellectual Properties Law). New varieties are not eligible for patents in these countries. However, in some countries such as the U.S., apart from plant variety protection, patents, including utility patents, can be issued for such cases as methods that generate new varieties. Consequently, many new plant varieties are patented in the U.S. Aware of these differences, enterprises will not lose opportunities to get new patents and acquire fresh intellectual property rights.
Consumers in cities have helped "rescue" excessive agroproducts of farmers in the provinces
To ensure that the protection is in force in the long run, big firms often appoint representatives that look into administrative matters such as fee payments to ensure that the rights will remain. Enterprises should be ready to intervene when offenses arise, as in the case of ST25 paddy. Firms need to make good use of intellectual property rights and capitalize on such activities as licensing and transfer of rights.
Complex regulations on intellectual property rights mean that firms should seek help from experts on marketing and market survey, so that the strategies formulated will be efficacious. Creative collaboration among enterprises, farmers, research institutes and the Government will help to develop and safeguard intellectual property rights. The damage inflicted by the lack of strategies may far surpass the costs of developing them.
Source: VNA/VNS/VOV/VIR/SGT/Nhan Dan/Hanoitimes
VIETNAM BUSINESS NEWS JUNE 15 have 7675 words, post on vietnamnet.vn at June 15, 2021. This is cached page on Talk Vietnam. If you want remove this page, please contact us.